When I first moved to West Michigan for college, I never imagined that I'd fall in love with Grand Rapids and decide to permanently make it my home. Over the past four years of undergrad, I've ventured out into the city quite a lot, making it a goal to try new restaurants and things to do at least once a month.
Whether you're going on a first date or looking for a fun activity to do with your long-term partner, I'm here to share the best date night spots in Grand Rapids that won't break the bank (ranging from $0-$25).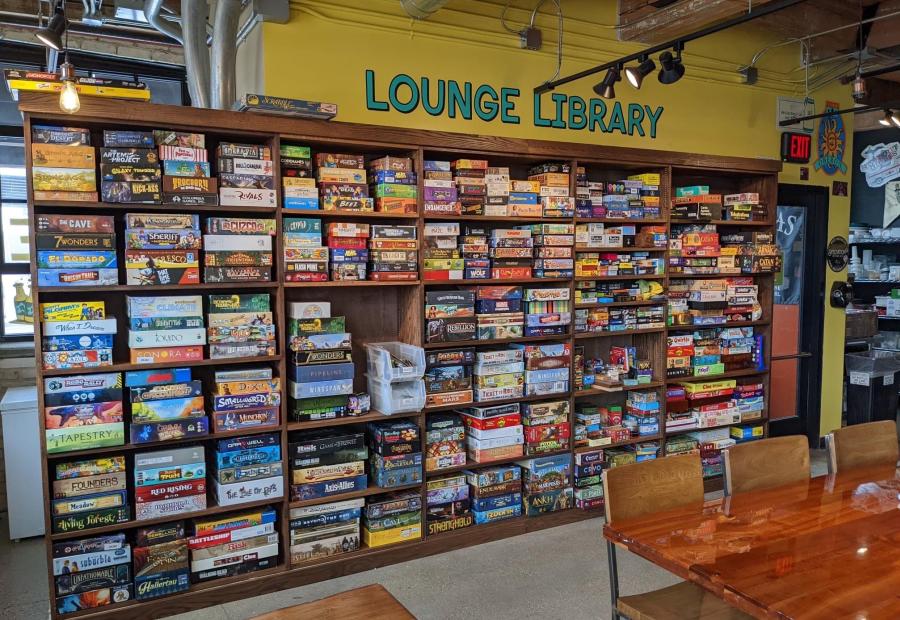 Open seven days a week, House Rules has over 550+ games to choose from.
Photo by House Rules Lounge
House Rules Lounge
As someone who is competitive and loves a good board game, one of my favorite hidden gems in town is House Rules Lounge. For a $5 gaming fee per person, enjoy up to three hours of entertainment and spend some quality time playing games with your date. Both reservations and walk-ins are available.
The Lounge allows you to bring in your own food or have food delivered, and it's across the street from the Grand Rapids Downtown Market. If you're looking to splurge, House Rules has a craft cocktail bar as well as a 12-door cooler filled with a rotating selection of beer, cider, seltzers, soda, and kombucha.
Happy Cat Café
A quick walk from House Rules Lounge is Happy Cat Café. If your date is an animal lover, this is the purr-fect activity. Reserve your spots ahead of time and spend one hour cuddling and playing with adorable cats and kittens for $13 per person. Grab a specialty latte to sip on while enjoying the peaceful atmosphere.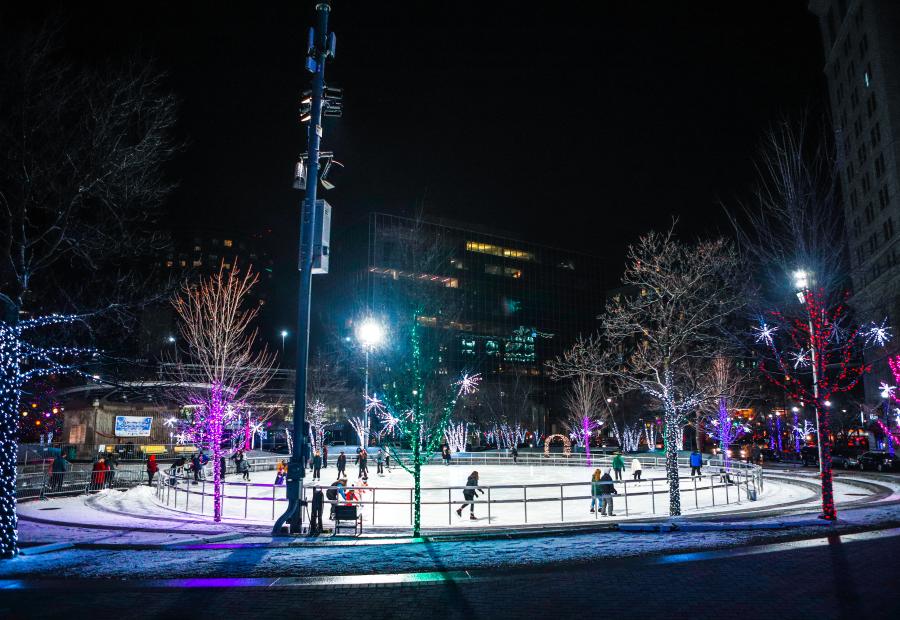 Bundle up before heading out to ice skate at Rosa Parks Circle.
Photo by Paul Jendrasiak for Experience GR
Rosa Parks Circle Ice Skating
Rosa Parks Circle looks like it's right out of a romantic Hallmark movie. If you're in search of some outdoor fun, ice skating is great affordable activity. For $4 a person, enjoy 90-minutes of skating with admission including free skate rental. The ice-skating rink takes both reservations and walk-ups.
Whether you're an ice skating extraordinaire or a complete amateur like I am, Rosa Parks Circle ice rink is sure to add some laughter to your date night.
While you're downtown, check out the free art installations that are a part of the World of Winter Festival. Spread out throughout the city, World of Winter features art from local Grand Rapids artists and pieces from around the globe. This festival is also a cute picture opportunity!
To get away from the chilly winter weather, grab a warm drink from one of the many unique coffee shops and cafés in GR. My go-to is the hot chocolate from Lantern Coffee Bar and Lounge.
Rosy Mound Natural Area
Located in Grand Haven, Rosy Mound Natural Area offers a 15-minute hike up 1,000 feet of stairs, leading to breathtaking views of Lake Michigan. This public Great Lakes dune system is a 40-minute drive from downtown GR and includes a 0.7-mile trail that leads from the parking lot to the Lake Michigan shoreline.
I wouldn't consider myself much of a "nature girl" but the end destination is worth the hike. The most ideal time to take your date to Rosy Mound is during sunset to get a picture-perfect view of the Lake.
In addition to a romantic sunset walk, this Lakeshore Community hosts free Musical Fountain shows daily in the summer months. Take a seat at Lynne Sherwood Waterfront Stadium to watch the magic unfold around 9:30 PM. The Musical Fountain themed shows have featured water and lights synchronized to music from Encanto, Frozen, Jimmy Buffet, The Greatest Showman, Star Wars, and more.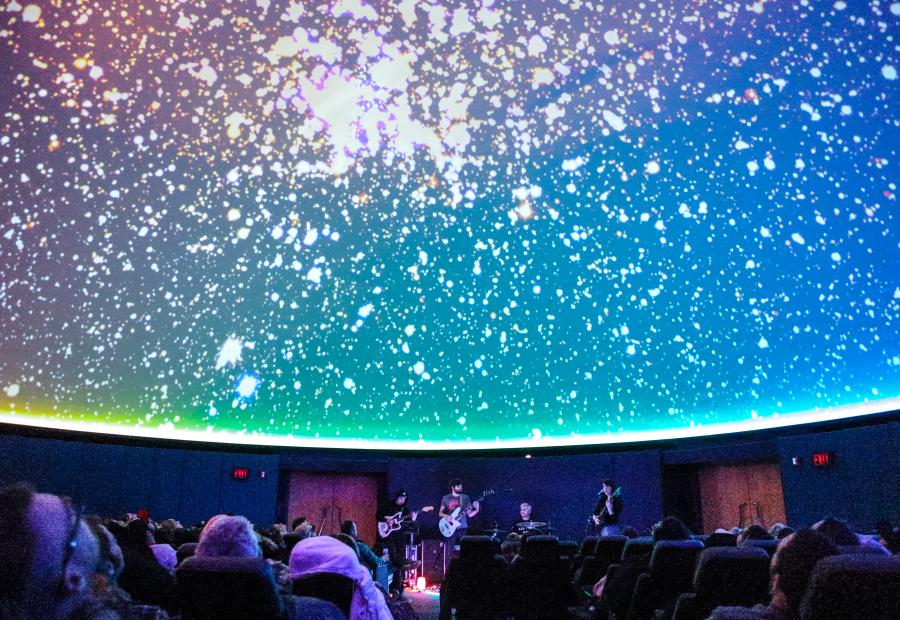 Fiona Dickinson and her band at the Grand Rapids Public Museum - Roger B. Chaffee Planetarium.
Photo by Experience Grand Rapids, featuring Fiona Dickinson and her band (right)
Roger B. Chaffee Planetarium
Nothing is more romantic than stargazing. Take your date under the stars at the Roger B. Chaffee Planetarium at the Grand Rapids Public Museum. Planetarium shows are $5 per person and will transport you and your date to outer space.
If you are planning to explore the Grand Rapids Public Museum, planetarium shows are $4 per person in addition to $12 for museum admission ($5 for students).
Returning in 2023 is the Concerts Under the Stars series. Under the 50-foot dome, listen to music from local West Michigan bands. Sit back, relax, and take in this immersive experience for $20 a person.
Pyramid Scheme
The best place to end your date night festivities is at Pyramid Scheme. Grab a drink from the bar (it has dive bar prices) and bring a bag of quarters to play their vintage pinball machines.
The bar doubles as a concert venue with affordable tickets ranging from $10 to $25 to comedians and musical performers from a variety of genres. The cool edgy vibe of Pyramid Scheme is a date night conversation starter for any couple.
Choosing my top cheap date spots in GR was a tough decision so some honorable mentions include indoor mini golfing at Great Lakes Glow Golf for $15 a person, stopping for coffee or tea at Scorpion Hearts Club, a stroll through Frederik Meijer Gardens for $20 a person ($15 for students), and ice cream for two at Furniture City Creamery.
Grand Rapids has an abundance of things to do that fit anyone's budget (even a college student's).