As winter sets in, so does cabin fever. Thankfully, there are plenty of outdoor recreational activities available after the cold temperatures set in. One of the longest-standing winter recreation destinations, Cannonsburg Ski Area, proves just that.
A West Michigan favorite for more than 55 years, Cannonsburg Ski Area offers fun activities all year round for the family, but their most popular activities take place in the winter.
Featuring nine lifts and 21 runs, Cannonsburg offers lessons for skiers and snowboarders of all skill levels, including beginners and even the advanced. Cannonsburg also offers separate classes for children aged 6-12 on the weekends beginning in January. All classes are taught by certified Level 1, 2, and 3 ski and snowboard instructors.
My family has taken lessons there before. The instructor gave us a refresher and helpful pointers, after we'd been away from the slopes for a while. Here were our biggest takeaways from the lesson: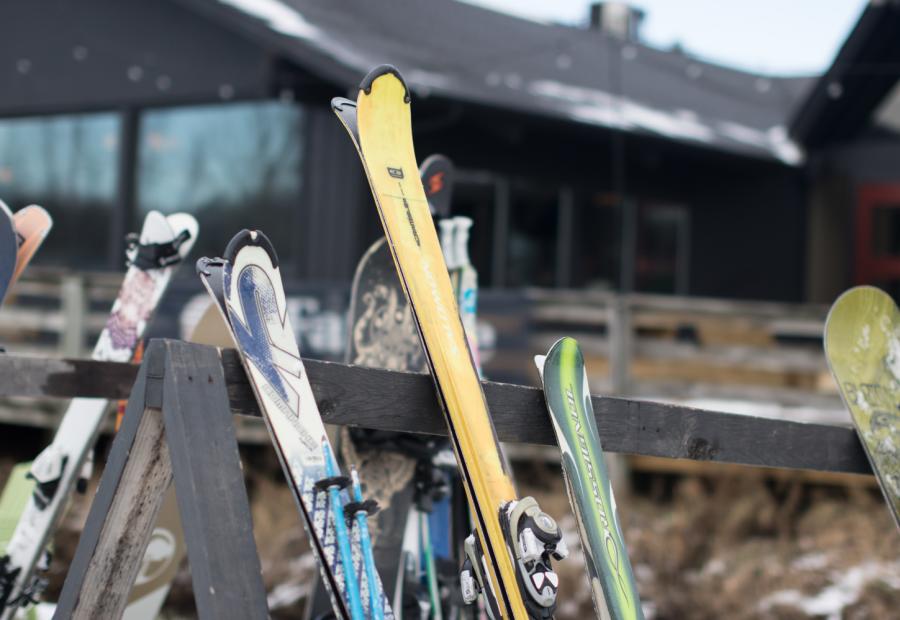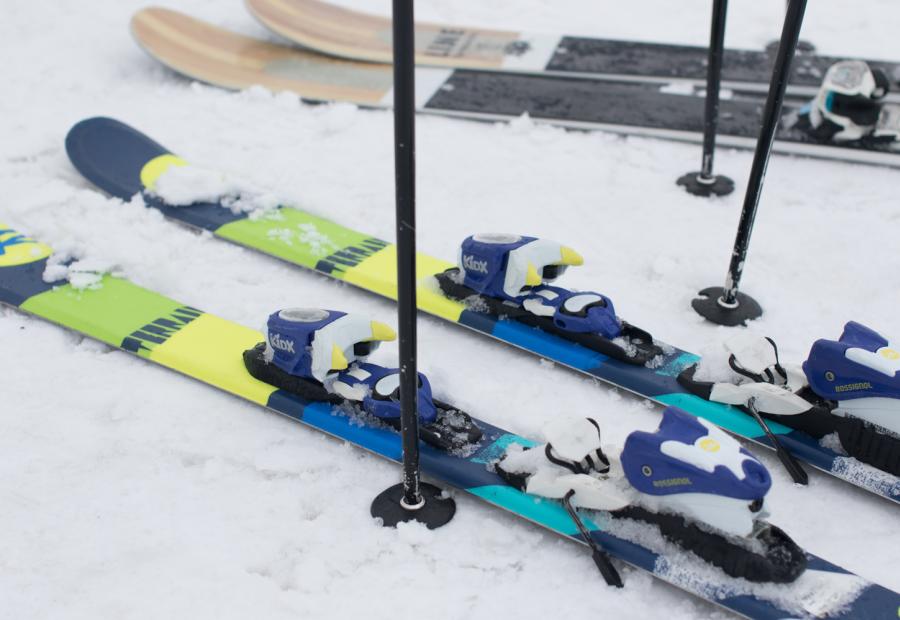 Cannonsburg Ski Area offers private and group lessons for skiers and snowboarders of all skill levels.
Photo by Cannonsburg Ski Area
Private Lesson Experience
On the day we booked our lesson, there was no snow on the ground in Grand Rapids. No problem there, though, because Cannonsburg manufactures their own snow as long as temperatures are in the low 20s.
When the lesson began, the ski instructor asked us about our previous ski experience (if any), and what areas we'd like to improve on.
After a quick chat, we took on the beginner "bunny" hill to learn the basics. The ski instructor provided personal one-on-one coaching to all participants. Although we were at different skill levels, we all received great advice and tips for excelling our ski skills and building confidence.
On Cannonsburg's bunny hill, we used the magic carpet, a conveyor belt that carries riders up the hill; there are also rope tows available. Later, we progressed to the bigger hills.
By the time the lesson wrapped up, our instructor had not only helped us remember things we'd forgotten after a couple of years away from the hills, but also offered new tips that helped us become more confident, nuanced skiers.
Where Is Cannonsburg Ski & Ride Area?
Cannonsburg Ski & Ride Area is conveniently located about 15 miles northeast of downtown Grand Rapids, making it a great destination for locals and visitors who want to experience outdoor fun without a long trek in the car. Bonus: there's ample free parking!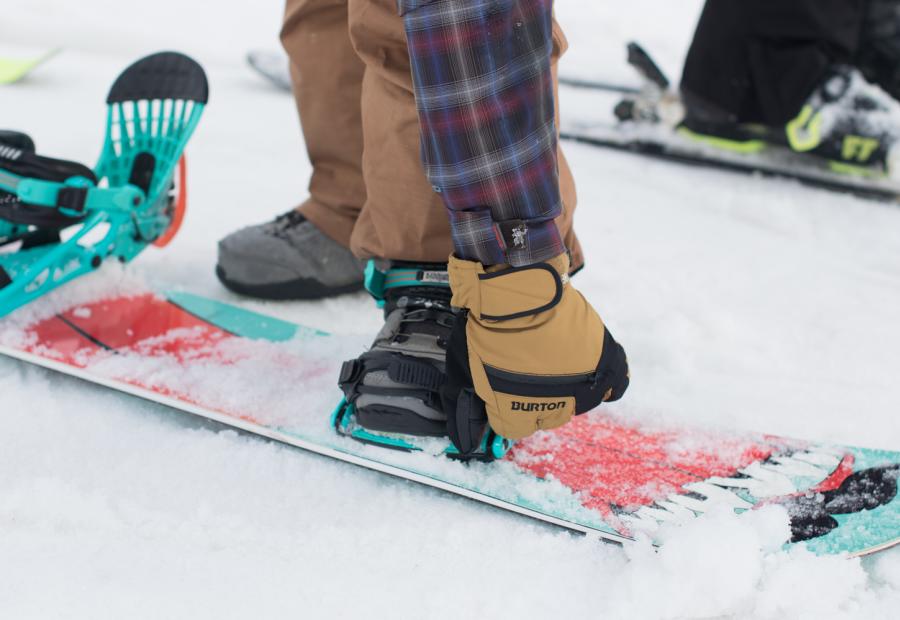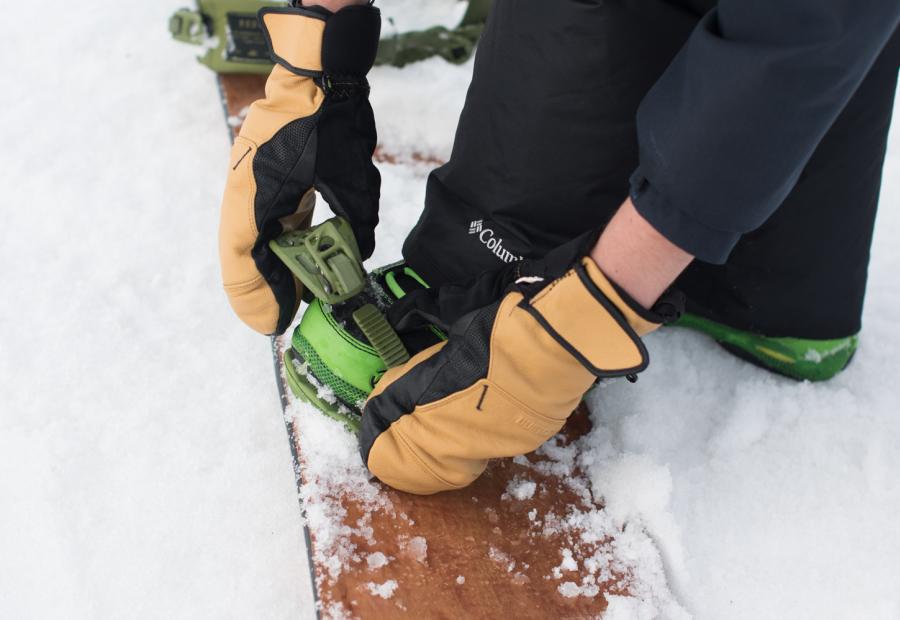 All Cannonsburg classes are taught by certified Level 1, 2, and 3 ski and snowboard instructors.
Photo by Cannonsburg Ski Area
Who Should Go and What to Expect
Because they work with a wide range of ski levels, instructors can get beginners started and help intermediate and advanced skiers hone their skills. Our instructor likened it to riding a bike, assuring us there's a lot of muscle memory involved so it's easy for people who haven't skied in a while to pick it back up.
With easy chairlifts, the magic carpet, tow ropes, and lots of hills, Cannonsburg is a fantastic local option for skiing and snowboarding. Cannonsburg offers a variety of lessons, and the instructors are friendly, knowledgeable, and good with kids of all ages.
Beginners can expect instruction from the get-go. They'll help make sure your boots fit correctly and that the straps are right. They'll also instruct you on how to put skis on in the snow and how to slide the skis along on flat ground. You'll learn about body position, how to use the magic carpet or tow rope, and then you'll start learning how to ski down the hill—and stop at the bottom.
More advanced skiers learn more advanced tactics, like how to do dynamic parallel turns—the instructors will customize each lesson based on your skills and interests. There are even a few who teach ski tricks.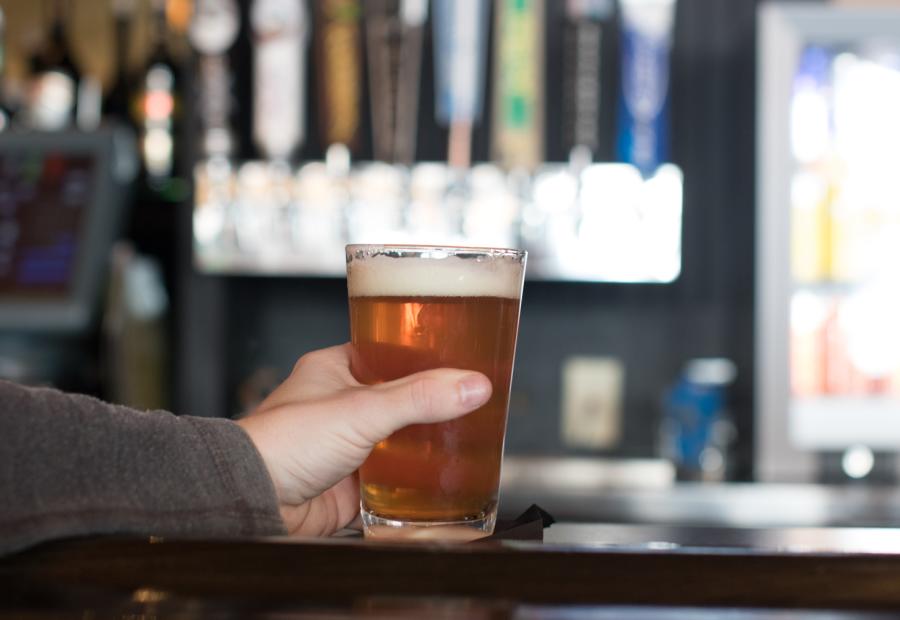 Stop by Cannonsburg Ski Area's restaurant for food and drinks.
Photo by Cannonsburg Ski Area
Insider Tips
Arrive Early!
Cannonsburg is a popular local ski hill, and lines can be long during peak times and on the weekends.
If you need to rent equipment, consider arriving at least 45-60 minutes early so you have plenty of time to find the ticket counter (it's at the far left of the building, as you're facing it), get your skis, put your gear in a locker, and then walk over to the ski school to locate your instructor.
If you already own equipment, arriving 30 minutes early should be sufficient.
Although it's possible to walk up and book a lesson, ski lessons are very popular, so you're not guaranteed that an instructor will be available. It's preferable to call and schedule a lesson at least a few days in advance.
Call 616-874-6711, and ask for the "ski and ride desk" to reach the ski school. You can also email lessons@cannonsburg.com.
Relax While You Wait
Cannonsburg has a full-service bar, snack bar, and the Cedar Lounge restaurant, which are great places to grab a drink and a bite to eat. Indoor bathrooms are open, as are outdoor porta potties.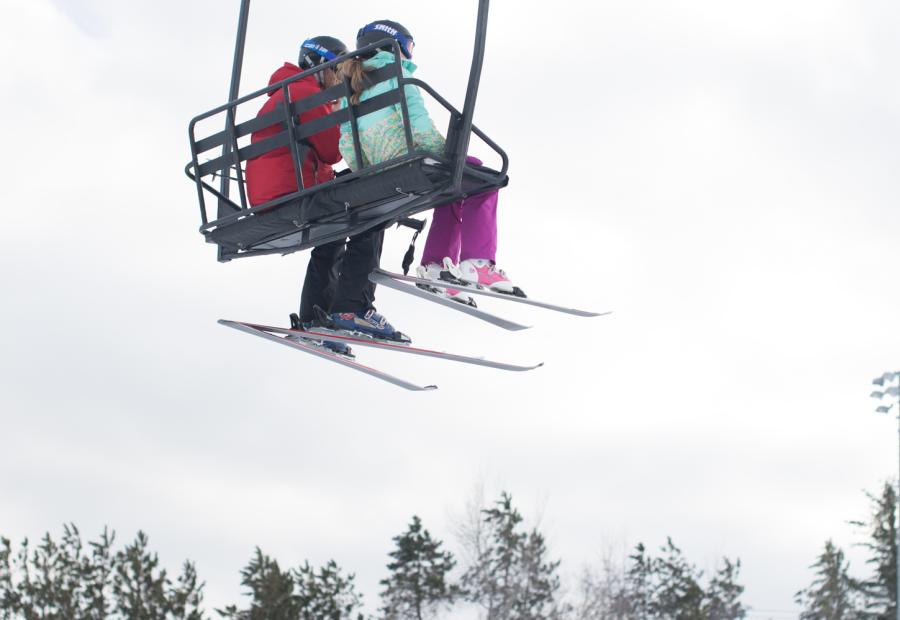 Chair lifts, tow ropes, and a variety of hills make Cannonsburg Ski Area fun for all ages and skill levels.
Photo by Cannonsburg Ski Area
How Much Does It Cost?
Lift ticket prices at Cannonsburg vary depending on the day of the week, time of day, and age of the skier or snowboarder.  You can also rent essential equipment, like skis, a snowboard, or a helmet.
Visit Cannonsburg's website to see their fees for lift tickets and equipment rentals.
If interested, Cannonsburg also sells season passes, starting at $379 for an individual.
Punch passes, which can save you 50 percent off the regular lift ticket prices, are also available for ages seven and older. The punch pass allows you to pre-pay and punch your card as you go, for great convenience.
When Is It Open?
Available during winter months (usually December through March), the ski and snowboard hill hours are:
Monday to Friday: 12 PM – 9 PM
Saturday and Sunday: 9 AM – 9 PM
Extremely cold or unusually warm winter weather can interfere with skiing, snowboarding, and tubing opportunities. Be sure to check Cannonsburg's website and social media to confirm hours. On the days they have to close due to weather, they'll also update their phone message (616-874-6711) before opening hours, so you'll know early in the day.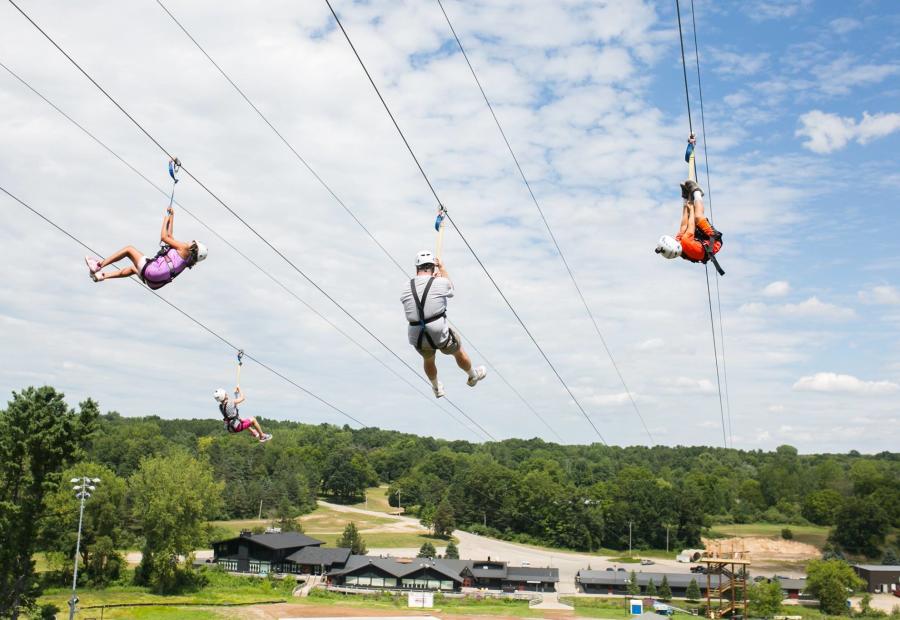 Cannonsburg's zipline provides summer fun for the whole family.
Photo by Cannonsburg Ski Area
What Can You Do at Cannonsburg in the Spring, Summer, and Fall? 
Cannonsburg doesn't only offer outdoor fun in the winter! They offer plenty of warmer weather activities, too, including free family movies on the hill. 
If you enjoy getting some exercise in the great outdoors, Cannonsburg also features 11 miles of trails, with varying terrain, that you can hike, bike, or run for free during the warmer months. You can even bring your dog! 
Kids programming in the summer includes fun activities like: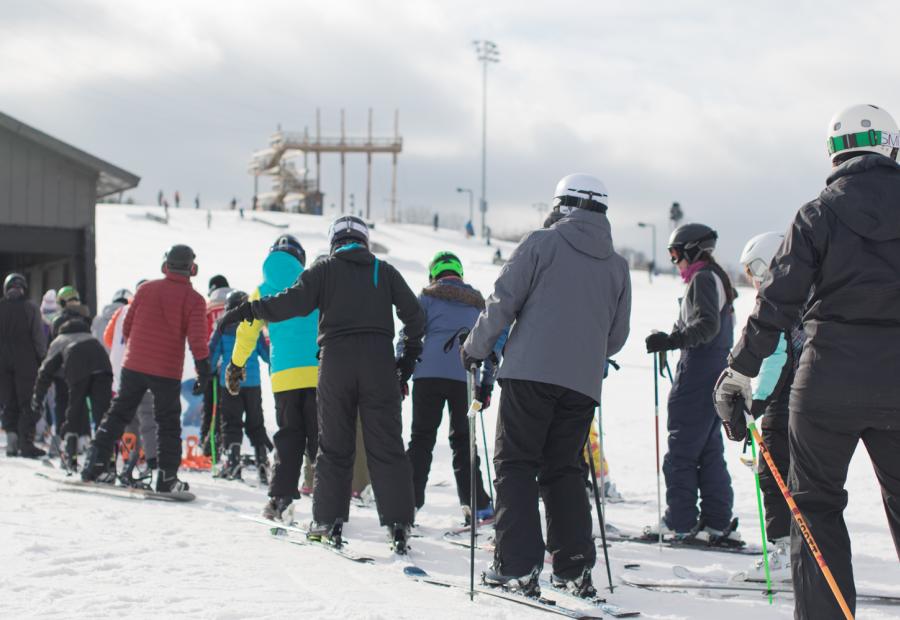 Cannonsburg Ski Area holds frequent events, all year round including ski races, weddings, and group parties.
Photo by Cannonsburg Ski Area
Special Events
Cannonsburg allows rentals for weddings and other events. They also offer Adult Ski race teams and Kids programming, including: 
Mountain Minnies, for girls ages 3 – 5
Mini Mountaineers, for boys ages 3 – 5
Snow Cats, a junior development program for kids ages 8 – 14 
Cannonsburg also holds a variety of seasonal events. In the past, they've done events like Align and Wine (yoga and wine), Dawg Days of Summer, Sipping on the Slopes (wine tasting), and the Cannonsburg Cup fat bike race. In 2023, they're planning several Snowshoes & Brews outings and may add others. Call Cannonsburg, email info@cannonsburg.com, or check their website for details on new seasonal events.
What Does Cannonsburg Offer Besides Skiing and Snowboarding?
Tubing
Cannonsburg's hills are also a great place for tubing during the winter months. Tubing is popular with kids and adults, alike, and the magic carpet makes it convenient for all riders above 42" tall.
Tubing costs $18/person for a two-hour pass during the week and $23/person for a two-hour pass during the weekend. Tubing only takes online reservations. Don't forget to purchase your tickets ahead of time. 
Wednesday through Friday, tubing is open from 4 PM - 9 PM. On weekends, tubing hours are 10 AM – 9 PM.
Be sure to peek at Cannonsburg's website, social media, or call them at 616-874-6711, to double-check tubing availability and hours. 
Trails
In addition to their hills, Cannonsburg has a great trail system. During the winter, the groomed trails are perfect for cross-country skiing, fat tire biking, hiking, and snowshoeing. There's a $5/day usage fee, or you can buy a season trail pass for $35.
Keep in mind that Cannonsburg doesn't manufacture snow on the trails. Snow is only manufactured on the skiing and snowboarding hills. During the summer, trail use is free.
Cannonsburg also has fat tire bikes available for rent. Bikes can be rented for two hours or for all-day use. Helmet rentals are also available.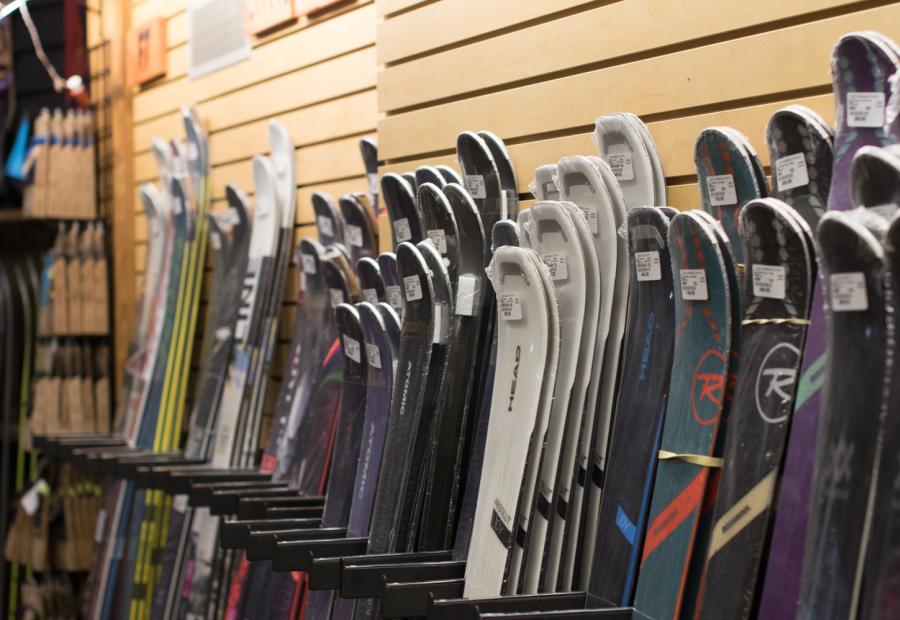 Check out Cannonsburg's on-site Summit Sports Shop to purchase skiing and snowboarding equipment.
Photo by Cannonsburg Ski Area
Moosejaw at Cannonsburg
If you're in the market to buy a bike, ski, or snowboard equipment, check out the on-site Moosejaw store. The shop carries a fantastic selection, including clothing gear in addition to equipment.
The ski and snowboarding instructors at Cannonsburg are ready to help you embrace the cold!
Cannonsburg's COVID Guidelines
Face coverings are not currently required. Cannonsburg will follow any active guidelines regarding COVID. You can call before you go to find out the current status regarding precautions at the ski slopes.
Whether you like to play indoors or outside, there's no shortage of winter fun in the Grand Rapids area.