The Grand Rapids Public Museum (GRPM) welcomes more than 250,000 visitors every year for a unique experience packed with a variety of cultural attractions.
The 1928 Spillman Carousel within the GRPM has been running in the Cook Carousel Pavilion above the Grand River for over 28 years, providing fun rides and a breathtaking view of the Grand Rapids skyline to about two million museum visitors, myself included.
The carousel's roots date back nearly 100 years, and because I'm a sucker for a good origin story, I spoke with GRPM staff to take a journey through time to get better acquainted with one of Grand Rapids' most iconic attractions. Here are some fun and interesting facts I learned about the carousel's past and present: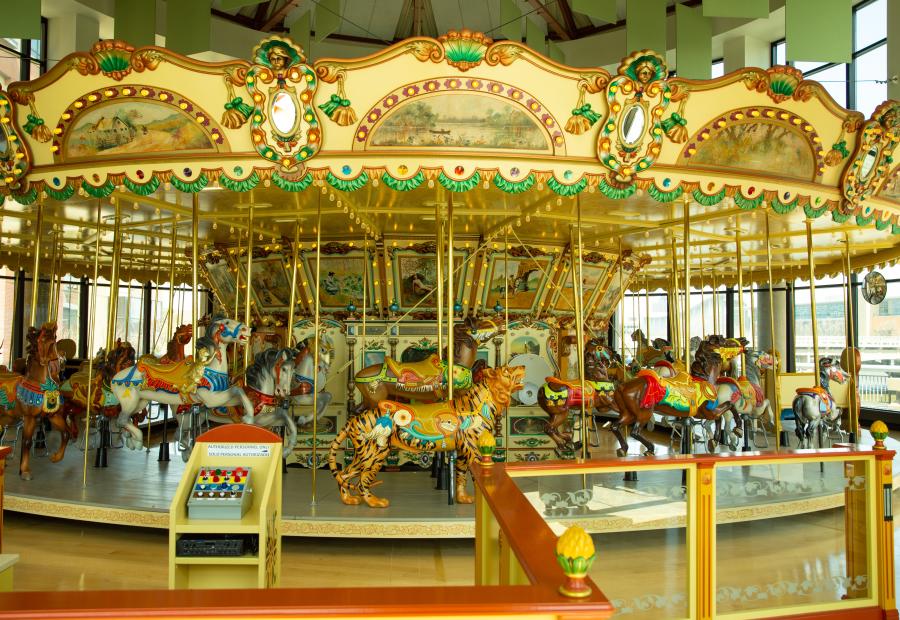 The carousel is a beloved GRPM attraction.
Photo by Grand Rapids Public Museum
1.) It was made in New York
The carousel was manufactured by Spillman Engineering of North Tonawanda, New York, in 1928, and it is incredibly rare.
The 1928 Spillman Carousel is one of only three special park carousels to have been produced in its particular style by Spillman Engineering.
It operated in Lakewood Park in Barnesville, Pennsylvania, from 1928 until 1981 when it was purchased for the Grand Rapids Public Museum.
2.) It wasn't the museum's first choice
In the late 1970's, Grand Rapids city officials began planning for the construction of a new museum that would include an operational carousel.
The carousel search committee that formed in 1979 first selected the carousel that resided in Ramona Park in East Grand Rapids at the time. But, the committee eventually learned that it had been dismantled and sold off when the park closed in 1954.
Then, the 1928 Spillman Carousel was discovered through a nationwide search in the spring of 1981. Museum officials traveled to Pennsylvania to visit with Frank Guinan, the carousel's owner, and agreed that it was the perfect fit for Grand Rapids.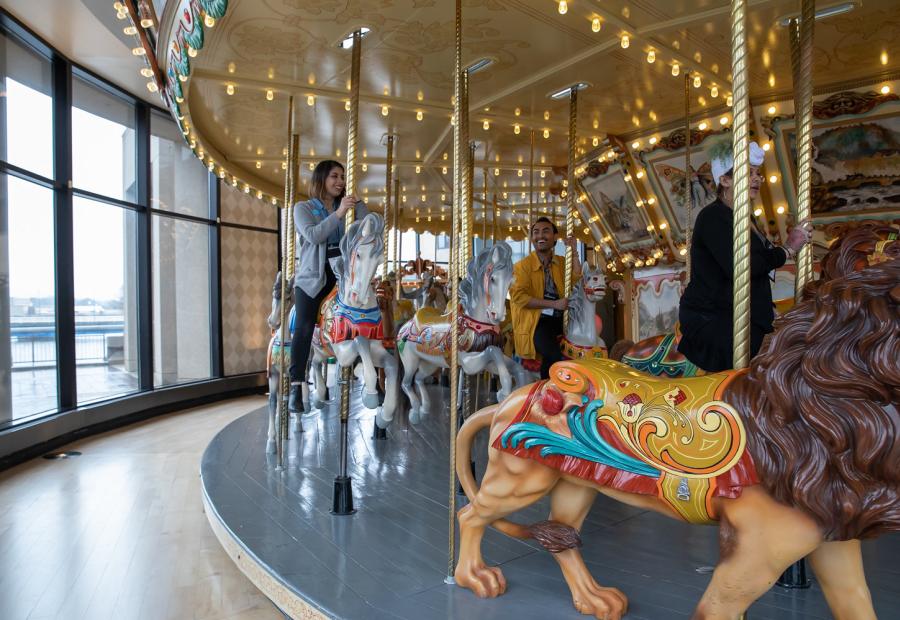 Fact: The Spillman Carousel consists of 44 hand-carved wooden horses.
Photo by Mod Bettie
3.) A community campaign brought it to Grand Rapids
In 1981, the museum's president, W.D. Frankforter, announced that the museum would buy the carousel, but a community-wide campaign was needed to raise funds for the purchase.
The goal: raise $175,000 by 1982.
Late Grand Rapids philanthropist Peter C. Cook accepted the challenge, led the efforts, and even funded the creation of the glass and cast stone pavilion where the carousel currently resides.
After a successful campaign, the carousel debuted in 1994, more than a decade after it was purchased, when the museum opened to the public under the name: Van Andel Museum Center.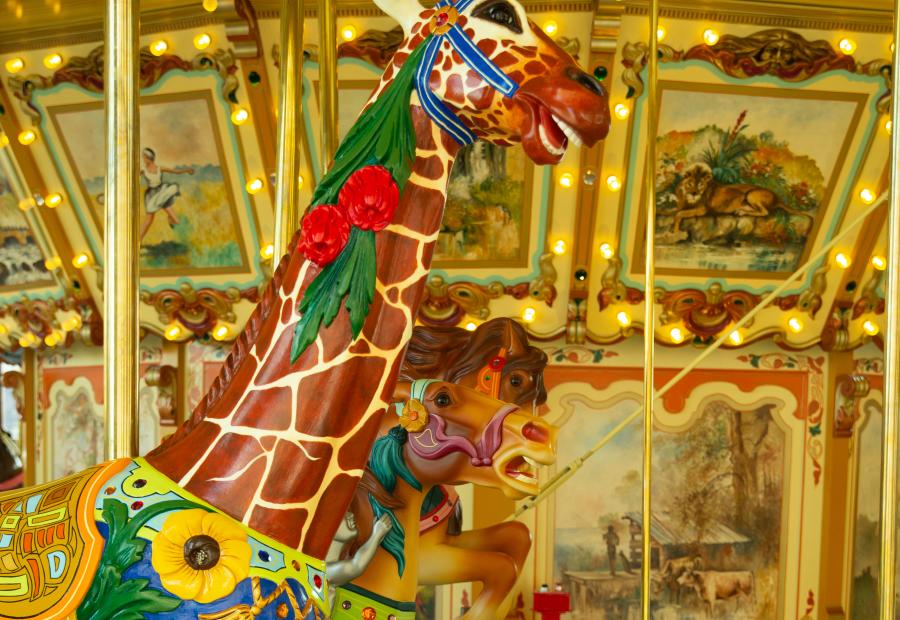 Restorers spent 300 hours on each animal to bring them back to their original glory.
Photo by Grand Rapids Public Museum
4.) There are 50 animals to ride
The 1928 Spillman Carousel consists of 44 hand-carved wooden horses elaborately decorated with jewels (four "standers" and 40 "jumpers").
Before the carousel debuted, carousel restorers John and Linda Layton of New Castle, Pennsylvania, spent approximately 300 hours on each animal to restore them all to their original color and design using enameled acrylic paints for durability and longevity.
Uniquely, horses are not the only animals that can be ridden on the carousel. In addition to two chariots, guests have the option to ride one of six menagerie animals, including a goat, a lion, a deer, a tiger, a camel, and a giraffe (my personal favorite; it's always sporting a big grin, so how can you not have fun riding it?).
5.) The carousel's music is played by a 1928 Wurlitzer band organ
The music of a 1928 Wurlitzer band organ offers an authentic touch while riders' smiles grow and legs dangle from carousel horses.
The 3,000-pound organ consists of two large spools lined with heavy paper punched with holes that tell the organ which notes to play. As one spool of music finishes and begins to rewind, the second spool begins rotating to create a continuous loop of music during each ride.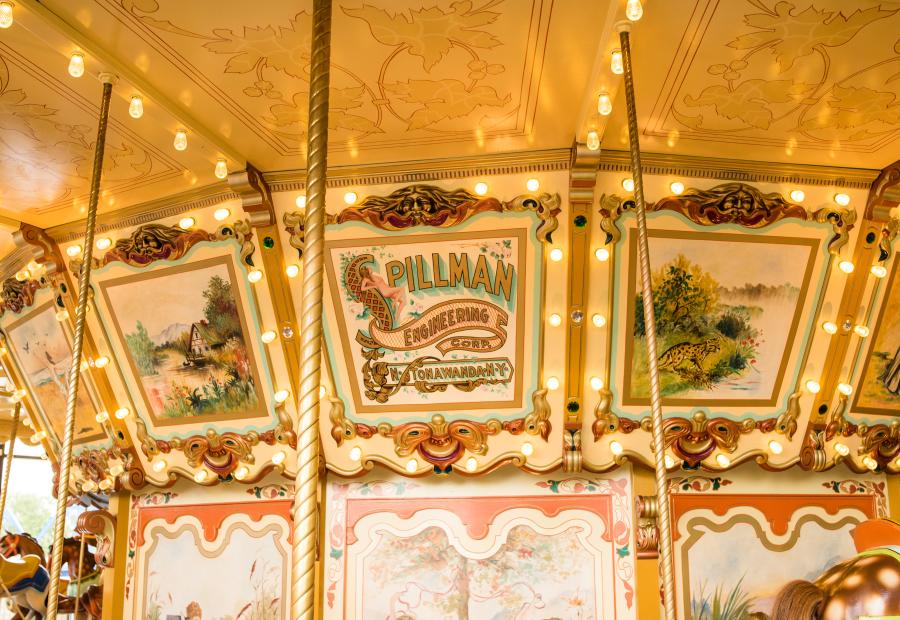 Fact: The Spillman Carousel is one of three special park carousels to have been produced by the Spillman Engineering Co.
Photo by Experience Grand Rapids
6.) 1,200 light bulbs light up the carousel canopy
Guests will never have trouble soaking in their surroundings while enjoying a ride on the 1928 Spillman Carousel. The carousel currently includes 1,200 individual light bulbs that light the way for the animated animals.
As part of ongoing efforts to make the GRPM as sustainable and environmentally conscious as possible, all of the carousel's lights were replaced with energy efficient LED bulbs during an extensive renovation project from 2017-2022.
7.) It's free to ride with a general admission ticket and open all-year round
The 1928 Spillman Carousel is one of the most wallet-friendly attractions in downtown Grand Rapids. Rides are free after purchasing a GRPM general admission ticket, and the carousel can be ridden all year long. 
In March 2022, the museum changed their admission policy so that guests only had to pay one price to visit the museum. This change includes all exhibits (even the traveling ones) and a carousel ride. The only experience with an additional charge is the daily Planetarium shows.
Insider Tip: A general admission ticket to the museum is conveniently included in Experience Grand Rapids' Culture Pass GR, which offers admission to many cultural attractions around Grand Rapids, like John Ball Zoo and the Grand Rapids Art Museum, for one low price.
Tickets are sold in time slots, with a ride taking place every 20 minutes. You can reserve tickets in advance online at grpm.org or at the carousel during your visit to the GRPM.
The carousel can also be ridden for free when the museum is rented for private events. My first ride on the carousel was during my sister's wedding at the museum in 2010, and it was an incredibly unique and fun addition to the festivities that we still reminisce about today.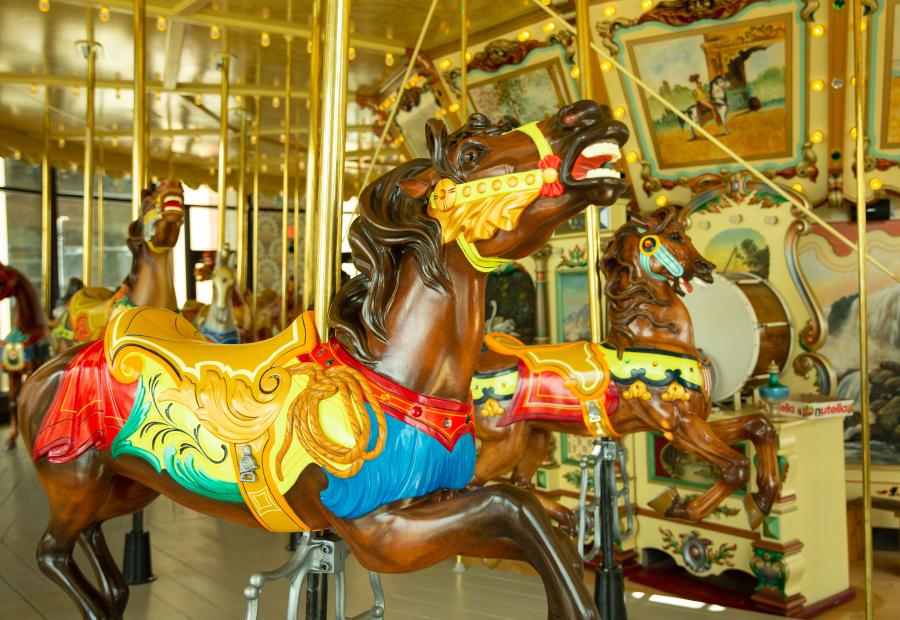 Fact: 40 of the carousel horses "jump" up and down during the ride.
Photo by Grand Rapids Public Museum
8.) It's an awesomely accessible attraction 
To ensure that as many people as possible can enjoy the experience of riding the 1928 Spillman Carousel, the attraction is equipped with bilingual signage and instructional recordings. It also includes additional communication features for people who are blind, low vision, deaf, or hard of hearing. 
Ongoing and future updates to the carousel will include the creation of a wheelchair-accessible chariot (slated for 2023) and the integration of a ramp for wheelchair access. 
Have you ridden the 1928 Spillman Carousel? Tell us about your experience in the comments section below and visit grpm.org/carousel to follow updates about the carousel.
For only $20, Culture Pass GR is your ticket to explore cultural attractions and even more discounts in Grand Rapids.