Fall is typically when downtown Grand Rapids transforms into an arts epicenter during ArtPrize. People flock to West Michigan from all over the world to compete in or simply experience the international art competition, which in 2018 included art by 1,400+ artists from 41 states and 40 countries, displayed in more than 165 venues.
Grand Rapids-area breweries serve as many of those venues, so ArtPrize is also a time when local taprooms generally see an increase in business from visitors. Since ArtPrize will not be taking place in 2020 due to COVID-19, members of the Beer City Brewers Guild have banded together to develop a creative solution to ensure that this fall will still be a time when artists and enthusiasts alike can create and talk about art and why it matters.
That solution? AlePrize — a month-long, city-wide event that pairs local artists with local breweries. 
Throughout the month of October, you can enjoy a pint of locally crafted beer while also immersing yourself in locally crafted art when the taprooms of area breweries transform into exhibition spaces for artists to display their talents. Nearly half of the more than 40 breweries in the Beer City Brewers Guild will be participating in AlePrize. 
Each participating brewery will display work from a local artist, or multiple artists, and a $1,000 prize will be awarded to the artist who gains the most public votes. To vote, first check out the art on display at the participating breweries, then head to AlePrize.com to cast your vote for your favorite. Another $1,000 prize will be awarded to the top-rated artist who will be selected by a panel of local arts and culture community figures.
"AlePrize is important to both allowing artists to still display their work, and also maybe bringing a small sense of normalcy to the public," says Jackson VanDyke, Beer City Brewers Guild President and an owner of Harmony Brewing Company. "We are still here and still engaged."
Here's a look at some of the artists and artwork being featured at a handful of the participating AlePrize breweries. You can find the full list of breweries and more info about the event by visiting AlePrize.com. 
As you plan your AlePrize tour, be sure to regularly check Experience Grand Rapids' travel updates as well as the websites of the participating breweries for visitor tips and safety guidelines.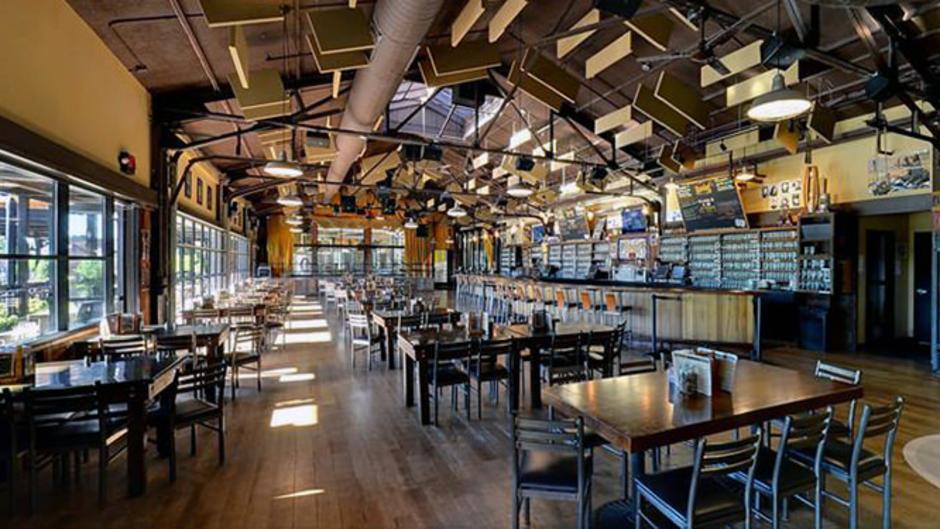 Founders Brewing Co. will display the work of five different artists during AlePrize.
Photo Credit: Experience Grand Rapids
---
Founders Brewing Company
AlePrize is the brainchild of Chad Atherton, Director of Market Development at Founders Brewing Company. After the cancellation of this year's ArtPrize was announced, Atherton learned that there were local artists who had already dedicated time, energy, and money toward their projects and were now without an opportunity to showcase their work.
"At Founders, we have a long history of both displaying local artists regularly and also as an exhibition space for ArtPrize," says Atherton. "My thought was that ArtPrize having to cancel shouldn't stop us from displaying local artists' creative work as long as we could do it safely and not disrupt our new protocols of operating during this pandemic."
Atherton, who also sits on the Beer City Brewers Guild board, said AlePrize will help offset the loss of two important annual Guild events that were also canceled this year. One is the Pro AM Tap Takeover that pairs local homebrewers and breweries to collaborate on a beer with the goal of entering into a competition. The other is Brews in the Grove, a day of planting dozens of trees in Riverside Park followed by a fun beer festival featuring Beer City Brewers Guild breweries. 
"A lot of credit goes out to all the other board members and participating breweries for bringing this to life," says Atherton. "An idea is just an idea unless a group of inspired people like the Beer City Brewers Guild get behind it and make it a reality."
During AlePrize, Founders will display the work of not one, not two, but five artists — Esan Sommersell, Alynn Guerra, Carlos Aceves, Sarah Vandermere, and Bryan Webster — from the main taproom's ceiling as well as across three different walls. The artwork will only be visible to guests seated in the taproom, but you can soak in the art while sipping on staple Founders brews like the All Day IPA, Dirty Bastard scotch-style ale, or Rubaeus raspberry ale thanks to COVID-19 safety precautions in place at the brewery.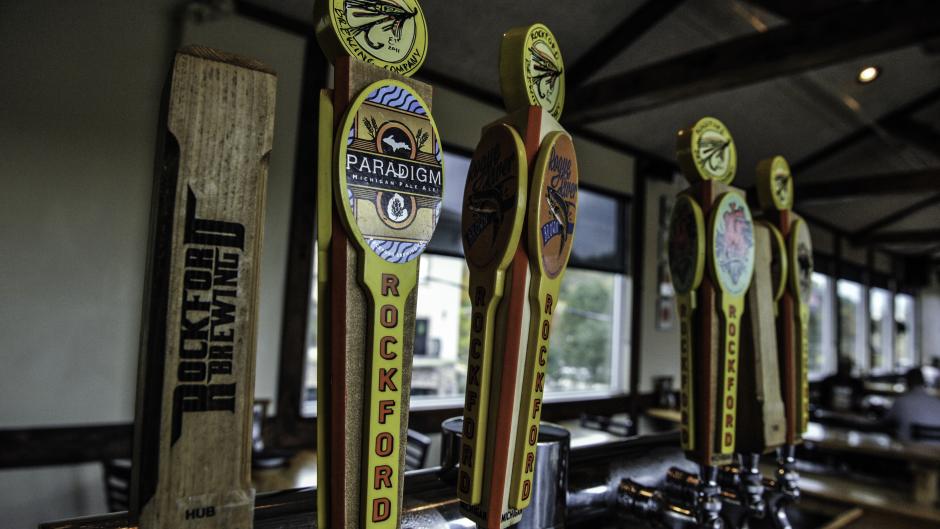 Rockford Brewing Co. will feature a window mural painted by a one of its own team members.
Photo Credit: photo courtesy of Rockford Brewing
---
Rockford Brewing Company
When visiting Rockford Brewing Company during AlePrize, you'll be able to marvel at a window painting by a member of the brewery's marketing team, Debbie Paver. The piece is inspired by the brewery's Rogue River Brown can design — a design that was created by Carlie Zervan, also a member of Rockford Brewing Company's marketing team.
"We've been showcasing local artists each month for about six years, so this just seemed like a natural fit for our brewery to participate in," says Zervan. "We love supporting local artists and we think it's an important part of our culture."
While precautions are in place to dine and drink safely inside Rockford Brewing Company, you can opt to enjoy Paver's work from outside the brewery along the White Pine Trail. If you do choose to sample some brews or take advantage of weekly specials at the brewery, like Thirsty Thursdays or Meatless Mondays, limited outdoor seating is available. 
Cedar Springs Brewing Company
Chris Powell, a lifelong resident of Cedar Springs, will have his artwork showcased at his hometown brewery, Cedar Springs Brewing Company, which specializes in crafting brews in the German tradition.
Powell's artistic expertise centers around creating "garden art" sculptures from recycled materials, encouraging something beautiful to "grow." For AlePrize, he will be creating at least six sculptures that will be on display surrounding the brewery's heated outdoor Biergarten. 
"Craft brewing is all about community and collaboration; this fits perfectly with our mission of making ours a better place," says David Ringler, Director of Happiness at Cedar Springs Brewing. "I think it's amazing for the Beer City Brewers Guild to pivot a negative into a positive for the Beer City and art community, and [AlePrize] creates a lovely opportunity for ArtPrize fans to experience a little art in fermented form as well."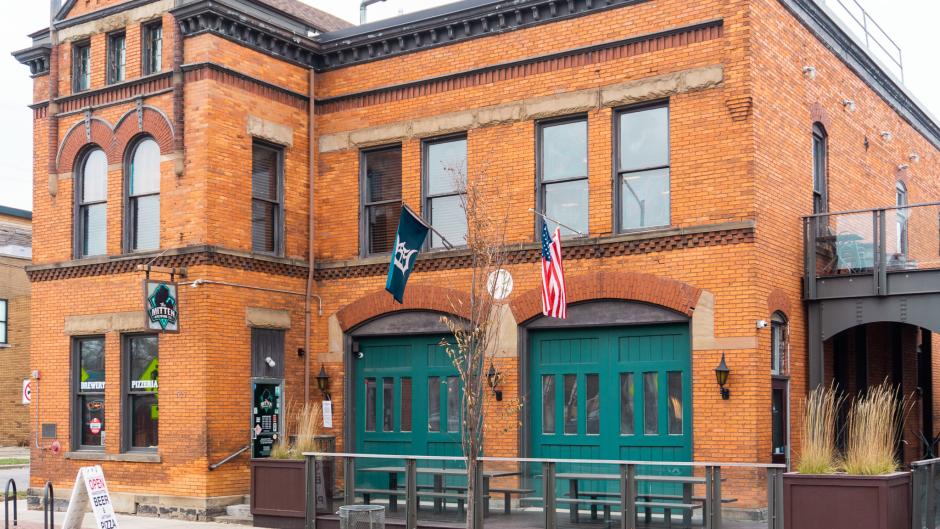 You'll find large, mixed media paintings by Shannon Andrus at The Mitten Brewing Co.
Photo Credit: Brian Craig for Experience Grand Rapids
---
The Mitten Brewing Co.
The Mitten Brewing Co. will showcase artwork by Shannon Andrus, the owner and operator of Hearts for the Arts — a local studio that provides step-by-step classes that encourage creators of all levels and experiences to explore their inner artists. 
Andrus has been pursuing her passion of working with aspiring artists with special needs for the past 10+ years, which was the initial inspiration behind opening Hearts for the Arts in 2008. Her studio has since expanded to now offer in-studio classes plus host private parties and fundraisers. Andrus even hits the road to host Brushes & Brews painting nights at local breweries and mobile art classes.
During AlePrize, you'll be able to enjoy large, mixed media paintings on wood displayed on the walls of The Mitten's firehouse taproom created by Andrus. While you drink in her art, you can also drink one of the brewery's signature baseball-themed brews, like the Peanuts and Crackerjack Porter, Triple Play IPA, or The Stretch Golden Ale.
"The hospitality industry has been hit hard by coronavirus, but we are not the only industry hurting," says Max Trierweiler, co-owner of The Mitten Brewing Co. and Beer City Brewers Guild Treasurer. "Artists in general have been all but stopped in their tracks. Shannon's art studio is no exception. We hope to help her get back on her feet with some recognition and prize money."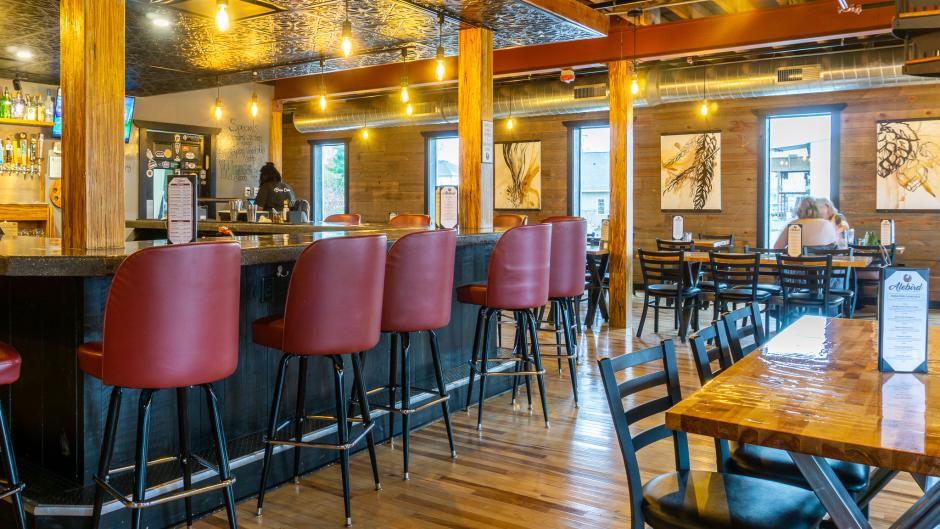 Alebird is featuring new work from the artist of the paintings already on display in the taproom.
Photo Credit: Brian Craig for Experience Grand Rapids
---
Alebird Taphouse and Brewery
The staff at Alebird Taphouse and Brewery always strive to create community around the craft of brewing, so why not extend that community to include the craft of creating art as well?
Located about 20 minutes southwest of downtown Grand Rapids, Alebird will feature the work of a familiar artist during AlePrize.
Shelby Kregel, Alebird's AlePrize artist, specializes in creating bright pieces of art using acrylic paint, watercolor, and India ink. Kregel is no stranger to collaborating with Alebird either; she previously crafted a series of paintings representing the ingredients of the brewing process that are currently hanging in the brewery's taproom in addition to her AlePrize piece.
Amy Harris, co-owner and General Manager of Alebird, says she's excited AlePrize is coming to fruition because art, and the conversations around art, make the world a more beautiful place.
"Right now seems like the perfect time to do something like this, and I Iove that it's paired with breweries/beer because that is what we are trying to create in our space," says Harris. "We want Alebird to be a place people gather, connect, share ideas, and feel sharing a pint is always a good place to start."
While viewing Kregel's work, Harris recommends sampling Alebird's seasonal OktoBIRDfest Oktoberfest brew and Doc Holmes Harvest Ale, which is brewed from freshly harvested hops from Pure Mitten Hops.
Speciation's AlePrize artist will be showcasing her talent on the tasting room's garage door.
Photo Credit: Experience Grand Rapids
---
Speciation Artisan Ales
Dayna Walton, owner of Solstice Handmade and a recent graduate of Kendall College of Art and Design, will showcase her talents across the garage door of Speciation Artisan Ales during AlePrize.
Walton's deeply rooted passion for the natural world and her background studying natural science in illustration inspire her work with prints, patterns, and design. Walton also teaches workshops in Grand Rapids and throughout Michigan where she brings together art and science with the goal of starting conversations about conservation.
"She's great to work with and has a unique style that matches well with our style," says Mitch Ermatinger, co-owner of Speciation Artisan Ales and Native Species Winery, and VP of the Beer City Brewers Guild. "You can also see more of her work on a massive mural inside the tasting room that's not affiliated with this competition."
Ermatinger added that Speciation Artisan Ales, which specializes in sour beers, natural wines, and craft seltzers, is aiming to provide a safe space for artists to showcase their work during such a strange time.
"We believe that art is an essential part of being human, and significantly adds to our quality of life," says Ermatinger. "This is a fun way to integrate art and keep the spark alive during dark times."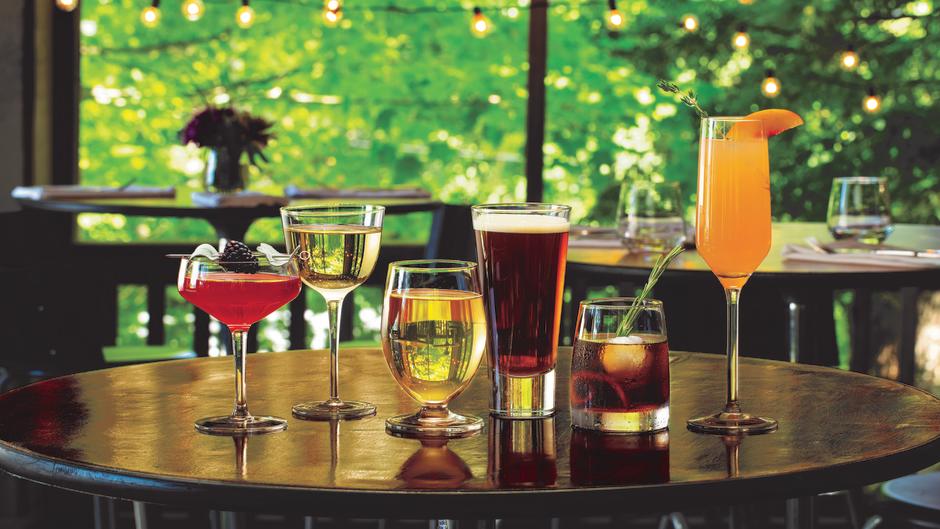 Earn rewards with Craft Pass GR and the Brewsader Passport as you enjoy AlePrize.
Photo Credit: Experience Grand Rapids
---
Craft Pass GR
Many of the AlePrize breweries are also participating in Craft Pass GR, a new digital pass dedicated to the area's rich craft beverage scene.
Craft Pass GR allows you to experience 20+ local breweries, distilleries, cideries, wineries, and meaderies while giving them support as they weather the impacts of the pandemic. 
The pass is available now through October 31, and you can download yours directly to your smartphone by visiting CraftPassGR.com. Then, use the pass to check in to at least four of the participating craft beverage businesses to earn an exclusive drink-themed gift that will be mailed to you. Each business will also give you a digital coupon that could provide a discount at their gift shop, a percentage off of your bill, or whatever other "crafty" idea the establishment concocts. All coupons expire December 30, 2020. 
Become a Brewsader® during AlePrize
Enjoying the sights and sips of AlePrize can also help get you started on your Brewsader journey since all AlePrize breweries participate in Experience Grand Rapids' Beer City Brewsader program.
Download the Beer City Brewsader app through the Apple App Store or Google Play and then visit any of the 40+ participating breweries to begin collecting Brewsader Passport stamps. After collecting eight digital stamps, you'll receive an exclusive Brewsader t-shirt to commemorate your adventures — a simple goal to achieve while exploring AlePrize! 
If you collect more than 40 stamps, you'll earn the title of Ultimate Brewsader. Along with that comes a wallet card that grants you discounts around Grand Rapids and for purchases made on GrandRapidsStore.com.
And while you're at it, why not send a Beer City-themed postcard to an out-of-town loved one or friend to invite them to join you on your AlePrize adventures.
Which breweries do you plan to visit during AlePrize? Let us know in the comments below or on social media!
Don't miss a post!
Sign-up for the Insider Experience blog