Spring is officially here. Of course, it's felt like spring for a couple of weeks now - not that I'm complaining! Spring is one of the best times to visit Grand Rapids. Here are some favorites for any Grand Rapidian once the snow melts and the sun starts shining again:
John Ball Zoo
All those animals went into hiding during the winter, but everything opens back up in March and the lions and tigers and bears start making there way back out into the open. But what the locals know is that the zoo is far less busy in spring when it is a bit cooler.
Beyond the standard fair of rowdy chimps, shy bears and the silly penguins there is a petting zoo where you might find a wild turkey or two walking among the crowd. Speaking of petting, how would you like to pet a stingray or have a Budgie bird land on your finger?
And after you have had your fill of animals make sure to try the ropes course and zipline. Or take a ride in the lake just outside the entrance in a swan shaped paddle boat.
Zoo open daily from 10-4 with $5 admission for adults, $4 for children. Children 2 and under are free.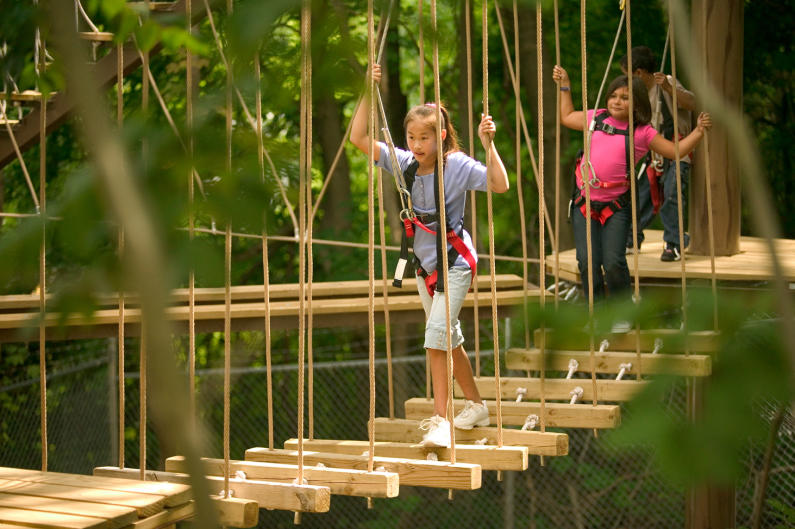 Kids love all the activities at John Ball Zoo including the ropes course.
Photo Credit: Experience Grand Rapids
---
Boulder Ridge Wild Animal Park
You'll have to wait a while, but if you want to see animals that are a tiny bit more exotic than what you can find at the zoo, head to Boulder Ridge later this spring. Located on 80 acres of land, the locals know it is well worth the drive to head out to Alto, MI.
See animals you will be hard pressed to find anywhere else but in Africa. Get up close and personal with exotic creatures. And if you are lucky, interact with their very own Rick the Reptile Guy whose enthusiasm about all things slithery and slimy will turn even the biggest snake hater into a fan.
Opening weekend is May 5th and 6th when the weather is warm enough for the animals used to basking in the African sun.
Animal park is open from 9-5 M-Sat and 12-5 on Sun. Admission is $10 for adults, $8 for children under 11 and children under 3 are free.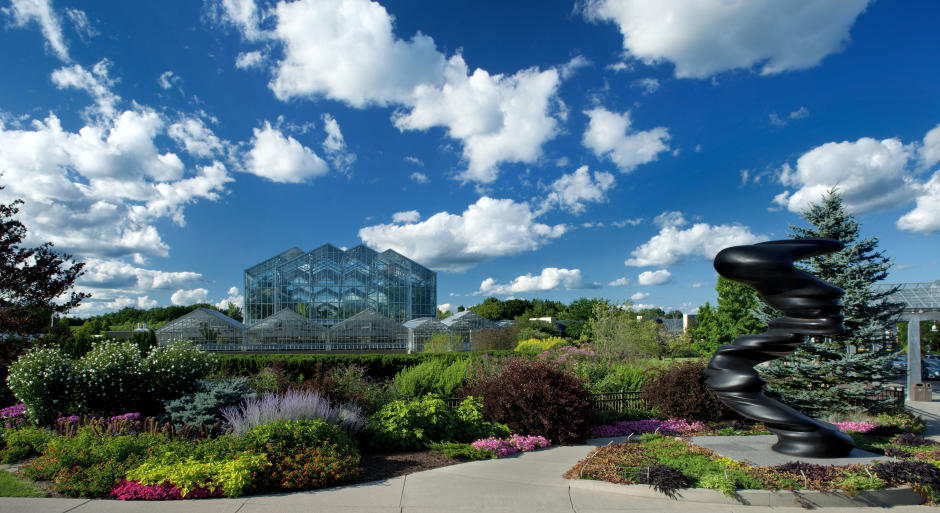 Frederik Meijer Gardens & Sculpture Park was a concept of a major cultural attraction centering around horticulture and sculpture that was embraced by Fred and Lena Meijer in 1990.
Photo Credit: Experience Grand Rapids
---
Meijer Gardens
Any tourist that comes to comes to Grand Rapids MUST head to Frederick Meijer Gardens & Sculpture Park. It just can't be missed. The children's area alone is worth a visit, but here are tons of other reasons to head there.
Every local knows that March and April are the best times to visit because the butterflies are blooming. But what the locals really know is that April is the really best time to go because more butterflies have hatched and therefore there are a lot more to be seen.
It is the perfect escape after a long grey winter. Head into the tropical greenhouse and walk amongst over 5000 butterflies. They can be found flying around from the floor to the ceiling. You can even see them as they emerge from their chrysalises if you are lucky.
Make sure to bring your camera and wear bright colors to attract the butterflies. If you are lucky you might get one landing on your shoulder. Now that is a photo opportunity you wont want to miss.
Meijer Gardens is open M, W, Th, Fr, and Sat 9-5; T 9-9; and Sun 11-5. Admission is $14 for adults, children $6 and children 2 and under are free.
Locals, what are your favorite springtime destinations in Grand Rapids? Visitors, what are you looking forward to doing the most?
Never Miss a Post!
Subscribe to the Insider Experience blog.