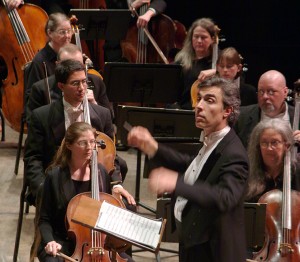 photo courtesy of the Grand Rapids Symphony
Great symphonies focus on discipline and clarity and excellence; the Grand Rapids Symphony is no exception. But the Grand Rapids Symphony sets itself apart with its commitment to reach a wide spectrum of people throughout our community.
"It's ingrained in this organizations mission statement to be an organic part of this community," says Jacalyn Wood, a representative of the Grand Rapids Symphony. "We help people get in touch with themselves and we believe that the symphony is important for everyone to experience."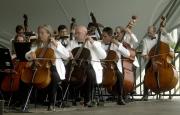 photo courtesy of the Grand Rapids Symphony
To that end, the Grand Rapids Symphony presents more than 400 performances a year, including 80 concerts, and reaches approximately 170,000 people in the community, almost half of whom are students, senior citizens and people with disabilities. Their educational programming reaches over 77,000 children and adults each year.
To its more traditional offerings, the Grand Rapids Symphony adds wonderful children's programming with its Lollipops series, and a popular Picnic Pops series, when they perform at the ski hill during the warm summer months, and guests bring picnic baskets brimming with goodies and relax on the hill while being serenaded by the symphony.
You have several opportunities to enjoy the Grand Rapids Symphony during the upcoming holiday season:
"The Cirque de Noel show is back for its third season by popular demand," says Wood. She encourages families to bring their children to the symphony for all kinds of concerts, but particularly Cirque de Noel. "We have 3 dates in the middle of the week, December 18-20," she explains, "when school are starting their breaks. Its a family affair."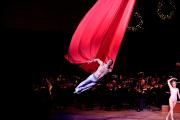 photo courtesy of the Grand Rapids Symphony
I haven't yet seen the Cirque de Noel show, but my family has attended the Holiday Pops a number of times. I always find it a powerful, moving experience. Wood explains that every person experiences each performance differently.
"We provide the high quality standard," says Wood, "so every performance is memorable and beautiful and affecting. But each person applies their own personal lens to the performance."
She's right. Whether I'm dressed up for the Holiday Pops, wearing jeans with my kids at a Lollipops Concert, or kicking back with a glass of wine on the ski hill, the symphony is a consistently stirring, and thoroughly enjoyable, event.
I'm not alone in that experience, says Wood. "Everyone loves seeing people do what they do best."