When my husband and I moved to Grand Rapids almost 14 years ago, Bistro Bella Vita was our first favorite restaurant. It's remained one of our favorites because its absolutely bankable: we know we'll get a great meal there.
We weren't disappointed this past Friday evening, when we took two of our kids with us to Bistro Bella Vita for a late dinner. The boys gobbled up the calamari appetizer and Pizza Rustica, while my husband and I started with the Proscuitto & Fresh Fruit Salad (amazing!), then enjoyed the Fisherman's Stew (me) and Mixed Grill (my husband) from the specials menu. Wonderful, all the way around.
It doesn't hurt that Bistro Bella Vita is committed to sustainable farming and sources ingredients locally as often as possible. They were the first farm-to-table restaurant in Grand Rapids, a movement thats seen huge strides here in recent years. Bistro Bella Vita also established a relationship with Ingraberg Farm over a decade ago. You can taste their commitment to sustainability in every dish.
I caught up with Aaron Van Timmeren, Head Chef at Bistro Bella Vita, to find out a little more about the personality behind this fantastic Mediterranean menu.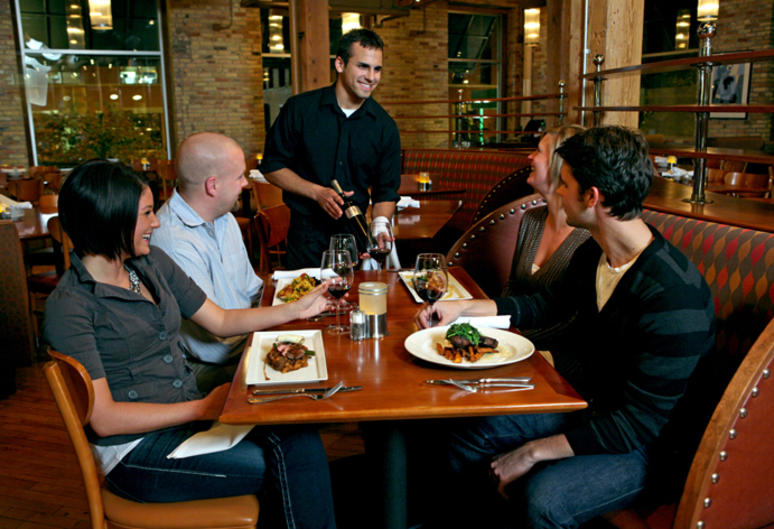 Bistro Bella Vita diners
Photo Credit: Experience Grand Rapids
---
Q & A with Aaron Van Timmeren, Head Chef at Bistro Bella Vita
What do you like to do on your days off?
Eat, shop for clothes, spend money on my 13-year old daughter, and listen to music. I also have a 3-month old, and my parents still live in town, so most of my free time is spent with my family.
If you're not working, where do you go when you eat out?
One place, that's not in town, is Mia & Grace in Muskegon. It's a husband and wife team and they do a tremendous job.

In town, Reserve is usually on point. I also enjoy eating at The Green Well and Grove (also owned by Essence Restaurant Group). Once in a while I'll frequent San Chez.

I also really like Osta's East Grand Rapids. Their shawarma sandwich is so good.
When did you know you wanted to be a chef?
In the back of my mind, I knew at a pretty young age. My mom was a single mom she had to work on weekends, so I spent a lot of time with my grandmother. She cooked all day! I remember watching her cook, and participating with her, and that kind of got it going.
What was your first food-related job?
Washing dishes at a Silver Lake Country Club in Rockford.

Someone was sick one day and the chef asked me if I wanted to cook. I have no idea if I did a good job that night but it was exhilarating to me. I decided then that I wanted to go to culinary school. Its been a crazy fun ride and I wouldnt change a thing.
Whos been your biggest career mentor?
Pat Wise, who's the co-owner of Essence Group (and the Executive Chef at Grove), for his work ethic and his drive to be self-improving. He leads by example and he works harder than anybody I've ever met.
Whats the biggest mistake you ever made in the kitchen?
There've been so many mistakes, are you kidding?

When I was at the country club, I was doing catering for a wedding banquet of about 150 people. I put one of the new guys in charge of the Chicken Cordon Bleu and when it came time to plate them, he hadn't cooked them all the way through. I didn't think to check and some raw chickens went out. They sent them back!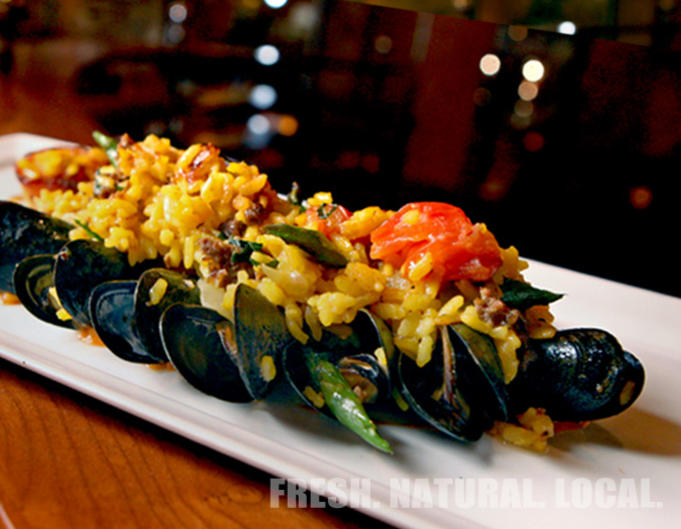 Bistro Bella Vita
Photo Credit: Experience Grand Rapids
---
Whats your favorite dish?
I don't necessarily have a favorite to eat. But when we're getting really busy, we have huge preps and we talk to each other about 'What is your Zen moment?' which means 'What one thing can you be at peace making? For me its probably gnocchi. I can just relax and make them really fast.
What ingredient do you think is essential in any kitchen?
Butter. Butter makes everything taste good. Also love cold, first-pressed olive oil and sea salt. My new thing is fennel pollen - I try to incorporate it into everything I make.
Whats your least favorite ingredient?
Anything canned, generally speaking, because it tastes like the can (like canned corn at Thanksgiving). Also anything really processed. And button mushrooms because I dont think they really taste like anything. There are so many other kinds that have so much flavor.
What recent trend do you see in kitchens that you really like or dislike?
The whole molecular gastronomy thing is very interesting to me. Examples of restaurants doing it it are Per Se and wd~50 in New York. It's interesting to me because its all about the ingredients. They're using science to create something exciting.
What would be your second choice for a career, if you werent a chef?
There are so many things that pop into my mind, like, I think I would either design clothes or make music, but I don't think those are realistic; I wouldn't really be that good at them. I think real estate is interesting, but clothing designer sounds way more fun.
Whats one thing most people don't know about you?
People tend to think that, if you work in the kitchen, you party every night and go out to the bar after work and go crazy. But I like to come home, say hi to the kids, listen to music, and that's about it. I'm a pretty straight arrow.
What do you think sets Bistro Bella Vita apart?
You know your food is going to be made fresh and from scratch. We dont use any preservatives. Our Mediterranean menu encompasses ideas from all over Europe and some from Africa and the Middle East, but we also have a broad range of traditional things. With our daily special sheet, we push ourselves to be creative, using all the amazing vegetables and proteins we get from local farmers. Also consistency: We've had a solid group of good cooks for the last 10 years and they're really good at what they do.
Don't ever miss a post!
Sign-up for the Insider Experience Blog