When our children were little, my husband and I loved to get a babysitter and head to downtown Grand Rapids to catch up over a good meal. Now that the kids are older they prefer to come along, although sometimes we still sneak off on our own. Either way, we've had consistently good food and service at One Trick Pony Grill and Taproom.
The menu and kitchen staff has changed over the years, but the building that houses One Trick Pony is no stranger to change. Since 1856 its been a general store, upholstery and tack shop, meat market, dressmaker, and more. For the past 17 years it's been a place Grand Rapids residents and visitors can find good food and, if you hit it on the right night, live music, too.
One Trick Pony's most recent change is the addition of Ryan Wabeke as Executive Chef. I talked with Chef Wabeke about his new gig, his favorite ingredient, and his biggest mistake in the kitchen.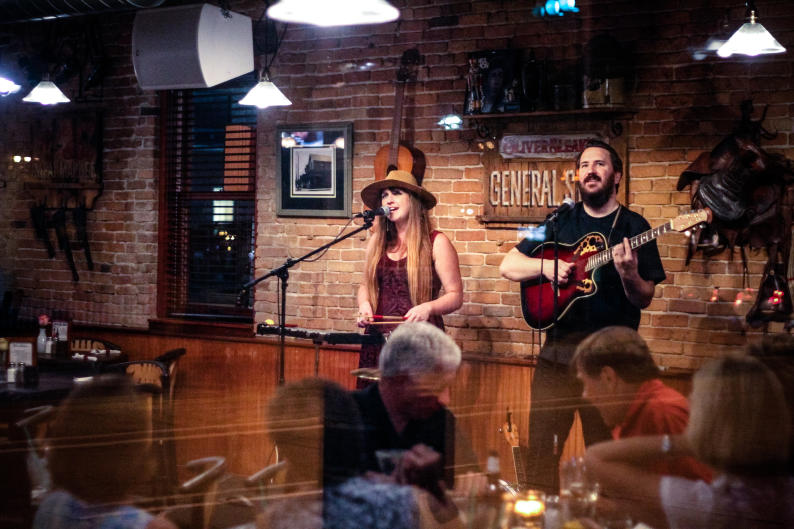 Live Music at One Trick Pony
---
Q & A with Ryan Wabeke, Executive Chef, One Trick Pony
What do you like to do on your days off?
I'm a pretty big sports fan, so its either pursuing sports myself (I like golfing, bowling, and other leisure activities) or attending sporting events. I was just in Ann Arbor for the Michigan-Michigan State Game, routing for Michigan State. Ive had bragging rights for 4 years, so hopefully Im only giving that up for a year.
If youre not working, where do you go when you eat out?
I like all types of food. When I go out, I go mostly to local-centric places near where I live on the SE side of town. We have The Green Well, Grove, and Brewery Vivant. Ive had good experiences there.
When did you know you wanted to be a chef?
I knew in high school. I worked for a retirement village and I was a dishwasher and prep cook. From there, Ive always had a great appreciation for food and for the industry, and Ive always taken that path.
What was your first food-related job?
It was delivering trays of food to the individuals at the retirement home. I also did light prep work and dishwashing. I worked my way up to helping run that kitchen and it took off from there. I've been working in kitchens for 16 years now.
Whos been your biggest career mentor?
In Lake Tahoe, CA I worked with a chef named Joshua Smith, whos now moved back to Boston (where his wife is from). He was the Chef de Cuisine and he had a drive that Id never experienced until I worked for him.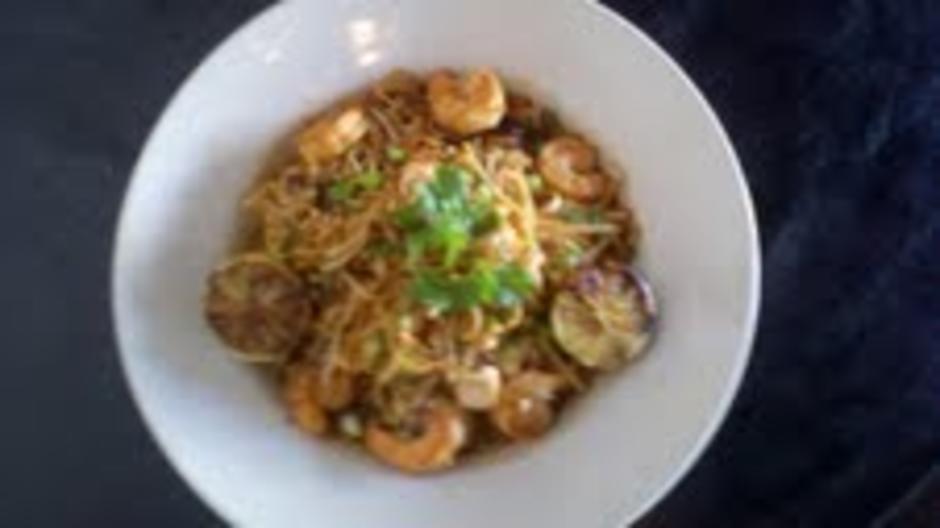 ---
Whats the biggest mistake you ever made in the kitchen?
It was assuming something was sugar when it was actually salt! The recipe called for 3 cups of sugar and I used 3 cups of salt and I didn't think about it until it came out of the oven. That was a big mistake. You only do that one time and you always check after that!
Whats your favorite dish?
I go back to what my mother made throughout my childhood, a peanut butter and honey dessert bar. She was trained by my grandma and she was one of the best pastry cooks Ive ever known. Anytime my mom hears Im coming, she still makes them. I cant stop eating them.
What ingredient do you think is essential in any kitchen?
Most people will say cream, butter, salt & sugar, which are important. But for me, I'd say champagne vinegar. It has a nice clean flavor to it; different types of oils are also nice to play around with.
Whats your least favorite ingredient?
When I was a kid I couldnt come near any kind of mushroom. My mom would puree the mushrooms whenever she made something that called for cream of mushroom soup. But now, Im not a huge fan of collard green or mustard greens because of the noxious fumes when youre cooking them. It takes away from the whole flavor.
What recent trend do you see in kitchens that you really like or dislike?
Obviously in Grand Rapids, its the local food trend, farm-to-table cooking. Its paramount. Most restaurants are trying to get the best ingredients we can as close to home as possible. Its great to see more locally influenced cuisine.

At One Trick Pony, Ingraberg Farm is our prime produce supplier. We use as much as we can. From March through September there are a lot of great things we can do. We all have to be a little more creative once the snow starts falling!
What would be your second choice for a career, if you weren't a chef?
Sports broadcasting or sports media. In high school I worked as a dishwasher but I also worked in the Athletic Department for school announcing games, scouting, doing things like that. I guess I would call cooking my wife and sports my mistress.
Whats one thing most people dont know about you?
Most people dont know that I have a twin sister.
What do you think sets One Trick Pony apart?
We have live entertainment several nights a week. We also have a really nice pizza oven and we have 8-10 homemade pizza specialties. Plus, all of our desserts are made in house. Its a great place to come for a couples night.
Don't ever miss a post!
Sign-up for the Insider Experience Blog