Cider Week GR has been cancelled due to COVID-19. We hope to celebrate Michigan cider later this Fall.
Hard cider lovers rejoice! Grand Rapids, primarily known for its craft beer scene, is devoting a whole week to craft cider. Cider Week GR is a seven day celebration of the rich array of locally produced ciders.
If you didn't know, Michigan is America's second largest producer of apples – with the majority grown on family farms stretching north from Grand Rapids. In terms of apple cider itself, the Mitten State is one of the top five cider producing states in the country. With such a rich supply of apples in the area, we certainly have our fair share of local establishments built upon the hard cider industry.
The booming cider industry in the state is what inspired the Michigan Cider Association, with the support of Experience Grand Rapids, to highlight Michigan craft ciders during Cider Week GR. Every spring, a variety of events, activities, and local tap takeovers will happen all around the city.
The week long celebration of all things hard cider ends with a cider festival on Grand Rapid's famed Blue Bridge. The festival includes local music, food, and of course, cider.
If you want to get in on the cider action ahead of time, here are just a handful of cideries to visit in West Michigan: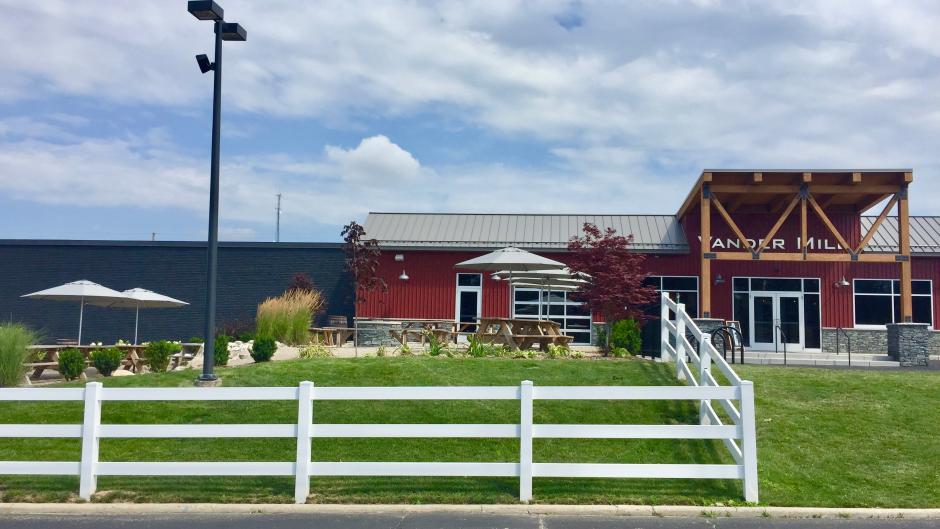 Enjoy the spring sights on Vander Mill's patio.
Photo Credit: Nichole Kladder
---
Vander Mill
What was once just a small cider production facility in Spring Lake is now a cider powerhouse with a second location in Grand Rapids. Vander Mill opened its Grand Rapids restaurant, tap room, and production facility in 2016. With the second location, Vander Mill started experimenting more with its menu and cider line-up. In regards to food, guests can enjoy a burger made up of a prime chuck and brisket blend, a delightful pairing of ham and donuts, or a seasonal rotation of locally sourced plates.
The cidery itself has its core series of classics such as Blue Gold and Totally Roasted, but at any given time, guests can find small batches of not so common flavors or concoctions. Take Loving Cup for example. This semi-sweet cider uses pink peppercorn, hibiscus, and a variety of berries. There's also the Ancho Mama which combines the sweet flavor of apples with poblano peppers.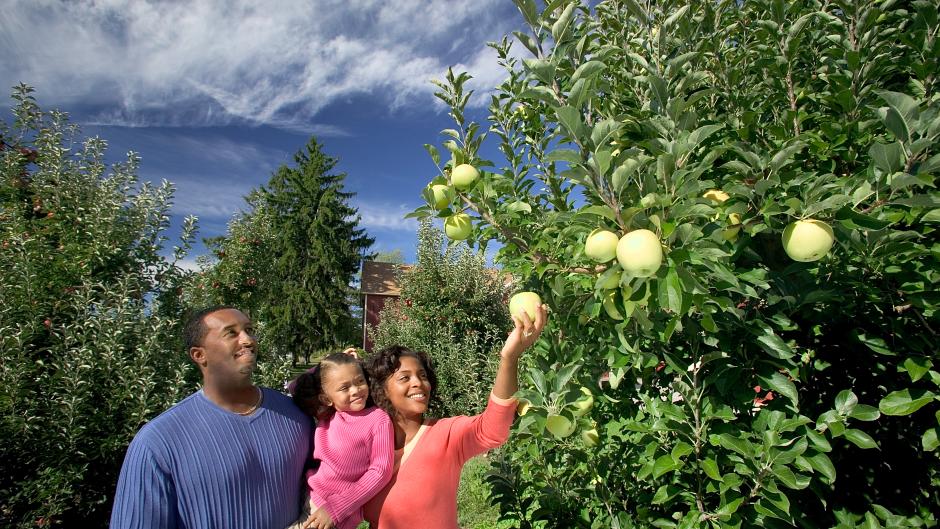 Mainly known for its fall apple picking, Robinette's also rocks the spring with fresh cider.
Photo Credit: Experience Grand Rapids
---
Robinette's Apple Haus and Winery
Located just north of downtown Grand Rapids is Robinette's Apple Haus and Winery. The family orchard sits on 125 acres and produces a variety of fruit including 35 different types of apples. With those apples, Robinette's produces not only hard cider but wine as well. Visitors to Robinette's can sample the wine at the big wine tasting bar in the basement of its rustic barn that was built in 1881.
Aside from hard cider and wine, Robinette's is very family-friendly with hayrides, corn mazes, and apple picking in the fall. Also at the orchard is a bakery, shop, a cider mill from 1971, and an outdoor trail perfect for walking or biking.
Farmhaus Cider Co.
A 150 year-old family farmhouse is the base of operations for Farmhaus Cider Co. Everything there is handcrafted, using local ingredients. The family that owns Farmhaus Cider has rich ancestral roots in Germany, which is reflected in their cider production, too.
While its German-style cider is drier than American-style cider, Farmhaus always has a broad range of flavors that will appeal to everyone.
Farmhaus Cider Co. also has an outdoor cider garden (think beer garden, only with apples), adorned with beautiful furniture, whimsical lights, and a view of the farmhouse for guests to enjoy.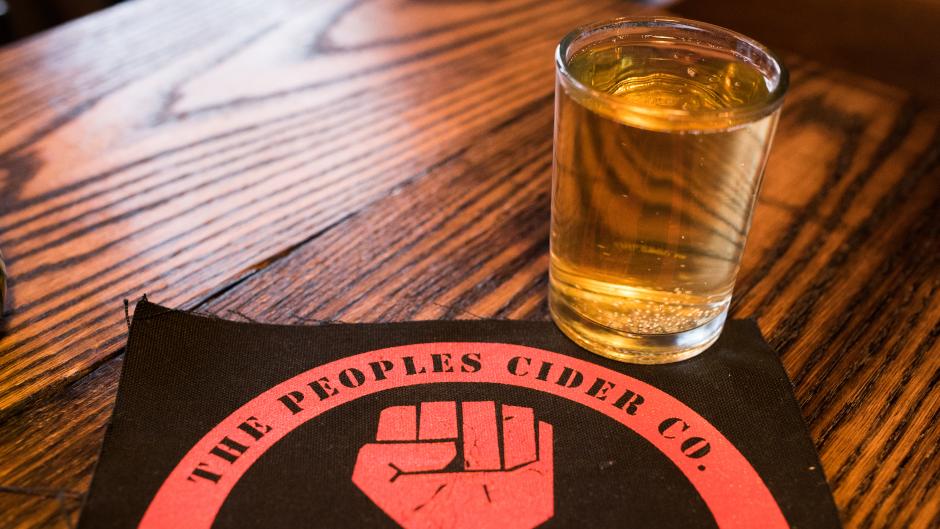 Enjoy a unique cider atmosphere at The Peoples Cider Co.
Photo Credit: Experience Grand Rapids
---
The Peoples Cider Co.
The Peoples Cider Co. calls itself the first urban winery in West Michigan. This cidery isn't located on a farm or orchard, but in an industrial office park about five minutes east of downtown Grand Rapids, as well as a taproom on Leonard St.  Don't let the untraditional location fool you. While the tap room is small (about a dozen or so seats), the place is charming and guests can expect great service and even better cider.
Using all local ingredients, the cider is bourbon-barrel-aged to create a premium dry cider. The owner of Peoples Cider isn't afraid to experiment and at any given time, there will be new and amazing hard cider flavors on tap. Some regular favorites include Mrs. Sally Brown, Ginger Adams, and Morrison's Ghost.
Ridge Cider Co.
Though Ridge Cider Company recently launched in 2015, co-founder Matt Delong has been perfecting hard ciders for years. He has come a long way in his craft since partnering with Bruce Rasch, a fifth-generation apple farmer, to start Ridge Cider Co. Their goal is to create the "true Michigan experience" with over 30 varieties of fresh and hard ciders along with wines all made from Michigan apples. The cidery's namesake comes from a fruit-growing region northwest of Grand Rapids known as "the Ridge," where Delong and Rasch source their cider-making apples.
But the focus on Michigan-made doesn't only apply to the ciders. Ridge Cider Co. also has a food menu with an emphasis on locally-sourced ingredients. Cider lovers can enjoy delicious, farm-to-table meals paired with Ridge's eclectic array of craft ciders. Guests will be "pleasantly surprised" by unique cider concoctions including juniper berries, hibiscus, coffee, and lavender. 
Don't miss out on all the craft cider-related fun by keeping up with the Cider Week GR event calendar.
Don't Miss a Post!
Sign-up for the Insider Experience Blog!