For those Ultimate Beer City Brewsaders® who have been anxiously waiting to conquer every brewery listed in their passport, City Built Brewing Company is finally open! After months of anticipation, managing partners Edwin Collazo and Dave Petroelje have created a one-of-a-kind experience that was born out of the necessity for something different.
During their 13-year friendship, general manager Collazo and chief beer officer Petroelje studied home brewing for over a combined 25 years, and along with a few side business hustles, have turned City Built Brewing Co. into Grand Rapids' newest hub for craft connoisseurs and curious foodies.
City Built occupies 6800 square feet of the former Sackner Products furniture factory – part of the $21M renovation in what now houses 616 Lofts on Monroe Avenue. The taproom seats approximately 138 guests, with a maximum occupancy of 202. However, Collazo would prefer to hold the guest count around 180 with the goal of being able to create a "positive, comfortable visit with memorable hospitality." Considerations for future outdoor seating on the sidewalk are already in talks.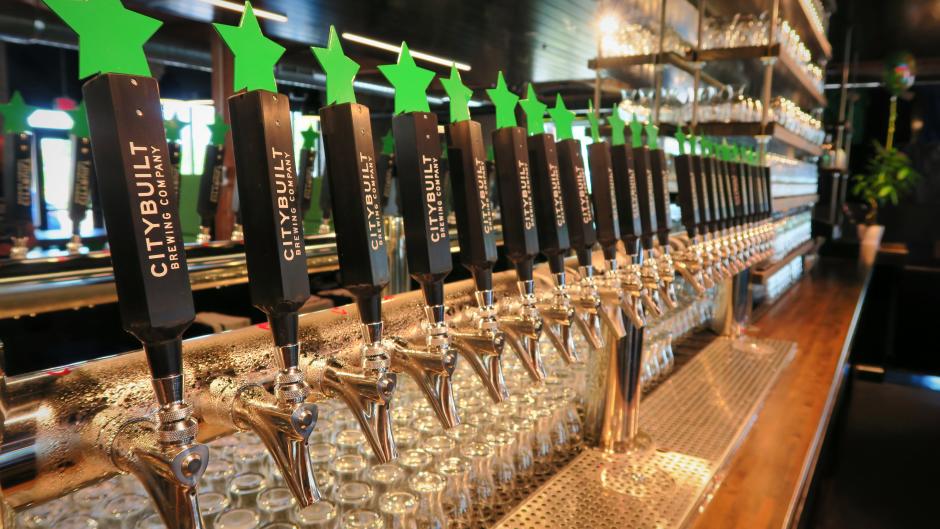 City Built currently features 9 original beers from 24 tap handles.
Photo Credit: Jason Ley
---
On Draft
Petroelje describes his and brewer Rob Qualls' approach to their beer program as "experimental, without being gimmicky, and not necessarily in step with trends." City Built has 24 tap handles, nine of which are currently its own brand, with the goal of maxing out around 15 or 16.
Petroelje's finds creative inspiration in plants and herbs as much as most brewers fawn over hops. Fans of Harmony Brewing Company's Lovely Day IPA will be pleased to see chamomile in City Built's Flower Power, an original Petroelje recipe. Note: We tried all nine of City Built's inaugural tap lineup, and they're seriously knock-out. No bias, we promise.
The balance of what's on draft is shared with Michigan-made mead and wine from St. Ambrose Cellars Meadery and Winery and cider from Farmhaus Cider Co. Grand Rapids' own Brix Soda is also available. 
City Built has plans to add a crowler machine for quick packaged to-go sales; otherwise, they have glass growlers available for fill-ups. Cans and special bottle releases are in the forecast too. City Built also has the ability to distribute sixth- and half-barrel kegs, but expect to see them tapped only at the area's higher-end beer bars.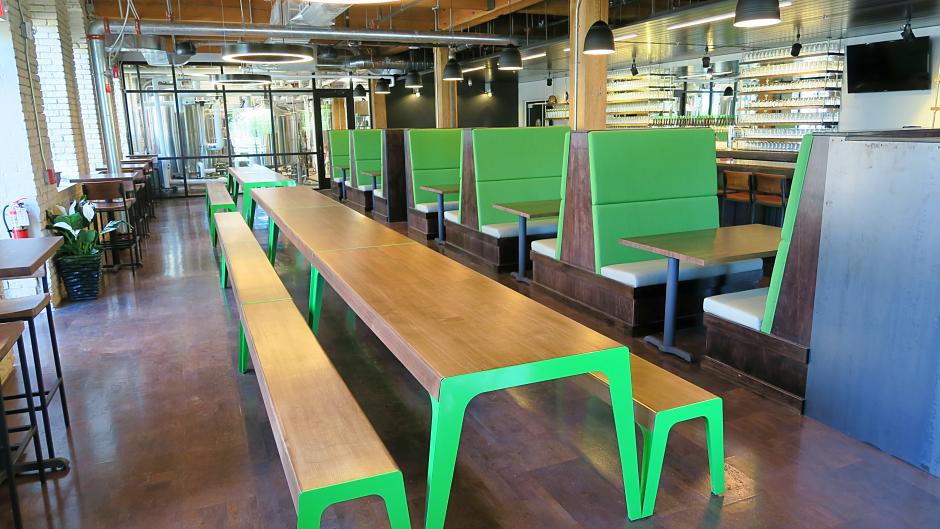 Make a new friend or two at City Built's large community tables.
Photo Credit: Jason Ley
---
Food
City Built is serious about its cuisine, which brings another new element to the city. Lunch and dinner will showcase small plates inspired by Collazo's Puerto Rican heritage and Caribbean barbeque. Collazo's wife Karen, who has proven to execute his family's traditional recipes with authenticity, has collaborated with the brewery's executive head chef, Elizabeth Ebel, and sous chef, Kyle Murray. Collazo is confident when he says, "We want to have the best underlying food for an impeccable overall craft experience."
Service and Community
Collazo and taproom manager, Kurt Schmiege, are poised to ensure guests are treated with care and respect. For instance, during peak hours, hosts will greet and seat guests. City Built also emphasizes its commitment to community. It embodies the quote on its website, credited to journalist Jane Jacobs, "Cities have the capability of providing something for everybody, only because, and only when, they are created by everybody."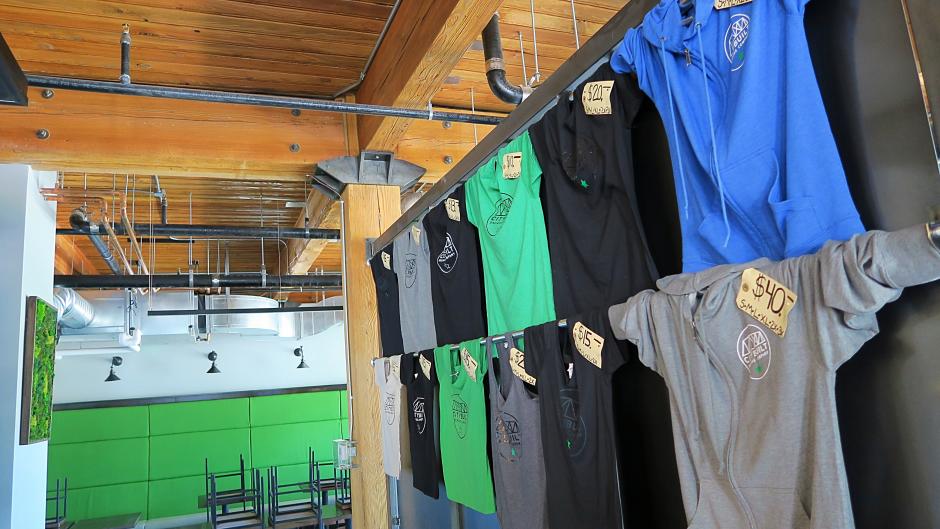 Those with Lifetime Memberships get 20% off all non-food items. Yes, that includes merch too!
Photo Credit: Jason Ley
---
Lifetime Membership
Collazo and Petroelje have spent over the last year promoting City Built guerilla-style. They've shared and gifted pilot batches of their beer in craft-enthusiast social circles in similar fashion to like-minded, successful industry colleague, Mitch Ermatinger, founder of Speciation Artisan Ales. And, it's proven successful. City Built nearly sold out its Lifetime Membership loyalty program months before they opened. Few spots remain, so inquire before it's too late. Benefits include 10% off food, and 20% off EVERYTHING else (i.e. beer, merch, etc.). For the rest of your life.
Atmosphere and Amenities
Modern, repurposed industrial with soothing wood and eye-catching hop green accents
Reservations tentatively accepted for extra-large parties; otherwise, guests are encouraged to make new friends at communal picnic table seating
The 2nd Ward dining area is available for private rentals, and includes laptop-to-TV hookup and zoned audio, seats 36, 55 mingling
Free Wi-Fi
Kid-friendly: Mobile art and game station to keep the kids (and parents) on their toes
Parking: 65-spot lot behind 616 Lofts, plenty of street/meter spaces, and a DASH stop at Monroe Avenue and Mason Street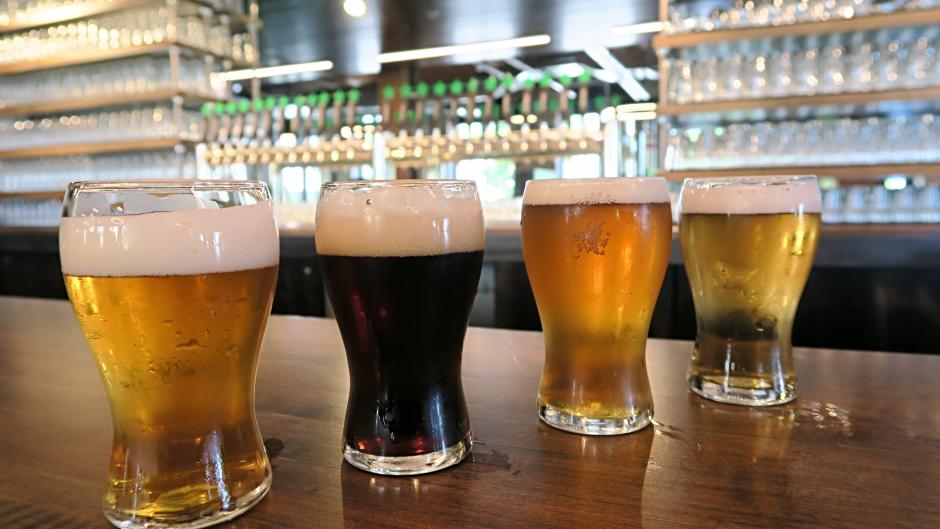 Not a bad one in the bunch!
Photo Credit: Jason Ley
---
Don't miss a post!
Sign-up for the Insider Experience blog