Thanks to the availability of high-quality craft spirits from local and global sources, the cocktail craze is booming -- especially right here, in Grand Rapids. In fact, Grand Rapids' cocktail industry has its own week of cocktail-themed celebrations during Cocktail Week GR, which occurs every November (Cocktail Week GR 2018 takes place November 7-18), and an active U.S. Bartending Guild Chapter that's taken great pride in building the local cocktail scene.
Take a look at some of Grand Rapids' most sought after cocktail bars, or visit the Distilleries page for information on distilleries, specifically.
We put just as much care into a 'rum and Pepsi' as we do into a seven-ingredient cocktail.
Lumber Baron Bar
Lumber Baron Bar located in the Amway Grand Plaza, Curio Collection by Hilton prides itself on a very comfortable and welcoming décor featuring walls made of African mahogany, decadent leather couches, and an ornate fireplace for an overall cozy vibe. "It's a very London meets Japanese cocktail bar," says Patrick Jobst, Assistant General Manager and Certified Sommelier for the Amway Grand Plaza.
Lumber Baron's cocktails, ranging from $10-18 each, are a perfect blend of balance and creativity, and their staff is extremely knowledgeable of spirits. "We want to challenge our guests and give them a new experience, whilst avoiding scaring them away by being too bizarre or weird," Jobst says. "Believe me; some of our ideas are bizarre and weird!"
Every cocktail at Lumber Baron is thoughtfully made with guests in mind. "We put just as much care into a 'Rum and Pepsi' as we do into a seven-ingredient cocktail," Jobst says.
Lumber Baron uses many local spirits because they aim to promote the growth of local business.
Lumber Baron offers something for everyone, including wines and European beers. The establishment offers seating for 35 and standing room capacity of 49.
"You can have a wide range of experiences at Lumber Baron and we have really put in the effort to ensure that, no matter the experience, we will do our best to exceed your expectations and make it a memorable time," said Jobst.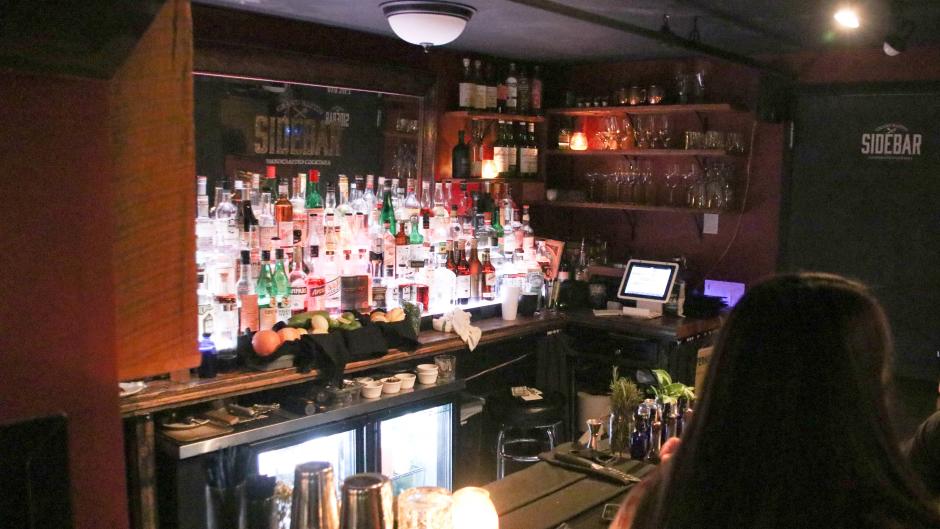 Sidebar's maximum seating capacity is 18, which adds to its charm.
Photo Credit: Experience Grand Rapids
---
Sidebar
Sidebar is a hidden gem, located in a small room adjacent to Big O' Pizza near Leo's and CityFlats Hotel.
Sidebar exudes a speakeasy vibe thanks to its hidden location, "backroom" atmosphere, ornate cocktails, lack of windows, and old-world decor. Sidebar's cocktails range from $10-$14 and are devised by Sidebar staff. They also feature an extensive list of spirits available for "neat pour" with prices ranging from $10-$200. Happy Hour deals are also offered Monday to Thursday from 4-6 PM.
In order to maximize the comfort for their guests and maintain the speakeasy experience, Sidebar is stringent on their maximum seating capacity of 18. In the event of a wait, Sidebar does take names and will ask guests to wait in their lobby.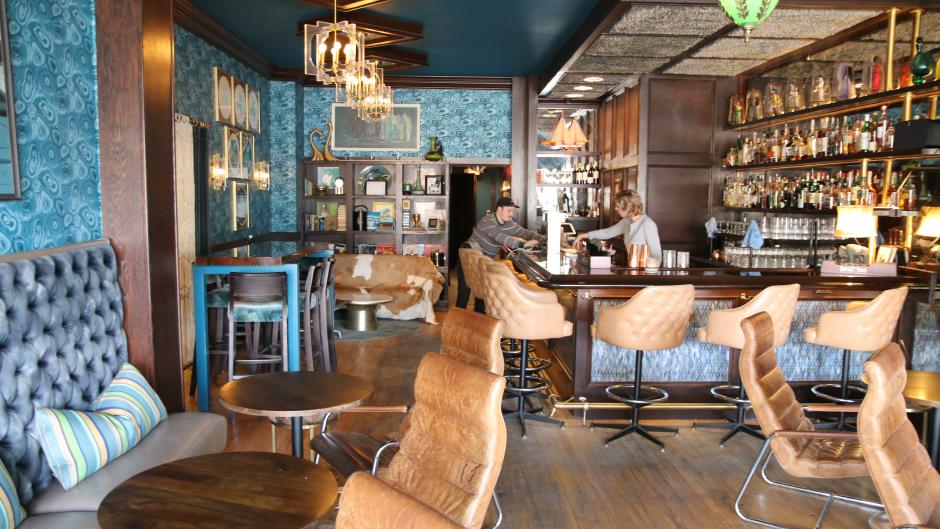 Buffalo Traders Lounge's drink menu is a mixture of prohibition, pre-prohibition, and classic cocktails.
Photo Credit: Experience Grand Rapids
---
Buffalo Traders Lounge
Established in the summer of 2017, Buffalo Traders Lounge wanted to take the cocktail movement back to its roots. With that in mind, they based their menu and concept on prohibition and pre-prohibition cocktails, including the classics.
The decor and vibe at Buffalo Traders Lounge emphasizes the "lounge" in cocktail lounge. The location is filled with distinct 1970's flair, accents, and art deco. The vibe is very laid back says Duncan McCargar, General Manager of both Sidebar and Buffalo Traders Lounge. "We wanted something neighborhood-y, a place where our staff and friends would be just as comfortable coming as our patrons."

Buffalo Traders Lounge also showcases local spirit producers such as Eastern Kille Distillery and Long Road Distillers. The location can seat around 50 people at a combination of seats at the bar, tables, and couches.

A number of things are responsible for the craft cocktail movement in Grand Rapids specifically the craft beer movement McCargar says. "Craft beer opened up people's minds and their pallets, especially the taste for bitter flavors that follow the movement of heavy hopped IPAs."
He added that with the massive variety of flavors, people in Grand Rapids have begun to expect something special from their drinking and dining experience, which is why craft cocktails have become some popular.
Our mission is to provide top quality product and fresh creations and a fair and friendly price point in an unpretentious, laid-back environment.
SpeakEZ Lounge
The casual gastro-pub, SpeakEZ Lounge, specializes in uniquely-crafted cocktails and eclectic food. Their Signature Cocktail menu boasts 20 unique cocktails that are developed in collaboration with the bar staff, Head Chef, and other staff members.

"We take pride in collaboration, so our Signature Cocktail menu are developed together in collaboration with [almost all] staff members. We like embracing our various nerdiness and dropping in fun and random references to pop culture, history, and literature when naming our creations," says Calin Skidmore, General Manager, Hand of the King, for SpeakEZ Lounge.

Their cocktails are created using a handful of local and Michigan craft spirits, and nearly all recipes include homemade juices, syrups, and liquor infusions.
"Our mission is to provide top quality product and fresh creations and a fair and friendly price point in an unpretentious, laid-back environment," Skidmore added.
Make reservations for Haute at New Hotel Mertens online. Haute does not accept walk-ins.
Photo Credit: New Hotel Mertens
---
Haute at New Hotel Mertens (Open Seasonally)
Looking for a drink with a view? Stop by Haute at New Hotel Mertens. The rooftop cocktail lounge is located on the ninth floor of the same building New Hotel Mertens is located in.
Not only does Haute feature amazing views of the skyline, but it also serves up 10 signature cocktails, wine, beer, and a French menu with fulfilling hors d'oeuvres and desserts.
Haute at New Hotel Mertens is slated to remain open until October 31, but this time frame may differ depending on weather conditions. The cocktail lounge does not accept walk-ins, and reservations must be made online. Visit the lounge's website for complete details on reservations. 
Although Haute at New Hotel Mertens is open seasonally, New Hotel Mertens is open year round. If you're looking for a perfectly crafted cocktail during Haute's off-season, don't forget to visit New Hotel Mertens for plenty of food and drink options.
Whether you're looking to try something new, or you've already found your favorite cocktail, there are plenty of fantastic locations in Grand Rapids to sip and savor.
Never miss a post!
Subscribe to the Insider Experience Blog