Specialty coffee has gained significant popularity in Grand Rapids. The city offers a wide variety of unique coffee shops, a lot of which are open late, and many that roast their own coffee beans.
Many local roasters ethically source their beans from around the world and roast them in-house to create the perfect cup o' joe.
Take a look at these growing Grand Rapids-area coffee roasters: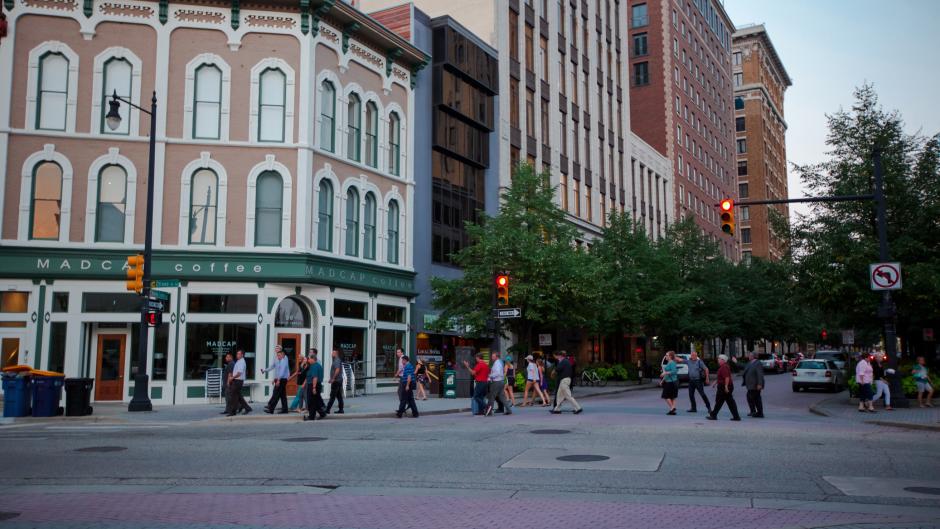 Stop by Madcap's Monroe Center location for fresh coffee, pastries, and ethically-sourced beans.
Photo Credit: Experience Grand Rapids
---
Madcap Coffee Company
Monroe Center
Address: 98 Monroe Center St NW, Grand Rapids, MI 49503
Fulton Street
Address: 1041 Fulton St E, Grand Rapids, MI 49503
Downtown Market
Address: 435 Ionia Ave SW, Grand Rapids, MI 49503
Founded in 2008, Madcap has grown to include three locations in West Michigan and now distributes its coffee across the United States.
Madcap prioritizes sourcing coffee beans ethically and establishing beneficial relationships with growers. The company's founders and roasters often visit coffee farms around the world to ensure these goals.
"At its core, relationships are what make Madcap different than any other coffee company," says Cal Mills, customer experience coordinator at Madcap. "We believe that long-term relationships with mutual investment are the answer to many of the socioeconomic issues along the coffee supply chain."
While each Madcap shop is unique, all three have a similarly bright, modern vibe. You can find Liege-style waffles and milkshakes at the Downtown Market location, fresh pastries at Monroe Center, and made-to-order waffles at the Fulton Street shop (a former 1930s auto body shop).
Madcap hosts events once per quarter at its various locations and offers tours every fourth Friday of the month. You can stay updated about events through Madcap's Facebook page.
Madcap and its founders have been recognized nationally through Thrillist and by placing first in barista competitions. You can purchase Madcap coffee at each of its cafes, Meijer, and many of its other distribution partners across the country.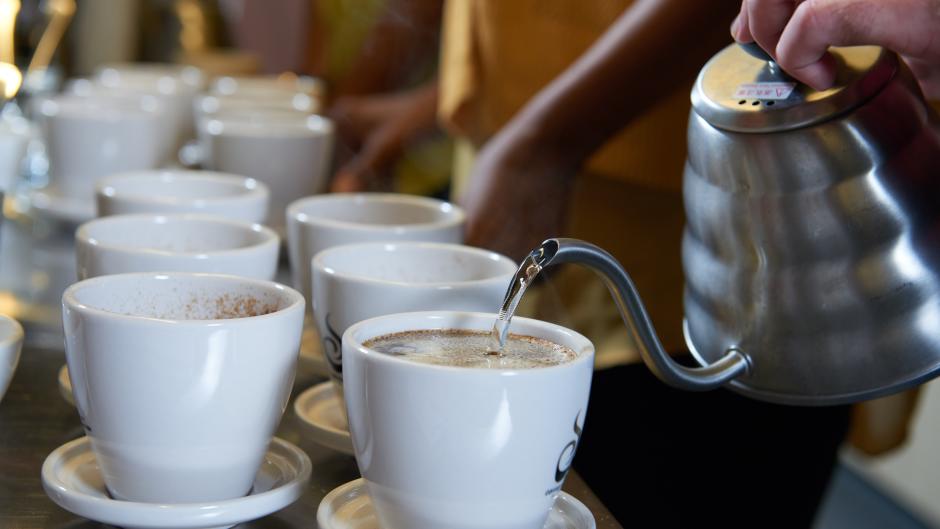 Ferris Coffee & Nut Co. hosts coffee classes and tours at the Ferris Coffee Lab
Photo Credit: Experience Grand Rapids
---
Ferris Coffee & Nut Co.
Ferris Retail & Coffee Bar
Address: 839 Seward Ave NW, Grand Rapids, MI 49504
Ferris Coffee: West Side
Address: 227 Winter Ave NW, Grand Rapids, MI 49504
Ferris Coffee: Downtown
Address: 40 Pearl St NW, Suite 100a, Grand Rapids, MI 49503
Holland
Address: 57 E 8th St Holland, MI 49423
Ferris Coffee and Nut Co. is known not only for its excellent roasted coffee, but also its nuts and chocolates. Ferris has multiple locations in Grand Rapids and one in Holland that offer high-quality coffees, nitro cold brew, tea, and other beverages.
If you're feeling hungry, Ferris Coffee's location in the city's West Side neighborhood offers a menu featuring delicious snacks like avocado toast, which is topped with Ferris' own roasted, curry-covered cashews.
You'll find packaged Ferris treats, gifts, and a grind-your-own nut butter station at the Ferris Retail and Coffee Bar. Ferris' other locations also offer a variety of snacks and pastries for a quick bite to eat.
For coffee enthusiasts, Ferris offers tours and classes at the Ferris Coffee Lab, such as professional, homestyle, and business consulting classes. Ferris Coffee is sold at its retail locations and at local stores, such as Meijer.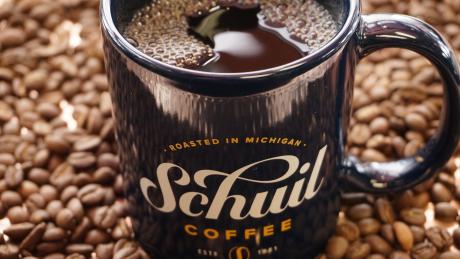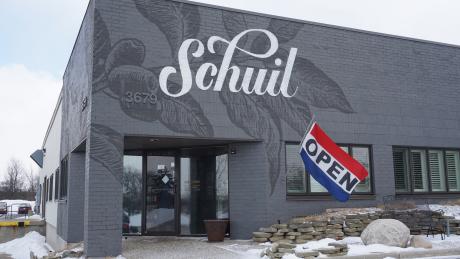 Schuil roasts and sells more than 100 different types of coffee
Photo Credit: Experience Grand Rapids
---
Schuil Coffee Company
Address: 3679 29th St SE, Grand Rapids, MI 49512
Gary Schuil created Schuil Coffee Company in 1981 after experiencing great coffee overseas.
"We carry over 100 types of roasted coffee beans for purchase. So whether you're looking for single origin, a blend, or an espresso to enjoy here or on the go, Schuil has it," says Tim Volkema, owner of Schuil Coffee.
To go along with your cup of coffee, Schuil Coffee Co. offers a  number of baked goods, including Monica's Cookies. After an upcoming summer renovation, Volkema hopes to add coffee education and tasting events to the calendar. Tours of the roasting facility are also available upon request.
Look for Schuil Coffee Co. at more than 100 locations throughout Michigan, including Meijer, D&W, Kingma's, and many other locations.
Rowster Coffee
Rowster Coffee - Wealthy
Address: 632 Wealthy St SE, Grand Rapids, MI 49503
Rowster Coffee West Fulton - Rower's Club
Address: 616 Fulton W Suite F, Grand Rapids, MI 49504
Rowster Coffee - Belknap
Address: 225 Hastings St NE, Grand Rapids, MI 49503
With its minimalist decor and trendy vibe, Rowster is a wonderful spot to enjoy a great cup of coffee and to get work done. Rowster's second location, called Rower's Club, is just across the street from Grand Valley's Pew campus. You can also find Rowster coffee at the Embassy Suites' Whitewater Cafe. In spring 2019, Rowster opened a new location in the Belknap area of Grand Rapids, near the Medical Mile.
You'll find a variety of baked goods such as scones and muffins to enjoy with your pour-over, espresso drink, or cup of tea. You can purchase Rowster Coffee and brewing equipment at any of its locations.
Check out Rowster's events page for a list of any upcoming activities, or contact the shop to schedule a tour.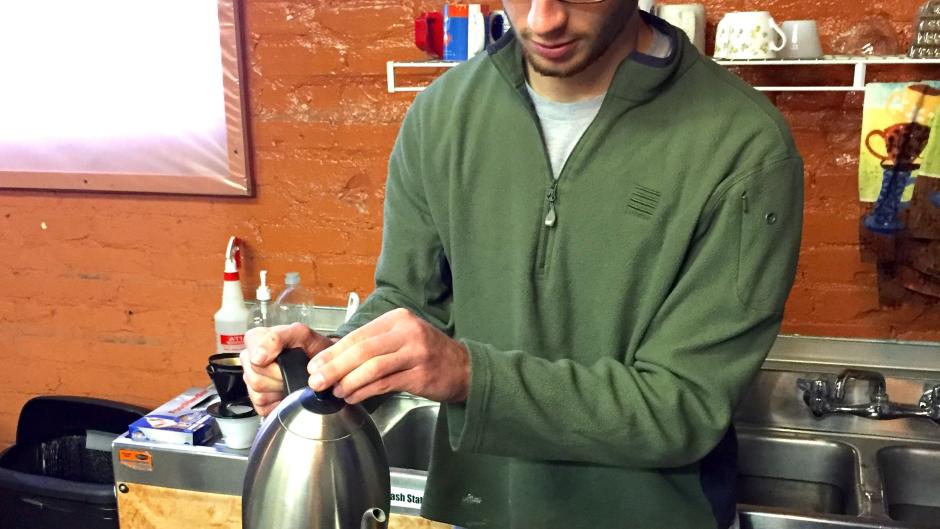 Learn how to make the perfect pour-over on Saturdays at Grand Rapids Coffee Roasters.
Photo Credit: Kirsetin Morello for Experience Grand Rapids
---
Grand Rapids Coffee Roasters
Address: 1111 Godfrey Ave SW Suite S-530
Grand Rapids Coffee Roasters has been in business since 2007, custom roasting coffee for all orders. While there isn't a coffee shop attached to the roastery, it does open to the public on Saturdays for The Saturday Experience from 10 AM-3 PM, allowing customers to sample and purchase coffee and premium loose leaf tea.
Try out the Perfect Pour Pour-Over Station for $2, which includes instruction on how to brew coffee using the pour-over method, followed by a fresh, hot cup of coffee.
You can purchase Grand Rapids Coffee Roasters' coffee beans at numerous stores, such as Kingma's, and even grab a cup of its coffee from many local restaurants, such as Donkey Taqueria and Electric Cheetah.
You can also place orders for coffee, tea, chocolates, or candy and pick them up in store or have them delivered.
The Sparrows Coffee & Tea & Newsstand
Address: 1035 Wealthy Street SE Grand Rapids, MI 49506
The Sparrows Coffee & Tea & Newsstand has been an Uptown staple since 2007, serving specialty coffee, an assortment of loose leaf teas, and freshly baked goods.
Known for its warm and welcoming atmosphere, Sparrows is a cozy neighborhood shop with an assortment of periodicals for purchase. Sip on a hand-crafted drink while enjoying one of Sparrows' poetry nights, which take place every third Tuesday of the month.
Sparrows' Coffee is available for purchase at its cafe and the Bridge Street Market. You can also find local restaurants serving Sparrows roasted coffee, such as Sovengard, Lucy's Cafe, Reserve, and Linear. ​
Contact Sparrows for a tour of its roasting facility.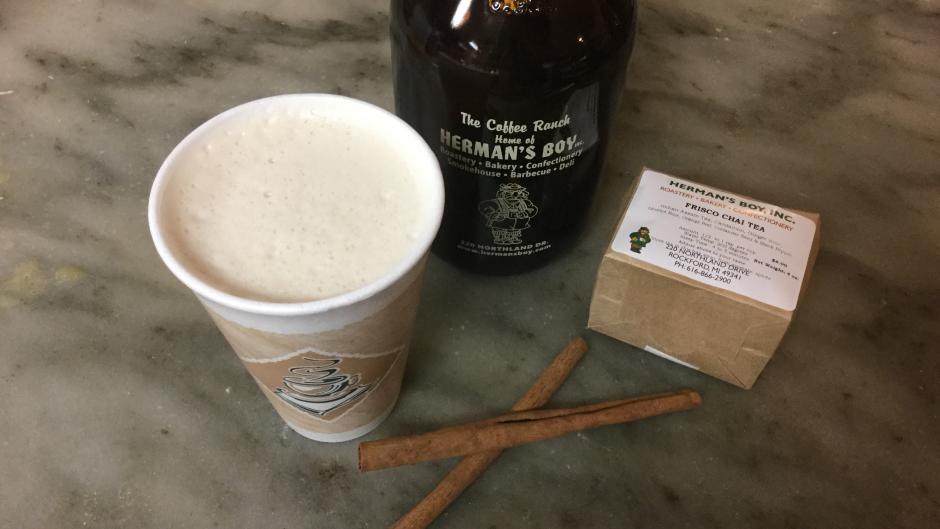 Herman's Boy roasts its own coffee in-house. You'll also find plenty of options on the food menu.
Photo Credit: Experience Grand Rapids
---
Herman's Boy
Address: 220 Northland Dr NE, Rockford, MI 49341
Established in 1972, Herman's Boy is a Rockford staple. After purchasing the Coffee Ranch in 1982, Herman's Boy moved its roasting operations to its Rockford location and has been busy roasting its own high-quality beans ever since. Guests can watch Herman's Boy roast coffee with a small roasting system right in the shop.
In addition to coffee, you'll find a large menu of sandwiches, salads, bagels, smoked meats, cheeses, and fresh baked goods. There's also a confectionery with Mackinac-style fudge.
You can purchase coffee at the store, and be sure to check out the events page for any upcoming activities.
Jam'n Bean Coffee Company
Cascade
Address: 6860 Cascade Rd. SE Grand Rapids, MI 49546
Ada
Address: 590 Ada Drive SE Ada, MI 49301
Downtown Grand Rapids
Address: 161 Ottawa NW Grand Rapids, MI 49503
Jam'n Bean roasts its own coffee beans daily. Besides coffee, the menu also has a wide selection of food and dessert items including baked goods, bagels, grilled cheese, smoothies, and Guernsey ice cream during the summer.
Since opening, Jam'n Bean has been committed to supporting the arts and music in public schools and has donated more than 184 music scholarships.
Jam'n Bean's Cascade location has a great outdoor space, which often hosts live music and entertainment. Its Facebook page is where you'll find any upcoming events.
Haven't had your caffeine fix yet? Check out the Coffee in Grand Rapids guide for a complete list of unique shops and coffee concoctions.
If you're looking for a caffeinated drink to warm you up on a cold day, browse our list of hot beverages, Part I  and Part II .
What's your favorite coffee roaster in Grand Rapids? Let us know in the comments!
Never Miss a Post!
Subscribe to the Insider Experience blog.