People ride the bus for a variety of reasons, among them saving money and being "green." The Rapid's new Silver Line is upping the convenience factor and the benefits; if you haven't ridden the bus before, this may be the time to give it a try!
Beginning August 25, 2014, Grand Rapids will have a faster alternative to riding the bus along one of the major routes downtown: think of it as an express bus that serves just under a 10-mile span running from 60th Street in Wyoming, through Kentwood, and into downtown Grand Rapids along Division Street. The new Silver Lines is part of the Bus Rapids Transit (BRT) project and is designed to operate quickly and efficiently, similar to a light rail system at a fraction of the cost.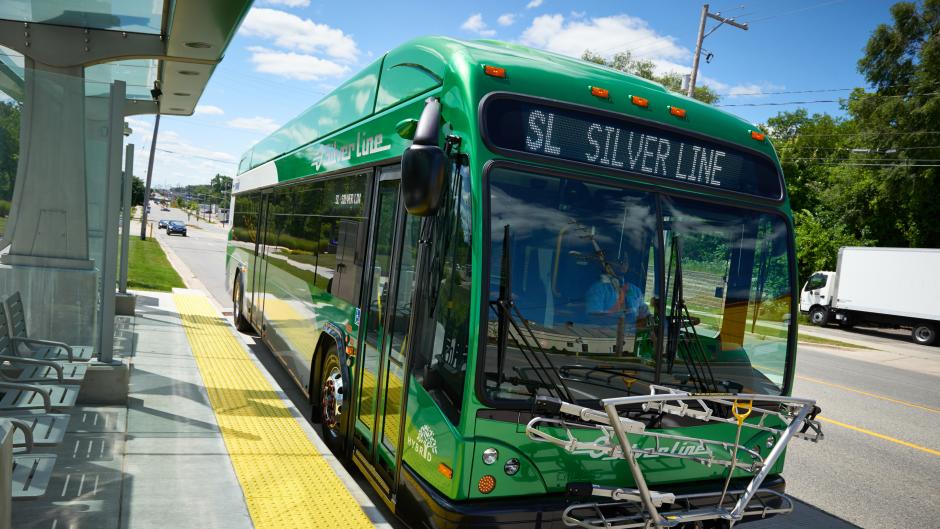 Silver Line BRT
Photo Credit: The Rapid
---
"Each of the 33 Silver Line stations will have real-time signage and ticket vending machines (TVM's), where passengers can buy tickets," says Jennifer Kalczuk, External Relations Manager at The Rapid. The TVMs represent one of the biggest differences of the Silver Line to existing bus routes: passengers wont have to queue up waiting to pay when the bus arrives. Instead, they'll already have purchased their ticket at the TVM (or other outlets). Riders who've purchased 31-day passes can also use those.
"The fare structure is seamless with the existing fare structure," says Kalczuk. "If you already have a 31-day pass, you can use that on the Silver Line. Tickets purchased at a TVM will work on the fixed route system, as well, so if you need to transfer, you can take the Silver Line to Central Station and switch to a fixed route," she explains.
When a bus pulls up, forward and backward doors will open so riders can quickly disembark or board, the doors will close and the bus will be on its way. Tickets are purchased on the honor system, so there's also no delay waiting for the driver to check them. Instead, Rapid Security will perform random spot checks and issue fines to riders without tickets.
"Silver Line buses will also features level platforms for easy off-and-on service for wheelchairs and people with other mobility challenges," says Kalczuk, "and will use a dedicated lane on Division during peak commute times."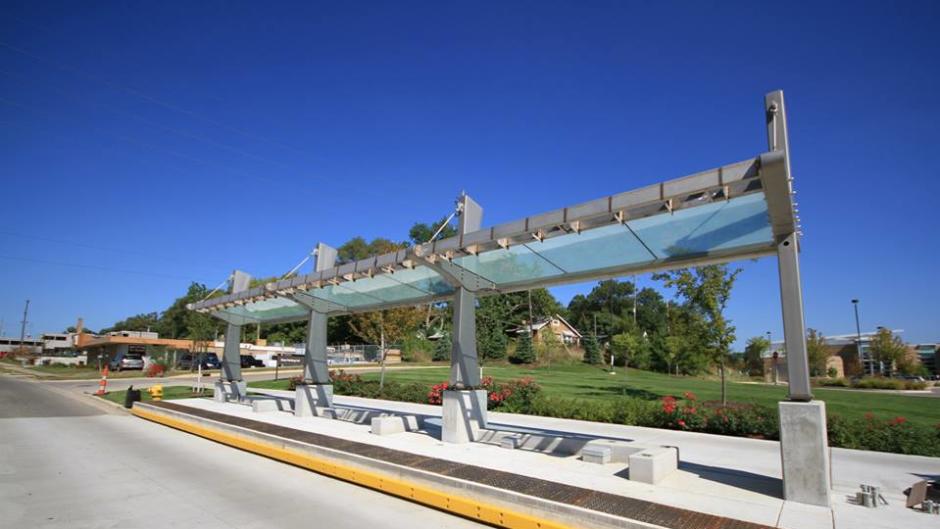 ---
Another feature of the Silver Line that helps save time is that each bus is equipped with GPS that automatically communicates with streetlights up and down Division. If a bus is running a bit behind, the system can hold the light green for a few extra seconds to allow the bus to get through. "The automatic process helps facilitate the bus getting through traffic lights so it can stay on schedule," explains Kalczuk.
Near the station at the south end of the line (60th and S. Division), riders can park their car for free while using the Silver Line and enjoy a hands-free commute featuring wi-fi. Yes, thats right. The Silver Line offers free wi-fi to riders, who can surf the web, text, get work done or read a book - all things you can't do while driving a car.
You'll also save some substantial cash. "When you look at putting gas in your car every week and paying a monthly parking expense, and you compare that to the cost of a 31-day pass for $40, theres an opportunity for some real, significant savings," says Kalczuk.
The Silver Line will conveniently run every 10 minutes during peak commute times in the morning and afternoon, says Kalczuk, and every 15-30 minutes during other times. The final Silver Line schedule will be published closer to the launch date.
Among the many benefits of using the Silver Line is the opportunity to find a little more time in your day. "It's not a good idea to read a book while you drive a car, but perfectly acceptable on the bus," laughs Kalczuk. Texting, surfing the web, closing your eyes for a little while...there lots of things that you can do on the bus that you wouldn't be able to do if you were behind the wheel.
Never miss a post!
Sign-up for the Insider Experience blog.