Have you ever tried Bell's Double Cream Stout?  Maybe, but have you tried it in a peanut butter brownie served with sticky plum jam and white chocolate?  Heard of Atwater Vanilla Java Porter?  Probably not as part of a coffee-dusted Sriracha BBQ burger infused with beer!  Petoskey Brewing Company's Horney Monk marinates pork chops, Founder's Oatmeal stout stews with braised beef and vegetables: these culinary creations, along with dozens more, are the creative stylings of Grand Rapids' Cool Brews. Hot Eats. 2016.
Photo Courtesy of Experience Grand Rapids
From February 17th through the 28th, nearly fifty participating West Michigan restaurants and chefs have risen magnificently to the challenge to include beer in a specialized, 12-day menu.  Cool Brews. Hot Eats. (CBHE) is a celebration that recognizes the impact and joy the vibrant craft beer and cider industries have had on Grand Rapids. 
Menus from participating restaurants were released on February 1st, and you can navigate the list based on restaurant/brewery location, or peruse until you see food you want to try (this will be a fast process.) While many restaurants create pairing menus for a multi-course meal, others have come up with unique beer/food infusions, drizzles, and combinations that revolutionize salads, soups, entrees, and desserts.  Prices may vary by location, but a majority of the multi-course meals are under $30 per person.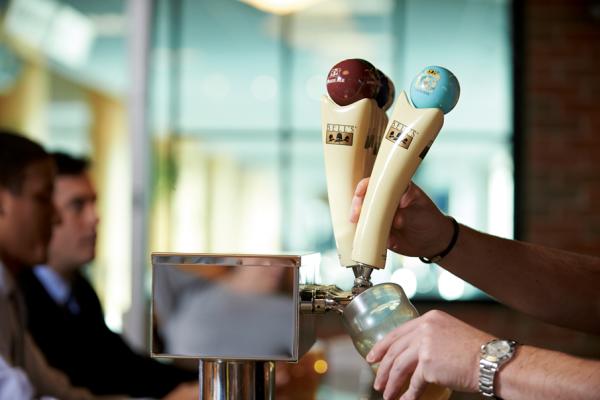 Photo Courtesy of Experience GR
When CBHE began in 2012, it was a way to link the food and growing craft beverage industry, but as beer culture continues to foster tourism and the growing economy around West Michigan, CBHE has become one of the destinations premier events featuring beer. 
As you enjoy the delights of CBHE, make sure you carry your Brewsader Passport- eight stops at the breweries around town guarantee you true Brewsader status, and a t-shirt that would make a perfect outfit for Beer Week GR.  When in doubt, ask your bartender or server for a pairing recommendation, menu stand-outs, and where to go next.  Enjoy Cool Brews. Hot Eats. 2016!