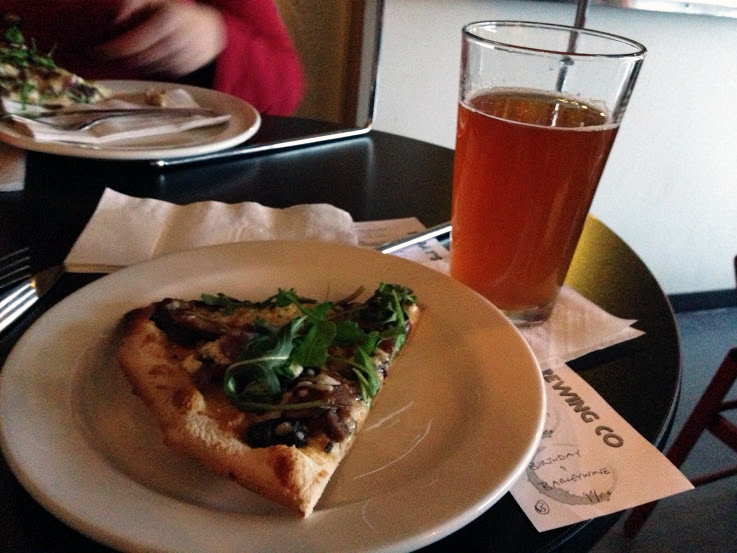 I'll admit it: up until now, I've always been more inclined to order wine than beer with a restaurant meal. I love the way wine can transform a meal, and how creative restaurants often are with pairing it with their dishes. I just didn't realize that beer pairings could work on the same level.
Cool Brews. Hot Eats. may have changed that forever.
During this nearly two-week-long celebration of craft beer and cuisine, Grand Rapids restaurants and breweries creative innovative new beer-inspired dishes - and found the perfect brews to accompany them.
I ventured out on a snowy evening last week to check out Cool Brews. Hot Eats. for myself, choosing two newcomers to the Grand Rapids food and beer scene: Harmony Brewing Company, and Trillium Haven Restaurant.
The first thing I noticed about Harmony Brewing Company is that it seems like the kind of place you'd want to kick back with a friend after work. Described on its website as a "friendly neighborhood brew pub," Harmony has an unassuming, casual, almost coffeehouse style featuring a cozy taproom and an upper-level dining room.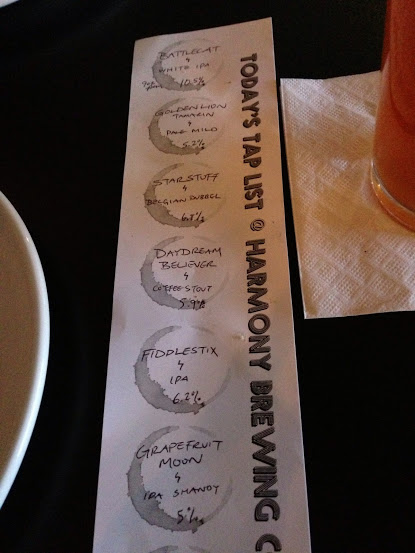 A friendly server described the tap list options, and based on my preference for lighter, not-too-hoppy beers, she directed me toward the Golden Lion. Great choice: a mild, refreshing ale, it was the perfect way to ease into the evening. My friend ordered the Grapefruit Moon IPA Shandy, another light choice with a serious citrus kick.
It was also a great complement to Harmony's specialty menu item for Cool Brews. Hot Eats.: a 16-inch pizza called "The Contender," topped with braised, local pork shoulder, beer-braised mushrooms, hopped local goat cheese, arugula, and red onion. How could it go wrong?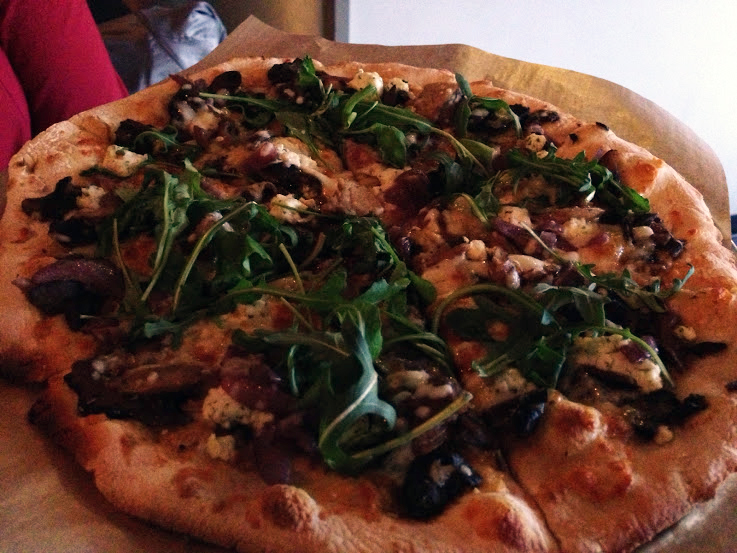 Answer: it couldn't. The crispy, wood-fired pizza was simply awesome. Though I had dinner plans an hour later and meant to eat light, I admit I had a hard time not gobbling up my half right there and then.
I managed to restrain myself, and after enjoying every last drop of beer and almost every crumb of The Contender, my friend and I headed on to Trillium Haven Restaurant for dinner.
I'd been intrigued by Trillium Haven ever since it opened a little less than a year ago. It's the only restaurant I've ever known of that's actually owned by the farmers who help to source its ingredients, bringing the concept of "farm to fork" to a whole new level.
The high ceilings and airy, farmhouse-modern ambiance was inviting, but the menu even more so.Trillium Haven has gotten a name for itself by serving seasonal, healthy, fresh food with rustic appeal, and its Cold Brews. Hot Eats. tasting menu didn't disappoint, featuring hearty dishes and some interesting beer pairings that I might not have thought of on my own.
For my appetizer, I chose a warm potato salad with braised cabbage and a bacon-pilsner vinaigrette. The restaurant was out of the advertised Perrin Black Lager, so they served me a Perrin IPA instead.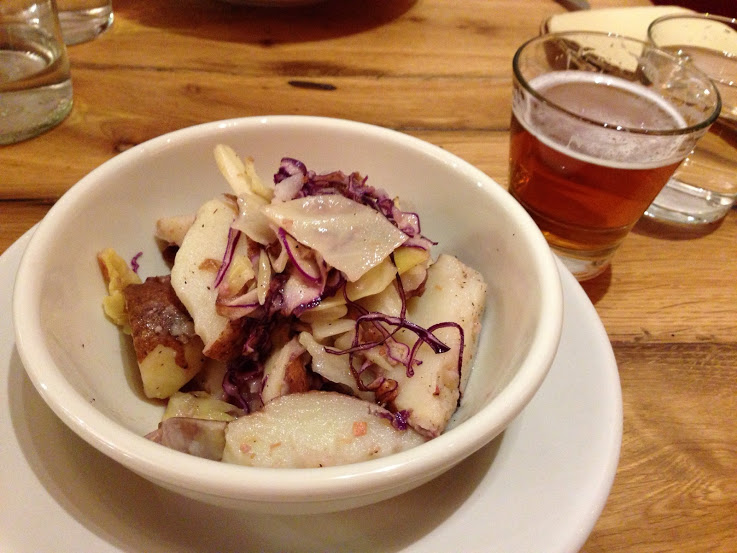 Other dishes available for the appetizer round included house-made beer cheese and homemade pretzels, and a quinoa-lentil salad.
The hearty, slightly tangy potato salad paired well with the IPA, and prepared me for my next dish: stout-braised beef with toasted barley, root vegetables and a natural jus, paired with a Founders Breakfast Stout.
The coffee, oatmeal and chocolate flavors in the stout enhanced the rich flavors of the jus, and the toasted barley was so delicious alongside the beef. When the server came by I had to admit that the beer was a bit heavier than something I would usually order, so he offered to sweeten it up for me with a dash of Irish cream - apparently, a favorite among the staff. (It was pretty good!)
The other entree choice was a ginger-BBQ tofu dish with greens and yellow-eyed peas. Trillium Haven made sure to offer both gluten-free and vegetarian options throughout the tasting menu so that anyone can participate.
It was time for dessert, and this time the choices got more difficult. Rice pudding with soaked raisins and lemon marmalade? Or panna cotta with Michigan maple syrup?
After much deliberation, I chose the panna cotta, which came served with Clurichaun "Clu 22" Mead.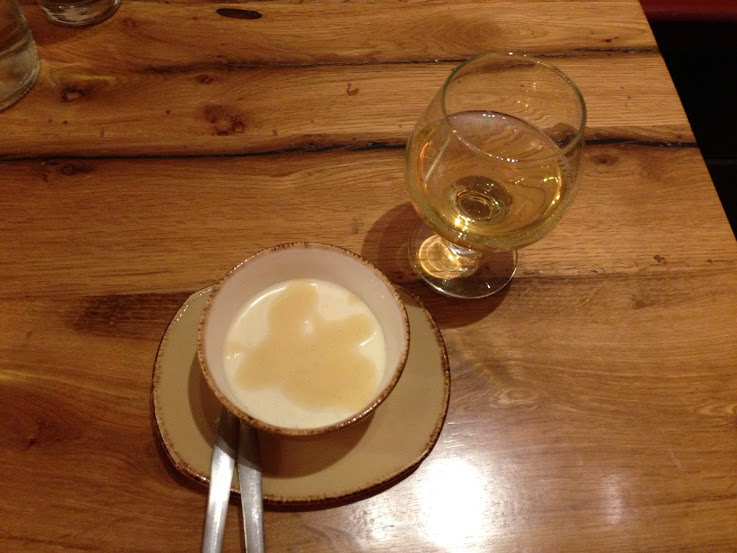 The panna cotta was simply wonderful. Prepared with "gruit" herbs - the same sort used for flavoring beer - the dish was unbelievably creamy and had a nice spiciness to it.
I'd always thought of mead as a sort of medieval wine, but it turns out that it's actually honey and water that is brewed like beer. Trillium's choice was really interesting. Brewed from Michigan honey, it was a little bit sweet but not overpowering, with just a hint of hops, and the perfect complement to the tangy, semi-sweet panna cotta.
Let's just say I ended the evening very full. And next time I dine at a restaurant? I'll be just as likely to order a craft ale as a glass of Malbec.
There's still time for you to experience Cool Brews. Hot Eats. for yourself! The event runs through March 2 and features special menus and pairings from dozens of Grand Rapids breweries, pubs, and restaurants.