Fall in West Michigan is one of the best times of the year to roll down the windows and take a drive. If you have a free day and want to hit the road, consider a fall drive to these covered bridges located on the outskirts of Grand Rapids.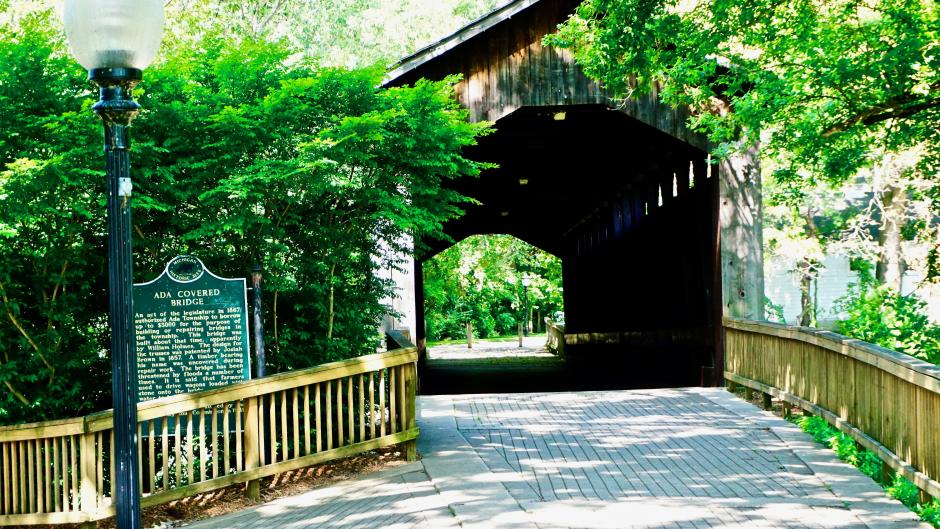 Ada Covered Bridge is a prime spot to enjoy a fall picnic, launch a kayak, or go fishing.
Photo Credit: Brian Craig for Experience Grand Rapids
---
Ada Covered Bridge
7490 Thornapple River Dr. SE
Ada, MI 49301
Just a 10-minute drive from Grand Rapids along M-21, the Ada Covered Bridge is a 125-foot long bridge crossing the Thornapple River. According to a nearby historical marker, prior to the construction of an upstream dam, "farmers used to drive wagons loaded with stones onto the bridge during high water to hold it to the foundation." 
What stands today is a replica of the original bridge due to a roof collapse from heavy snow in 1979, and then a fire shortly after the roof had been repaired.  
The Ada Covered Bridge is open to foot traffic only.
The surrounding area includes an overlook, as well as picnic tables for those interested in packing a lunch.
If you're looking to spend a little more time in Ada, there is plenty to do just a short walk away. The day my son and I visited, we spent some time at the bridge, reading historical markers and taking photos, then headed along the walking path into the village where we were delighted to see shops, restaurants, and a playground. We had a delicious lunch at Zeytin Turkish Restaurant and ice cream across the street at the Ada Village General Store. 
If you're considering making this your first stop of the day, consider stopping by Sprinkles donut shop, less than half a mile away.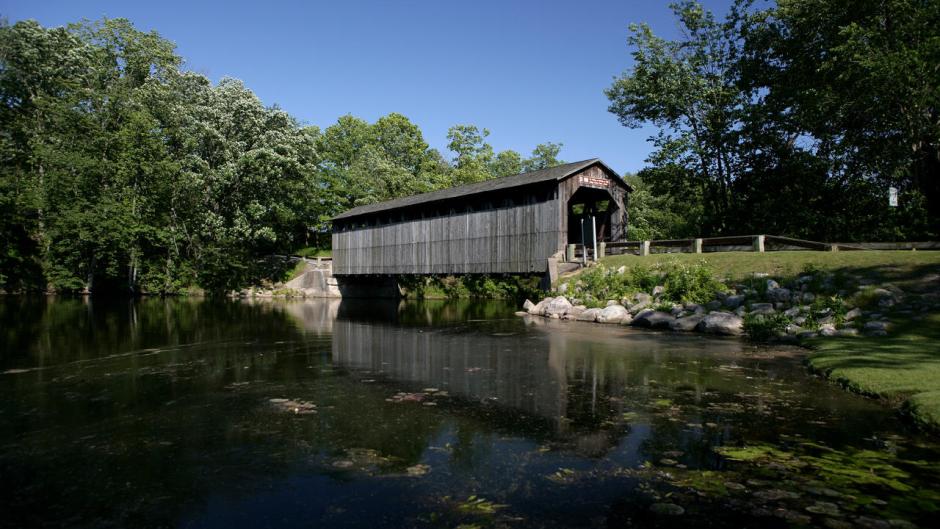 Fallasburg Park Bridge is one of the few covered bridges in Michigan that allows vehicle traffic.
Photo Credit: Experience Grand Rapids
---
Fallasburg Covered Bridge
13944 Covered Bridge Rd. NE
Lowell, MI 49331
From the Ada Covered Bridge, driving another 10 miles East along M-21 will lead you to the Fallasburg Covered Bridge. 
Built in 1871, the 100-foot long bridge has been repaired and strengthened over the years. These repairs and improvements have allowed it to be one of just a handful of covered bridges in Michigan that allows motor vehicle traffic. 
While crossing, be sure to heed the signs posted at each end of the bridge, which reads "$5 fine for riding or driving on this bridge faster than a walk."
Fallasburg Covered Bridge is also a popular place for people to kayak, fish, or picnic. The Fallasburg Historical Society is also nearby and includes a one-room schoolhouse, the village cemetery, and two museums. 
Adjacent to the bridge is Fallasburg Park, a 276-acre park that includes playgrounds, ball diamonds, horseshoe pits, several picnic areas, and one of the more popular and challenging disc golf courses in Grand Rapids.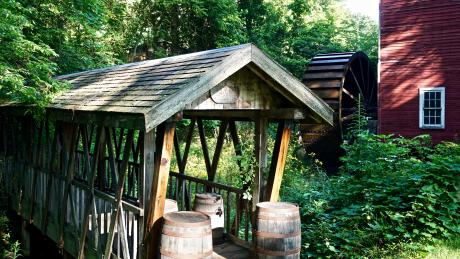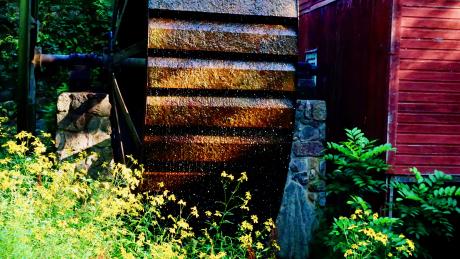 Insider Tip: If you want a great picture of the bridge, go inside the mill house and take your photos from there.
Photo Credit: Brian Craig for Experience Grand Rapids
---
Bowens Mill Bridge
55 N. Briggs Rd.
Middleville, MI 49333
If Bowens Mill Bridge is on your fall drive itinerary, be sure to take some cash along with you. During the 30-minute drive south of Grand Rapids, you'll have plenty of opportunities to visit roadside stands, where you'll find everything from eggs and tomatoes to sunflowers and lip balm. 
Bowens Mill Bridge is a replica of a covered bridge that once crossed the Thornapple River in Middleville. It was built in 1980 with lumber from the original sawmill that operated in the 1830s. This bridge is a walking bridge only. 
Bowens Mill Bridge is a part of a 21-acre historical park known as Historic Bowens Mills. Bowens Mills includes a 17-foot tall working water wheel, mill house, one-room schoolhouse, a log cabin, picnic area, and more. 
Bowens Mills is open year-round for tours (by appointment), but it really comes alive on Cider Sundays in October. During each Cider Sunday, visitors can enjoy a living history encampment with Civil War and mountain men trappers, horse-drawn wagon rides, live music, cider pressing, corn grinding, and many other history-related activities. 
The gate fee is $5 for adults and $3 for kids 12 and under. 
For More Fun
Fall is such a beautiful time of year for a drive in Western Michigan. Whether you head out to the nearest covered bridge for a quick pic or decide to make a full day of visiting bridges in the fall, West Michigan has you "covered."
Check out this previous blog to learn more about fun fall activities in West Michigan.
Do you have a favorite bridge or fall drive destination near Grand Rapids? Let us know in the comment section below!
Never miss a post!
Subscribe to the Insider Experience blog.