Winter in West Michigan means falling temperatures, snow, and comfort food! Fortunately, the thriving restaurant scene in Grand Rapids also means you have plenty of options to choose from - we have lots of places that serve great food and drinks and feature a cozy fireplace (or two!) to help take the edge off the cold outside.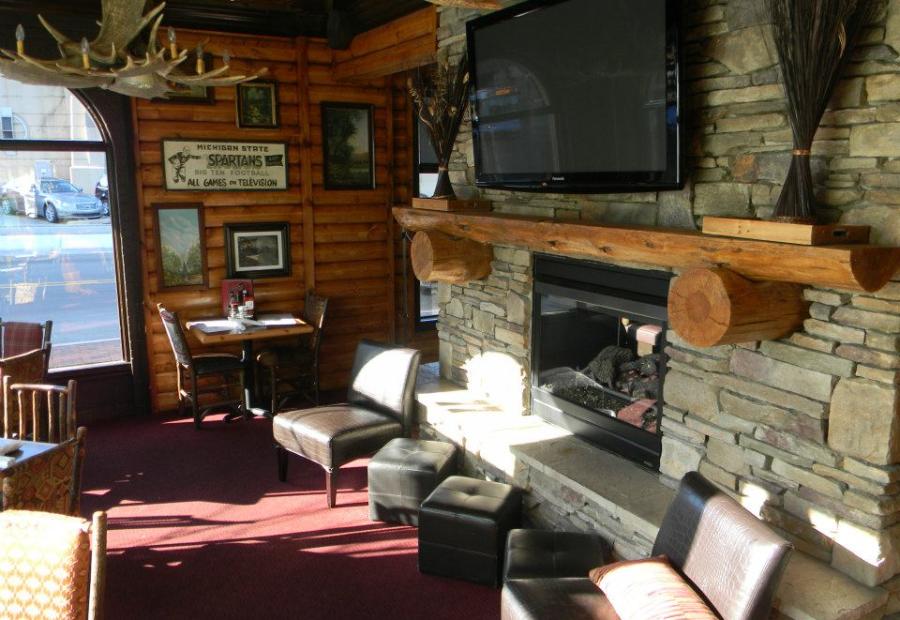 Grand Woods Lounge
Photo by Grand Woods Lounge
Grand Woods Lounge
Downtown at Grand Woods Lounge, a huge brick fireplace warms the room, adding to the restaurant's already friendly vibe.
Decorated in the rustic, outdoorsy style of the Pacific Northwest, Grand Woods is the kind of place you can enjoy a hearty meal (like their tasty BBQ pulled pork sandwich or Back Woods Stew) and relax...unless its one of the nights they're featuring a live band. In that case, its still the kind of place where you can get a great meal, but you'll be having too much fun to just sit and relax.
In addition to the gorgeous indoor fireplace, Grand Woods also has a 4-season porch with another fireplace and radiant heat. Even in the winter months, it's a great place to hang out when a band is playing. If you're in the mood for something special, try one of their special "Woodstinis," with Stoli Orange Vodka. "It's our house martini made with fresh Michigan raspberries and/or mandarin oranges, says Dax Hylarides, General Manager. A lot of people come in just for those! He also suggests stopping by during happy hour from 2:00 p.m. 5:30 p.m. Monday Friday to try a 1/3 lb. burger and fries for just $3.95 or on Tuesdays after 2:00 p.m., when they offer a buy-one entree, get-one entree free special.
Rose's on Reeds Lake
Photo by Rose's
Rose's Restaurant
Located in historic East Grand Rapids, Rose's Restaurant's winter dishes, like Parmesan Crusted Chicken and Butternut Squash Ravioli, will warm your belly while their beautiful fireplaces warm the rest of you. The above fireplace is a beautiful centerpiece in the original part of the restaurant. The one pictured below is on their renovated, enclosed porch--a fun spot whether you're out for celebratory drinks with your friends or enjoying dinner with your family.
When you sit on Rose's porch, not only do the heat lamps and roaring porch fireplace keep you toasty warm, but you get a great view of outdoorsy-types enjoying skating or fishing on frozen Reed's lake. It's one of my favorite cozy winter spots.
On Wednesdays at Rose's, you can enjoy half off wine by the glass all day long or, if you're a wood-fired pizza fan, stop by Monday Saturday between 2:00 6:00 p.m. for 20% off that wood-fired deliciousness and $2.99 beverage specials.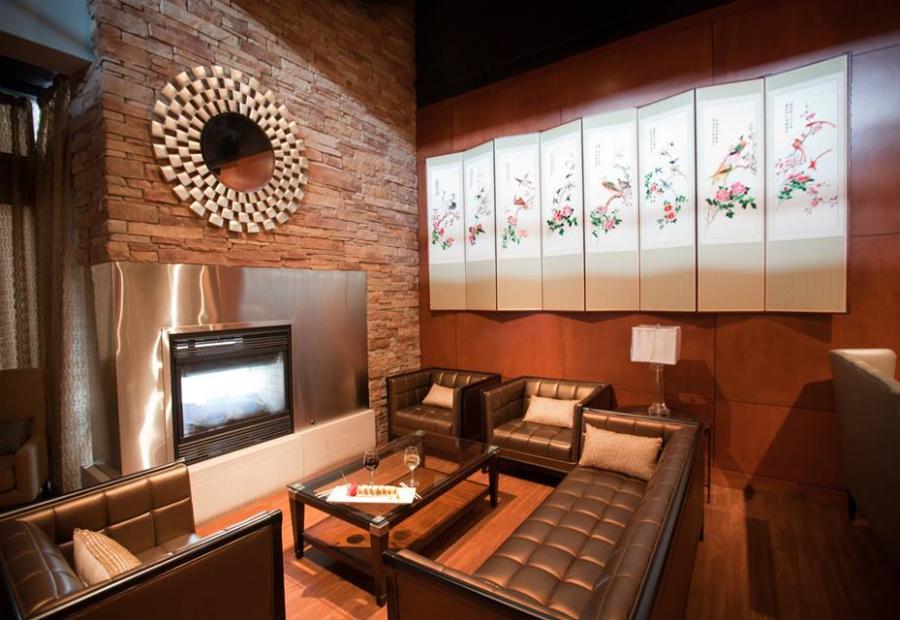 Ju Sushi & Lounge
Photo by Ju Sushi & Lounge
Ju Sushi & Lounge
Ju Sushi & Lounge, in the Forest Hills area, serves up ample portions and beautifully presented sushi, sashimi, and nigiri. They also serve traditional Japanese entrees, including delicious chicken teriyaki and a scrumptious spicy crab pizza appetizer. Their full bar includes a nice selection of liquors, wine, and craft beer on tap. Meanwhile, the elegant ambiance and striking fireplace keep you warm and toasty as you enjoy your meal.
Ju offers drink specials during happy hour (3:00 p.m. 6:00 p.m. daily) and off of Playboy Rolls on Tuesdays from 6:00 p.m. 10:00 p.m. You can also score a 40% discount on bottles of wine when you dine at Ju on Thursdays between 6:00 p.m. 10:00 p.m.
If you're planning a special event, Ju (which means pearl) also offers a private dining room called The Pearl Room that features it's own fireplace perfect for a meeting or smaller event during the winter months! The private dining room, with a 60 HD TV, seats 30 - 35 guests.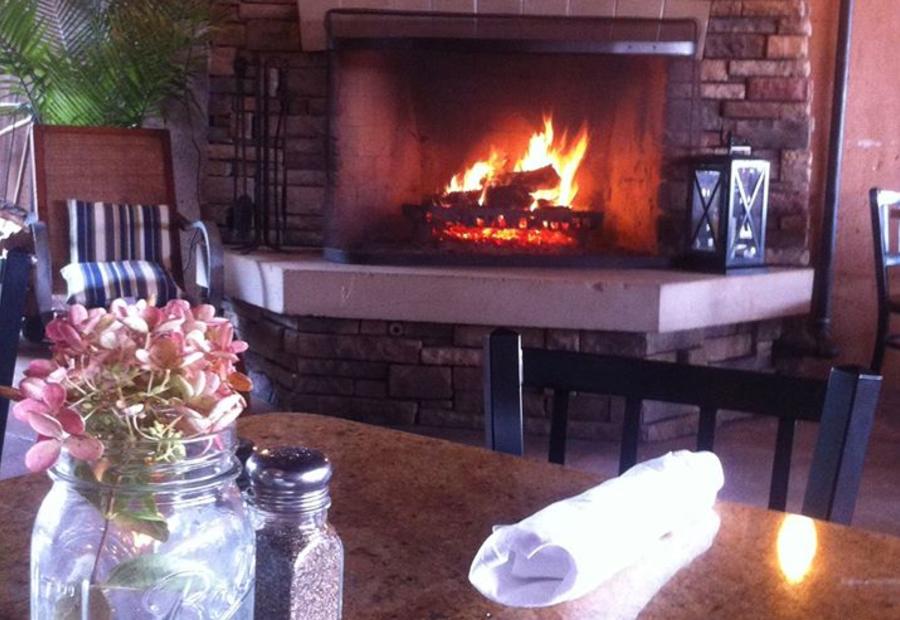 Blue Water Grill
Photo by Blue Water Grill
Blue Water Grill
Perched on the edge of Versluis Lake on the north side of town, Blue Water Grill's Frank Lloyd Wright-inspired design features large windows that allow diners to enjoy the scenery, even when its chilly outside. "The view is still great," says Jody Koster, General Manager. "There are lots of birds migrating this time of year and its fun to watch all of them. The snow glistening on the frozen lake is beautiful, too, and a good reminder of how warm it is inside!"
The cozy factor is high at the Blue Water Grill: both the atmosphere and the temperature keep it warm. With options like Plum Barbecue Rotisserie Half Chicken, Black and Blue Pasta, and Lobster Goat Cheese Fritters, it's hard to go wrong with your menu choice. If you're in the mood for something meatless, stop in on Mondays between 11:00am 10:00pm for Meatless Monday, when they feature delicious vegetarian and vegan meals.
Blue Water Grill often has live music on Saturday nights (check the schedule here), and like Rose's Restaurant, it's a part of the Gilmore Collection. That means they also celebrate Wine Down Wednesday, offering off glasses of wine every Wednesday.
These are just a few of the many wonderful restaurants in Grand Rapids warmed up by cozy fireplaces this winter. So grab your coat and boots and check them out. You won't even have to clean up the kitchen after dinner!