Unlike the bustling city, in downtown Rockford you'll find locals and visitors alike strolling leisurely between the town's many shops and eateries. Nestled in an adorable corner along the Rogue River, adjacent to the Rockford Dam – the photogenic epicenter of this quaint suburban town less than 15 miles north of Grand Rapids – is Kayla Rae Cellars, a wine tasting room. Inside, you'll find specialty craft beer brewed on site from MI Brewery.
Owner, Karen Grossman had nearly two decades of experience as a wine rep for a distributor before her sincere passion for wine was squeezed out by the demands of corporate life. She pivoted, partnering with her current winemaker, to open Kayla Rae Cellars in 2013. Since then, she has proven herself as a well-established winery and cellar, and she has now dipped her grape-crushing toes into the world of craft beer. Grossman has blended Kayla Rae Cellars with MI Brewery, and they complement each other well.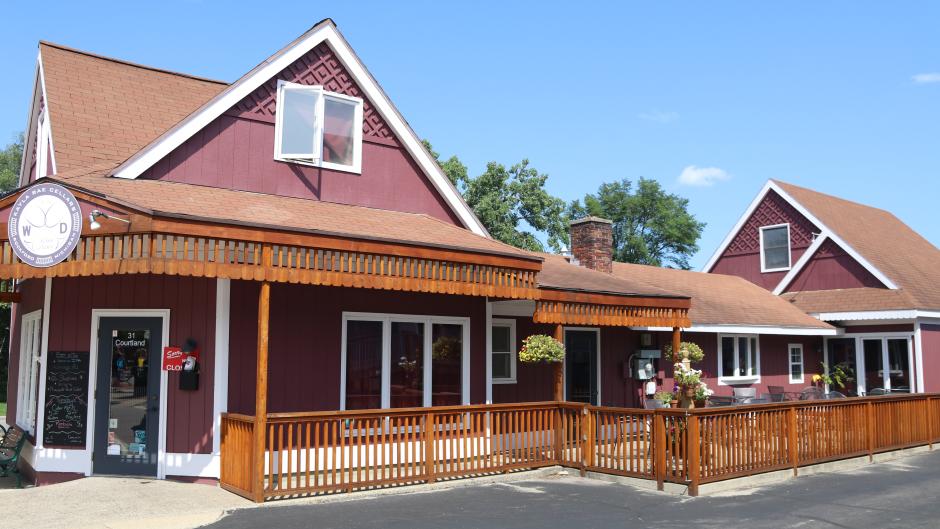 Find something for everyone with unique wine and beer at this Rockford hotspot.
Photo Credit: Experience Grand Rapids
---
On Draft
With the encouragement and support of his mom, son Jacob Grossman is now fully ingrained in the family business as a brewer. Jacob is relatively new to brewing beer. He's expanded Kayla Rae Cellars' identity with the introduction of a short list of beers now available on draft under the moniker, MI Brewery.  
Out of the six available tap handles, two are dedicated to MI Brewery beers. The balance will be Kayla Rae's existing portfolio of two rotating, seasonal hard ciders, one sangria, and one non-alcoholic root beer. This doesn't include its expansive wine selection, available to sample and buy by the bottle.
The beer lineup will rotate with the seasons. MI Brewery has tapped its flagship Dam Ale (an amber), a nut brown ale, a cream ale, an oatmeal stout, and a traditional American IPA.
Don't forget your Brewsader Passport!
Photo Credit: Jason Ley
---
Brewsader® Passport
Because it started pouring after the Beer City Brewsader® Passports were printed, MI Brewery will give guests a full-page sticker to affix to one of the placeholder pages in the back of the Brewsader® Passport that will count as one of the eight stamps needed to become a Beer City, USA Brewsader®, or to complete the passport and become an Ultimate Brewsader®. While in town, make sure to walk across the street and get another stamp from its neighbor, Rockford Brewing Company.
Wine
Wine is the reason Kayla Rae Cellars opened its doors. Its wine selection is vast. Give or take a bottle or two, they offer 10 reds, six whites, a sparkling white, fruited blends, sangria, and a Black Forest dessert wine that seems to be a unanimous favorite.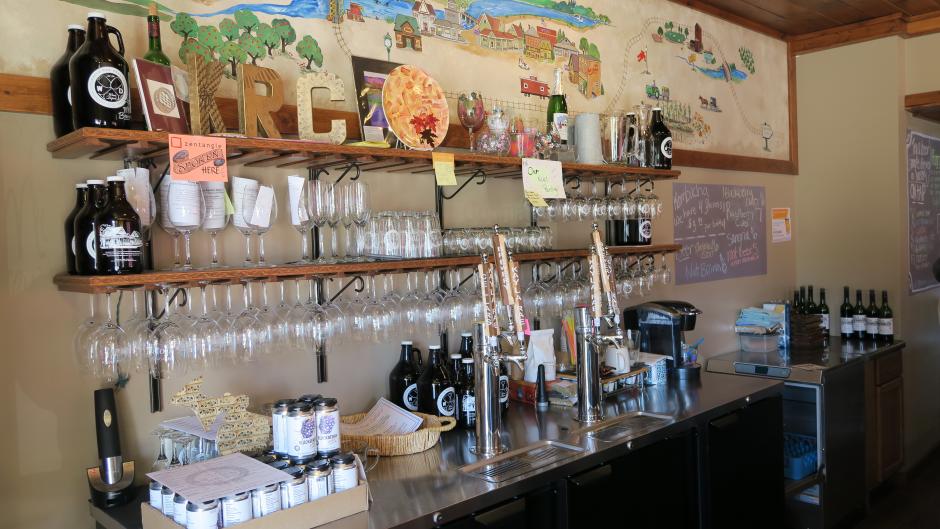 Get exclusive deals and merch with the Glass Club membership.
Photo Credit: Photo courtesy of Jason Ley
---
Glass Club
Kayla Rae Cellars offers an annual Glass Club loyalty membership: $65 for the first year and $55 for renewing members. Benefits, which will eventually apply to MI Brewery's beer, include:
Personalized 22-ounce Stolz glass (German import) to use at the winery
7-ounce glasses of wine for the same price as 6-ounce
17-ounce glasses of cider for the same price as 16-ounce
10% off in-store merchandise
10% off individual wine and cider purchases
5% additional discount on already discounted case quantity
Sampling
Guests can enjoy one-ounce samples of wine, two-ounce samples of hard cider, and two-ounce samples of draft beer for $1 each. A full pour of each will run you about $6.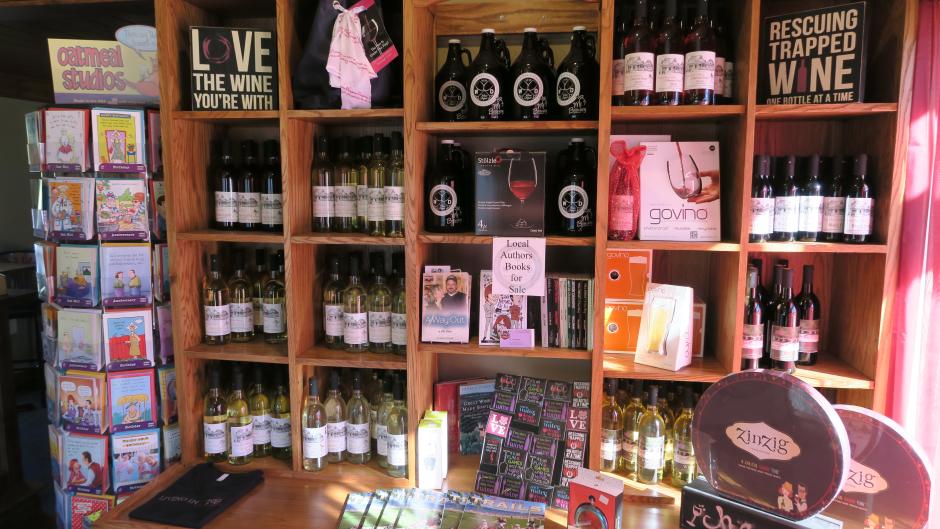 Bring home an extra bottle of wine and gifts for a loved one, or keep it for yourself!
Photo Credit: Photo courtesy of Jason Ley
---
To Go
Howlers (32 ounces) and growlers (64 ounces) are available empty for $5 and $6, respectively. Get either filled up with anything on draft for $4-$16, depending on your choice of beverage and volume. You can choose from beer, sangria, hard cider, and non-alcoholic root beer.
Wine discounts by the bottle:
Six bottles: 10%
12 bottles: 15%
24 bottles: 20%
If you're in the neighborhood during spring through fall, you can find Kayla Rae Cellars at the Rockford Farmer's Market nearly every Saturday, 7AM - 1PM. This is where you'll find its wine and canned hard cider available for sampling and to-go sales.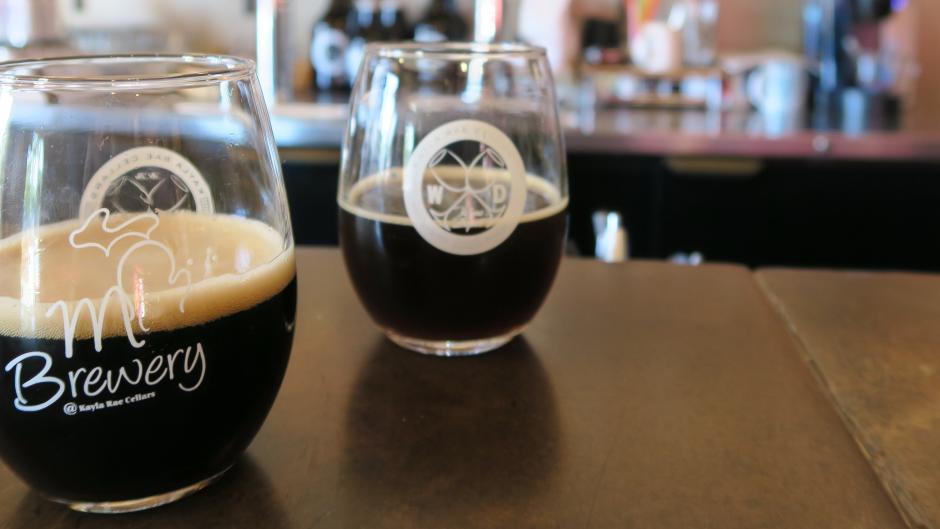 While there is not a full menu offered, you can bring your own meal or snack to enjoy with your drinks.
Photo Credit: Photo courtesy of Jason Ley
---
Food
Kayla Rae Cellars does not serve a full menu, but it is open to bring-your-own food options. Menus from local Rockford establishments are available. It's common for the owners of Ramona's Table or Grill One Eleven to personally deliver your order tableside. How cool is that?
Kayla Rae also offers local Amish cheese and cracker platters as well as chocolates from Rockford's own Polly's Passions to complement guests' indulgences.
In the works is a series of wine and cheese pairings in tandem with The Cheese Lady.
Amenities
Wi-Fi: Available, free
Patio seating available
Kids welcomed: Yes (order the root beer float!)
Parking: Adjacent street and surface lot parking available
Private rentals: Event space available, inquire
Wine & Art Nights happen the last Wednesday of the month with local Rockford pottery studio, Accidental Art — includes one glass to drink, and two to paint
Custom wine bottle labels: Guests can design their own personalized labels to be placed on their choice of Kayla Rae's wine (bottles) for weddings and other special occasions
Hours
Monday - Thursday: 12PM - 8PM
Friday - Saturday: 12PM - 9PM
Sunday: 12PM - 5PM
Contact
Address: 31 Courtland St., Rockford, MI 49341
Phone: 616-951-7001
Email: karen@kaylaraecellars.com
Website: www.kaylaraecellars.com/beer
Facebook: facebook.com/kaylaraecellars
Instagram: @kaylaraecellars