"Gezillig" (or Gezelligheid). "It's a social thing, about people," says DeHop's Brewing Company and Café owners Cathy and Mark DeHaan in tandem. It's Dutch for a feeling that expresses, "It doesn't get better than this." That's the vibe that DeHop's set out to create when they opened in the Grand Rapids area in February 2018.
Located 6.5 miles west of downtown Grand Rapids near Walker and Standale, DeHop's has set the tone for an inclusive and relaxed environment where greeting guests as they walk through the door is just as important as the beer they brew and food they serve.
The brewery sits in a building that previously housed many different businesses. It's exterior is not like the others adjacent to it, and it works in an intriguing, inviting way. Mark's business acumen and Cathy's emphasis for warmth and hospitality pairs well with what DeHop's offers. Cathy's childhood experience living in Amsterdam has certainly influenced the cosmopolitan, vibrant vibe of DeHop's decor.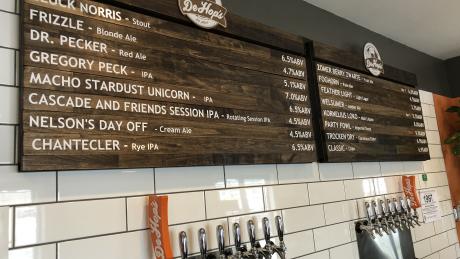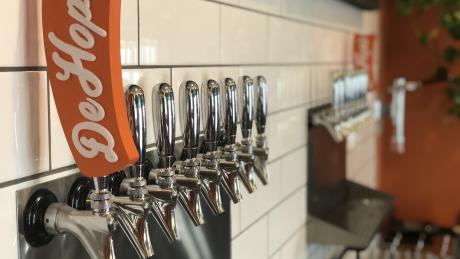 DeHop's Brewing Company and Café offers 16 craft beers on tap.
Photo Credit: Jason Ley
---
On Draft
While seeking a candidate for their head brewer, DeHop's hired a microbiologist to help build a solid portfolio of beers in the interim. Brian Lindberg, who previously worked in the quality department at Saugatuck Brewing Company, pulled double-duty while moonlighting at DeHop's as adjunct professor for sustainable brewing at Kalamazoo Valley Community College (KVCC) as well as the College's Brewery Operations Manager. Lindberg laid the foundation for new head brewer, Eric Plata, who DeHop's recruited from Midnight Pig Beer in Plainfield, IL—on the outskirts of Chicagoland.
Guests will find 14 beers on tap, all of which will rotate with the seasons—ranging from American to Belgian to German styles. To date, DeHop's has scheduled their beers "to reflect what's both domestically and internationally popular and relevant for that time of year." Also expect to be surprised with limited small batches of experimental one-offs, released as unique or local ingredients allow.
Plata comes to DeHop's after winning a gold medal for Nevin's Hook & Hatchet Vienna-Style Lager at the 2018 World Beer Cup. Plata picks up where Lindberg left off, who was quite intentional about how he approached DeHop's' opening draft lineup. With well calculated efficiency in mind, Lindberg focused on a particular yeast strain and scaled his beers out from that, saying, "Being sustainable from a yeast standpoint is very important."
Looking forward, Plata says he intends to "expand on Lindberg's traditional foundation by incorporating classic lager methods and styles." He's also enthusiastic about growing their experimental and trendier styles. "Expect to see a Rosè Brut IPA, milkshake IPAs, and pastry stouts right next to a Doppelbock and Vienna Lager." Plata teases, "Things will get weird—in a really delicious way!"
Flights of four short-pour samples of beer and cider are available, as well as crowlers to-go with 32 ounces of your favorite draft. Keep your eyes peeled for DeHop's on draft at local area bars and restaurants, where they plan to start distributing soon.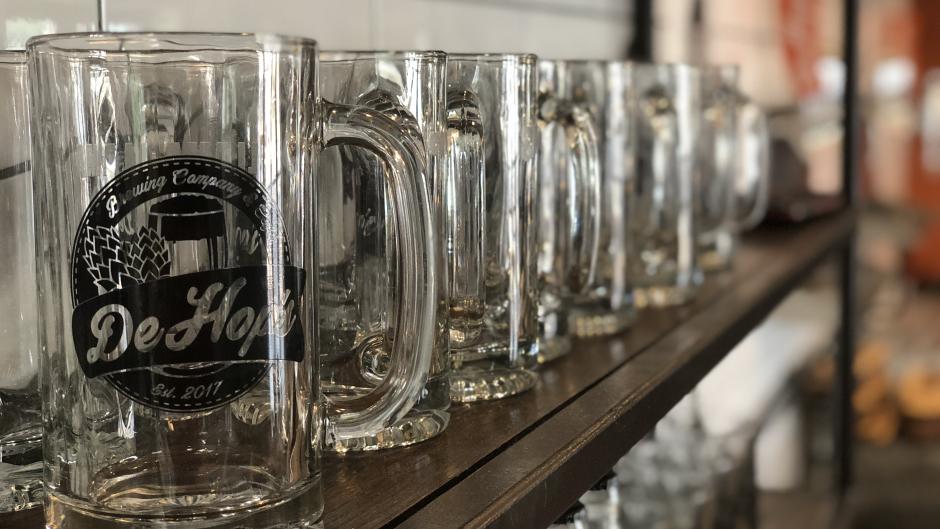 Visit DeHop's Brewing Company and Café to learn more about its mug club.
Photo Credit: Jason Ley
---
Mug Club
A $60 annual membership fee into DeHop's' loyalty program, Proost Club, gets you:
Personalized engraved mug, which you get to keep at the end of the year

$1 off beers throughout the week, $2 off on Taco Tuesdays when tacos are also $2 off
For more information on the Proost Club, or to sign-up, stop by DeHop's Brewing Company and Cafe.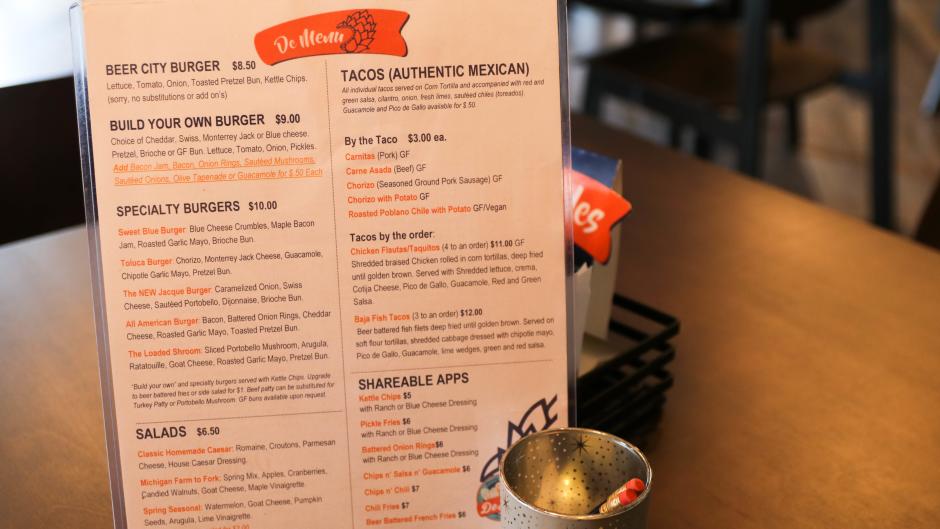 DeHop's Brewing Company & Café also offers a full menu.
Photo Credit: Experience Grand Rapids
---
Food
DeHop's food menu is partially inspired by general manager, Joel Shafer, a chef trained in Mexican cuisine. He oversees the kitchen's execution of seven varieties of tacos, presented with modest flare in line with what you might enjoy in Mexico City.
The other half of the menu focuses on a build-your-own-burger concept with half-pound, never-frozen patties—a high-quality blend of brisket and short rib. DeHop's hopes their food will complement the feeling you might have when grilling at home with friends. Vegetarian and carry out options are available.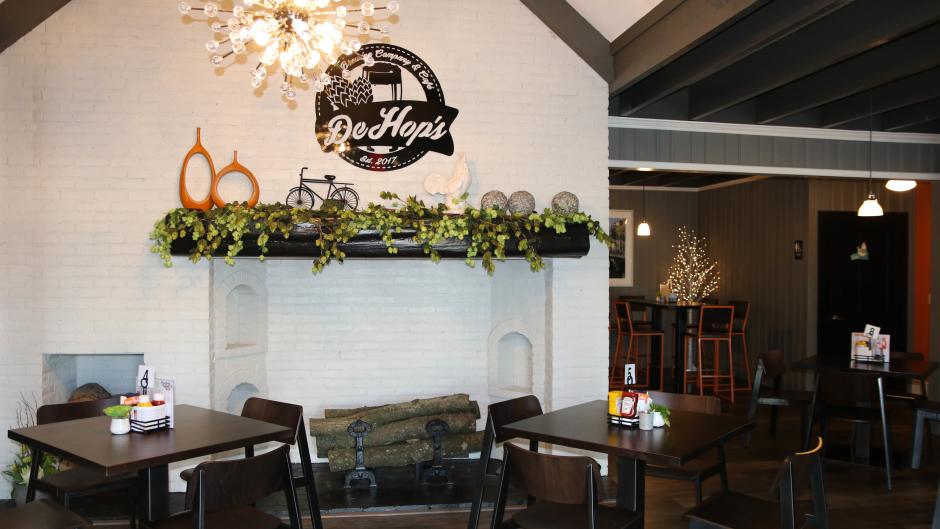 DeHops Brewing Company & Café's relaxed environment makes for an enjoyable time out with friends or family.
Photo Credit: Experience Grand Rapids
---
House Rules
Order drinks at the bar.

Order food at the kitchen window (or from your table).

Seat yourself.

Clear your own table.

Have fun.
DeHop's' House Rules are written with the intent for guests to drink and dine at their own pace without feeling tethered to their table, says owners DeHaan.
Upon arriving and being greeted, guests are invited to sit anywhere they prefer throughout the taproom and dining areas. Each table is clearly numbered.
First things first: beer. Order directly from the bartender at the bar. While sipping on your drink of choice, peruse the menu, and when ready—select what you'd like to eat (along with modifications and special requests) by easily checking the item's box on an order sheet provided at every table.
Support staff continuously stroll throughout the dining area to collect food orders, deliver food,  and assist bussing tables. Currently, guests are encouraged to re-up their drink orders from the bar.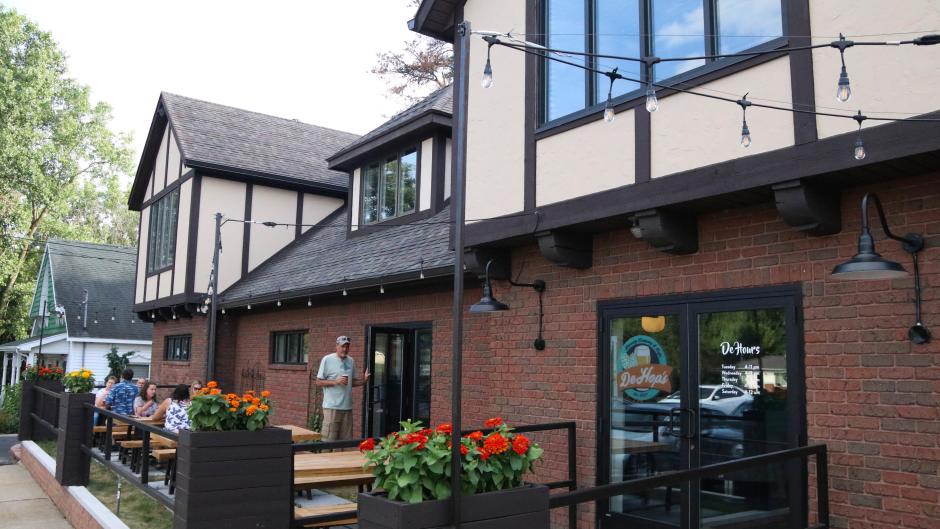 DeHops Brewing Company & Café's exterior mimics the establishment's Amsterdam roots.
Photo Credit: Experience Grand Rapids
---
Amenities
Ambiance: Bright, warm, cozy, communal, and well-decorated (feels like a family room at a friend's house)

Taco Tuesdays: $1 off beers and tacos, $2 off if you're a member of DeHop's Proost mug club

Free pool: Two pool tables upstairs available

Trivia night: Every other Wednesday

Live music: Regular entertainment schedule to evolve

Games: Selection of board and card games available

Private dining: Reserve DeHop's upstairs dining area for free with a 30-person minimum who are eating and drinking, or contact the brewery directly to inquire about renting the space privately

Wi-Fi: Available, free

Patio seating: Yes, approximately 32 seats, in addition to the taproom's capacity of 143

Kids welcome: Yes

Carryout: Available

Parking: Abundant and free parking lot
Hours
Sunday-Monday: Closed

Tuesday-Thursday: 4 to 10 PM

Friday-Saturday: 4 PM to 12 AM
Don't forget to bring your Beer City Brewsader® Passport when visiting DeHop's Brewing Company & Café. Or, download the new Beer City Brewsader Passport app before visiting one of Grand Rapids' many craft breweries.
Don't miss a post!
Sign-up for the Insider Experience blog