After a long, cold winter Grand Rapids residents and visitors alike are thrilled to throw open windows, slather on the SPF, and spend the nice long summer days out of doors. Amongst the soccer games, BBQs, downtown festivals, and 5Ks, its great fun to clear the schedule for a long, leisurely picnic. If you're visiting Grand Rapids, a picnic is the perfect way to soak up the moment and watch the world go by.
Here are some of our favorite, time tested spots. You'll notice many have a lake, pond, or river nearby, but we can't help it since Michigan has more freshwater coastline than any other state. With 11,000 inland lakes and 36,000 miles of streams, you're never more than six miles from water here in the Mitten.
Whether you're picnicking with children in tow or your special someone, craving a gourmet feast or carryout, you can enjoy a perfect picnic in Grand Rapids' backyard.
Where to go?
Picnic + a movie This weekend DGRI launches the Movies in the Park series with Raiders of the Lost Ark on Saturday, June 6 at 7PM. Click here for the rest of the summer lineup. You're welcome to bring adult beverages, so wash the picnic fare down with a six-pack of local craft beer. Location: Ah-Nab-Awen Park, Front & Pearl Streets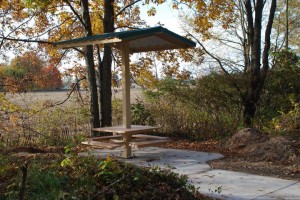 Picnic Table on the White Pine Trail Photo Credit: www.whitepinetrail.com
Small town charm along the Rogue River: Take your basket fifteen miles north to Rockford, a small town on the Rogue River with a bustling downtown and a dam that's generally teaming with fishermen and spectators. The White Pine Trail is a lovely 92-mile long state park that connects Grand Rapids with Cadillac and you can hop on the Trail in Rockford for a nice bike-ride or walk. Dine at a picnic table on the Trail or head back to town for dam-side enjoyment. Location: Rockford, Michigan
Tigers, a zip line + a treehouse, oh my! John Ball Zoo is a West Michigan destination with over 1100 animals and an expansive property just a few miles from downtown Grand Rapids. New this week is a much anticipated tiger exhibit. Enjoy a picnic in the adjacent John Ball Park before or after a zoo visit. Location: John Ball Zoo, 1300 W. Fulton St
Riverside recreation The largest park in the GR Parks system is situated along the slow-flowing Grand River: Riverside Park. The 180-acres are home to winding paths, picnic tables, disc golf, lagoons, fishing, and plenty of river-views. It's the perfect place to wander and linger. Riverside Park, 2001 Monroe Ave NE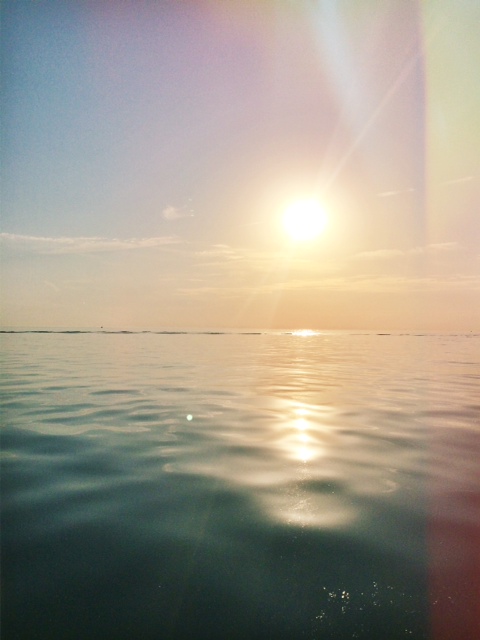 A Lake Michigan sunset snapped just outside the Lake Muskegon channel. Photo credit: Abby Peters.
A big feast at the big lake. Lake Michigan is a massive magnet that draws Michiganders and visitors to its shores all year long. Summertime is an invitation to throw out the quilt and linger beachside. For a buzz of activity and a red lighthouse, visit Grand Haven State Park. Or go for a hike at Saugatuck Dunes State Park where there's a 300-acre natural area and plenty of coastal space for lounging. Grand Haven State Park- 1001 Harbor Ave. Grand Haven, MI Saugatuck Dunes State Park- 3834 66th St. Saugatuck MI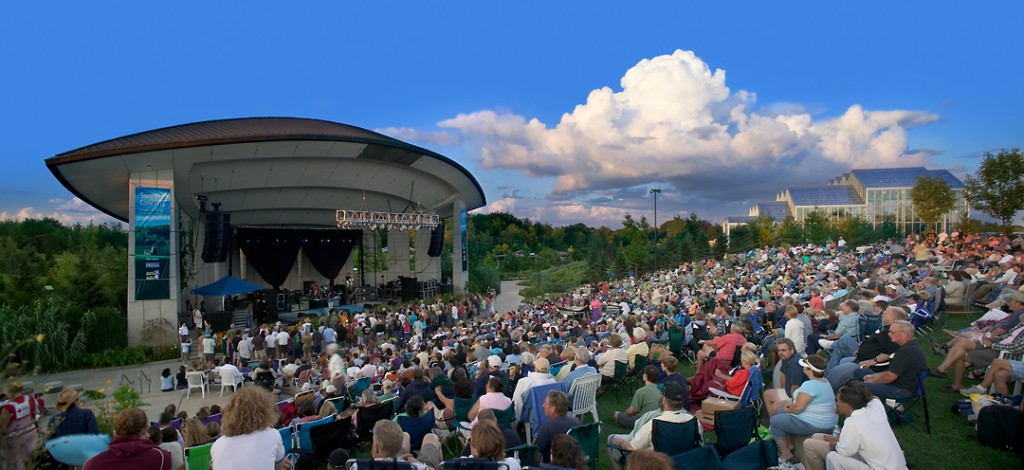 Meijer Gardens Summer Concert Series. Photo Credit: William J. Hebert
A musical pairing. Meijer Gardens is horticulture-heaven with conservatories, gardens, and a sculpture garden. It also features a stunning amphitheater and the best summer concerts in town. Catch national touring bands (think Counting Crows and Santana) as part of the Summer Concert Series or enjoy a Tuesday evening concert with regional performers. The terraced amphitheater is the perfect place to enjoy a picnic while rocking out. Beverages available for purchase. More ticket and concert info available here. Meijer Gardens, 1000 East Beltline NE
What to put in your basket?
Box it up. Boxed lunches are a throwback to field trips and old-school fun. Marie Catrib's in Grand Rapids East Hills neighborhood has fabulous boxed lunches. Enjoy a sandwich (perhaps roast beef with veggies + feta-horseradish mayo), side salad (Lebanese potato salad?), and house-made dessert. Marie Catrib's, 1001-1003 Lake Drive SE, 616-454-4020
A spread of meats, cheese, and accompaniments from Aperitivo.
Wine and cheese, please! My favorite picnic involves soft cheese, fresh fruit, chewy baguette, and salty cured meats. You can find all those things at the Downtown Market. Aperitivo is a dream for acquiring special cheeses and accompaniments that inspire a meal en plein air. Don't forget the corkscrew. Downtown Market, 435 Ionia Ave. SW
Farm to Basket Saturday is the big day for Fulton Street Farmers Market but it's open and operating Tuesdays, Wednesdays, and Fridays as well. Swing by FSFM to stock up on baked goods, juicy local fruit, veggies, cheese, ripe tomatoes + more! Fulton Street Farmers Market, 1147 E. Fulton Street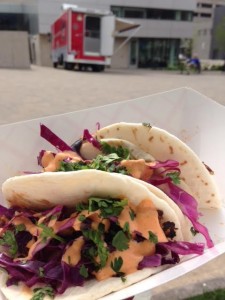 Fish Tacos from A Movable Feast Truck at the GRAM
Gourmet to go. Food trucks are building a consistent presence in Grand Rapids. The GR Art Museum is home to two trucks: A Moveable Feast and What the Truck. Catch them most days at lunchtime and occasional evenings for eclectic, reasonably-priced, mobile eats. Check Facebook for location updates when you're ready to hunt the trucks down. GRAM, 101 Monroe Center NW