Each year, hundreds of thousands of visitors from around the world visit Grand Rapids to see one of the largest independent art competitions in the world. Winners are chosen not only by esteemed art professionals that make up a grand jury; the thousands of attendees can also cast their votes for their favorite entries. This year at ArtPrize 9, grand prize winners Seitu Jones and Richard Schlatter each won the hearts of those judging their work. These two out of 1,346 artists exhibiting their entries at 175 different venues each took home a $200,000 grand prize.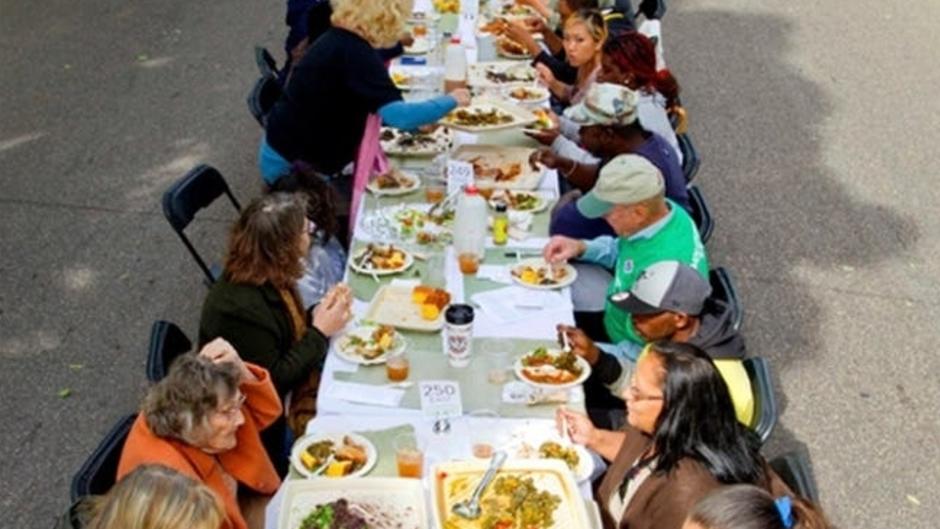 Seitu Jones' "The Heartside Community Meal."
Photo Credit: ArtPrize
---
Jones' ArtPrize entry, "The Heartside Community Meal," won the Juried Grand Prize. This time-based installation was comprised of a dinner for 250 attendees right in the middle of Heartside Park. Jones' entry is an example of "social practice art" and is reminiscent of the "happenings" in the 1970s art world. However, Jones simply calls himself a visual artist. The dinner included local vegan food filling ceramic bowls and was presented by local West Michigan Center for Arts + Technology (WMCAT) students. Neighbors and visitors of all racial and social strata had the chance to get to know each other and talk about – with the help of table topic cards – their connections to food and issues of food access.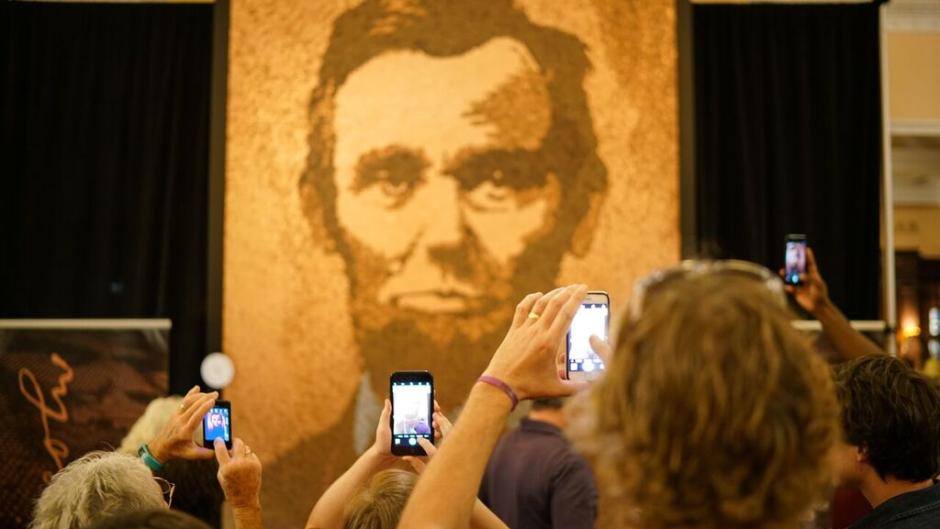 Richard Schlatter's "A. Lincoln."
Photo Credit: Eric Tank
---
While Jones' "Heartside Community Meal" won the jurors' votes, Schlatter's entry "A. Lincoln" caught visitors' attention and won the Public Vote Grand Prize. The piece is a two-dimensional portrait of Abraham Lincoln made out of roughly 24,000 pennies, stationed in the popular ArtPrize venue, the Amway Grand Plaza Hotel.
Though the works themselves are vastly different, they both share humble beginnings from simple acts in daily life. Jones, who lives in a neighborhood similar to Heartside in his own city of St. Paul, Minnesota, says he would have neighbors over for dinner, which then grew into grand scale meals. A similar community meal in St. Paul gathered 2,500 people on a long table snaking down the city street.
Schlatter, recently retired from his career as a graphic designer, was just getting ready to bring change to the bank.
"I was rolling some coins to take to the bank. I took all the pennies and I'm looking at them. I start sorting by color. I'm playing with them, really. I make a starburst: dark pennies in the center, surrounded by lighter ones," he says.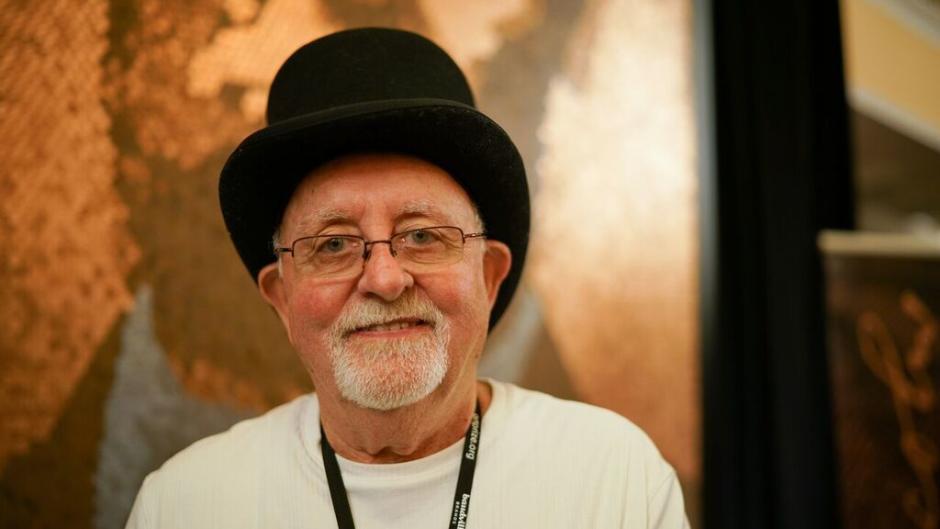 Richard Schlatter
Photo Credit: Eric Tank
---
And again, just like Jones, what started as a simple act became a grand scale idea.
Schlatter certainly leaned on his years in the graphic design world to create the iconic image of our 16th president made out of pennies, where we find President Lincoln's portrait every day.
Jones drew from artists, philosophers, activists, musicians, religions, and more. He says he was exploring many different philosophies during his formative years as an artist in the 60s and 70s, learning from influences as vast as Jimi Hendrix, the Black Panthers, and happenings artist Joseph Beuys.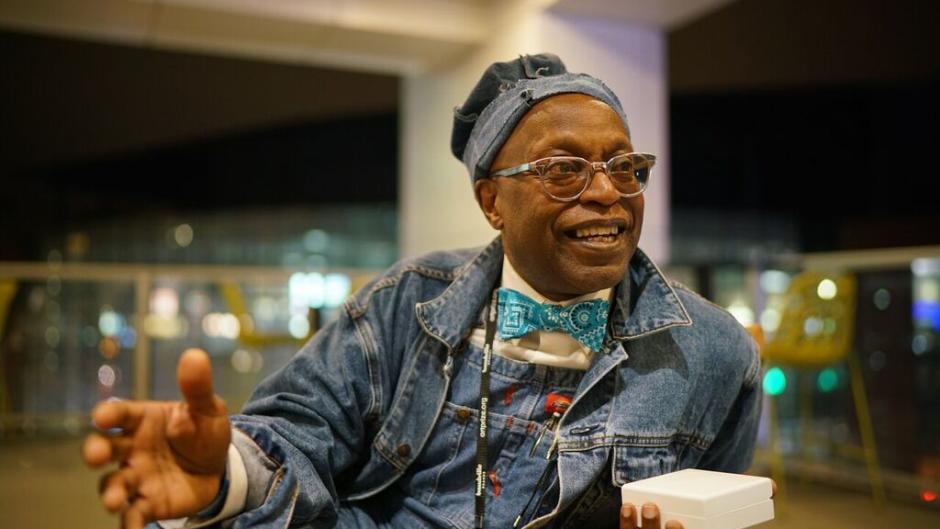 Seitu Jones ArtPrize
Photo Credit: Eric Tank
---
"More than anything else, one of the tenets of the many philosophies that I absorbed [in the 60s and 70s] was that you should leave your community more beautiful than you found it, and that's most closely aligned with Black Cultural Nationalism," he says.
"But to leave your community more beautiful than you found it — that's what guides my work to this day."
For the full list of ArtPrize 9 winners, visit the Cultured.GR page.
ArtPrize returns next fall from Wednesday, September 19, through Sunday, October 7. To start planning your trip to join over 500,000 annual visitors exploring art together, visit the Experience Grand Rapids ArtPrize page for more information.
Never miss a post!
Subscribe to the Insider Experience blog.