If you've been to ArtPrize before, you know it's smart to wear good walking shoes, and this year is no exception. With over 1,400 works of art featured in 170 venues, you'll get your steps in as you attempt to see as much of the radically open art competition as possible. From the bigger venues, like the Gerald R. Ford Presidential Museum and DeVos Place, to public parks, lobbies, bars, and more, you'll stumble into amazing works of art packed into the nooks and crannies of three square miles of downtown Grand Rapids.
Through October 1, during Round 1 of the public voting, you can vote for everything you like. See an amazing painting? Vote for it. An incredible performance? Vote again. The top 20 finalists will be announced on October 2 and, during Round 2, you'll have to save your vote for the one you like best. Round 2 voting closes on October 2 and the 2016 ArtPrize Awards will be announced on October 7.
With a limited amount of time and so much art to see, where should you start? Anywhere, really!
The key isn't where you start, but having some sort of a plan. Just be ready to deviate from your plan when you see something you that's not on your pre-planned route. If you visit one of the 8 ArtPrize neighborhood HUBs, you can get a map as well as information about neighborhood-specific tours and events.
I like to start at the Gerald R. Ford Presidential Museum, if I can find a spot in their parking lot. No matter where you begin your ArtPrize Eight adventure, here are a few pieces you won't want to miss. But keep in mind that your favorite artwork may be in an entirely different venue. Part of the fun of ArtPrize is seeing so many different mediums in unexpected places — and taking the time to explore what's out there. Enjoy the process of discovery!
"Leu-enkephalin Flow / Fountain of Tears" #63176 by Thom Cicchelli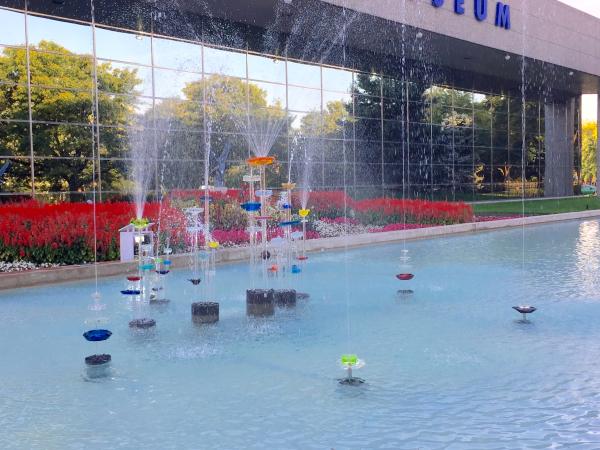 This beautiful glass and acrylic piece of art is installed in the fountain outside the Gerald R. Ford Presidential Museum. The artist used vintage glass and crystal ashtrays to create a work of beauty whose composition might be uncomfortable, once viewers realize the substances he used to create it. Meanwhile, the water is meant to provide comfort.  Read more about the artist's intentions, here.
Another beautiful display outside the Ford Museum is the slideshow, set to music, created by Todd and Brad Reed of photographs they've taken throughout the state of Michigan.
Michigan IS God's Country #64162 by Todd and Brad Reed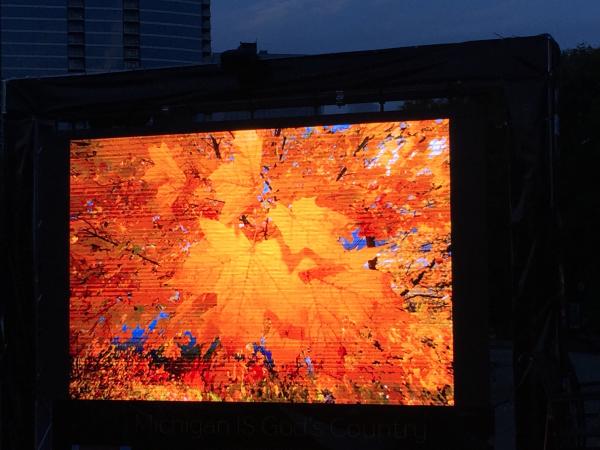 It's difficult to photograph this piece, but take my word for you: you want to see these exquisite images.
Stroll along this beautiful walkway, from the Ford Museum to the Public Museum where you'll find more creative entries, taking in our beautiful cityscape along the way.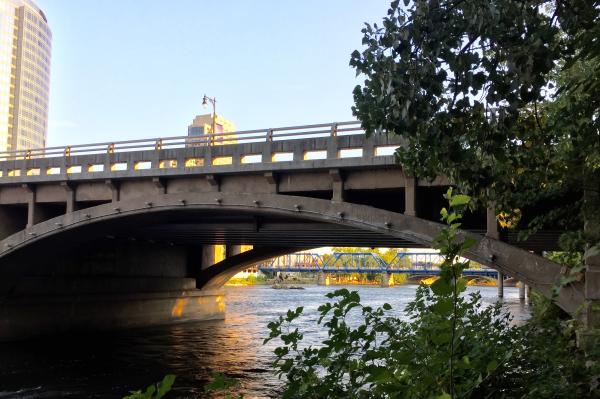 Color Collaborative #63914, by Herb Williams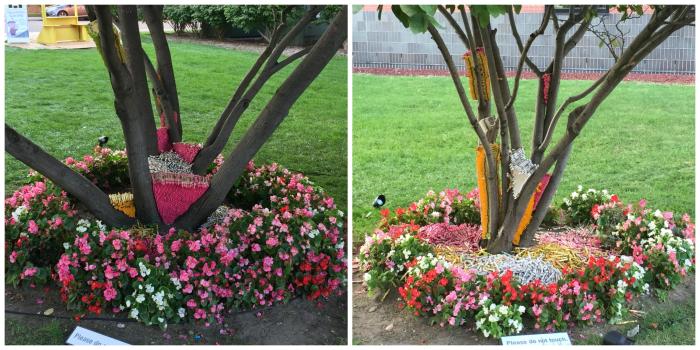 Thousands of crayons are stacked in the negative spaces of the branches of several trees, without glue or adhesives.  This piece is outside the GR Public Museum, near the Blue Bridge.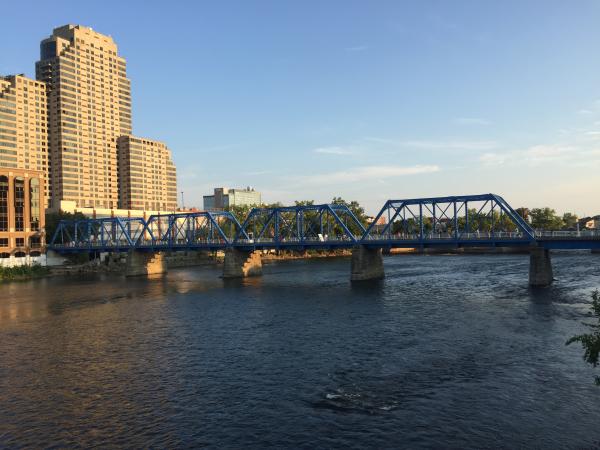 As you cross the Blue Bridge, you can take a photo of yourself (or your friends) in the giant 4x6 wooden postcard. (Entry #64469 by Claire Potrykus.) The Blue Bridge is also hosting the Blue Bridge Music Festival on Friday, Friday, Sept. 30, from 4 p.m. to 10 p.m. and on Saturday, Oct. 1, from noon until 10 p.m. Nine performing groups will play live music at the west end of the bridge—you can listen, cast your vote(s) and enjoy the beer garden sponsored by Founders Brewery and Crescent Brewery.
Head towards Rosa Parks Circle and the GRAM to see lots more art. If you've worked up an appetite, stop by the food trucks outside the GRAM and indulge in a treat to provide energy for the rest of your walk.
Emoh, #62624, by Loren Naji

Along Monroe Center St., you'll find Loren Naji, the artist who created Emoh, where he's living for the duration of ArtPrize. Emoh is home spelled backwards and the project represents what the artist feel is a backwards system of homelessness juxtaposed with vacant houses.
Cross over Monroe Street at the corner of Pearl (by the PNC building) to see this striking sculpture.
Invasive Species #63480 by Shiny Seed (artists Casey Dixon and Gene Foulk)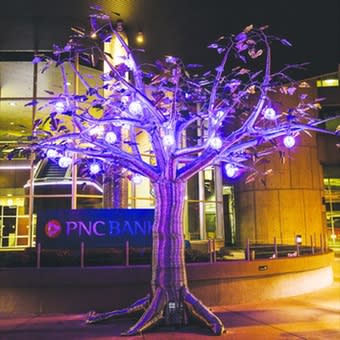 photo courtesy ArtPrize Eight
This life-sized interactive sculpture of a tree has a steel frame wrapped with aluminum wire. The exhibit changes based on the surrounding environment, because its mirrored stainless leaves reflect the colors around them. The glass "fruit" that hangs from the tree is illuminated by LEDs, which adds a beautiful luminescence.
As you head down Monroe St, definitely want to stop in the Amway Grand Plaza to see all of the art featured there.
Imagine If #64337 by Robin Protz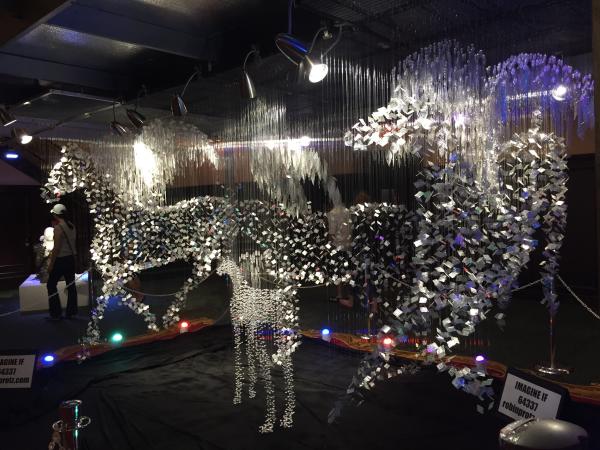 This sparkly sculpture, made from lightweight silver squares, dangling from above, is captivating.
As you head back out to Monroe and walk towards DeVos Convention Center you'll find more intriguing sculptures, like these.
E(scape) New Face #63734 by Bob Clyatt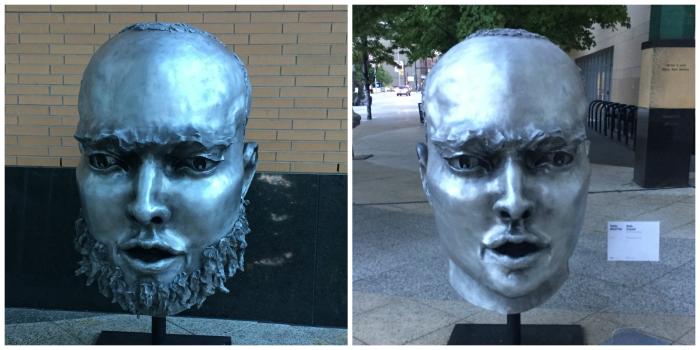 These larger than life cast aluminum heads are shown just outside DeVos Place Convention Center.
Inside, DeVos Place hosts a number of pieces of art. As you peruse, be sure to find Superior Eruption by Eric Munch.
Superior Eruption #62983 by Eric Munch

Photo courtesy ArtPrize Eight
In this series of breathtaking photos, the artist captured water erupting from an ice volcano along the Lake Superior shore. The photos are displayed at DeVos Place Convention Center.
If you've walked as much as you can downtown and are ready for a change of pace, pack up and head to Frederik Meijer Gardens & Sculpture Park, where you'll find 10 ArtPrize entries as well as the magnificent beauty of the horticultural park and its sculptures.
Climate Change Cities #63669 by Norwood Viviano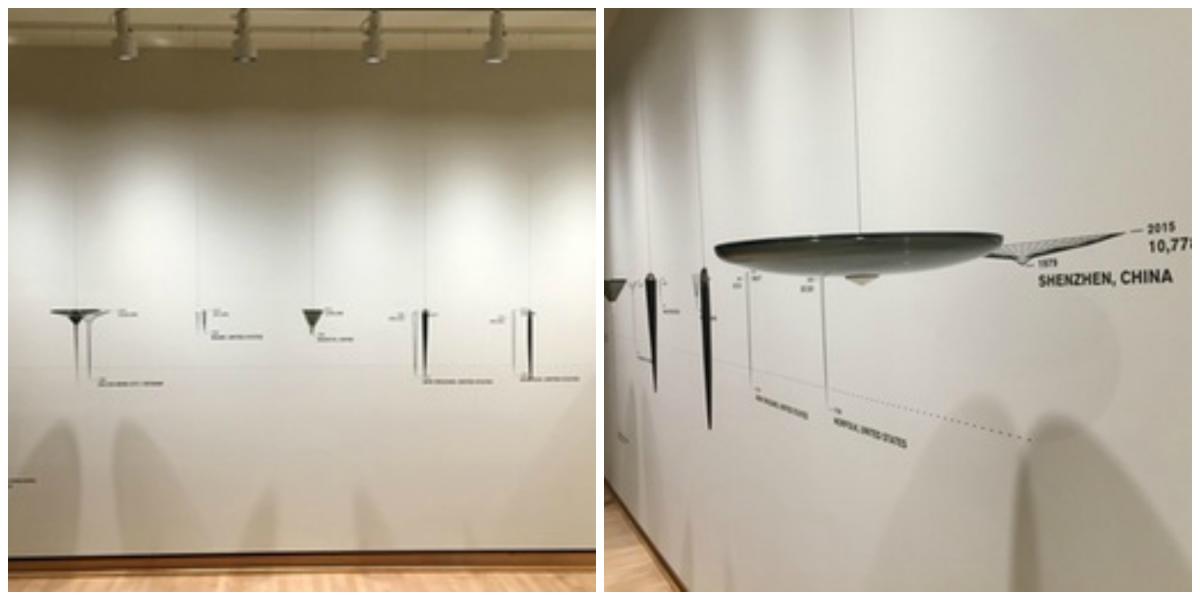 This stunning piece of artwork displayed at Frederik Meijer Gardens & Sculpture Park is made of blown glass and vinyl cut drawings and depicts the climate change in a number of cities over time.
These are just a few of the over 1,400 works of art competing in ArtPrize Eight. Download the app (Apple iOS devices and Android devices), grab a map, plot your course, and vote for your favorites. This is your art show!