A funny, romantic date; a night out giggling with girlfriends; a couples get-together with dinner and laughs; or a special fun-filled family outing that creates memories for years to come: LaughFest is the perfect venue for any and all of these scenarios! With over 200 events at this years LaughFest (March 6-16), including some in Lowell (PJ Walsh) and Holland (Jeff Allen), you're sure to find yourself laughing for a good cause.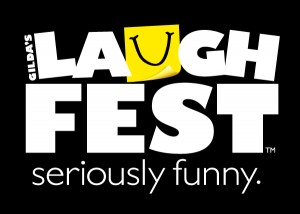 Whether you're staying downtown or just heading into the city for an event, the evening wouldn't be the same without grabbing some grub. Since you're in Beer City USA, you may want to check out some of our award-winning breweries. If dozens of beers on tap and to-die-for crack fries call your name, you'll want to pop into Hopcat, which features its own brews as well as beers from around the world. The recently-expanded Founders Brewing is here, too-you wont want to miss whatever they've got on tap!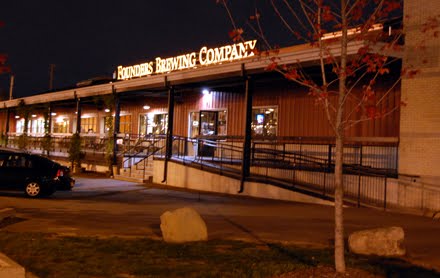 Founders Brewing Company
If fine wine is more your style, stop by The Reserve and enjoy an excellent glass with your meal. San Chez is the place to go for tapas - be sure to try the sangria while you're there! And if you're looking for exquisite cuisine in an elegant but welcoming setting, Leos Restaurant is a can't-miss. In short, there's something for everyone among the varied restaurants in GR, so when you make your plans be sure they include something tasty!
If you're driving downtown, you'll be happy to know that parking garages are plentiful. Click here to view the city's parking facilities map to find the lot that's closest to the venue you're visiting. Many of the venues, like DeVos Performance Hall, the B.O.B, and the GRCC Ford Fieldhouse are an easy walk from many downtown hotels. If you're visiting and staying downtown, check with your concierge to see if walking is an option for you.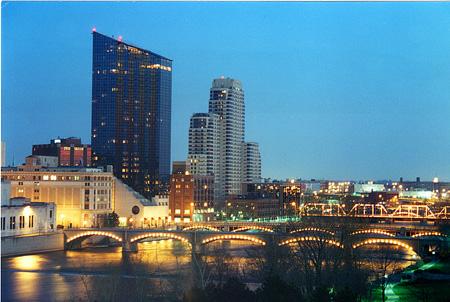 Once you're set with parking, be sure to check out LaughFest Central, the festival's headquarters, located at the Grand Rapids Art Museum (101 Monroe Center). You'll find lots of information on the festival as well as tickets and merchandise you'll be proud to sport. Its also the place to pick up Fast Passes for free events. Fast Passes are like tickets (except they're free), and they guarantee you a seat at free shows until 15 minutes prior to the events start time. (If you show up later, your Fast Pass will have expired and your seat can be given away to walk-up guests without a Fast Pass.) If you're attending a free event in Holland, you can pick up Fast Passes at Lemonjellos Coffee. For free events in Lowell, you'll find Fast Passes at Cousins, Hallmark (223 W. Main St).
If all of this has you thinking "I need to buy tickets," you're right! Although a few shows, like Judah Friedlander and Jen Kirkman, have sold out, there are still lots of laughs out there for you to enjoy. Tickets are available at Ticketmaster.com (search LaughFest).
As of today, tickets are still available for the following shows (as well as many others): Lily Tomlin, Jim Gaffigan, Chris Tucker, Sinbad, Best of the Midwest (some shows sold out), Clean Comedy Showcase (some shows sold out), and LaughFest Best.
Limited seating is also still available for the Jay Leno Signature Event, which includes dinner. For details, contact Ashley Owen,Development & Events Lead Coordinator, at aowen@gildasclubgr.organd 616-453-8300 x 120.
If you have kids along, on March 8 you can all enjoy the Super Saturday Kids Zone, an inexpensive carnival ($7 per person) from 10-2 at GRCCs Ford Fieldhouse. Or, later that night at the same venue, older kids (ages 13+) can check out the Saturday Nite Teen Zone, featuring laser tag, video games, and glo golf. As long as you're in town, you may want to visit a few other family-friendly sites in Grand Rapids: our famed Meijer Gardens is just a short drive from downtown and our Children's Museum, the Ford Museum, and the Grand Rapids Public Museum are all located within the downtown area.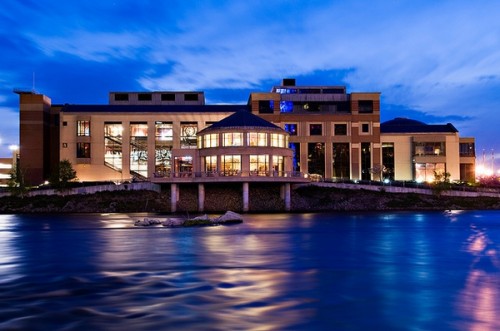 While LaughFest is filled with fun events, its attendees have also had fun setting world records the past 3 years! In 2011, Laughfest attendees tossed 925 rubber chickens in Rosa Parks Circle, 2012 saw 607 people don chicken beaks outside the GRAM, and last year, 1,532 folks wore fake mustaches - all setting world records. (Last years accomplishment was short-lived. It was topped in July, 2013 during the RAGBRAI bicycle touring event in Fairfield, IA.) This years record-breaking event will be announced soon, and perhaps you'll take part in making the record books.
So grab your girlfriends, your guy friends, your significant other, your couple friends or your family, and get ready to laugh for a good cause, with all proceeds from the 10-day festival (March 6 16, 2014) benefiting Gildas Club Grand Rapids.
For more information and details on all things LaughFest, see our first Laughfest post and visit the Laughfest website at www.laughfestgr.org.