After three successful years, Grand Rapid's Downtown Market is officially in its young adulthood.  What has changed?  What has succeeded?  What can local shoppers look forward to in the months to come?  
"We work hard every day to cultivate a sustainable, vibrant food economy, to be the preeminent regional destination for innovative food experiences, and to connect people to opportunities for healthier living," says Mimi Fritz, president and CEO of the Downtown Market, who's proud of the progress they've made in three short years.
Part of the hard work they've done is to listen to the community's wants and needs and to be flexible with businesses and events.  "The Market's intentions were to provide the downtown area with an urban marketplace focused on local goods at a variety of price points," explains Callee Knoll, an ice cream designer at Love's Ice Cream who's been at the Downtown Market since it opened. "The Market also aimed to become both an event space and educational facility. With some adjustments, and much evolution alongside the rapidly growing city, it's meeting those goals."
As a customer and occasional event attendee, I would agree!  The unique storefronts and open air market feel set the Downtown Market apart from other spaces around town.  Some of Grand Rapids' favorite market staples have done well at the Market because of their awareness of the growing and changing customer. Maybe you've been to Love's Ice Cream, Field & Fire bakery, Dorothy & Tony's Gourmet Popcorn, Malamiah Juice Bar, Spice Merchants, Old World Olive Co, Fish Lads, Aperitivo, Sweetielicious, Tacos El Cuñado, Rak Thai, and Making Thyme. If not, they are now veterans of the Heartside neighborhood!
Another goal the Market has accomplished is helping with neighborhood revitalization. The Downtown Market has encouraged traffic and commerce in the Heartside neighborhood, which has seen the addition of wonderful new housing options, as well as retail destinations like Moosejaw and a Craft Beer Cellar Grand Rapids, which have opened close to the market.
Photo Courtesy of Experience Grand Rapids
Newer must-see storefronts at the Downtown Market include the two restaurant spaces: Slow's BBQ, originally from Detroit, and Social Kitchen and Bar, a food and cocktail kitchen with lots of shareable menu items (since eating and drinking are "Social"- get it?) Carver's: Grand Rapids Finest Meats, opened October 7th as a locally-sourced butcher, and is committed to reasonable year-round pricing.  Fish Lads owner Jeff Butzow has spearheaded this new (adjacent) business after his success in the fresh fish business.
In addition to purchasing meat to take home for your next dinner party, you can also grab a neapolitan-style pizza at Rocket Pies, sister store to Love's and Relish Green Grocer.  Call that an appetizer.  Soup makes a great second course, and Blue Spoon Soup and Spuds has hearty and light options.  Then, be sure to find a bottle of something tasty to serve in a glass at Grand Traverse Distillery. Choose a pie from Sweetielicious and grab flowers from bokay Flower Market and you're set for a feast!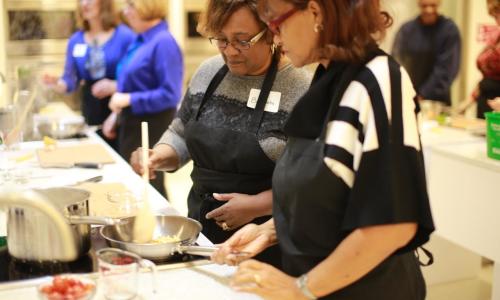 Photo Courtesy of Grand Rapids Downtown Market
Another thing that differentiates the Downtown Market apart is their commitment to education.  The Teaching Kitchen offers a year-round rotation of great classes.  From kid-friendly to cocktail focused, there's a class for everyone.  While some are comprehensive skill instruction that take two- three hours, there are plenty of classes that only take around an hour. As a bonus, you usually get to eat the fruits of your labor at the end!  Learn how to cook for two, can during harvest season, make pumpkin spiced everything, or even roll sushi. 
The Market hosts private events, too, including a recently launched program, called "Cook for a Cause. "It offers groups the opportunity to learn skills in the teaching kitchen while making a meal for one of our partner organizations, which include Dégagé Ministries, Family Promise, HQ, GRAAHI, or YWCA's Sojourner House," explained Fritz. 
Check the calendar and make sure you reserve your space in the classes that interest you, as space is limited.  There are some fun holiday options, including the Holly Jolly Cookie Bash in Grand Rapids, where you'll go home with 8 DOZEN COOKIES to share with friends and family!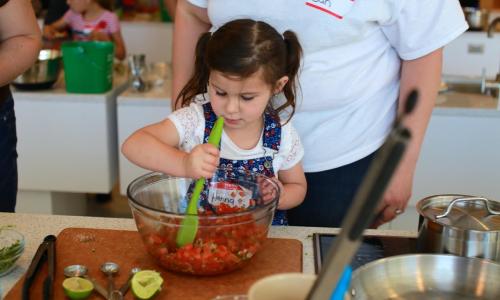 Photo Courtesy of Grand Rapids Downtown Market
If you're not sure what a perfect market day would look like, you could take a stroll around and wing it. Or, you can follow the "ideal day" of Callee Knoll, from Love's Ice Cream--assuming you could actually consume all this deliciousness in one visit! 
"I'd have to start at Field & Fire with a "Financier" (or 5) and a chocolate croissant. Then I'd head over to Malamiah for a "Rise and Shine" juice," she says. "Next I'd grab a few al pastor tacos and a chicken tamale, which I'd wash down with an ice cold pineapple Jarritos. From there, I'd grab a bag of kettle corn from Dorothy & Tony's and wander over to Aperitivo for a lovely charcuterie platter (and a glass or two of wine)."
Sounds like a good start. Ready for more?
Head to Rocket Pies, suggests Knoll. "I'd devour a rocket pizza along with a glass of whatever "Bloom Ferments" kombucha is on tap. Then I'd take a break from savory with a scoop of pistachio ice cream (in a waffle cone, of course) and a peanut butter sandwich cookie," she says. "I'd follow that with a blackened whitefish sandwich with a side of handcut fries and a round of oysters from Fish Lads. And for my last course, I'd have Carver's pick out a sandwich for me, preferably with thick cut bacon. Then I'd grab a cup of Madcap's 616 blend coffee at Field & Fire."
If you're interested in the teaching classes, Knoll says she'd take advantage of the seasonal cooking classes and the cocktail/bartending courses.
Whichever stores you shop and classes you take, don't miss the fun at the Downtown Market as they proudly enter their fourth year. If you haven't already, this is a great time to join the fun and take advantage of everything they offer!