One of the hottest new things to do on a Sunday around Grand Rapids involves high kicks, cartwheels, and spins. It's known as Michigan Drag Brunch, and it's the latest Sunday Funday event hitting Grand Rapids.
Drag Brunch features live dance performances, fabulous outfits, and of course, delicious cuisine and tasty brunch cocktails. It's a series of shows put on by DT Promotions and a group of dedicated local performers who refer to themselves as Brunchettes. The performances take place every Sunday and visit different bars and restaurants across the state.
Past shows have stopped at locations such as Linear Restaurant, The Holiday Bar, Stella's Lounge, CitySen Lounge, and The Commons. The group also hosted a special "Irish I Was a Queen" event at the JW Marriott Grand Rapids on St. Patrick's Day, where they hosted more than 600 guests, making a groundbreaking world record for the largest Drag Brunch.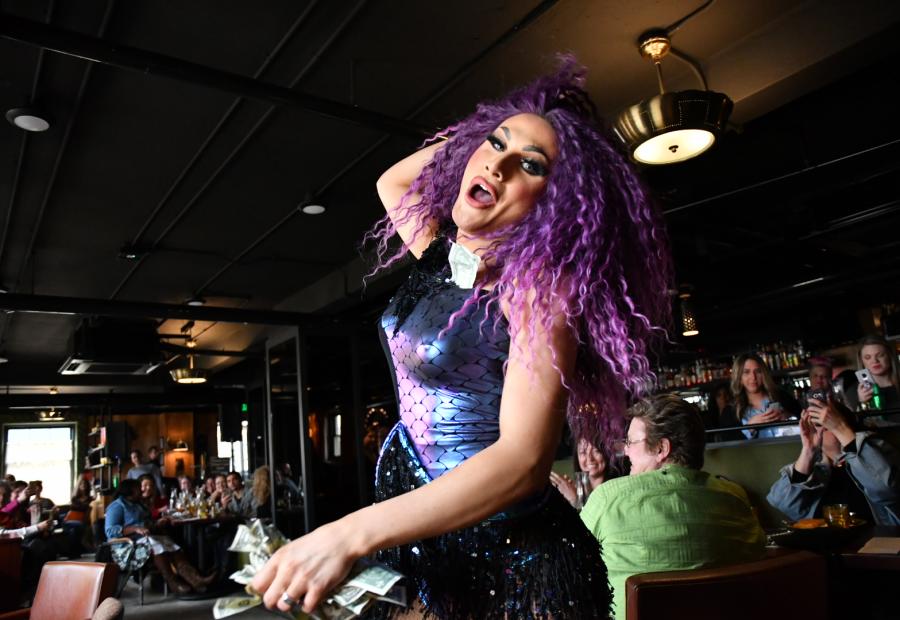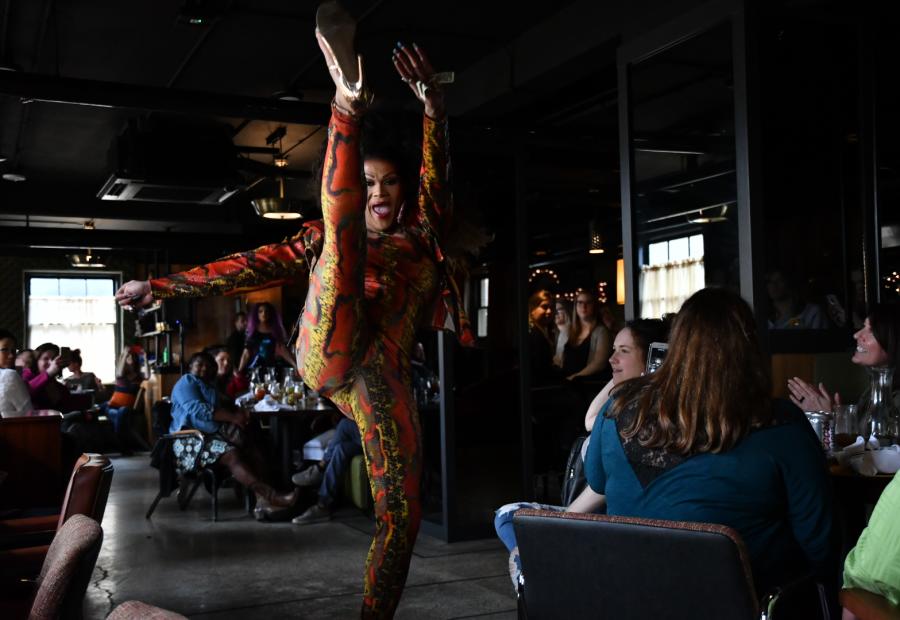 Originally planned as a seasonal event, Drag Brunch GR now has two shows every week due to its popularity.
Photo by Eric Zuniga for Experience Grand Rapids
Growing in popularity
Initially, show organizers weren't sure how the community would embrace Drag Brunch or how popular the series would become.
"We didn't know how this was going to go when we first started," says Trevor Straub, show producer with DT Promotions. "Drag Brunch has been so graciously welcomed and accepted into the Grand Rapids community. We are simply humbled and proud."
Recent performances have been selling out quickly, sometimes even weeks in advance. So if you're thinking about catching a show, plan ahead, and check out the schedule of events online.
Drag Brunch performances are fun for large groups celebrating special events or just for a few friends looking for something fun to do on a Sunday.
"We initially thought this might just be fun in the sun with a show here or there, but due to the popularity it's become a year-round thing," Straub adds. "So buckle your seatbelts Michigan, here we come!"
Show Emcee and Brunchette, Dia Elektra, echoed Straub's energy.
"When you do what you're passionate about, the world recognizes that you're doing what you're meant to do," she says. "Taking our art out of the dark and showing it in the light for everyone to see has been amazing. It's great to see so many people celebrating us. It's not just us showing them who we are, but it's them showing us who they are too."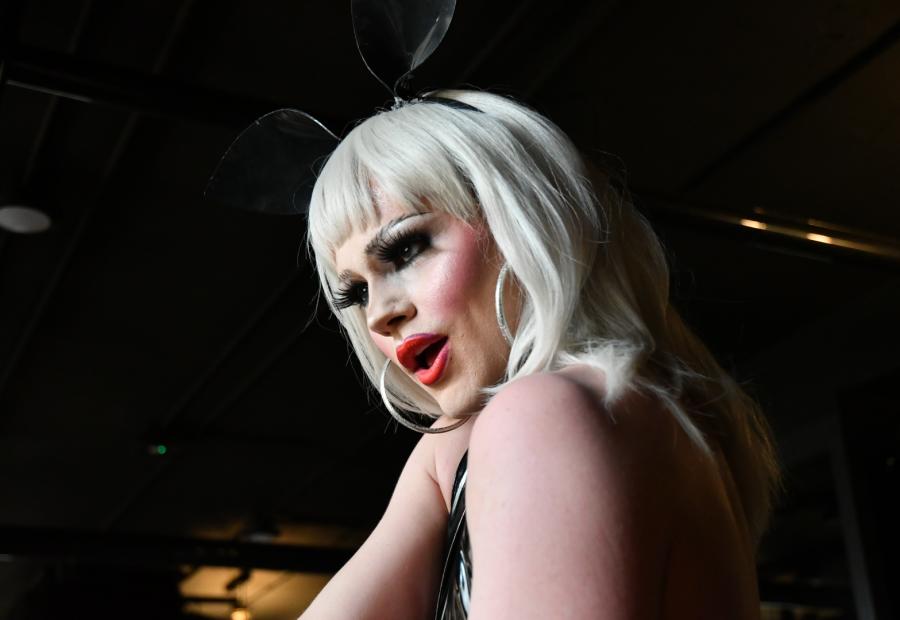 A recent Drag Brunch GR show at The Commons featured the Brunchettes looking glamorous as usual.
Photo by Eric Zuniga for Experience Grand Rapids
Laughs all around
The Brunchettes work hard to engage the audience, and they thrive on positive feedback and noise. The emcees crack jokes, engage the crowd, and often say things you wouldn't imagine being said out loud. But they also expect kindness, respect, and compassion.
A recent show at The Commons featured back-to-back sold-out performances where attendees made themselves at home for a stunning show, featuring an abundance of glitz and glamour.
The emcee made an announcement looking for birthdays in the crowd and then brought everyone celebrating to the front and gave them extra attention and recognition.
"Drink up, have fun, and be yourself," says Elektra. "When you come to Drag Brunch, we don't care who you are or where you are coming from in life. We are all here for the same reason – to have fun, and celebrate diversity and life."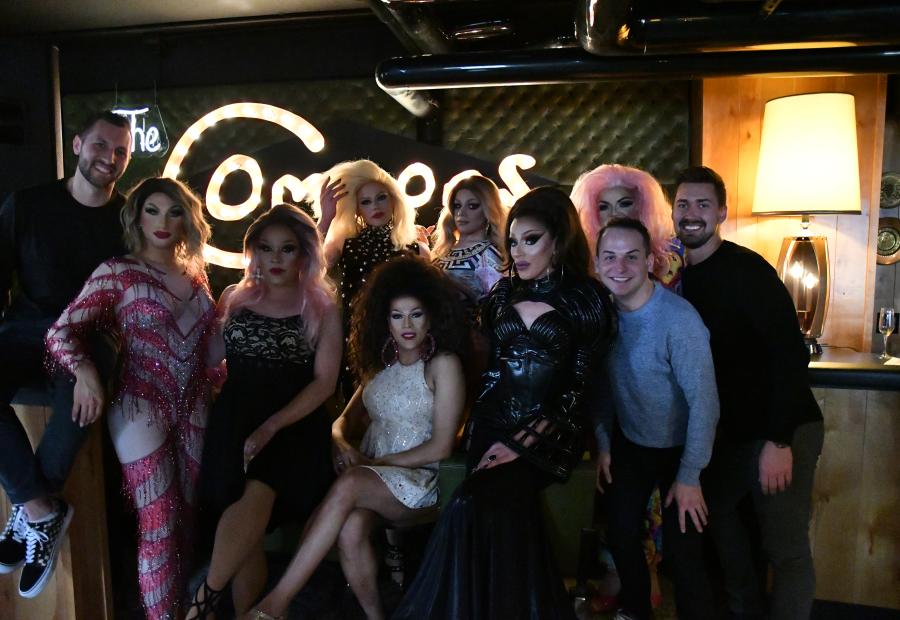 Drag Brunch GR contributes proceeds from ticket sales to HQ, a local nonprofit providing a safe space for youth with unsafe or unstable housing.
Photo by Eric Zuniga for Experience Grand Rapids
Giving back to the community
The Brunchettes like to support the community while having a good time. A portion of ticket sales helps raise money for HQ, a local drop-in center for youth who are experiencing unsafe or unstable housing. HQ operates with the mission of creating a safe and affirming space for youth to find rest, build connections, and pursue their passions to realize their dreams.
Proceeds from Drag Brunch shows have already helped feed the entire organization for more than four months. The Brunchettes also had the privilege of hiring one of the youth for a special project.
"We found a young gentleman staying at HQ who is gifted with videography and editing skills," says Elektra. "We helped him produce an amazing video for the youth of HQ to help them spread awareness on the mission of the organization and were able to deliver him his first ever paycheck. It really was something special."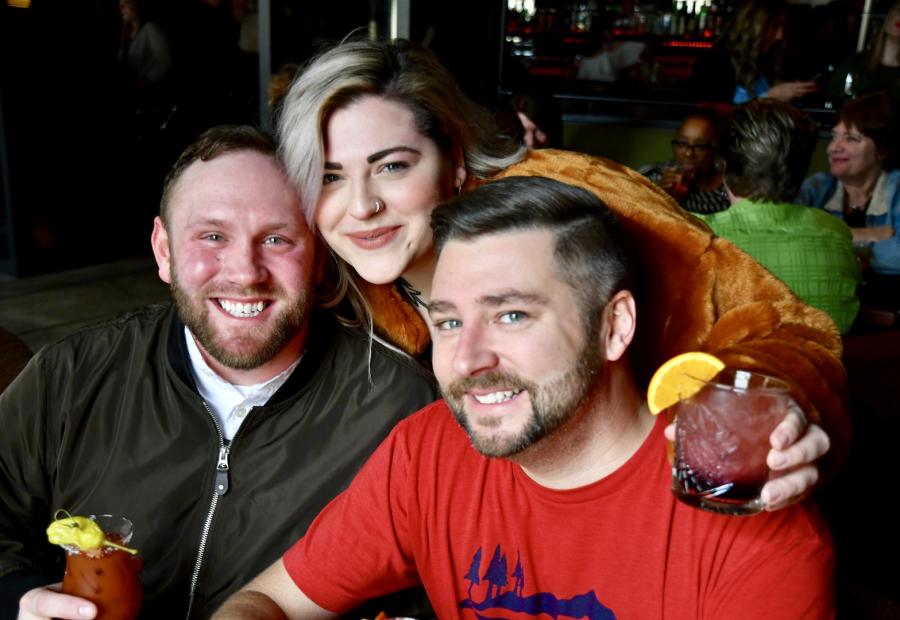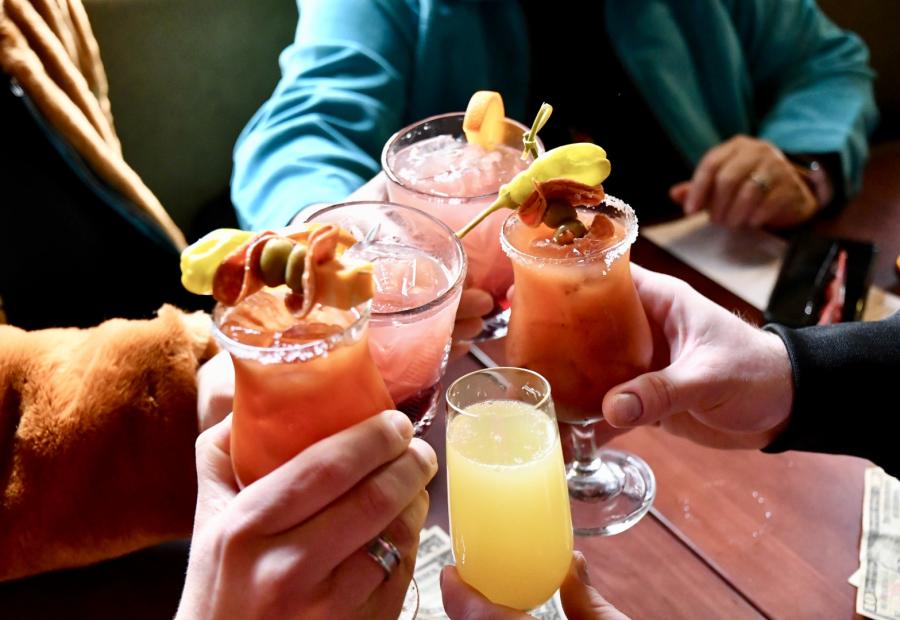 Drag Brunch GR is perfect for groups, or even just a few friends looking for something fun to do on a Sunday.
Photo by Eric Zuniga for Experience Grand Rapids
Need to know details
Drag Brunch performances are for ages 18 and up, as the content is geared toward adults. Here are few fabulous one-liners from the sold-out show at The Commons:
"Do I look gorgeous? Do I look sexy? How about breathtaking?"
"If you're not wearing nails, you're not doing drag."
"We have been up and tucked since 6:30 AM"
"It took three zippers, some Crisco, and a shoehorn to get in this outfit."
The Brunchettes like to have fun with the audience and crack jokes throughout the show, so be ready to be recognized at a moment's notice.
Tickets are available individually or in groups, and brunch goers are encouraged to make new friends with people sitting nearby.
Elektra says that they rearrange the space in each venue for the event, trying to make the best setting for everyone.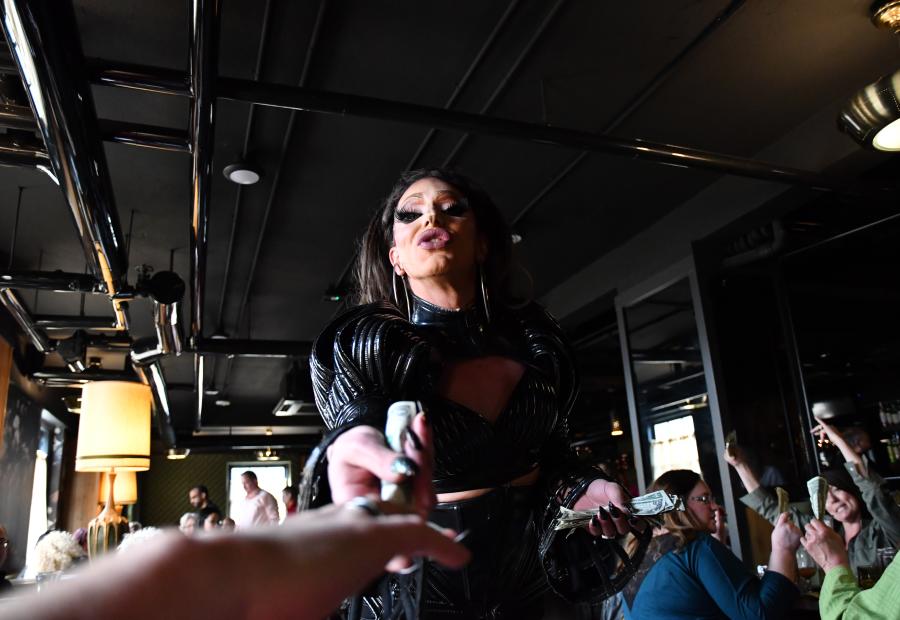 Drag Brunch attendees are encouraged to tip, use flash photography, interact with the Brunchettes, and have fun!
Photo by Eric Zuniga for Experience Grand Rapids
Tips for new Drag Brunch attendees:
Buy your tickets ahead of time, as shows often sell out.

Arrive at least 30 minutes early for the best seats. They are first come, first served.

Bring cash. Change is available to tip the Brunchettes during dances.

Get ready to let loose and have fun, play, and laugh.

Be prepared to interact with the dancers and show up with a good sense of humor.

The use of flash photography is highly encouraged.

Tipping is also highly encouraged.

If you want to dance with the Brunchettes, get up and dance.

Look, but don't touch. Don't grab at the entertainers; let them come to you.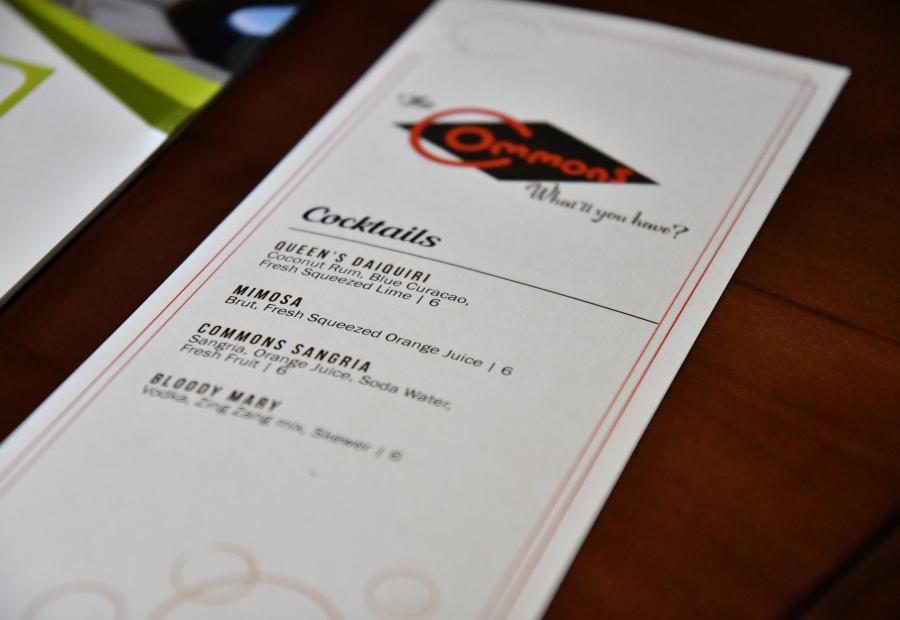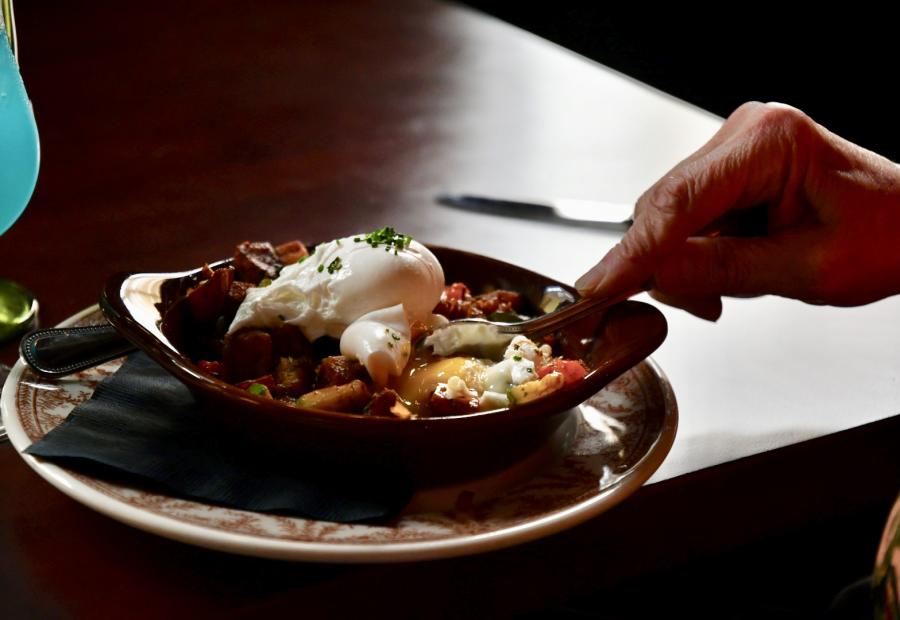 Each Drag Brunch GR venue creates special brunch menus for food and cocktails.
Photo by Eric Zuniga for Experience Grand Rapids
Drag Brunch performances can elevate quickly through audience participation, and no two shows are the same. Drag Brunch is similar to an improv experience, where the Brunchettes can read your personality and will work to make you laugh. So be ready to have an amazing time!   
The full lineup of upcoming Drag Brunch events is available at the Michigan Drag Brunch website, and new venues are added regularly.
All tickets must be purchased in advance through the website at a price of $35. General admission tickets include one drink ticket, a specially curated brunch menu, and a two-hour, interactive, live performance that you will never forget.
For additional brunch options around Grand Rapids, check out the Experience Grand Rapids blog post on best places for weekend brunch in Grand Rapids.