When a person thinks of yoga, they often think of difficult poses, mats on the floor, and lots of meditation and breathing. While that is correct in some cases, not all yoga studios and classes are created equal – at least, not in Grand Rapids. If you're looking to get a little exercise, fun, and relaxation all at that the same time, here are some great yoga studios around town you may want to visit.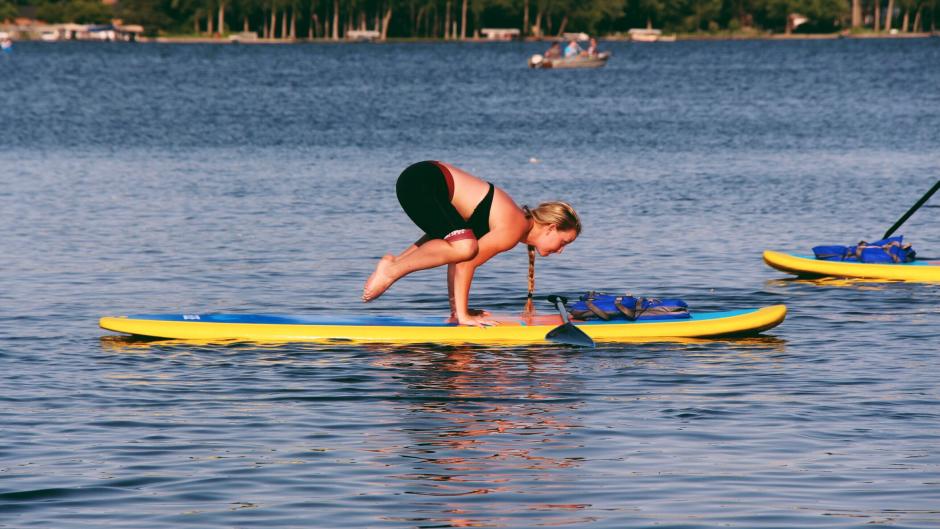 Combine the fun of two activities in one with yoga on a paddleboard.
Photo Credit: Funky Buddha Hothouse
---
Funky Buddha Yoga Hothouse
In the summer months, the Funky Buddha Yoga Hothouse likes to bring things outside and to the water. Yes, the water. Funky Buddha takes advantage of its proximity to the East Grand Rapids hotspot Reed's Lake, where it hosts SUP (Stand Up Paddle board) yoga. SUP yoga is just regular yoga but on a paddle board in the lake. The added element of water and balancing on the board increases not only the fun you'll have but also builds up your core muscles in the process. 
Classes are Tuesdays evenings and Saturday mornings from late June until September. Paddle boards and safety demonstrations are included in every session. Even if you don't know yoga or have never been on a paddle board, Funky Buddha's SUP yoga is an experience anyone can enjoy. Classes do fill up, so be sure to register at least 24 hours in advance.
Location
Kayak Launch behind the East Grand Rapids Police Station – 770 Lakeside Dr. SE | Grand Rapids | Michigan | 49506
Cost
$30 for one class or $125 for five classes
Grand Rapids Art Museum
On select Thursday evenings throughout the year, the Grand Rapids Art Museum and AM Yoga come together to offer Yoga at the GRAM. The instructor teaches Vinyasa yoga, which features a deliberate sequence of poses and breathing with the overall goal of having a continuous flow. While Vinyasa is a very traditional type of yoga, the location it's taught in is not.
Holding yoga classes in the GRAM is a way to connect the art of yoga with fine art. The Museum and AM Yoga hopes that by combining the two art forms, participants will have a new way of seeing the world and experiencing themselves.
A class schedule for Yoga at the GRAM can be found at the Grand Rapids Art Museum website. It is recommended that you bring your own yoga mat.
Location
101 Monroe Center St. NW | Grand Rapids | Michigan | 49503
Cost
Free!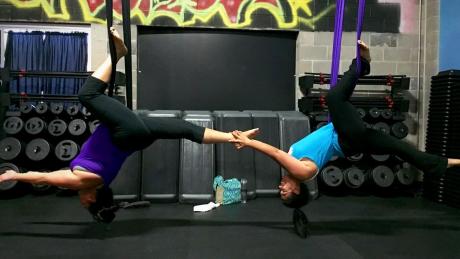 Find new ways to stretch and bend with aerial yoga.
Photo Credit: G-Force Fitness
---
G-Force Fitness
G-Force Fitness is a specialized gym in Grand Rapids that offers a variety of workout classes, including Flying Yoga. Instead of doing yoga on the ground and on a mat, everyone uses a low-hung, silk hammock. The hammock then supports your weight while you do a variety of different yoga poses inside of it. By elevating yourself with the hammock, you'll experience a deeper stretch that's very low impact. If you have a sore back, the poses within the hammock really help with spinal decompression.
G-Force Fitness' Flying Yoga class is super gentle. Even if you're a new yogi, or you don't think you're flexible enough, you'll still gain the benefits of the workout. The class is on Saturdays only and is very popular. To make a reservation, contact G-Force Fitness directly.
Location
3876 East Paris Ave | Suite 6 | Grand Rapids | Michigan | 49512
Cost
$20
Twisted Hot Yoga
Turn up the heat on your yoga routine by dropping in at Twisted Hot Yoga. The Grand Rapids yoga studio offers two different heat-based classes where the temperature of the room is 99 degrees with the humidity set to 45%. Hot yoga classes are known to increase both pulse rate and metabolism which leads to greater calorie burn.
Twisted Hot Yoga's regular Heat class is instructed in the Vinyasa style and moves you through a dynamic series of movements. The Sweet Heat class features a much slower and gentler flow of movement which can be perfect for beginners.
It's recommended you bring your own mat to classes, although they do offer mat rentals for $3. Since this is a hot yoga studio, be sure to bring plenty of water and a towel because these classes will make you sweat!
Location
1971 E. Beltline Ave NE | Suite 102 | Grand Rapids | Michigan | 49425
Cost
$5 - $20 for drop-in classes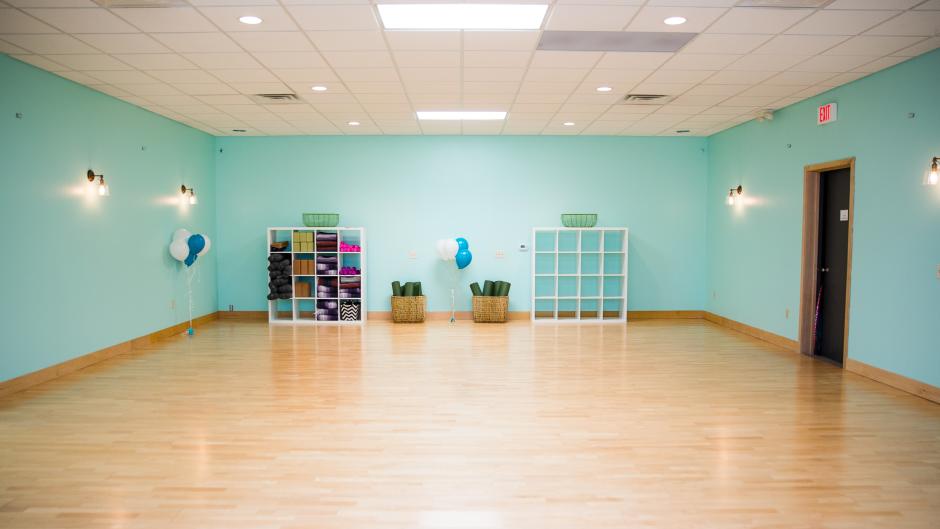 Strengthen yourself at this mother and mom-to-be focused yoga space.
Photo Credit: Renew Mama
---
Renew Mama Studio
There are a lot of class options for expecting and new mothers at Renew Mama Studio. The studio is geared towards strengthening and renewing mothers. For mamas-to-be, the prenatal classes go through yoga poses that will help with labor and movements to improve blood flow and oxygen to both mom and baby. There are also other pregnancy-safe yoga classes offered where both mom and dad can attend.
If you've already had your little one, Renew Mama Studio has Mom and Baby Yoga class which can result in both happy moms and happy babies. For parents with little ones that aren't quite babies anymore, there are also kid-oriented classes such as Movers & Crawlers (nine months to 2 years), Little Kids Yoga (ages two to five), and Kids Yoga (ages three to nine). Parents are invited to participate in both the Movers & Crawlers and Little Kids Yoga, which is perfect for family bonding.
Location
5161 Northland Drive NE | Grand Rapids | Michigan | 49525
Cost
$20 for drop-in classes
Along with the wide variety of yoga studios in the greater Grand Rapids area, there are also plenty of drop-in classes and special yoga events around town. For all upcoming yoga events such as rooftop yoga, yoga in the park, and yoga on the Blue Bridge, check the Experience Grand Rapids event calendar.
Never miss a post!
Sign-up for the Insider Experience blog.