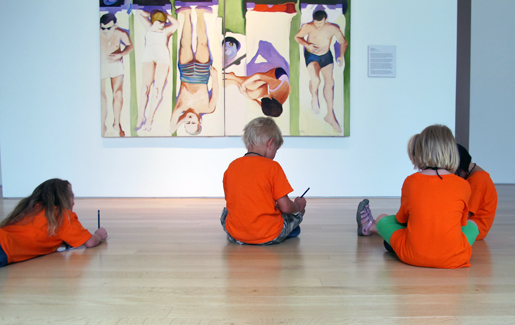 When my three boys were younger, they spent countless hours every week creating masterpieces at the art table in our basement. The art table was a homemade desk crafted out of desperation--too many crayons and markers in the kitchen--and this 6-foot long desk was the primary creation station in our home for years. Although my kids use crayons less often these days, we still see the influence of that early creative expression in their school work and hobbies.
This Spring Break you can encourage your own kids' creativity without opening a bit of glue or glitter in the house: Just head downtown to the Grand Rapids Art Museum (GRAM) for their Spring Break All-Day With Arts special. The GRAM typically offers this programming on Saturdays, but the week of Spring Break you can drop into the GRAM Education Center with your kids any day Tuesday Friday (April 3-6), from 10:00 am to 3:00 pm. In addition to art-making activities (create your own puzzle), they have a photo booth and walls that encourage creative learning. It's a great way to introduce your kids to art in a fun, creative atmosphere.
When you're done enjoying the Education Center, you can try one of my favorite GRAM activities. Grab a free Family Gallery Guide and tell your kids it's time to don their investigator hats. Following the riddles and clues in the Family Gallery Guide, you'll hunt down artwork throughout the galleries. You'll find questions like, Can you find two works by Ellsworth Kelly that seem to be square? At the end of the hunt, participants receive a prize!
If spending a day creating and exploring art sounds fun, but overwhelming, keep in mind that The Bettz Studio at the GRAM is filled with wonderful books for younger children. Its the perfect place for a mid-visit respite.
The All-Day With Arts programming is included with the cost of admission to the GRAM. Tickets are $8 for adults, $7 for students/seniors (with ID), and $5 for children ages 6-17. Admission for 5 and under is free. If you can't make it to the special programming during the day, you can still have fun with the Family Gallery Guide anytime. If you can visit on Friday from 5-9, admission is only $5 each.