If you've been craving the craft beverage scene around Grand Rapids during these past few months of seclusion, you're in luck. 
Many of the local businesses that offer unique adult beverages have begun reopening, but with some modifications to the way they operate to ensure the good health of customers and team members. 
Governor Whitmer lifted Michigan's stay-at-home order on June 1 allowing restaurants to reopen on June 8 for dine-in services. When you visit any of the businesses mentioned below or any restaurants and bars around Grand Rapids, you can expect a few changes, including seating being limited to 50% capacity and social distancing between guests and employees.
Patrons should also plan to wear face coverings since it's required at all of the below locations, but masks can be removed once seated. Staff members at each of these businesses are also required to wear masks.
While we all work together to navigate the new way our world works amid the COVID-19 pandemic, check out some additional updated safety policies, hours, and other helpful information below for these specific craft beverage businesses so you know exactly what to expect when visiting.
Please note that hours and services are subject to change, so be sure to follow these craft beverage businesses on social media for their latest updates and announcements.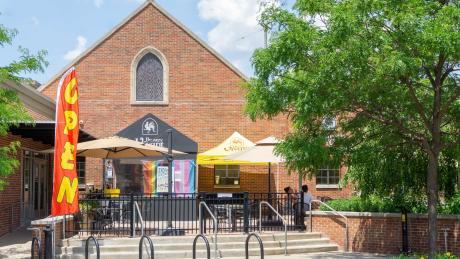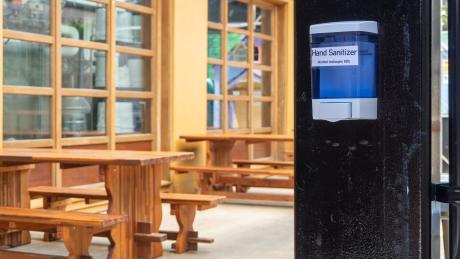 You can enjoy craft beer and food in Brewery Vivant's patio, beer garden, or Walloon Room.
Photo Credit: Brian Craig for Experience Grand Rapids
---
Brewery Vivant 
Dine-in & To-go: Available daily from 12-10 PM
While the vibrant indoor chapel/bar area of Brewery Vivant is currently closed, the brewpub is open with an "Open Air Service Model," which includes an extended patio, a beer garden, and the brewery's Walloon Room. 
For the time being, the European and Farmhouse-inspired lunch and dinner menus have been paired down to focus on popular dishes while still offering a full roster of craft brews.
The lunch menu is available from noon-5 PM and includes foodie favorites like the Vivant Burger and Bean and Veggie Burger. You can enjoy the dinner menu from 5-10 PM with dishes like the Risotto, El Cubano, and Sausage & Grits. Both menus offer a handful of options for kids plus snacks and desserts like Beer Cheese, Pomme Frites (seasoned, hand-cut potatoes), and Strawberry Shortcake.
When planning your visit to Brewery Vivant, note that reservations are being accepted and strongly encouraged, especially for groups that hit the brewery's current maximum party size of 10 guests.
The Vivant team also launched a number of new beers during the pandemic that were quickly embraced by customers, including StrawBarb (strawberry rhubarb sour) and  Super Wonderful Happy Beer (IPA).
"One of the cool projects we did was a beer called All Together, which was a national collaboration in response to the pandemic," said Kris Spaulding, president of Brewery Vivant and co-owner alongside Jason Spaulding. "All participating breweries used a similar recipe and proceeds from that benefited various hospitality worker funds. We've had people drive up from other states to purchase multiple cases." 
For Spaulding, one of the bright spots of the pandemic has been the community support Brewery Vivant's team has received. 
"We started out with an emergency fund for our hourly staff that people could contribute to and all tips from takeout/delivery were allocated to that too. We are in awe of people's generosity and support of our team," said Spaulding. "We also had a few patrons purchase food from us to feed to families in need and first responders. That inspired us to add an option to the takeout menu for a 'Pay it Forward' burger, which has strengthened our partnership with Inner City Christian Federation who, once a week, brings those burgers to families staying in their properties. There was one week where we sent over 30 burgers!"
What to expect when visiting:
Operating under the "Open Air Service Model" with reduced menus and social distancing practices.
New service format uses a "sanitation" employee who will wipe down highly used surfaces at least every 30 minutes.
Single-use menus will be offered at each table.
Foot pulls, paper towel dispensers, multiple hand sanitizer stations, a revamped retail area, and a modified floor plan with six feet between tables are in place.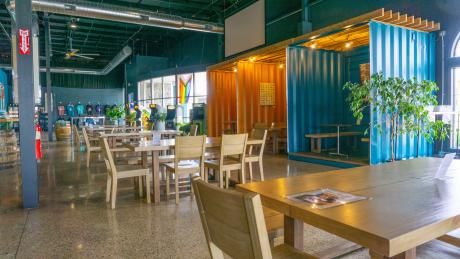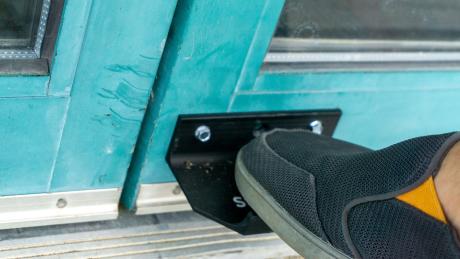 Broad Leaf has spaced out all seating and installed foot pedals to help open doors without using your hands.
Photo Credit: Brian Craig for Experience Grand Rapids
---
Broad Leaf Local Beer
Dine-in & To-go: Available Monday-Saturday from 12-10 PM and Sunday from 12-9 PM
Broad Leaf Local Beer, the "off-shoot, side-project, weird-cousin brewery" of Brewery Vivant, is also open with dine-in and to-go options. 
Located in the retail center of Kentwood on the corner of Lake Eastbrook Boulevard and 29th Street, Broad Leaf Local Beer offers a casual service environment in what is essentially a large warehouse space (with a shipping container for a kitchen).
The menu reflects a street food style with inspirations from an array of culinary traditions while Broad Leaf's hand-crafted brews honor the progressive American craft beer style by focusing primarily on hops and unique flavors. 
To make the guest experience as contactless as possible, you can order online through the Toast Takeout & Delivery app from the comfort of your table. You also have the option for walk-up ordering at one side of the taproom's bar. 
If you need some inspiration for your order, Spaulding said some recent crowd favorites have been the Peri Peri Fried Chicken and A Burger.
As a part of Broad Leaf's revised dining experience, the brewery's outdoor area has been expanded to include part of its parking lot as well as the lawn area on the south side of the building. This means you're welcome to sit at the provided tables or bring your own blankets, yard games, and even leashed (and well-behaved) pets to enjoy good food and drink under the summer sun. 
Similarly to its cousin taproom, new craft beers were released at Broad Leaf over the past few months, including Sour Lake (guava, passionfruit, orange sour) and Holy Olav (unfiltered Kveik ale) in addition to also serving the All Together IPA. 
What to expect when visiting:
Bar seating is currently not available.
Operating under a limited contact safe service model through at-table ordering and single-use menus.
Foot pulls, paper towel dispensers, multiple hand sanitizer stations, a revamped retail area, and a modified floor plan with six feet between tables are in place.
All employees receive health screenings and temperature checks before every shift.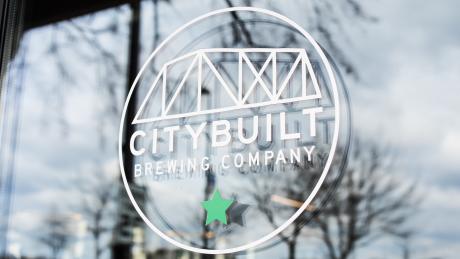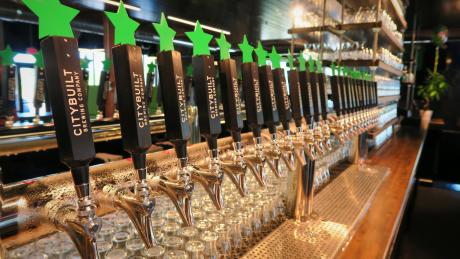 Once you order at the bar, you can dine inside City Built's taproom or right outside the brewery.
Photo Credit: Experience Grand Rapids
---
City Built Brewing Company
Dine-in & To-go: Available Tuesday-Thursday from 3-8 PM, Friday and Saturday from 12-10 PM, and Sunday from 12-8 PM
Your experience inside the industrial inspired taproom of City Built Brewing will look a bit different the next time you visit.
If you choose to dine-in, ordering will now take place at the bar, and guests are encouraged to view the menu on City Built Brewing Company's website. Laminated menus that are wiped down after each use are also available.
City Built will be offering a limited menu for the time being that includes a variety of appetizers, tacos, salads, and the Tripleta sandwich, which claimed 2nd Place in the 2019 Grandwich competition.
Once you've placed your order, there are socially-distanced seating options in the taproom or you can enjoy the sights and sounds of the Canal Street Park area from City Built Brewing's new parklet.
What to expect when visiting:
Maximum group size is currently eight people.
All condiment caddies have been removed from the table, but are available upon request.
No reservations are currently being accepted and parklet seating is first-come, first-serve.
Menus are accessible via City Built Brewing Company's website; laminated menus are available at the order counter and wiped down after every use as well as single-use paper menus.
All employees receive health screenings and temperature checks before every shift.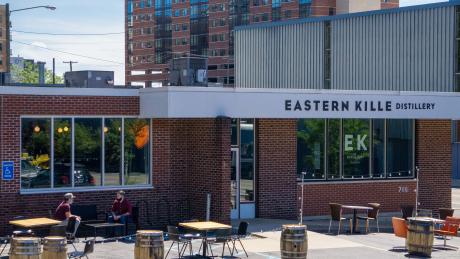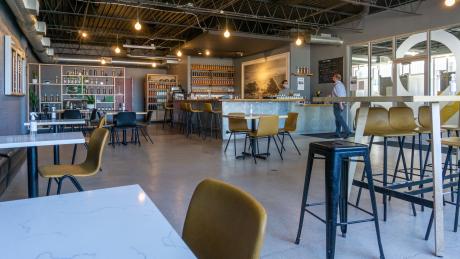 Eastern Kille is open for dine-in service, indoors and outdoors, and is still offering cocktail kits to-go.
Photo Credit: Brian Craig for Experience Grand Rapids
---
Eastern Kille Distillery
Dine-in & To-go: Cocktail dine-in service available Tuesday-Saturday from 4 PM-11 PM. Cocktail Kits To-Go available to order online or by walk-in.
For a large portion of the stay-at-home order, the team at Eastern Kille Distillery has not only been busy crafting their signature spirits to-go; they've also been busy crafting hand sanitizer.
Brandon Voorhees, co-owner of Eastern Kille Distillery, estimates roughly 2,500 gallons of sanitizer have been produced to donate locally and sell to customers over the past few months. In fact, the Eastern Kille team even partnered with Coyote Logistics to donate 2,000 8-ounce spray bottles of sanitizer to truck drivers around the region.
While sanitizer is no longer being produced and sold, you can still grab one or more of their Cocktail Kits To-Go as a fun way to enjoy Eastern Kille's award-winning spirits from the comfort of your own home. You can order the kits online or walk-ins are always accepted during open hours. 
If you're having a difficult time choosing a kit, Voorhees said the Old Fashioned (with bourbon whiskey, rye whiskey, or aged rum), Gin & Tonic (made with house tonic), and Mai Tai kits have all been very popular among customers. 
Eastern Kille's doors are also now open for dine-in service if you're ready to enjoy a spirit indoors, like the distillery's signature Michigan Straight Bourbon Whiskey, which is sourced from Great Lakes water and crafted with the refreshing aroma of citrus with hints of dark chocolate and vanilla. 
Voorhees said customers have proven to be "exceptionally loyal, supportive, and engaged" throughout the duration of the stay-at-home order, and his team is excited to begin welcoming patrons back to their space.
"Every new project we engaged in has been met with more demand than we anticipated," he said. "We owe everyone who stopped in to purchase, or order online, hand sanitizer, cocktail kits, or a bottle from any of our three different special releases a huge thank you!"
What to expect when visiting:
Maximum group size allowed is currently 10 people.
All employees receive health screenings and temperature checks before every shift.
Please wait to be seated by a staff member; If you are waiting for a table, please wait outside.
Full table service is available (please do not order at the counter).
Single-use menus will be offered at each table.
Every surface is cleaned and sanitized between guests, and the entire facility is disinfected before and after each shift.
Staff members will be either wearing gloves or washing/sanitizing their hands between each new guest interaction.
You may not enter if you are sick or have recently been sick with any of the following symptoms: fever, cough, shortness of breath, or loss of taste/smell.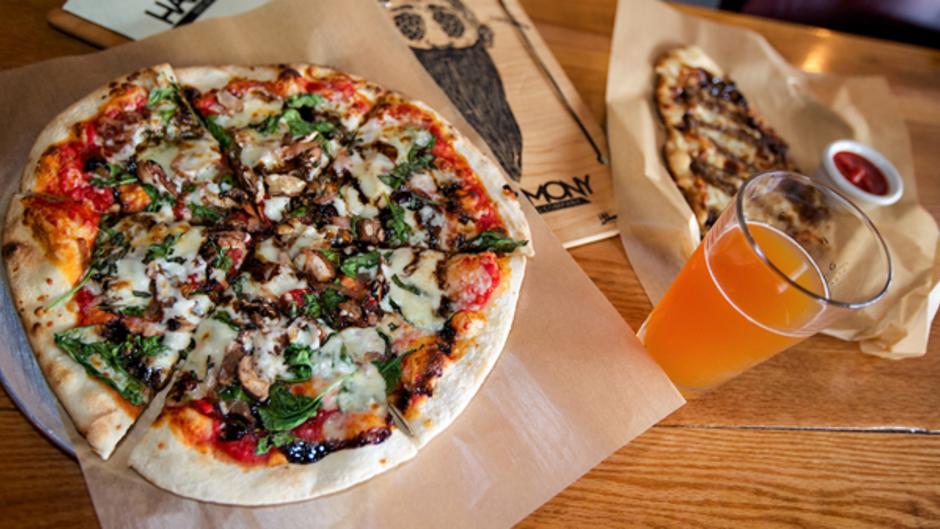 Harmony's Uptown location is open with plenty of outdoor seating to enjoy your beer and pizza.
Photo Credit: Experience Grand Rapids
---
Harmony Brewing Company
Dine-in & To-go: Available Monday-Sunday from 4-9:30 PM
When visiting Harmony Brewing Company in Grand Rapids' Uptown neighborhood, you can still expect the same pizza and craft beer that has put the brewery on the local Beer City Ale Trail map.
Heather Van Dyke-Titus, co-owner of Harmony Brewing Company, said that they've been offering carryout orders during the stay-at-home order, and they've mostly sold their classic menu mainstays like the Fiddlestix IPA, Lovely Day IPA, and the Hey Goat and Crispy Pig pizzas.
"People need major comfort food right now," said Van Dyke-Titus. "There's a need for feel-good food and we have that."
Like many other local businesses, the team at Harmony Brewing has made necessary adjustments to their operating and safety procedures.
"With each closing and re-opening, we've had to re-think our model and change our procedures," said Van Dyke-Titus. "So, it's been an enormous amount of work and we're so thankful to our staff that has stuck with us through it all. We're working hard to keep it all harmonious."
Harmony has extended its outdoor seating area so guests can enjoy a drink while waiting for a table. Once it's time to dine, Harmony offers outdoor seating with tables on the sidewalk and a cozy patio space with couches and tables set up for social distancing. 
To place to-go orders, visit Harmony Brewing Company's website or call (616) 233-0063.
The brewery's West Side location, Harmony Hall, is still currently closed as the team focuses on providing an incredible and safe experience at the Uptown location.
What to expect when visiting: 
Host will ask you to respond to a short health questionnaire regarding potential COVID-19 symptoms (your name and phone number will be stored in the unfortunate event that contact tracing is needed).
All employees receive health screenings before every shift.
Food and drinks will be brought to a "serving table" separate from where guests are seated.
Guests can wait in their car or enjoy the expanded outdoor seating area while waiting for a table (you'll be notified through an app when your table is ready).
Only paper menus will be available and guests can look at the menu online to save paper.
Multi-touch surfaces and bathrooms will be disinfected every hour.
All transactions will be credit card only.
Children are always welcome, but they must be accompanied by an adult at all times when leaving their table.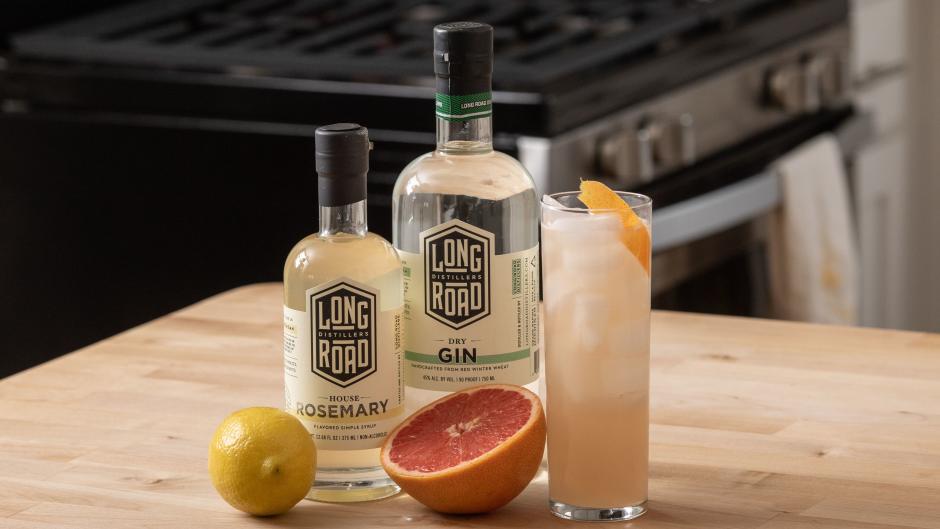 Long Road's Grand Rapids location is still offering to-go cocktail kits, which you can order online.
Photo Credit: Long Road Distillers
---
Long Road Distillers
Dine-in: Grand Rapids location closed for dine-in, Grand Haven location open for outdoor service.
To-go: Both locations offering Cocktail Kits and Craft Spirits to-go, Thursday-Saturday from 3-7 PM.
When Governor Whitmer's executive order began on March 16, the team at Long Road Distillers pivoted multiple times to meet the needs of their community and team members. They immediately began offering take-out spirit bottles and to-go Cocktail Kits at their Grand Rapids and Grand Haven locations, with limited hours each week.
But that wasn't all.
"The following week, we shifted our production capacity from making craft spirits to making hand sanitizer, using neutral spirits produced in-house," said Kyle VanStrien, co-owner and co-founder of Long Road Distillers. "Since that time, we've been able to provide sanitizer for over 650 frontline organizations and essential businesses, as well as countless individuals who have ordered it for 'take-out.'" 
With Long Road Distillers' Cocktail Kits To-Go, you can sample more than a dozen Long Road favorites, like Oliver's Ocean (Long Road Dry Gin, house-made Rosemary Simply Syrup, grapefruit juice, lemon juice) and the Polish Falcon (Long Road Vodka, house-made Ginger Beer, lime juice).
To place a take-out order from Long Road Distillers, click here.
While Long Road is currently closed for dine-in services, VanStrien said they are working with the City of Grand Rapids and State of Michigan to create an outdoor seating space that would be shared by customers of both Long Road and its neighbor, The Mitten Brewing Co.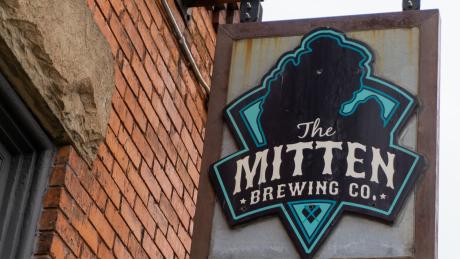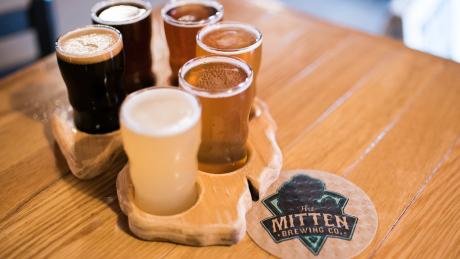 The Mitten is open and offering reduced capacity indoor seating, as well as socially distanced patio seating.
Photo Credit: Brian Craig for Experience Grand Rapids
---
The Mitten Brewing Co. 
Dine-in & To-go: Available Monday-Thursday from 4-8 PM, Friday-Sunday from 12-8 PM
Lindsey Olund, assistant to the regional manager at The Mitten Brewing Co., said the local community has kept them busy throughout the COVID-19 pandemic by ordering food and providing opportunities to donate hot meals to essential workers throughout the city.
"The community has always made us who we are, and has helped us persevere through this time, not only with ordering great pizza, tipping our hardworking staff, and taking beer to-go, but also with helping us and our foundation further spread the love," said Olund. "We are so lucky to have such caring people not only recognize the positive moves we are trying to make, but who have also donated to the cause."
Since June 8, The Mitten's indoor and outdoor spaces have been open for service, although they're operating a little differently in order to protect the West Side community.
The vintage baseball-themed microbrewery is offering takeout orders every day of the week with reduced hours if you don't feel quite comfortable dining among other people indoors. If that's the case, you (and even your pups) can also take advantage of The Mitten's outdoor patio space or an additional shaded area on the side of the building.
The brewery's popular $5 off pizza flight night has returned on Mondays and mug club nights on Tuesdays have also made a comeback. Olund said The Mitten's in-house BBQ master, Drew Trierweiler, has even started "Smokin' Wednesday." Every Wednesday, you can enjoy a new and delicious smoked meat special, like the recently debuted Drew & John's Drunken Smoked Chicken Sandwich (shredded chicken smoked with cans of West Coast Swing on a brioche bun with chipotle mayo, bbq sauce, and pickled red onions).
In addition to hand-crafted food, you can also sample The Mitten's hand-crafted brews, like The Stretch (golden ale), Teddy Rasberry (fruit beer), Fogout (New England IPA), and the annual Peanuts and Cracker Jack Porter, which is released every year on the opening day for Detroit Tigers baseball. The Mitten is also selling all of its tapped creations (besides nitro beer) in freshly filled 16-ounce crowler cans, along with branded 12-ounce can packs.
To place a to-go order, call The Mitten at (616) 608-5612 (and be prepared to pay by credit card over the phone). 
The staff at The Mitten kindly require that all customers wear a mask when entering the building, which can be removed once seated. If you don't own a protective mask, The Mitten staff has extras they can provide for free, or in exchange for a (strongly encouraged) $1 donation to the brewery's charitable arm, Mitten Foundation, Inc.  
What to expect when visiting:
There is a maximum group size of 10 people and guests are asked to limit their visits to about an hour-and-a-half.
Staff members will sanitize highly used surfaces and tables after each use.
All employees receive health screenings before every shift.
Each table is cleaned and sanitized after each use.
You may not enter if you are sick or have recently been sick with any of the following symptoms: fever, cough, shortness of breath, or loss of taste/smell. 
While you can't go wrong visiting any of the above craft beverage businesses, this is most certainly not an extensive list of restaurants and bars in Grand Rapids. Be sure to visit Experience Grand Rapids' Restaurants page to explore other breweries, distilleries, cideries, and more.
And don't forget to download the Beer City Brewsader Passport app when visiting Brewery Vivant, The Mitten, City Built Brewing, Harmony, and Broad Leaf Local Beer. All of these breweries can get you one stamp closer to achieving the title of Ultimate Brewsader! 
You only have to check in to eight breweries enrolled in the Experience Grand Rapids  Brewsader program to earn a collectible t-shirt. By visiting 40+ breweries, you earn the title of Ultimate Brewsader, which grants you a discount on purchases made on GrandRapidsStore.com, as well as other great perks.
Don't miss a post!
Sign-up for the Insider Experience blog