To celebrate the 10th Anniversary of Restaurant Week GR, Experience Grand Rapids is highlighting the restaurants that have participated during all 10 years. 
As the tastiest week of the year is nearing the end, here are the final few RWGR veterans that have participated since the beginning. Be sure to check out the special menus at each and "Taste the City" before August 18.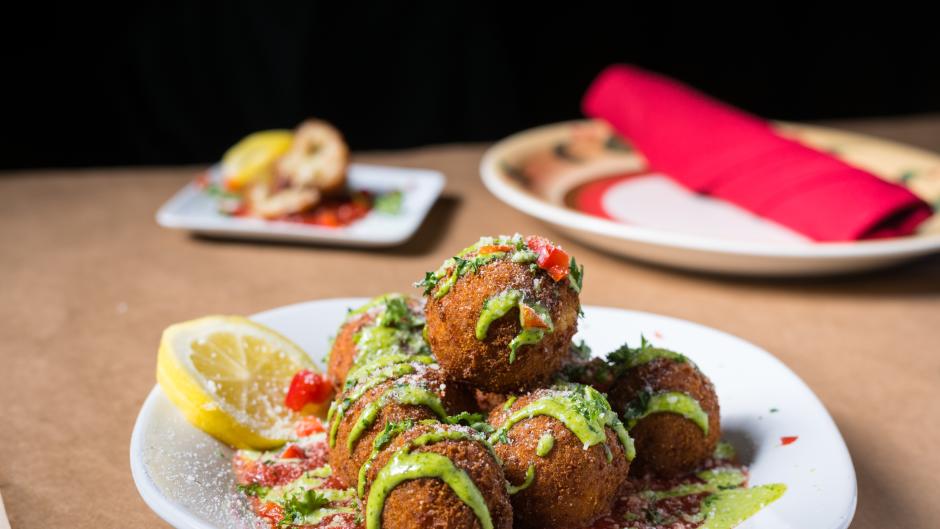 During RWGR, consider Amore's Arancini (risotto fritters topped with spinach aioli) for your appetizer course.
Photo Credit: Experience Grand Rapids
---
Amore Trattoria Italiana
Chef Jenna Arcidiacono and her husband Maurizio have been serving authentic Italian comfort food since 2010 in their family restaurant, Amore. As the name suggests, guests can taste the love put into each meal, which has earned the restaurant numerous accolades. 
One of Chef Jenna's main goals is to make sure that everyone, no matter their dietary needs, can eat at Amore. Amore offers an entire vegan and gluten-free menu for guests to enjoy during any time of year. 
During Restaurant Week, Amore has a gluten-free, vegan, and keto-friendly option for each course of its RWGR menu. 
This year, Amore is offering five courses for $29. Guests can choose one dish per course. 
Course One
Arancini
Funghi
Heirloom Bruschetta
Course Two
Lasagna Soup
Fennel Parmigiano Soup
Lentil and Vegetable Soup
Course Three
Course Four
White Lasagna
Prosecco Chicken
Bucatini with Puttanesca 
Course Five
Caramel Pecan Cannoli
Pop Rock and Cayenne Truffles
Limoncello Sorbet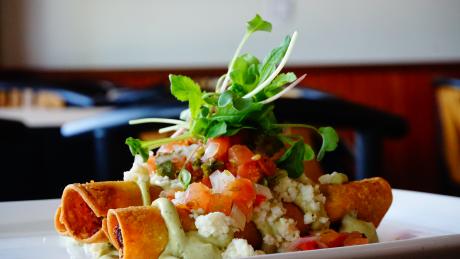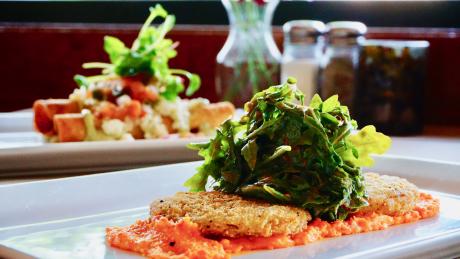 Try one of One Trick Pony's RWGR appetizers, like the Pork Taquitos: Slowly braised pork shoulder rolled in corn tortillas and fried, served with cotija cheese, pico di gallo, and an avocado lime cilantro crema.
Photo Credit: Brian Craig for Experience Grand Rapids
---
One Trick Pony 
One Trick Pony has been in business for two decades, located next to its sister restaurant, The Cottage Bar, the oldest operating bar and restaurant in the Heartside area. Known for its food and drinks, and weekly live music performances, One Trick Pony is truly a Grand Rapids tradition. 
This year, One Trick Pony is offering three courses for $30, and guests can select one dish per course. 
Course One
Fried Green Tomatoes
Pork Taquitos
Crab Salad
Green Bean Salad
Course Two
One Trick Pizza
Grilled Portabella Sandwich
Ravioli
Chicken Roulade
Course Three
Creme Brulee
Brownies
Palazzolo Gelato 
Cheesecake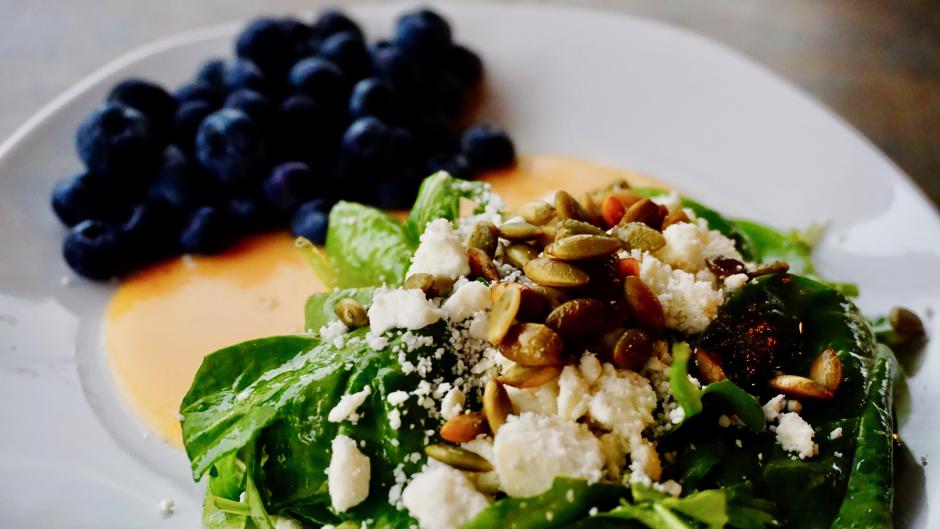 Don't miss out on Rush Creek's Blueberry-Peach Salad with baby spinach, arugula, blueberries, toasted pepitas, feta crumble, and roasted peach vinaigrette
Photo Credit: Brian Craig for Experience Grand Rapids
---
Rush Creek Bistro
Rush Creek Bistro offers beautiful views in addition to its food. Relax on the large patio surrounded by trees, or enjoy your meal inside and enjoy the restaurant's casual dining atmosphere and high-quality food. 
The RWGR menu includes three courses for $25. Many of the dishes can be modified to be gluten-free, nut-free, or vegetarian. 
Course One
Blueberry-Peach Salad
Celeriac, Apple and Fennel Soup
Tenderloin Tartare
Course Two
Seared Halibut
Flat Iron Steak
Brown Butter Gnocchi
Course Three
Peanut Butter Brownie
Chocolate Mocha Torte
Lemon Blueberry Crumb Cheesecake
Raspberry Peach Ice Cream Cake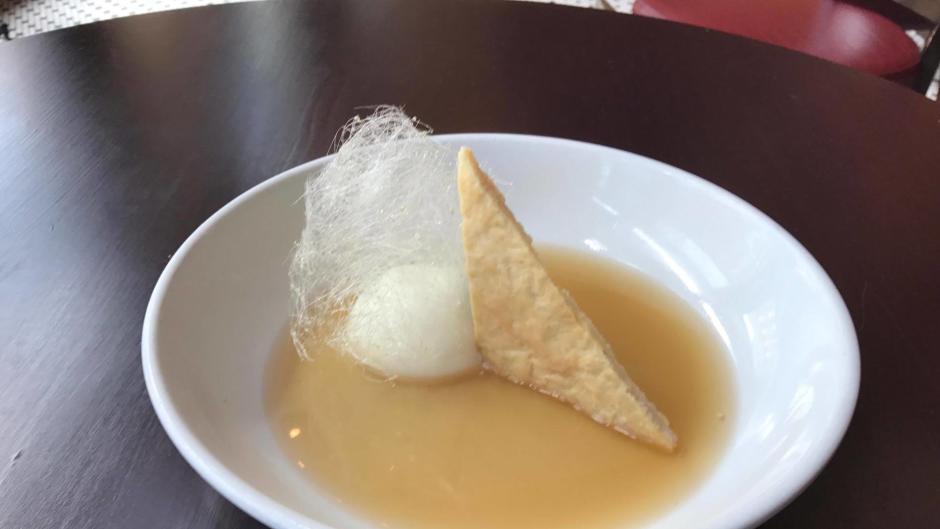 A dessert course can be added on or substituted for any course at Rockwell Republic during RWGR.
Photo Credit: Rockwell Republic, featuring dessert from their 2018 RWGR menu
---
Rockwell Republic
Rockwell Republic boasts a unique space with two levels, a screened-in patio, and an outdoor beer garden, making it a great place to relax year-round, but especially during Restaurant Week. 
This year, Rockwell Republic is offering three courses for $30 or five courses for $42, with the option to add a dessert or substitute it for any course. Guests can choose one item from each course. 
Course One
Spicy Chicken Cheese Rangoons
Smoked Whitefish Dip
Course Two
Elote Crab Soup
Apple Crunch Salad
Course Three
Red Pork and Shrimp Ramen
BBQ Short Rib Sandwich
Miller Chicken Risotto
Panko Crusted Walleye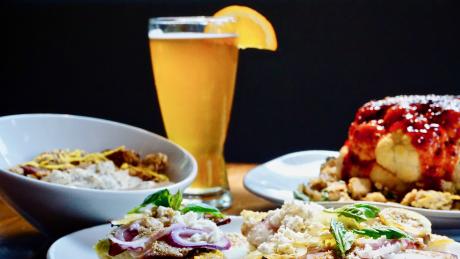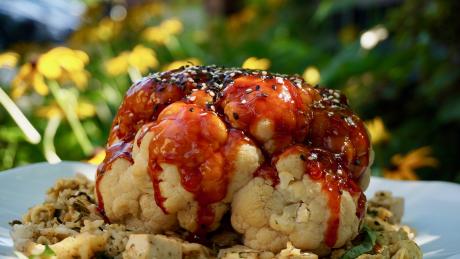 The Green Well's menu highlights farm to fork options for RWGR, including the Whole Roasted Cauliflower with tofu fried rice, kimchi, sweet glaze, and sesame.
Photo Credit: Brian Craig for Experience Grand Rapids
---
The Green Well 
Not only has The Green Well been serving delicious meals to the Uptown neighborhood since 2007, but its environmental practices are what put the "green" in its name. 
The Green Well is LEED-certified, supports sustainable farming, produces clean energy through its rooftop solar panels, uses energy-efficient equipment, and also recycles and composts more than 90 percent of its waste. 
For $35, guests can enjoy three courses at The Green Well during RWGR, including an appetizer, entree, and dessert.
Course One
Tempura Fried Dilly Beans
Heirloom Tomato & Melon Salad
Loaded Focaccia 
Course Two 
Chicken Sausage and Farmers Cheese Ravioli
Whole Roasted Cauliflower
Smoked Short Ribs 
Course Three
Banana Cake
Lemon Poppy Seed Rice Pudding 
Turtle (a warm brownie cake with caramel and ganache)
There are just a few days left to enjoy these unique and tasty menus before the end of Restaurant Week GR on August 18.
Visit the Restaurant Week GR page for all participating restaurants and a list of menus.
Don't ever miss a post!
Sign-up for the Insider Experience Blog