Grand Rapids Art Museum (GRAM) welcomes Iris van Herpen: Transforming Fashion October 23, 2016 – January 15, 2017, to Grand Rapids. The exhibit features 45 haute couture outfits from the Dutch fashion designer, a selection of her shoe designs, and 27 pieces from van Herpen's solo exhibition at the Groninger Museum, Netherlands.
Known for her combination of traditional craftsmanship and futuristic, innovative techniques van Herpen's work includes some of the world's first examples of 3-D-printed fashion. She's shown her fashion on the runways of Amsterdam, London, and Paris, and some of her pieces were included in the Metropolitan Museum of Art's Costume Institute "Manus x Machina: Fashion in an Age of Technology" exhibition.

Hybrid Holyism designed by Iris van Herpen
Photo credit Bart Oomes, No 6 Studios
"With a mission focused on art, design, and creativity, GRAM is thrilled to share this exhibition with Grand Rapids," says Cia Segerlind, communications manager for GRAM. "The entire third floor of the museum will be transformed with her innovative designs."
In addition to being one of the first designers to show 3-D-printed fashion, Iris van Herpen creates wearable works of art. Many of her designs feature unusual materials such as metal foil, umbrella ribs, and synthetic boat rigging that wrap themselves around the wearer and extend their form.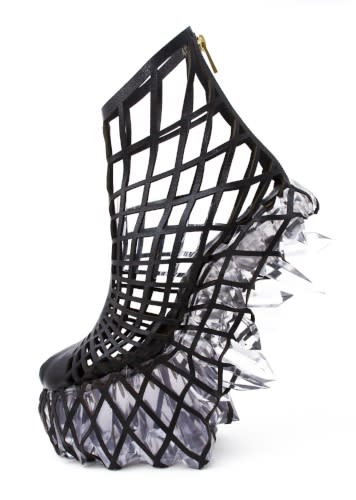 Hacking Infinity shoe by Iris van Herpen
Photo credit ©NORITAKA TATEHANA
Pieces designed by van Herpen for style icons Lady Gaga, Bjork and Taylor Swift are part of the exhibit.
"Bjork wore the Capriole 'snake dress' in live performances and Lady Gaga wore the gold foil Radiation Invasion dress and black Hybrid Holism dresses which are exciting to have on hand," Segerlind says. The Biopiracy shoes worn by Taylor Swift in her music video for Bad Blood ft. Kendrick Lamar are also on display.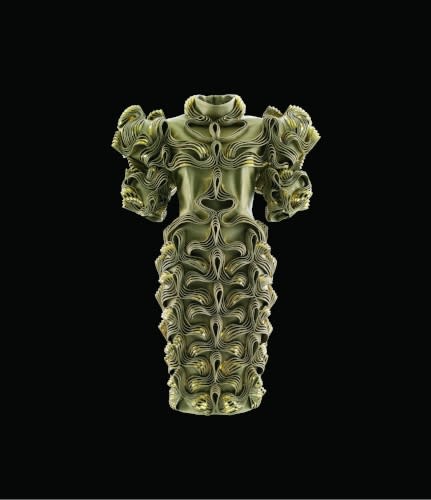 Radiation Invasion by Iris van Herpen
Photo credit Bart Oomes, No 6 Studios
The GRAM is offering a Preview party to museum members on October 21 (7-9 PM), as well as a special member's day on October 22. As part of the members-day, Curator Sarah Schleuning will share insights and anecdotes about what it was like working with van Herpen at Beyond the Catwalk. The Iris van Herpen: Transforming Fashion opens to the general public on October 23, who are invited to sign up for Docent-led tours ($40) or self-guided tours ($7). Click here for more information on these, and other van Herpen-related events, at the GRAM.