'Tis the season for family coming to town! It can be hectic to host loved ones over the holidays, especially when it comes to planning an activity for the whole family. Lucky for you (and, well, all of us!), Grand Rapids has a variety of interesting exhibitions that family members of all ages will enjoy. Here are just a few ideas for getting your family out of the house and into some fun.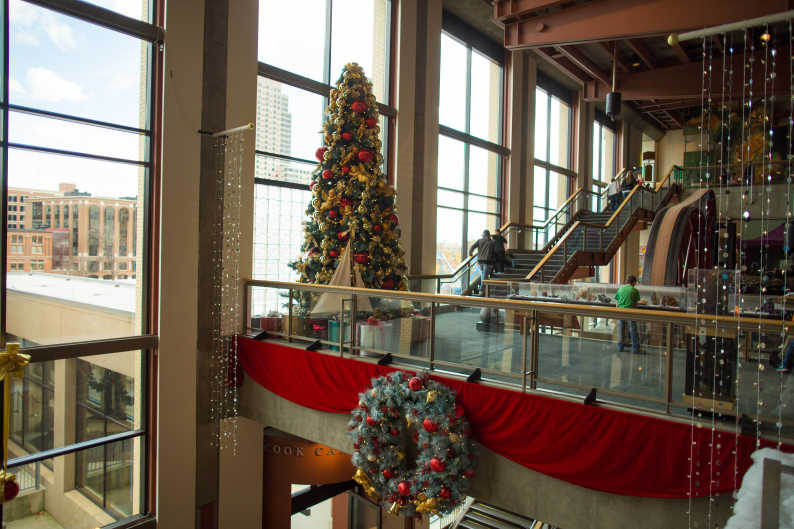 Spending school breaks at the Grand Rapids Public Museum. There are plenty of fun, educational activities to enjoy.
Photo Credit: Grand Rapids Public Museum
---
Grand Rapids Public Museum (GRPM)
Night at Your Museum
Wednesday, December 27 from 6PM - 9PM
Watch the museum come to life "after hours" at this special event. The lights at the museum will dim and kids will get their own special "security badge" to get exclusive access to the museum off-hours. Visitors can interact with dozens of real-life characters from the exhibit including Cleopatra, Civil War soldiers, Betsy Ross, and more. Enjoy dinner, carousel rides, access to the Roger B. Chaffee Planetarium, and music from the Mighty Wurlitzer Theater Organ.
Admission is $25 for adults and children.
The Puzzle Room: Quest for Conviction
Open until December 31
If your family loves a good "whodunit" mystery, this history-themed activity will entertain the whole group. This hour-long challenge will require you to tap into your investigative skills to find clues, dig through museum archives to find evidence, and convict Arthur Waite – the criminal from the infamous Peck Murders in Grand Rapids from the early 1900s. Museum staff recommends to plan and book reservations ahead of time.
Admission is $10 for members and $15 for the general public.
Through January 28, 2018
Step back in time to see historic Grand Rapids built with LEGOs. The 1925-era display will show visitors what this city looked like during the early 20th century. See the moving trams, the Grand River, Morton Hotel, and more. You'll recognize a few familiar facades among the creations.
Free with admission.
Dragons, Unicorns & Mermaids
Daily until May 2018
This temporary exhibition may not be holiday-themed, but it's filled with enchantment. You and your family can explore mythical creatures from around the world in this fascinating display. For example, you'll find that these magical myths can trace its cultural roots in animals and legends from Africa to Asia and beyond. "This exhibit is visual, fun, and very interactive," says Christie Bender, Director of Marketing at GRPM. "Visitors can learn how prehistoric animals developed into legends, and how the myths of bigfoot, dragons, and unicorns came to be."
Admission is $12 for adults, $7 for children ages 17 years old and younger, $9 for Kent County resident adults, $4 for Kent County resident children ages 17 years old and younger, and $2 for all Grand Rapids Public Museum members.
Snowflake Break
Daily from 11AM - 3PM until December 31
In addition to the current exhibits, the Grand Rapids Public Museum is also offering fun activities for kids of all ages during its Snowflake Break. There will be a variety of different stations throughout the museum's main galleria where visitors can cut out their own exhibit-themed snowflake or punch tin to create holiday decor.
Free with admission.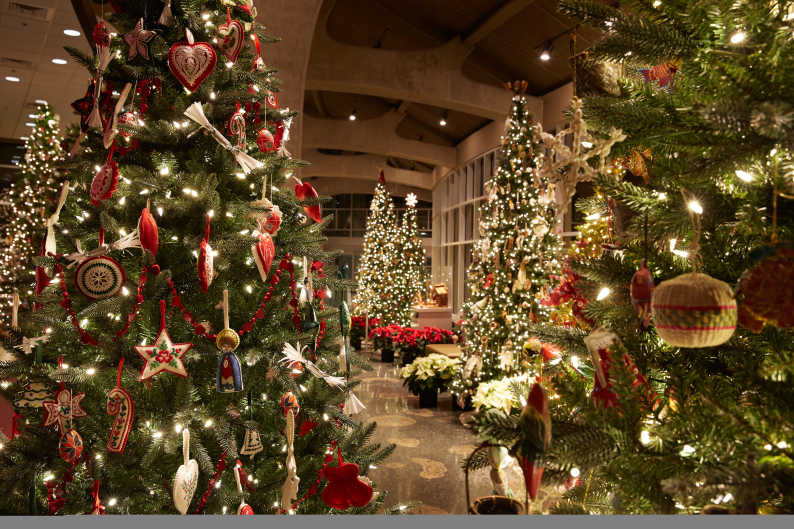 See many cultures represented through holiday tree displays at Frederik Meijer Gardens.
Photo Credit: Frederik Meijer Gardens & Sculpture Park
---
Frederik Meijer Gardens & Sculpture Park
Christmas and Holiday Traditions Around the World
Through January 7, 2018
Ever wonder how people in other parts of the world celebrate the holidays? Find out with a visit to this dazzling wintertime display! The gardens are decked out with carolers, rooftop reindeer, and 400,000 glowing lights along with more than 40 international trees and authentic cultural displays. As you walk through the display, don't forget to keep your eyes peeled for the trolleys and trains that are part of the Railway Garden exhibition.
Winter-Time Walks
Tuesdays and Saturdays until January 6, 2018
Gather 'round the hearth in a log cabin and get ready for a fun, outdoor expedition through the gardens! Young kids can learn and discover new things about the gardens with this interactive experience filled with stories and kid-friendly conversation.
The Grand Rapids Art Museum is currently featuring the works of the iconic artist, Andy Warhol.
Photo Credit: Experience Grand Rapids
Grand Rapids Art Museum
Andy Warhol's American Icons
Through February 11, 2018
Calling all pop art lovers! The Grand Rapids Art Museum has a phenomenal exhibit featuring the works of the iconic artist, Andy Warhol. This display showcases the artist's celebration of American pop culture and brings together a variety of paintings, prints, photographs, and films. This exhibition will also feature the rare painting, Green Coca-Cola Bottles, on loan from the Whitney Museum of American Art.
Admission is $10 for adults, $8 for students and seniors, $6 for youth between 6 and 17 years old, and children 5 years and under are free. Admission to the museum is free of charge each Tuesday for Meijer Free Tuesdays.
Drop-In Studio: Winter Break Weekdays
December 26 - 30 from 1PM - 4PM
Bring the kids to the Drop-In Studio at the GRAM to let their creativity soar! During Winter Break Weekdays, kids can build their own graham cracker house inspired by the museum itself. This educational session also features information about famous architect, Kulapat Yantrasast, and one of his original models for the museum.
Free with admission.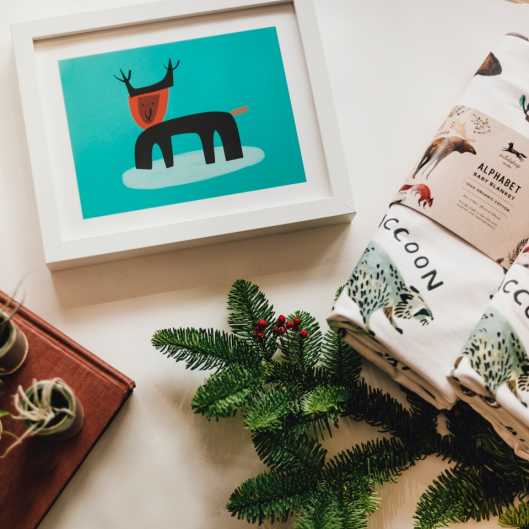 Check out cool art and shop local artisans every first Friday of the month.
Photo Credit: Light Gallery + Studio
---
First Fridays Gallery Hops
January 5, 2018
The Avenue for the Arts, located on South Division Avenue in downtown Grand Rapids, turns into a bustling art scene on the first Friday of every month. Discover local artists, shop handmade goods, and enjoy a variety of food and beverage specials. This monthly event is a fun way to see and connect with new artists in the Heartside area.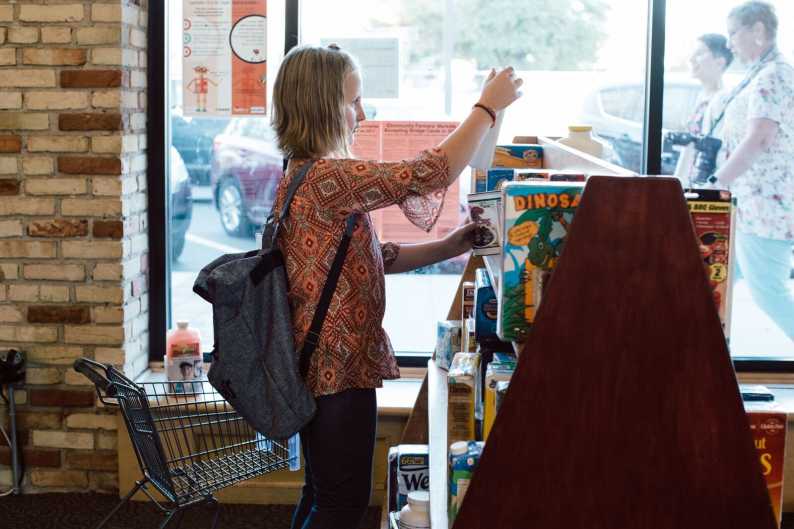 The Grand Rapids Children's Museum offers plenty of exhibits and activities for young children.
Photo Credit: Experience Grand Rapids
---
Winter Break at the Grand Rapids Children's Museum
December 26, 2017 - January 6, 2018
Know some kids who need a cure for cabin fever? Head to Grand Rapids Children's Museum! Not only does it have fun exhibits that keep kids active, but it also hosts activities and performances as part of its Winter Break program. Kids can make a wrapping paper collage, enjoy a special juggling show, move to the beat with a dance party, and more.
Admission is $8.50 for visitors ages 1 - 64 years, $7.50 for seniors, $6.50 for military family members.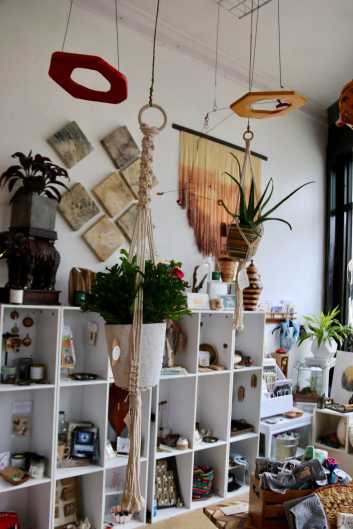 Enjoy handmade creations by local artists at Lions & Rabbits.
Photo Credit: Lions & Rabbits
---
Lions & Rabbits
Love supporting local art? Head down to Lions & Rabbits, a local gallery, boutique, and event space in the Creston neighborhood. Enjoy paintings, drawings, and other forms of art in this cool venue. And if you're looking for a last-minute or belated holiday gift, be sure to check out handmade items from more than a dozen local artisans.
Self-Guided Tour of Murals
Bundle up, grab a thermos of hot cocoa, and hit the road to revel in 25 larger-than-life murals! You can enjoy visuals of painted tiles, look back at former ArtPrize entries, and take the perfect Instagram pic next to giant, colorful displays that encompass the great state of Michigan. From downtown to Uptown, make it a fun day date and stop for a bite to eat at any of Grand Rapids' awesome eateries in between displays.
Looking for more exhibitions and art activities in Grand Rapids? Stay up-to-date on artistic events and exhibits all year long by visiting the Art in Grand Rapids page.
Never miss a post!
Subscribe to the Insider Experience blog.