With SpeakEZ Lounge Chef Scotty Petersen, what you see is what you get. Petersen doesn't like pretense--in life or in the food he serves. "I am who I am," he said. "I'm a super honest guy in my life and with my food. I use no more than 6 ingredients in 90% of my recipes. It's about using good quality ingredients and treating them right."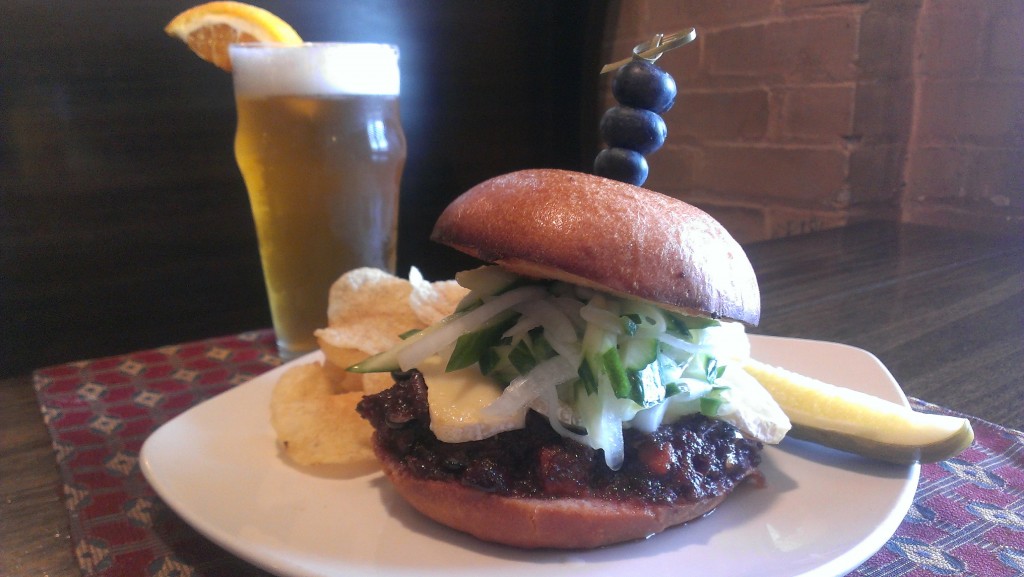 This year's Grandwich: the B6 sandwich, SpeakEZ Lounge
From a family of artists, Petersen initially pursued a degree in fine arts. But halfway through his first year at Grand Valley University, he realized fine arts weren't his thing. Instead, having enjoyed cooking since he was a teenager, he ended up in the culinary program at GRCC. "I took all of the creativity from the fine arts side and put it into the food," he says. "I've been doing it now for 21 years."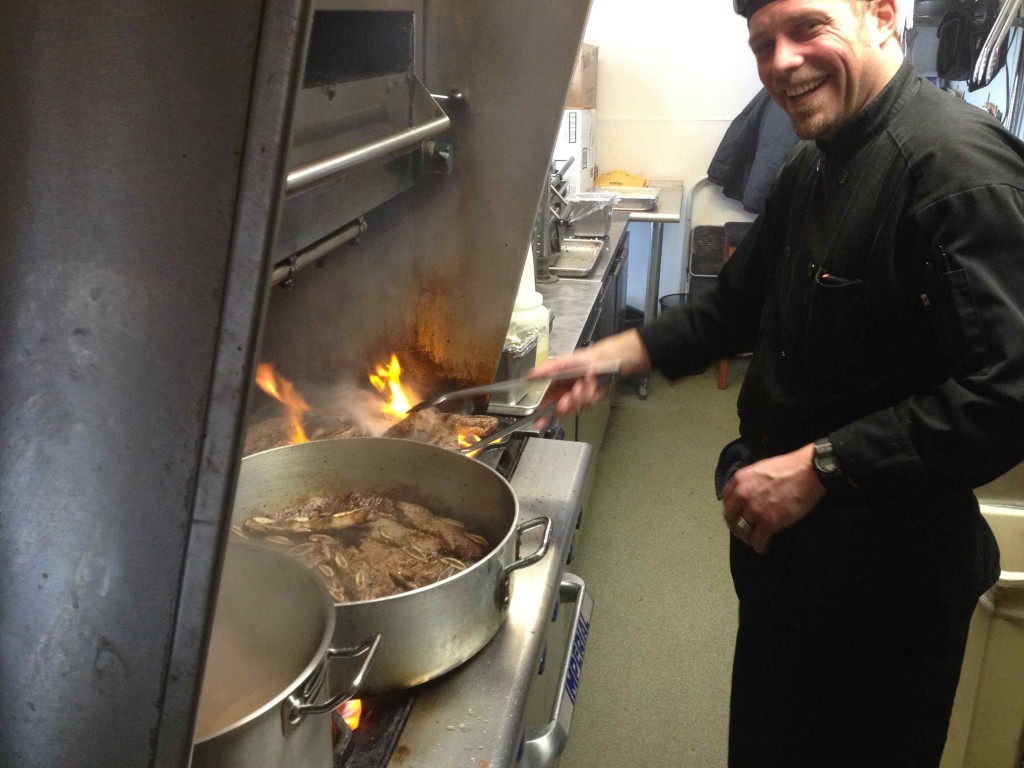 Chef Petersen, SpeakEZ Lounge
Petersen's spent most of those years in the Grand Rapids area. He laughed when he recalled that at his first job--he was 13 years old--he wasn't considered a dishwasher: instead, the restaurant referred to him as the DMO (dishwashing machine operator). Over the years, he's worked at several area restaurants, including a stint at Boatwerks in Holland, MI and a little over 5 years at a couple of the Gilmore restaurants.
At each post, Petersen continued to build on what he'd learned before. "I've learned a lot from the people who have worked for me, especially line cooks who have no experience," he said. "What they can teach you is astronomical because they're a fresh set of eyes. I learn something everyday."
His learning started early, in his family's kitchen. Old family photos show Petersen reaching for the spoon while his mom is simultaneously cooking and holding him on her hip. "My mom is a brilliant cook," he says.
Now things have come full circle: his mom loves his cooking, too. She recently stopped by and tried a dish he created at SpeakEZ Lounge, the Paella Romesco. It's a hearty, classic dish from the Catalonia region of Spain, filled with mussels, clams, shrimp, and scallops on a bed of saffron Arborio rice, with grape tomatoes, fennel, charred tomato Romesco sauce, white wine, toasted almonds, and garlic. "My mom was absolutely blown away by the paella," he said. "I can't think of anything better."
Diners will have their own chance to be blown away by his creations at SpeakEZ Lounge during Grand Rapids Restaurant Week, which runs from August 14 24 this year.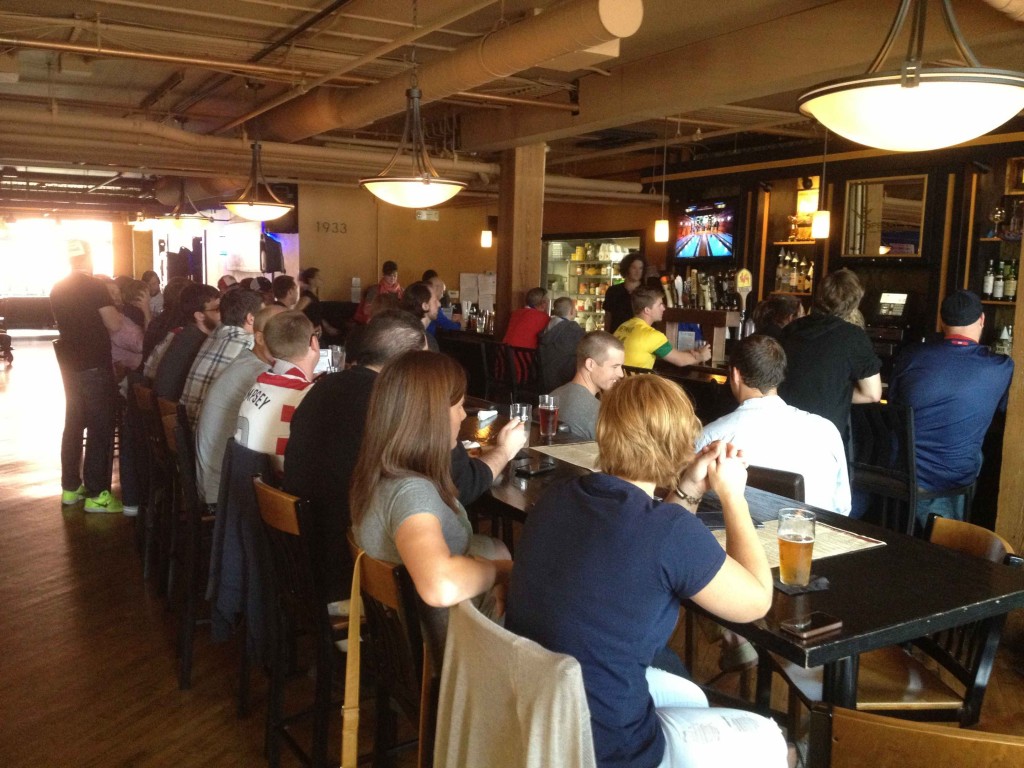 SpeakEZ Lounge
Guests will be able to select options from a 3-course menu for $25 per person, which will include lots of fresh, seasonal, locally sourced ingredients. You'll likely have a hard time choosing between the three options for each course, with choices like a Bloody Mary Asparagus Salad (made with prosciutto-wrapped asparagus and a grape tomato concasse) and the Molasses Citrus BBQ Diver Scallops (served with a crispy pancetta wheel and White balsamic roasted onions)2 of the 3 appetizer choices on their Restaurant Week menu.
If you're looking for a drink to go along with all of the good food, SpeakEZ Lounges resident mixologist, Torrence OHare of the Starving Artist, is crafting a special concoction for the Restaurant Week "Grand Cocktail 2013" contest. For his entry in the Manhattan category, he'll be using Michigan fruit and Michigan beer in addition to Woodford Reserve craft bourbon (they're sponsoring the contest).
You'll find Michigan fruit in some of the dessert choices, too. If you're looking for something a little different with a local touch, Petersen suggests trying the Hibiscus Cucumber Gelato, which is made with locally sourced blueberry compote. "Cucumbers themselves don't have a huge amount of flavor, but they are absolutely key in getting something to taste fresh and great," he explained. "Hibiscus has that weird sweet and sour, almost syrupy, flavor. It can be overpowering. Because Petersen likes to have an offset with his food--sweet and salty, for example--using a strong flavor like hibiscus was a perfect match with the offset of the cucumber. It gives it a unique taste on the palate, so it will have a sweet, fresh appeal without being overbearing."
Petersen shared this recipe for Sweet Poppy Seed dressing with our readers.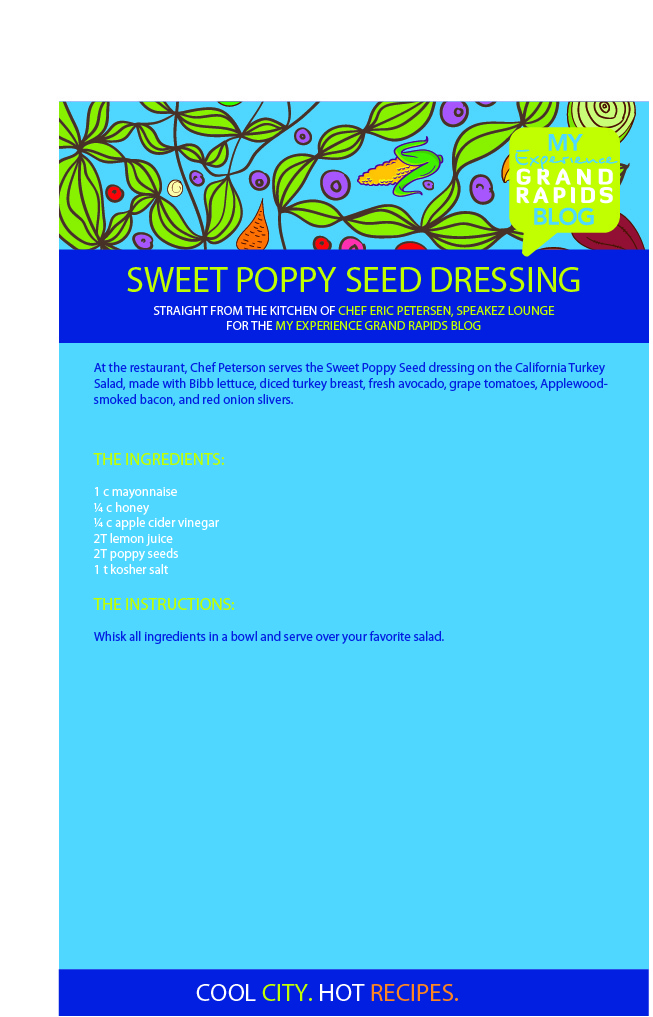 Other profiles in our Restaurant Series:
Pat Wise, Grove Mercedez Lopez-Duran, El Granjero