Experience Pink is your chance to embrace fun in downtown Grand Rapids while you support a worthy cause. For the entire month of February, you'll find packages at select Grand Rapids hotels, as well as specials at local retailers and restaurants, in an effort to raise funds to support the Susan G. Komen West Michigan Affiliate. Travis Mix, Community Events Coordinator for the Susan G. Komen West Michigan Affiliate, says the promotion is a win-win. "It's an opportunity for people to come together and socialize during the winter, to drive business to local retailers and restaurants during a traditionally slower time, and at the same time support something very powerful."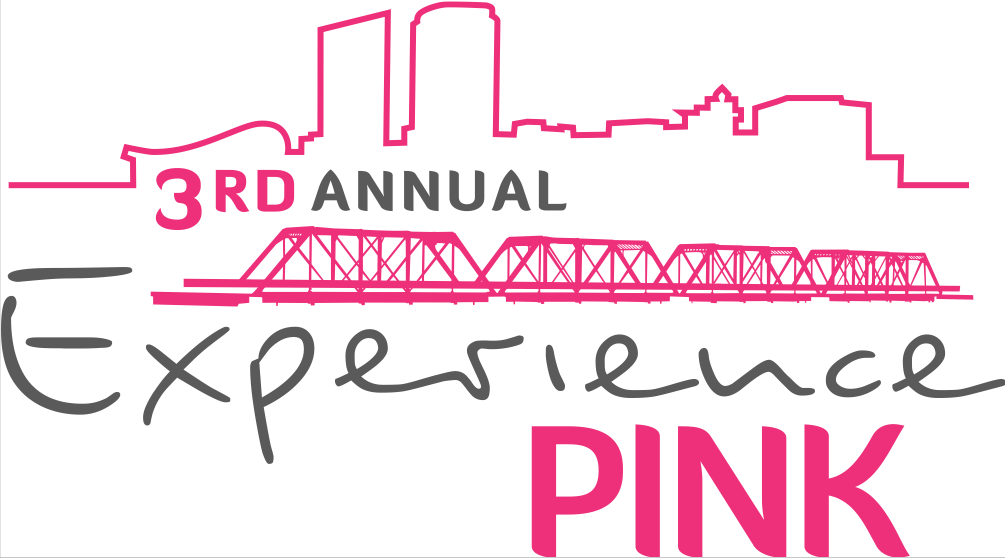 Jump into the fun and Experience Pink 2014.
The city-wide charity event began three years ago when Brian Behler, Assistant General Manager at the JW Marriott Grand Rapids, sat down with Tonya Horan from the Susan G. Komen West Michigan Affiliate. "I wanted to see how we could partner with them to raise awareness and funds for their organization," said Behler. Instead of creating a JW Marriott-only event, they decided to get the entire hospitality industry involved. "Grand Rapids prides itself on being a philanthropic city," he said. "We wanted to work hard to grow awareness and save lives." According to Mix, the Experience Pink promotion has raised over $3,900 in the past two years.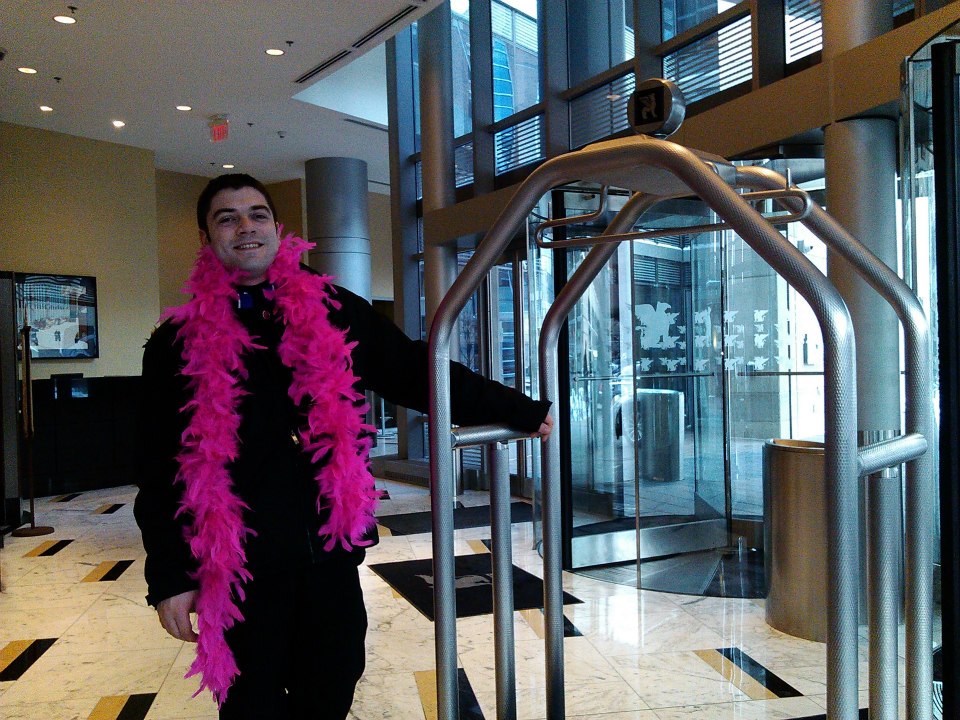 JW Marriott staff getting into the Experience Pink spirit.
The J.W. Marriott will be hosting two Lunch & Learn sessions. At one, author Angie Christine will speak about her personal journey with breast cancer. Christine was diagnosed with cancer at age 36, just a few days before her ninth wedding anniversary. Shell also talk about her book, Beyond My Boobs, which is currently available on Kindle and will be released in paperback shortly. You can find out more about Christine on her blog BreastFriendForever.
The second speaker will be Angie Hartley-Peters, a local breast cancer survivor who's endured multiple surgeries as well as chemotherapy. "She'll be speaking about her personal journey, how she's gotten through it, and how she lives everyday," says Mix. "Its a true testimony, very inspirational."
In addition to the Lunch & Learn sessions, Experience Pink includes several events. For a fun evening, check out the Experience Pink Charity Flair Event, on February 20, 2014 at 7PM in the Grand Room the Holiday Inn Grand Rapids Downtown. "Each bartender will have about five minutes to showcase their talent of flipping and stalling bottles while making 4-6 cocktails," explains Josh Hallwachs, Food and Beverage Supervisor at the hotel. Each set of cocktails will be put on a tray to be auctioned off with a starting bid of $20. Hallwachs says that as the bids get higher the hotel will throw in additional goodies, like a $50 gift certificate to six.one.six or $25 to Founders. All of the proceeds from the auctions and a part of food/beverage sales will be donated to the Susan G Komen West Michigan Affiliate. Tickets are just $4 each ($5 for bar side). For more information, please contact Hallwachs at 616.235.9171 or josh@higrdt.com.
For another fun event, head over to Rivertown Sports to watch the Grand Raggidy Roller Girls on February 15, 2014 at 6PM. Tickets are just $12 per person and the Roller Derby will have a silent auction, raffle and other fundraisers to support this cause.
If lots of action is up your alley, you can also watch local hotel staff compete against one another in a fun dodge ball tournament at the Deltaplex on February 26, 2014 at 6PM. Tickets are just $3 each and all proceeds will benefit the Susan G. Komen West Michigan Affiliate.
Lots of local merchants and restaurants will also offer specials for you to enjoy. You have fun, a worthy cause gets a donation-it's worth heading out! Click here for updated information on participants. You can see updates on events and participants by liking the Experience Pink Facebook page.
As you enjoy getting out and about in Grand Rapids in February, you can feel good knowing that you're supporting a local charity. "At the Susan G. Komen West Michigan Affiliate, our main focus is a one-two punch," explains Mix. "The first punch is that we want it to stay local; 75% of all funds raised by West Michigan Komen Affiliate stay in West Michigan. The funds pay for breast screenings, mammograms, and genetic testing for men and women in the area who are underserved. The second punch is that the other 25% goes to the national Susan G. Komen Foundation and all 25% is used for research. We want to help this become 100% preventable."