Grand Rapids is home to numerous distilleries that are focused on producing high-quality distilled liquor blended with superior ingredients, careful technique, and attention to detail.
In fact, Grand Rapids has its own 12-day celebration dedicated solely to its local craft cocktail scene, Cocktail Week GR.
Here are just a few of Grand Rapids' most-frequented distilleries:
Long Road Distillers
Address: 537 Leonard St NW, Grand Rapids, MI 49504
Hours: Monday to Thursday: 4PM-Midnight; Friday: Noon-Midnight; Saturday: 10 AM-Midnight; Sunday: 10AM-9PM
Long Road Distillers has been distilling world-class spirits since 2015 and was voted the Best Craft Specialty Spirits Distillery in 2017 and 2018, per USA Today readers. With a full kitchen and cocktail menu, guests can come in and enjoy handcrafted cocktails and farm-to-table food and entrees.
"We partner with local farmers to take the 'long road' in the kitchen, just like we do with our spirits, [by] making everything from scratch," said Long Road Distillers co-owner and co-founder Kyle Van Strien.
Long Road Distillers' drink menu is always changing based on local ingredient availability and what Beverage Manager, Rachel Moore, bartenders, and managers create.
"We take the same no-shortcuts approach to our cocktails as we do for our spirits," Van Strien says.
Locally known for their award-winning MICHIGIN and their Original Gin, they are also proud of the international recognition received for their Aquavit, gin's Scandinavian cousin. Aquavit, which was named Best of Show Clear Spirit - New York World Spirits Competition, is perfect for Bloody Mary's, daiquiris, or even an ice-cold shot.
Van Strien says, "[Aquavit] is one of our favorite spirits to mix with."
Long Road Distillers offers several tasting flights including a whiskey flight, botanical flight, liqueur flight and "party" flight with all their spirits to help you find the best fit.
And don't miss Happy Hour from 4 PM to 7 PM Monday to Thursday and Noon to 7 PM on Friday with $3 mini martinis and $3 snacks.
"We're proud to make all of our spirits 100% from scratch using locally sourced ingredients and to serve them in the neighborhood we call home," Van Strien says.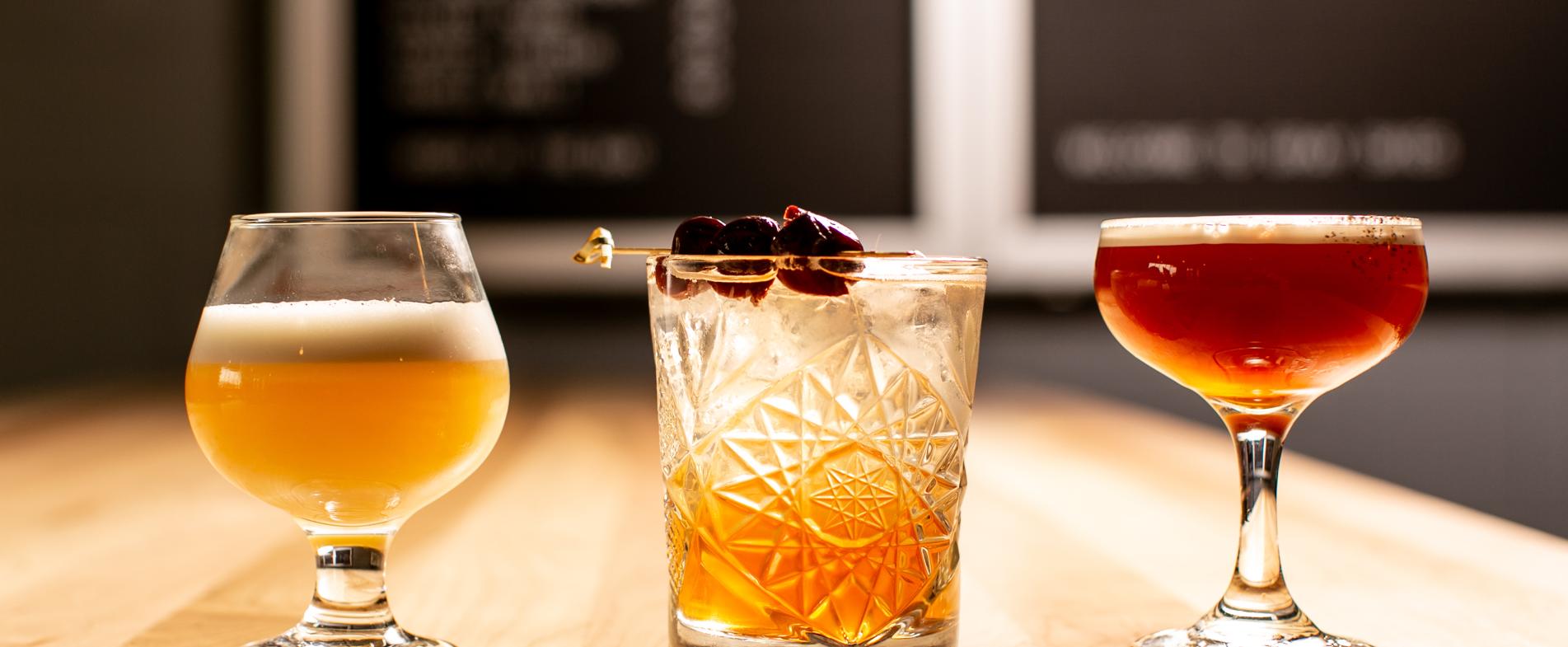 Eastern Kille Distillery made a selection of rye cocktails for Cocktail Week GR 2018 using hand-crafted ingredients.
Photo Credit: Eastern Kille Distillery
Eastern Kille Distillery
Address: 700 Ottawa Ave NW, Grand Rapids, MI 49503
Hours: Monday: Closed; Tuesday to Thursday: 4 PM - 11 PM; Friday: 4 PM - 1 AM; Saturday: 1 PM - 1 AM; Sunday: 1 PM - 6 PM
Eastern Kille Distillery is a small-batch distillery where all the ingredients in their cocktails (not just their spirits) are made in-house, providing the ultimate flexibility and creativity when crafting cocktails. The distillery emphasizes its 'grain-to-glass' processes and philosophy.
How creative and flexible you might ask?
The Magic School Bus featured on their fall menu uses Apple Jack cereal-infused milk as an ingredient that plays off the aromatic bitters to deliver a cinnamon kick. This drink deserves major creativity points!
Eastern Kille Distillery's enjoyment of craft spirits has led to numerous awards including the Michigan Distillery of the Year in 2016 by the New York International Spirits Festival, in addition to their gold medal-winning Barrel Finished Gin.
When asked what their most popular spirit is, co-owner Steve Vander Pol says, "We launched our tasting room with Barrel Finished Gin, which has remained a favorite."
Other favorites include the limited releases of Breakfast Rye Whiskey and Straight Bourbon Whiskey. "It's hard to say what is the most popular [drink] right now, but it's definitely one of those three," Vander Pol says.
If committing to one spirit is too limiting, customers are welcome to mix and match spirits in flights of three spirits for $10, or four spirits for $12.
There is no kitchen on site, but guests are welcome to bring outside food into the establishment to enjoy while sipping spirits.
Check out their $5 Happy Hour specials on Tuesday to Friday from 4 PM to 6 PM. The Happy Hour specials rotate daily, and guests are encouraged to visit Eastern Kille Distillery's Facebook page for Happy Hour menu options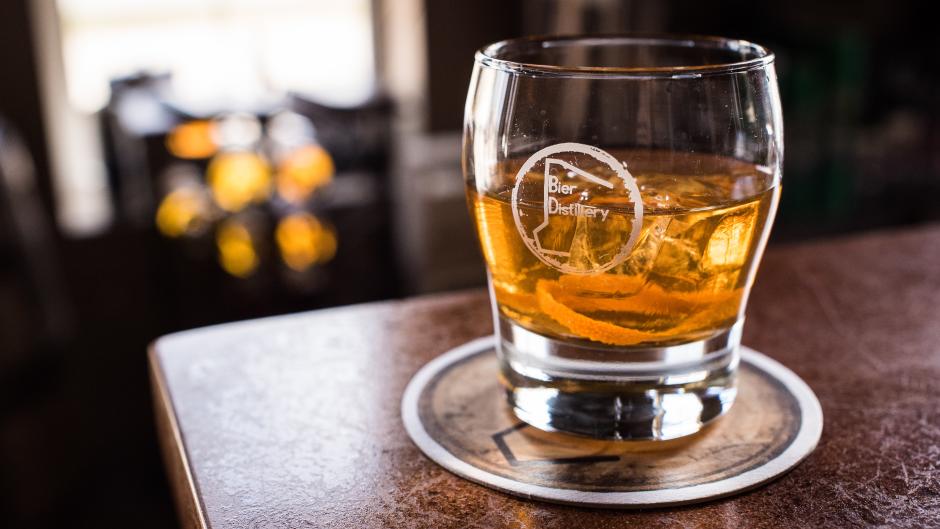 Bier Distillery also offers its own craft beer and wine, in addition to spirits.
Photo Credit: Experience Grand Rapids
---
Bier Distillery
Address: 5295 W River Dr NE #100, Comstock Park, MI 49321
Hours: Sunday: Noon- 7 PM; Monday to Thursday: 4 PM-9 PM; Friday: 4 PM-Midnight; Saturday: Noon-Midnight
Through research, experimentation, and taste testing, Comstock Park's Bier Distillery has created nearly 15 spirits on-site, from scratch, including Mum's Ruin Gin, Justtheshine Moonshine, Sole Cry Rye Whiskey and Henry's Absent Absinthe Verte.
"Our Sole Cry Rye and Absinthe are our most popular spirits," says Joel Bierling, owner of Bier Distillery.
Absinthe is an anise-flavored spirit derived from botanicals, including the flowers and leaves of Artemisia absinthium, blended together with green anise (grown right outside the Bier Distillery front door), sweet fennel, and other medicinal and culinary herbs.
Bier Distillery has something for everyone, as it serves wine, spirits, and craft beer, in addition to a full menu.
Stop in during Bier Distillery's Happy Hour Monday to Thursday from 4PM to 6:30PM and Friday from 4PM to 5:30PM to enjoy 20% off all on-premise food and drink items, including their popular charcuterie board and Mediterranean dip.
For those who are just starting to dip their toes into the craft spirit pond, Bierling says, "There really isn't a substitute for just getting out there and trying different things."
With a relaxing atmosphere, plenty of parking, and live music on Fridays and Saturdays, Bier Distillery is a must visit for all craft spirit fans
Thornapple Brewing co-founders have nearly fifty years of brewing and crafting experience.
Photo Credit: Experience Grand Rapids
---
Thornapple Brewing
Address: 6262 28th Street, Grand Rapids, MI 49546
Hours: Sunday: 10:30 AM- 4 PM; Monday to Thursday: 11 AM- 10 PM; Friday to Saturday: 11 AM- Midnight
Known for its array of adult beverages, Thornapple Brewing in nearby Cascade, Michigan, offers plenty of options. Thornapple Brewing has over 15 craft beers, four ciders, and two meads on-tap, as well as wine and spirit options, there's something for everyone at Thornapple Brewing.
Some of Thornapple Brewing's most popular signature cocktails include:
Thorn Jin Giz, made with house-made jin, sour cordial, orange juice, and club soda
Beaten Berries, made with a choice of pear or apple house-made brandy, beet juice, muddled blueberries, and mint spring
Whiskey Maple Sour made with house-made whiskey, sour cordial, Sprite, and maple syrup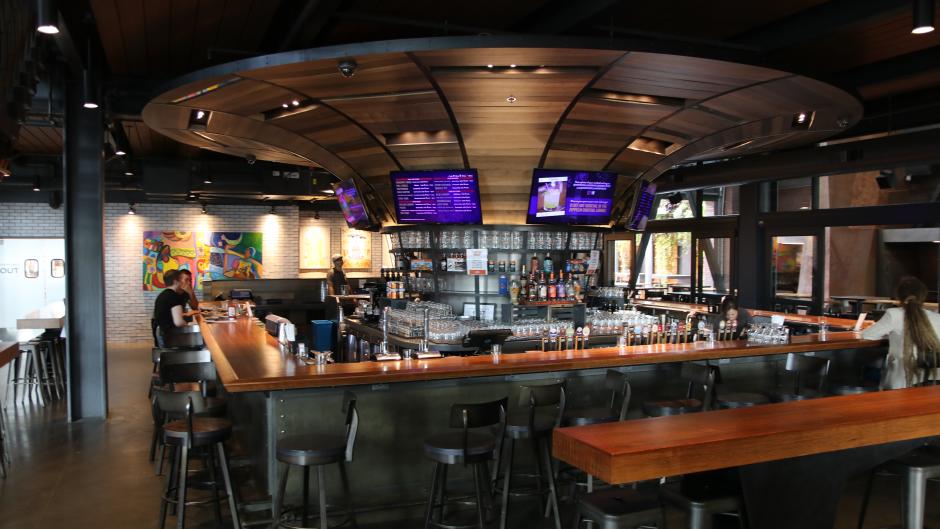 Enjoy a full drink menu including craft beer, artisan spirits, handcrafted cocktails, wine and cider at New Holland Brewing- The Knickerbocker.
Photo Credit: Experience Grand Rapids
---
New Holland Brewing - The Knickerbocker
Address: 417 Bridge St NW, Grand Rapids, MI 49504
Hours: Monday to Thursday: 11 AM-Midnight; Friday to Saturday: 11 AM-1 AM; Sunday: 11 AM-10 PM
According to its website, New Holland Brewing - The Knickerbocker  is one of the first distillers in Michigan. Named Michigan Distiller of the Year for its Beer Barrel Bourbon and Knickerbocker Gin in 2017 at the New York International Spirits Competition Distilling, New Holland Brewing distills spirits on-site at its Grand Rapids location on the city's West Side.
Stop by New Holland Brewing - The Knickerbocker's 40,000-square-foot, vibrant location for Happy Hour specials Monday to Friday from 4PM-6PM. The location also offers daily food and drink specials outside of Happy Hour, and offers to-go food options.
To acquire a taste for spirits, I think the best thing is to taste as many different things as you can. When you can get a sense of the variety that's out there, you're better equipped to understand what your preferences are.
Coppercraft Distillery
Address: 184 120th Ave, Holland, MI 49424
Hours: Sunday to Tuesday: Closed; Thursday to Friday: 4PM - 10 PM; Friday to Saturday: 4 PM - 11 PM
Recently named Michigan Bourbon Distillery of the Year at the New York Spirits Competition, Coppercraft Distillery continues to make a name for itself on the west side of the state and beyond.
"What we strive for is balance more than anything else. Many craft cocktail bars will make cocktails that are too sweet," Brandon Joldersma, general manager for Coppercraft Distillery, says. "We want to make sure we're highlighting our spirits, but keeping everything in balance between the alcohol, sweetness, and bitterness."
Located in Holland, Michigan, about 30 miles south of Grand Rapids, Coppercraft Distillery's whiskeys are made in collaboration with world-renowned expert and master blender, Nancy Fraley.
"She has guided us in barrel selection and blending techniques to make our whiskeys the best they can be," Joldersma says.
Thanks to a talented chef and bar manager, all Coppercraft drinks are created on-site including Teddy's Sofa made with bourbon, orange, tonic syrup, basil syrup, tobacco tincture and served on the rocks, along with the 'Biscus & Berry featuring gin, hibiscus tea, lemon, and blueberry syrup.
Not sure where to start your spirit quest? Coppercraft Distillery offers tasting flights and talks with each individual customer about their preferences to help guide them to choose what might be personally best for them.
"To acquire a taste for spirits, I think the best thing is to taste as many different things as you can," Joldesrma says. "When you can get a sense of the variety that's out there, you're better equipped to understand what your preferences are."
Stop into their Holland location for delicious and bold food rooted in traditional American cuisine featuring everything from smoked pork served with their own bourbon infused barbecue sauce, fried chicken or a veggie burger.
There are many more distilleries in and around Grand Rapids to explore. Stop by Jayda Gale Distillery in Wayland for delicious handcrafted drinks and food including breakfast. Atwater Brewing also distills its own spirits, in addition to brewing a large lineup of craft beers.
Grand Rapids is lucky to have an abundance of craft distilleries creating inventive concoctions for locals and visitors, alike. Visit the Distilleries page for a full list of local distilleries.
Never miss a post!
Subscribe to the Insider Experience Blog