Grand Rapids will be celebrating its 10th annual Restaurant Week GR (RWGR) from August 7 – August 18, 2019. During the 12-day food extravaganza, participating restaurants and breweries create special fixed-price menus featuring fresh, local ingredients to celebrate our city's vibrant food scene—and several have gluten-free, vegan, vegetarian, and nut-free selections.
In honor of RWGR's 10th anniversary, we've gathered 10 interesting facts about the annual event: 
1. It's the 10th Anniversary!
In 2008, Doug Small, CTA, President & CEO of Experience Grand Rapids, relocated to the area to lead the Experience Grand Rapids team. "When I got my feet firmly planted," he recalls, "I heard people talking about farm-to-table and earth-to-table restaurants—and that we have great fish, too. I felt that we had an emerging dining scene but nobody was celebrating it."
He suggested the idea of Restaurant Week GR, met with local restaurateurs, and helped his team put together a plan to launch the first RWGR in 2009. 
Over the next decade, RWGR became an annual tradition for locals and visitors alike, with many foodies planning multiple nights out to experience all the week has to offer.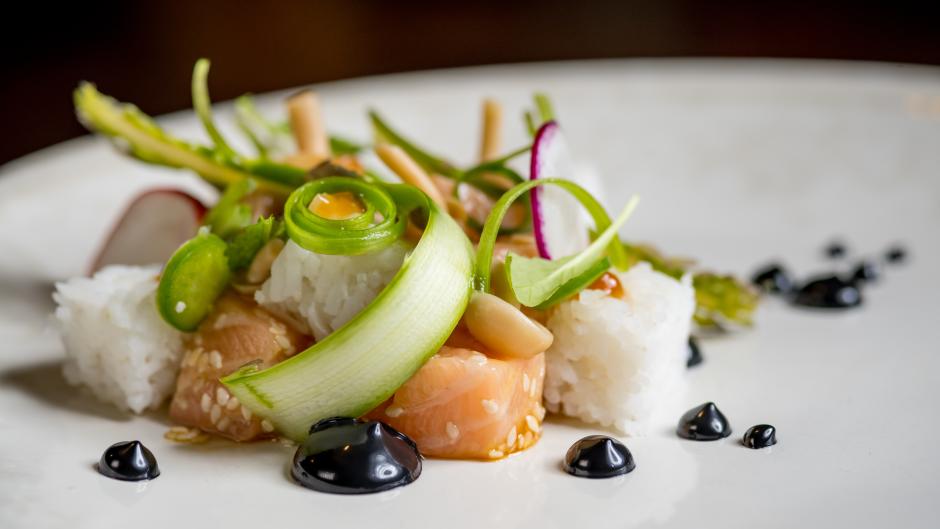 Experience Restaurant Week for lunch, dinner, or both, with three different menu options.
Photo Credit: Experience Grand Rapids, featuring Grove's 2018 Restaurant Week dish
---
2. Lunch and Dinner Menus are Available 
When RWGR launched, dinner was the only meal offered. In 2017, the addition of a lunch option proved a huge success. Customers love the flexibility of being able to try RWGR at different times of the day and choosing from three different options and price points.
Three Dining Options during RWGR 2019
Option One: Two courses for $15 per person (lunch or dinner)

Option Two: Three courses for $25 per person (dinner)

Option Three: Chef's Choice menus, featuring creative menus limited only by the chefs' imaginations. Chef's Choice menus for $25+ per person. (dinner)
3. RWGR has Donated More Than $150,000 to Culinary Scholarships 
In 2010, RWGR established the Secchia Institute for Culinary Education Student Scholarship Fund at Grand Rapids Community College (GRCC) to help support students' studies in GRCC's Secchia Institute for Culinary Education program. 
Participating restaurants donate $1 from every meal purchased during RWGR to the scholarship fund. Forty students have been awarded scholarships to date. 
"I'm proud to say we're over $150,000 in endowed scholarship money," says Small. "We continue to award students with scholarship money to help make continuing their education less stressful. That's been a great by-product of Restaurant Week."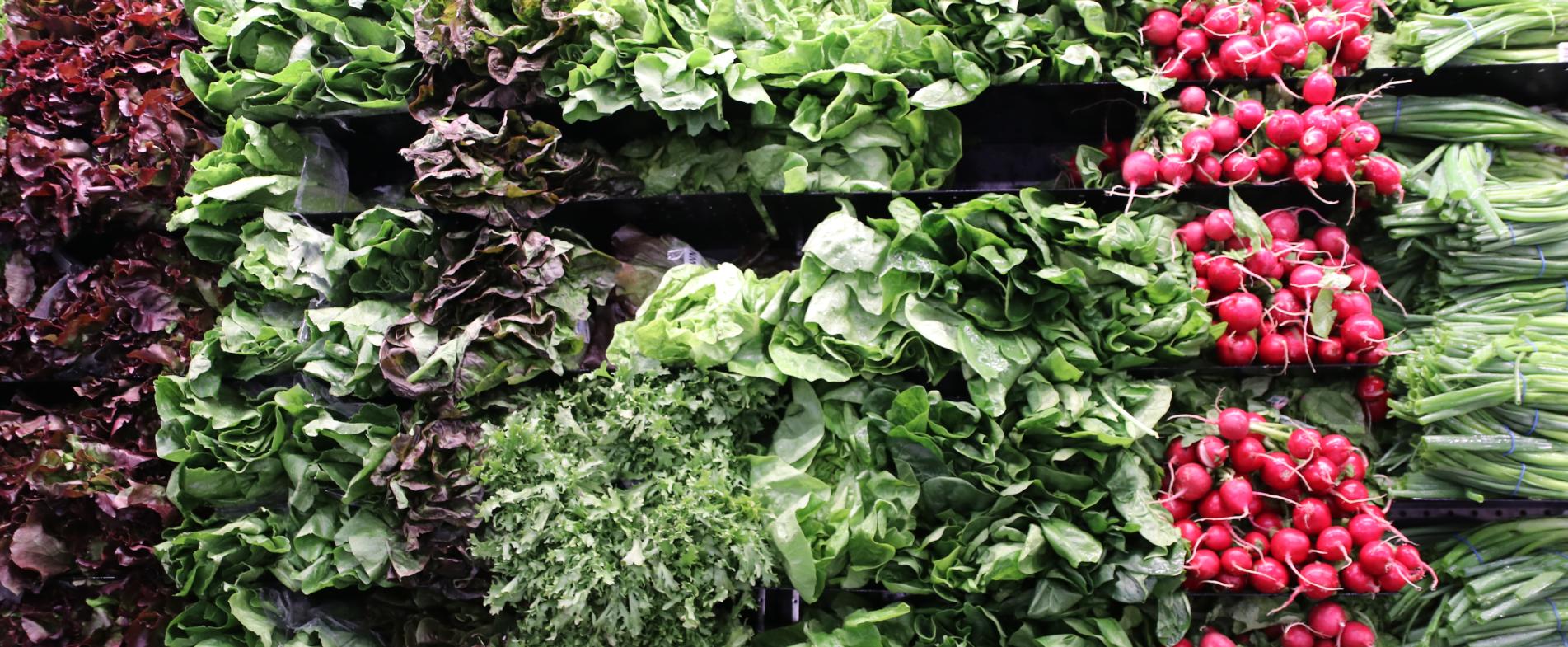 Restaurant Week takes place during harvest season so that dishes can feature fresh, local ingredients.
Photo Credit: Experience Grand Rapids
4. The Menus Feature Fresh, Seasonal Ingredients 
Grand Rapids chefs love to feature fresh West Michigan crops on their menus, so it's no coincidence that RWGR takes place in August, at the height of the fresh produce season. Diners often get to sample local fennel, peppers, mushrooms, and heirloom tomatoes, for example, but in true farm-to-table style, what's featured depends on what grows and when. 
You won't just find local produce; many chefs shop locally for meats and cheeses, too.
"We'll have white lasagna," says Jenna Arcidiacono, Chef at Amore, "which has local lamb and Farm Country Cheese in it." Amore uses local mushrooms, too, if they're available. For RWGR, they'll be offering a five-course menu for $29 per person. (Amore is also celebrating their 10th anniversary this summer!)
Divani also uses local cheese and buys all of its produce from Ingraberg Farms in Rockford. 
"We have a have a ton of fresh vegetables," says Molly Kopen, owner of Divani, "which we'll use in our Garden Vegetable Gazpacho." Divani will be offering a 3-course Chef's Menu during RWGR for $39 per Guest.
Everything is fresh and scratch-made, we have chef-driven kitchens, and the food is wonderful. Restaurant Week gives the chefs a chance to showcase seasonal items, get creative, and have fun with it.
5. Some Menu Items Are Only Available During RWGR 
During RWGR, chefs develop creative multi-course menus, giving guests the chance to try something new. 
"Both of my chefs put out eclectic menus that use a lot of local products," says Dan Verhil, owner of One Trick Pony Grill & Taproom and The Cottage Bar & Restaurant, both of which are participating in RWGR. 
He adds, "Everything is fresh and scratch-made, we have chef-driven kitchens, and the food is wonderful. Restaurant Week gives the chefs a chance to showcase seasonal items, get creative, and have fun with it."
In addition to the creativity of the menus, another fun aspect of RWGR for the restaurants is that they see new diners, as well as people who come back year after year. 
"We always look forward to Restaurant Week because it's such a happening time at Amore," says Arcidiacono. "People look forward to trying the restaurant for the first time or they look forward to trying something they know we only have at that time of year, like our white lasagna or pop rock truffles."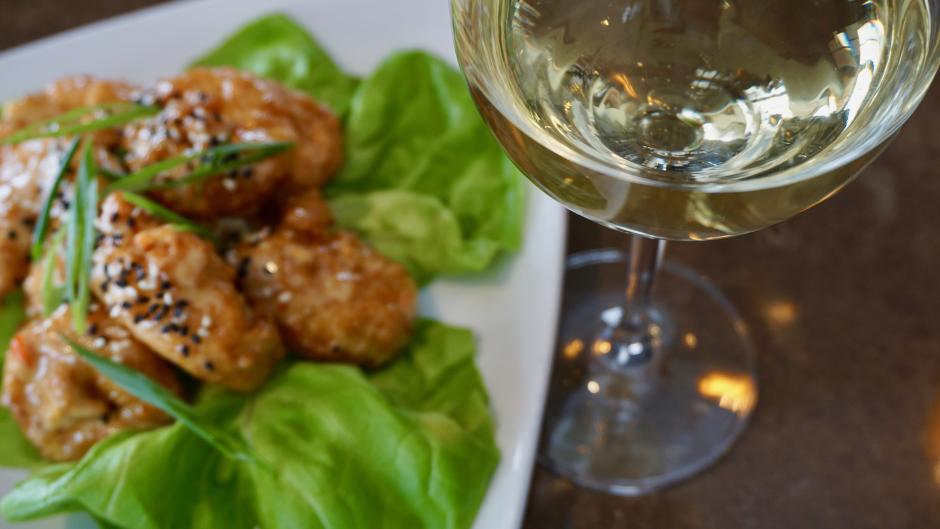 Many restaurants have beer, wine, or cocktails to pair with their Restaurant Week dishes for a slight upcharge.
Photo Credit: Experience Grand Rapids, featuring at pairing selection at Cork Wine & Grille
---
6. Many Menus Offer Wine or Beer Pairings 
Many restaurants offer beer, wine, or other beverage pairings with their courses during RWGR. These prices aren't included in the fixed-price menus.
For RWGR, both Amore and Divani will feature wine pairings. "I work with my sommelier and chef and we pair everything," explains Kopen from Divani. For $18 you can try a pre-paired wine with each course on Divani's menu. Pairing prices vary by restaurant.
If craft cocktails are more your style, they're often available a-la-carte, with some restaurants featuring special RWGR cocktails.
7. Participating Restaurants Throughout the Grand Rapids Area
There are many restaurants in downtown Grand Rapids that participate in RWGR. But, with 70+ participants, you'll find plenty of participating restaurants or breweries outside the city limits, as well. 
Whether you're local and want to skip going downtown or visiting Grand Rapids and staying outside of downtown, check out the participating restaurants in nearby areas like Cascade, Caledonia, East Grand Rapids, and Comstock Park.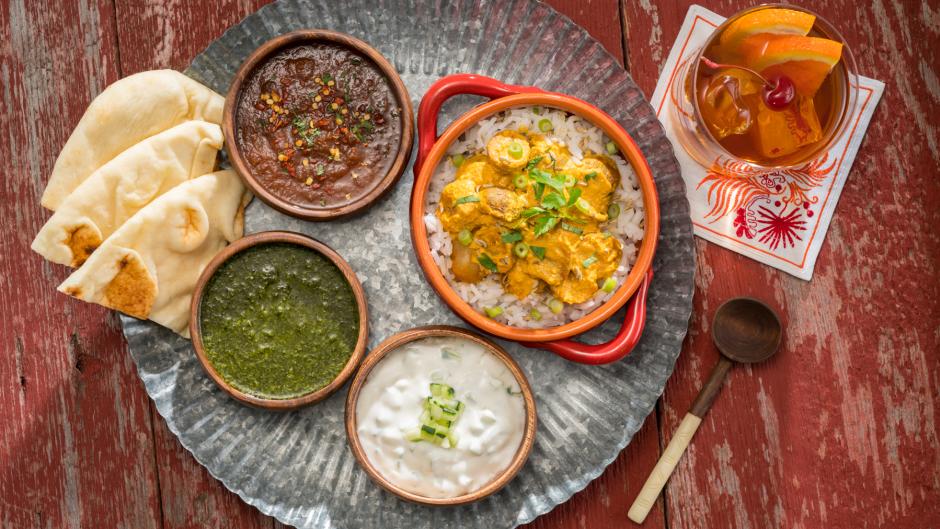 Savor all the flavors from around the world during Restaurant Week GR.
Photo Credit: Experience Grand Rapids
---
8. RWGR Includes a Wide Variety of Global Menus 
If you're after a good burger, you can find it during RWGR. But if you're looking for something more diverse, like mouthwatering Moussaka Tagine or Croquetas de Jamon (both featured on last year's menus), you'll find a wide array of global cuisine during RWGR. 
Over the past 10 years, restaurants have featured Mexican, Indian, French, Spanish, Italian, Soul Food, and more! Visit the RWGR page to view participating restaurants and their menus. 
At Amore, you'll find authentic Italian food prepared the old-fashioned way, just as Jenna Arcidiacono's mother-in-law taught her in Milan, Italy. 
In addition to enjoying the taste, Arcidiacono wants guests to enjoy the pleasure of dining out. "We offer five courses because we really want to bring it back to where people slow down, taste the flavors, and enjoy the food – the true Italian way of eating," she explains.
9. Special Diets Welcome
Divani's RWGR 2019 menu includes a gluten-free Braised Beef Bourguignon, served with roasted fingerling potatoes, sautéed wild mushrooms and a red wine demi-glace. It will also feature a vegetarian and gluten-free entrée of Grilled Vegetable Skewers, served with the Chef's selection of seasonal vegetables, saffron basmati rice, and spicy aioli.
Divani isn't alone; every year, a number of restaurants include vegan, vegetarian, gluten-free, and/or nut free options on their RWGR menus. Often, there are specific dietary menus, and sometimes restaurants are able to accommodate dietary needs. 
"We have a cauliflower pizza crust that's gluten-free," says Verhil of One Trick Pony and the Cottage Bar. "And we can modify as needed to accommodate dietary specialties." 
If it's not specified on a restaurant's RWGR menu, we suggest calling to confirm your dietary needs can be accommodated before you dine.
Don't forget to save room for dessert during Restaurant Week GR!
Photo Credit: Watermark Properties & RedWater Restaurants, featuring dessert from RWGR 2018.
---
10. Indulge in Dessert 
During RWGR, dessert is often included as one of the courses or offered as an affordable add-on. It's a great time to treat yourself! 
Every year at Amore, Arcidiacono hand rolls homemade chocolate truffles with cayenne pepper and pop rocks. The spicy chocolate and pop from the pop rocks are a fabulous, highly-anticipated combination. She'll be making them again this year. 
At Divani, you'll want to consider adding on the Chocolate Bomb at the end of your meal. This amazing Belgian chocolate sphere is served over apple cake with Tahitian vanilla gelato and salted caramel. Need we say more?
Feeling hungry? Visit the Restaurant Week GR page to find participating restaurants and menus, and begin planning your Restaurant Week GR adventures. 
You can filter restaurants by menu options, dietary restrictions, neighborhoods, cuisine type, and more! "It's a chance to go out and try something new that you've never had before," says Small, who encourages locals and visitors to participate in RWGR.
Still not sure what to expect? Check out this video of this year's RWGR:
Enjoy your dining adventures and don't forget to share your Restaurant Week GR activities by using the hashtag: RWGR on your social media posts. Be sure to let us know your favorites!
Don't ever miss a post!
Sign-up for the Insider Experience Blog