Locals know that fall is a beautiful time of year in West Michigan, with the trees flaunting their brilliant colors as we experience cooler temperatures. The season is also a popular time for locals and visitors to enjoy the Grand Rapids art scene, which blossoms all year long but is especially vibrant in the fall.
If you're in town for the inaugural Project 1: Crossed Lines, which takes place biennially, alternating with ArtPrize®, make time to enjoy some of Grand Rapids' other art while you're here. (Project 1 runs from September 7 – October 27, 2019.) Project 1-specific programming includes performances at the Tanglefoot location featuring SiTE:LAB's installation: Critical Infrastructure and walking tours at Rosa Parks Circle.
For an overview of art in Grand Rapids, consider doing some or all of the self-guided City Art Tour, which includes art displayed in galleries as well as other places around town. If you'd like a guide to exploring outdoor art in Grand Rapids, download the Outdoor Arts Inspirations tour map.
The Gerald R. Ford Presidential Museum is hosting a temporary exhibit of photographs by David Hume Kennerly, President Ford's personal White House photographer.
Photo Credit: Gerald R. Ford Presidential Museum
---
Visual Arts
Grand Rapids is home to spectacular visual arts all year long. You can find lots of suggestions for where to find it on the Grand Rapids Art, Galleries & Sculptures page. Here are a few places with special exhibits this fall that overlap with the timing of Project 1.
Gerald R. Ford Presidential Museum
During Project 1 (and through November 3, 2019), the Gerald R. Ford Presidential Museum is hosting a temporary exhibit of exceptional photographs by David Hume Kennerly, President Gerald Ford's personal White House photographer called Extraordinary Circumstances. The images are intended to portray President Ford's humanity.
Grand Rapids Art Museum
The Grand Rapids Art Museum (GRAM) has two special exhibits this fall. Billy Mayer: The Shape of Things features the large and small-scale sculptures of artist Billy Mayer, anchored by an installation of more than four hundred small skulls.
The second is David Wiesner & The Art of Wordless Storytelling, an exhibition of 70 original watercolors from some of Wiesner's most famous books, including three Caldecott Medal winners.
The GRAM also offers drop-in tours throughout the month of October. Check the GRAM's schedule for up-to-date information.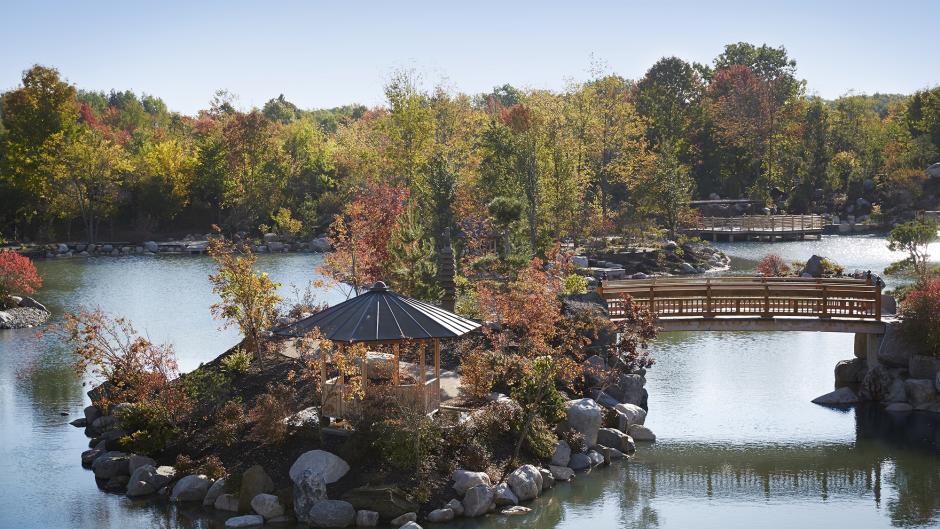 Frederik Meijer Gardens & Sculpture Park has temporary exhibits this season, as well as permanent ones, like the Japanese Garden.
Photo Credit: Frederik Meijer Gardens & Sculpture Park
---
Frederik Meijer Gardens & Sculpture Park
Featuring the most comprehensive outdoor sculpture collection in the Midwest, along with majestic indoor and outdoor gardens, the Frederik Meijer Gardens & Sculpture Park boasts more than 160 permanent sculptures in addition to its temporary exhibits.
This fall, you can see the work of Rebecca Louise Law in the gallery exhibition, Rebecca Louise Law: The Womb. Law explores the relationship between humanity and nature by using natural materials in her art.
On October 15, from 6 PM – 7 PM, you can participate in the Directors Walk, as the directors of the Sculpture and Horticulture departments explore the wildflower meadow that features Mark di Suvero's sculpture, Scarlatti, at its center.
You can also experience the annual celebration of fall plantings, Chrysanthemums & More! With specialty chrysanthemums, unique autumn floral arrangements, and fall harvest vegetables, Meijer Gardens truly stuns.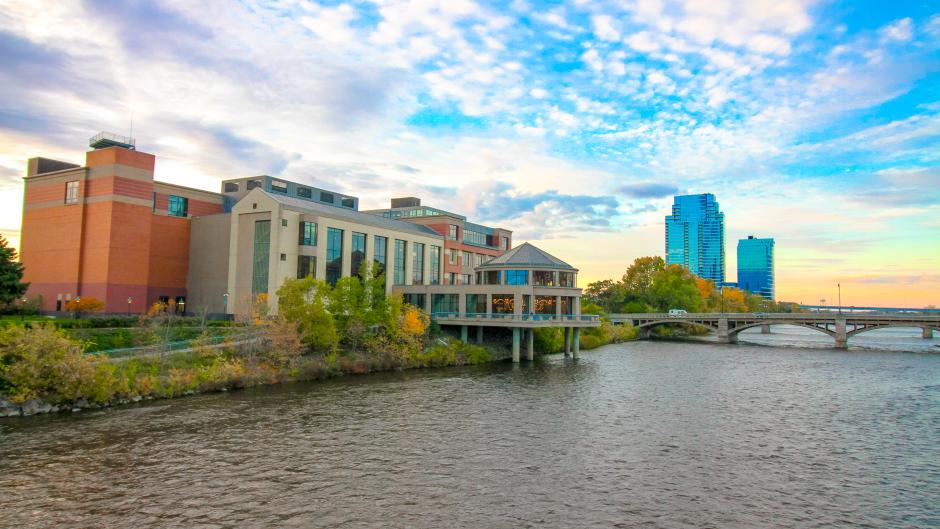 Grand Rapids Public Museum is home to both permanent and temporary exhibits, as well as a Project 1 installation by Grand Rapids Public Schools' fourth-graders
Photo Credit: Experience Grand Rapids, featuring Fiona Dickinson and her band (right)
---
Grand Rapids Public Museum
Through October 13, 2019, the Grand Rapids Public Museum will be featuring the temporary exhibit, Changing America: The Emancipation Proclamation, 1863, and the March on Washington, 1963. The exhibit examines the relationship and connections between the Emancipation Proclamation and the March on Washington.
You'll also be able to see the collaborative art installation, Flexible Fence, by Eliza Fernand, which includes work of fourth-grade students in the Grand Rapids Public School district and is installed on the lawn of the Grand Rapids Public Museum. 
The six-foot-tall wooden fence sculpture, which curves into a loop with two intersecting open circles, reflects the Project 1 theme of inclusion and belonging.
Urban Institute for Contemporary Arts
Urban Institute for Contemporary Arts' SPECTRA exhibit, displaying a diverse group of contemporary, non-representational artwork, each with a foundation in abstract art theories.
LowellArts
Check out more than 100 pieces of art on display at LowellArts through October 26, 2019. The 28th Juried Experimental Art Exhibit for the International Society of Experimental Art (ISEA) features works chosen by guest juror Joseph Becherer, eligible for monetary awards totaling over $10,000.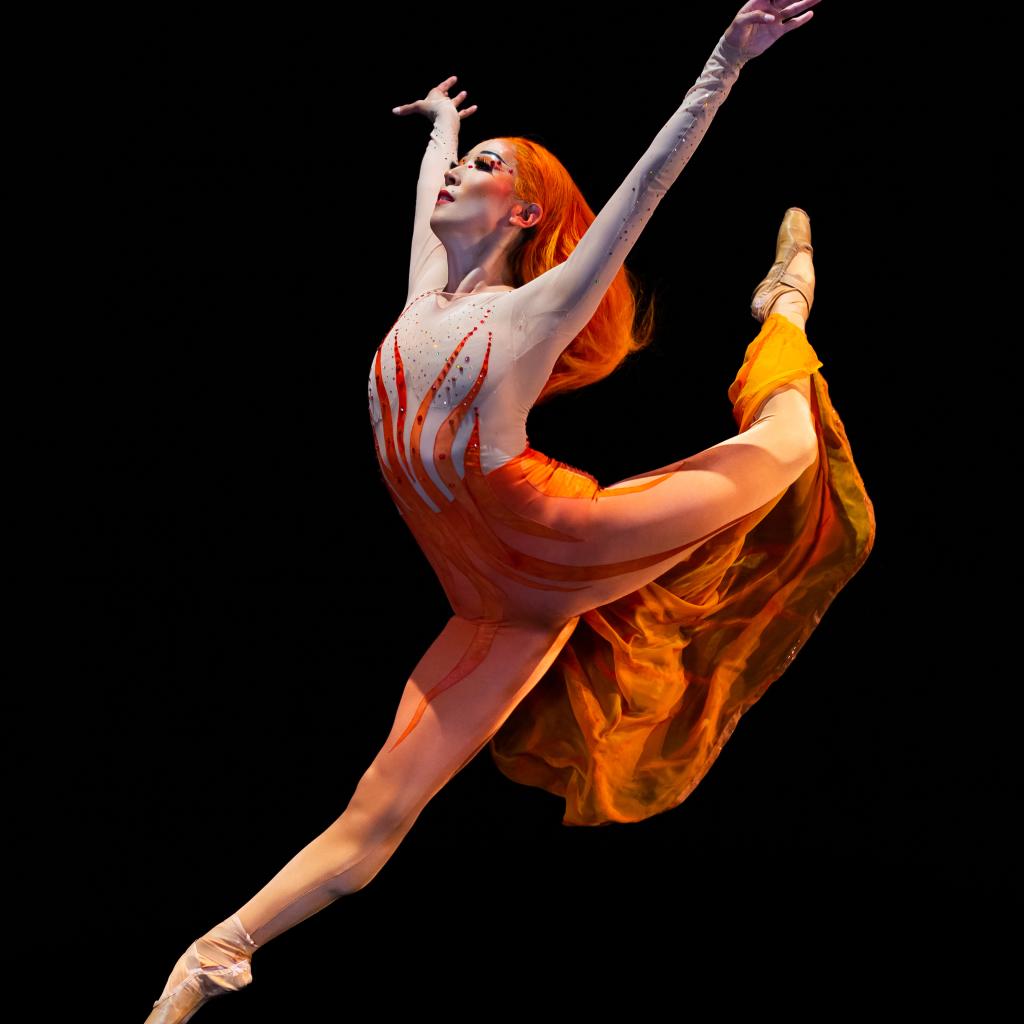 From ballet and opera to theatre and the symphony, Grand Rapids has a thriving performing arts scene with lots of fall events to choose from.
Photo Credit: Yuka Oba-Muschiana in Yuri Possokhov's Firebird; photo by Damion Van Slyke. Courtesy of Grand Rapids Ballet
---
Performing Arts and Events
In addition to the visual arts, Grand Rapids is home to vibrant community theatres, touring Broadway shows, a professional ballet and opera, a Grammy Award-nominated symphony, and much more. 
Here are a few productions happening this fall during Project 1.
Grand Rapids Ballet
Now in its 48th year as Michigan's only professional ballet company, the Grand Rapids Ballet will perform Stravinsky's captivating story of good and evil, Firebird, on October 18 – 20, 2019.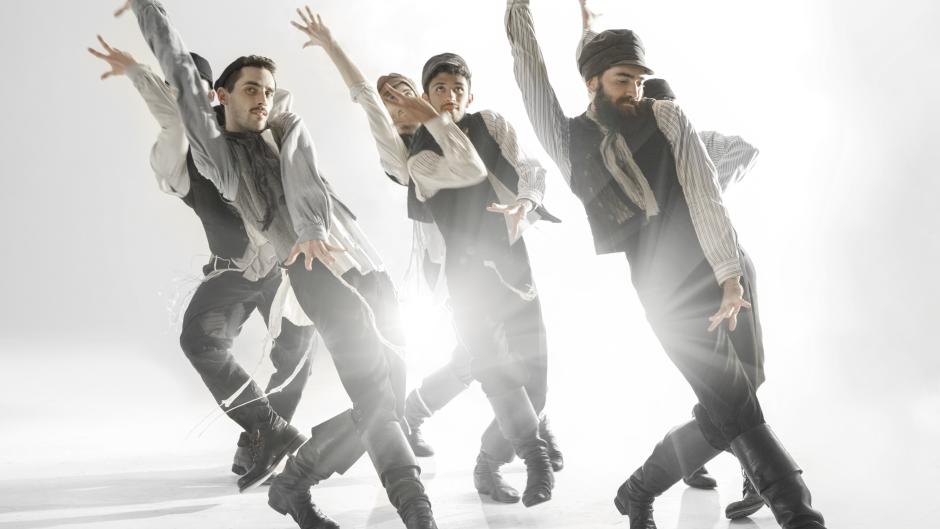 Catch Broadway Grand Rapids' Fiddler On The Roof at DeVos Performance Hall this fall.
Photo Credit: Broadway Grand Rapids
---
Broadway Grand Rapids
See Tony®-winning director Bartlett Sher's take on the heartwarming classic, Fiddler on the Roof, as the cast begins its North American tour at Broadway Grand Rapids on October 8 – 13 at DeVos Performance Hall.
Civic Theatre
Grand Rapids Civic Theatre's School of Theatre Arts reaches thousands of children each year through acting, dance, and theater classes for kids as young as four. 
From October 18 – 27 you can see their production of Frozen Jr., the beloved tale about Princesses Anna and Elsa that includes lots of adventure as well as lessons on sisterhood, love, and believing in yourself.
Opera Grand Rapids
If you're in town for Project 1 and extend your visit a few days, you can catch the kick-off of the Opera Grand Rapids season at St. Cecilia Music Center. They'll perform Gilbert & Sullivan's beloved satire The Mikado on November 1-2. This will be the opera's first full season with the new Executive Director, Emilee Syrewicze.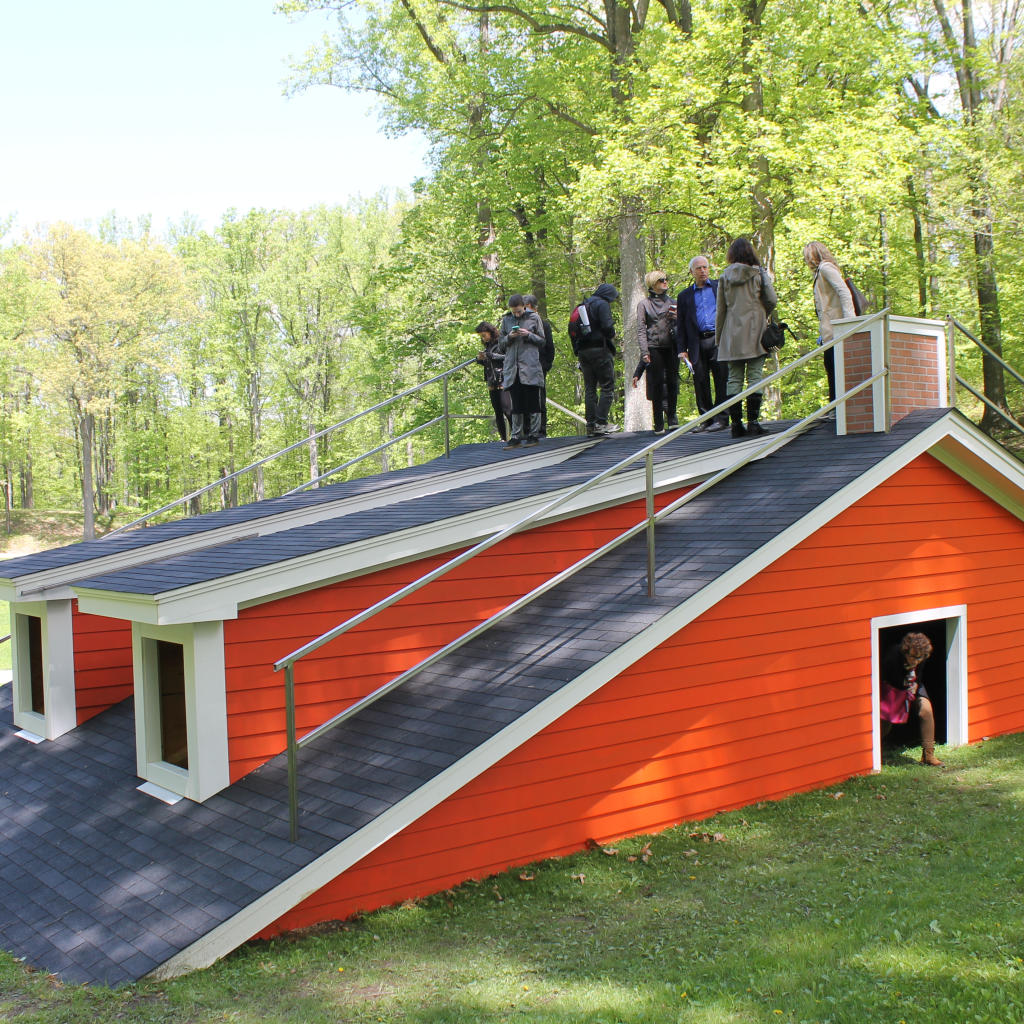 Find some of the new Project 1 installations around GR, such as the submerged rooftops created by Heather Hart.
Photo Credit: Oracle of Lacuna by Heather Hart. Photo courtesy of the artist; supplied by ArtPrize.
---
Project 1 Closing Celebration
Last but not least, if you're in town on October 26, consider joining the Closing Celebration commemorating the final weekend of Project 1 at Studio Park. The press conference that kicks off the evening will include several exciting announcements about ArtPrize 2020, followed by live music in the Studio Park Listening Room.
Culture Pass GR
If you're interested in seeing several of these exhibits or productions, consider purchasing Culture Pass GR.
The pass gives you three days of access to seven of Grand Rapids' most popular cultural venues: the Gerald R. Ford Presidential Museum, Grand Rapids Art Museum, Grand Rapids Public Museum, Urban Institute for Contemporary Arts, Grand Rapids African American Museum & Archives, Grand Rapids Children's Museum, and the John Ball Zoo.
Culture Pass GR also includes exclusive discounts at dozens of other venues and activities, including Civic Theatre, Opera Grand Rapids, and much more.
The passes are easy to buy and use – they're delivered instantly to your phone and can be used immediately.
Other Ideas
If none of these events fit into your schedule, there are plenty more to choose from. For more ideas, read the recent post about spending a fall weekend in Grand Rapids, and peruse the Fall in the City page, Halloween in Grand Rapids page, and Experience Grand Rapids calendar, which has complete listings of what's happening in the greater Grand Rapids area. 
If you like the great outdoors, fall is also a wonderful time to soak in Grand Rapids' outdoor beauty by hiking and biking the Millennium Park Trails or Kent Trails. You can also take our self-guided Fall Color Tour (a similar experience can be found on the Vamonde app), which showcases charming covered bridges, Grand Rapids' lush forest canopy, and much more.
As you can see, you won't run out of fall art exhibits to explore while you're in town. Be sure to let us know which ones you like best, and why, in the comments!
Header image: Kaleidoscopic, Amanda Browder for Project 1 by ArtPrize
Never miss a post!
Subscribe to the Insider Experience blog.