Happy fall, everyone! I'm Ben Darcie, and I'm a 14-year veteran of the Grand Rapids beer scene, including being a beer writer for 12 years and working in the beer industry itself for 10 years. In short, I've spent the last 14 years getting to know the breweries of this great city, as well as their owners, brewers, and front of house staff. It has been one of my greatest life's pleasures. 
When Experience GR asked me to write up an article focused on fall beers, I reached out through various channels, ranging from impersonal to personal, to nearly all of the greater Grand Rapids area breweries, asking what was due on tap this fall.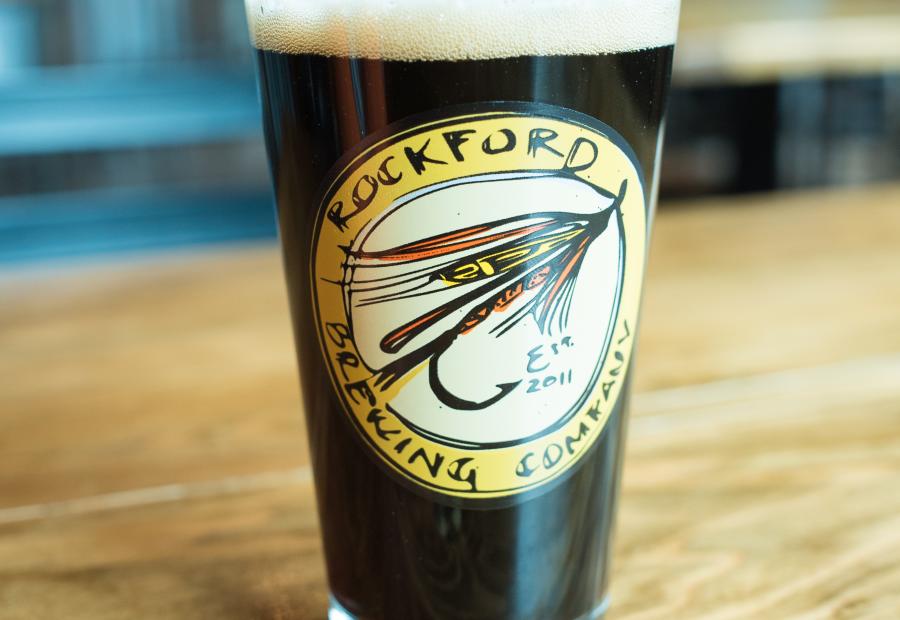 As the season gets cooler, the colors of the beers get darker.
Photo by Experience Grand Rapids
Fall Beer Styles: An Introduction
As the temperature starts to dip in good ol' Grand Rapids, Michigan, an interesting change starts to take place. Beach attendance starts to drop, leaves start changing colors, and the drinking habits of beer enthusiasts start to change along with them. We see the summer-dominating styles start to wane in popularity as enthusiasts start to shift away from the thirst-quenching, easy drinking styles of the sunshine. Shandies, lagers and sessions start to drift away from shelves to make way for their heartier, more fortifying, fall cohorts.
Ambers. Browns. Porters. Bocks. And, dare I say it... Pumpkin beers. Old school brewers hate them ("I'm never, EVER, making a pumpkin beer,") and new school brewers love them, as they've been a fall staple for as long as they've been drinking.
Regardless of the brewer's perspective, there's certainly no wondering how the general public feels about them! Pumpkin beers seem to be released sooner and sooner every year, and people freak out for them every fall. 
Another significant style relative to this time of year would be the great Oktoberfest, a classic German festbier/marzen that is designed for all-day drinking. You'll find many great local examples of Oktoberfest in West Michigan's pubs and breweries - nearly every brewery response I received included at least one Oktoberfest. 
A small note on Oktoberfest: traditional German examples are very, very mellow. American takes on classic European styles tend to go in the direction of "bigger, stronger and more intense," and American Oktoberfests are no exception. If you want to have a cool tasting experience with your friends, go out to a great bottle shop (like Grand Rapids' own Siciliano's Market or Rishi's) and pick up four American Oktoberfests and four traditional German Oktoberfests - grab some cheese and sausage and thank me later.
One last seasonal style worth mentioning is the great Harvest Ale, brewed with fresh, wet hops fresh off the bine (hop vines are called "bines"), instead of the traditional dried and pelletized hops used the other 98% of the year. You can only make harvest ales during a very small window every fall, right when the hops are harvested. They generally come off the bine and into the brew kettle in less than 24 hours, providing giant, juicy vegetal tones and a big, bombastic flavor representation of their variety. Another bonus is that, especially for smaller producers, these fresh hops are coming from a local hopyard!
Well, now that our introductory bases are covered, let's move on into the list.
Great Fall Beers to Check Out in Grand Rapids
This list is presented in no particular order and unranked. The beers listed here are taproom-only releases, as in you have to go visit the taproom to check them out (though some may potentially be packaged). The list is also compiled with an emphasis on smaller producers who are worth taking a trip to check out - I'm sure you've had Founder's Octoberfest and New Holland's Ichabod - you can get them at Meijer, so I figure I'll leave the big dogs out of this one.
Given the seasonal nature of these beers, I wouldn't wait too long to make your travel plans. If there's a brew you're especially interested in trying, contact the brewery first to confirm it's on tap.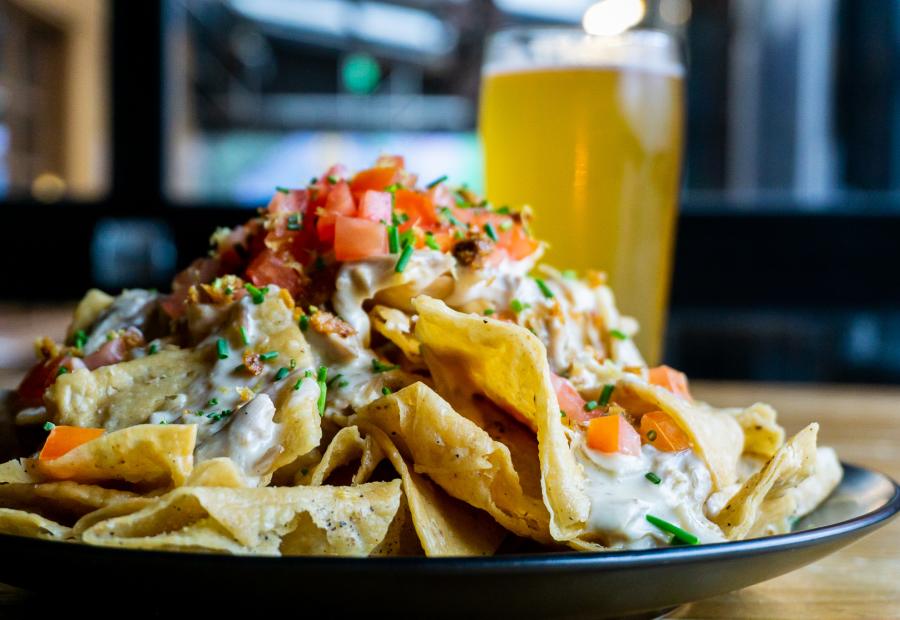 Bring your appetite when visiting Brewery Vivant. In addition to being known for European-inspired ales, the brewery is known for its delicious food.
Photo by Brian Craig for Experience Grand Rapids
Chinook Harvest Ale
Rockford Brewing Company
Rockford, MI
Just north of Grand Rapids
Located in beautiful downtown Rockford, just north of Grand Rapids, Rockford Brewing Company has been making stellar harvest ales for years featuring local Michigan Hops. This year's selection is Chinook, which features some pine, resin, and some bright intense citrus notes of grapefruit. The fresh, wet hops will lend a vegetal, well rounded hop flavor unlike any other! This year's hops are coming from Dog Star Hop Farm, winner of the 2021 Chinook Cup.
Barrel Aged Decadence
Perrin Brewing Co.
Grand Rapids, MI - North
Perrin is celebrating their 10th year with a humongous fall offering called 'Barrel Aged Decadence'. This beautiful monstrosity spent time first in a Heaven Hill bourbon barrel. This gigantic American imperial stout is brewed with fudge cakes and clocks in at an intense 15% abv. Expect huge notes of chocolate, coffee and roast alongside a big, balancing barrel presence full of char and soft hard spice.
Coqtoberfest
Brewery Vivant
Grand Rapids, MI
Midtown
A super cool take on their classic Citra Red IPA, Big Red Coq, Vivant is releasing an Oktoberfest version with a new hop profile. Definitely worth checking out, especially if you haven't visited their stunning taproom, which was built into an old funeral home in midtown. It's like stepping into another world! Also, another fantastic kitchen worth mentioning, go hungry!
Alt Bier
3 Gatos Brewery
Wyoming, Grand Rapids, MI
Their Grand Rapids PROAM entry for this year, 3 Gatos is offering a delicious German Altbier. This is a classic style, light and drinkable with some supporting amber malt flavors that just elevate the entire thing to a deliciously crushable level. One of my favorite styles that's very under appreciated (and under represented), this is a winner for any fan of amber ales, just in a lighter direction. 
Farmhouse Coffee Porter
Pink Barrel Cellars
Grand Rapids, MI - Northwest
Pink Barrel Cellars is a small beauty located on the northwest side of Grand Rapids, tucked into Ed Dunneback and Girls Farm Market. They offer some stellar beer offerings, as their small operation is run by one of the greatest brewers west Michigan has to offer. Take a trip to the northwest off the beaten path and check out this new dynamic and well-rounded coffee porter, along with the rest of their delicious offerings. They offer classic orchard favorites alongside a full kitchen, so you can have the full experience right there on the farm!
Cider
The People's Cider Company
Downtown Grand Rapids / Leonard
While they may not be a brewery, I'd be a fool not to include some of the best cider the state of Michigan has to offer. A small producer with a huge impact, People's Cider uses all Grand Rapids apples and ferments in the classic English tradition, so their ciders are all leaning dry, but not bone dry. They have just enough juice to keep you coming back, sip after sip. A good amount of their fluid ends up in Bourbon barrels, while others are presented naturally or with a wonderful addition of a variety of flavors. Be sure to check out P.C.CO#1, their flagship, barrel aged cider, and Ginger Adams, their stellar ginger cider. There's always new stuff coming on tap, including a rotating dry hopped cider. Other options this September include Mrs. Sally Brown, a beautiful barrel aged scrumpy, and Electric Kool-Aid, a cider with blueberry, lemon and butterfly pea flower tea. Take a seat in their surprisingly small, but superbly well loved, taproom and enjoy a pint of some of the best cider around - tell em' Darcie sent ya!
See also: Pux Cider (Downtown), Vander Mill (Downtown), Robinette's (North), Farmhaus Cider (West), Cascade Winery at Sierra Rose Cellars (SE), Painted Turtle (East / Lowell)
There we are! A wonderful Grand Rapids adventure for your fall. A little bit of everything and a wonderful grouping of Grand Rapids breweries.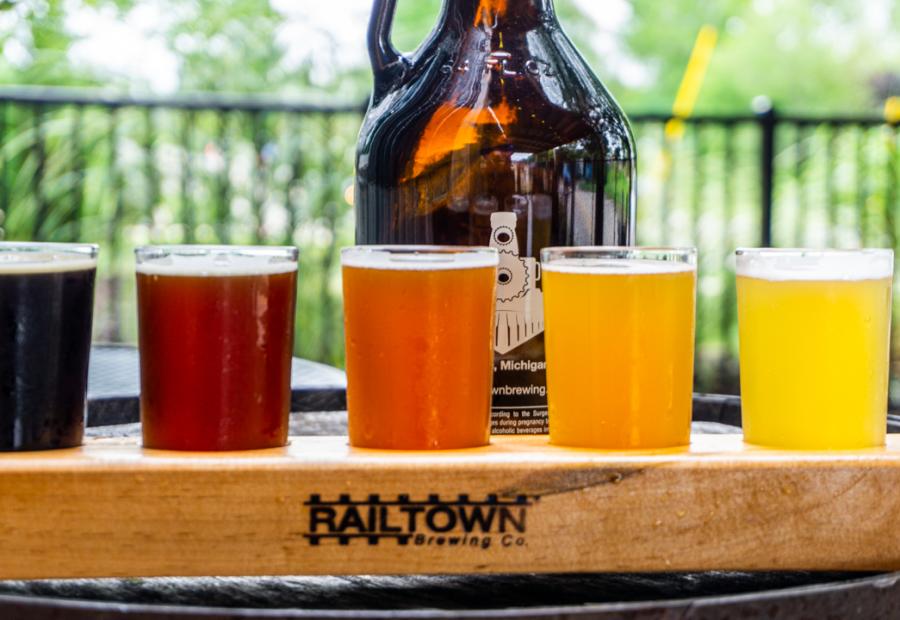 Railtown brewery has a solid patio - perfect for enjoying a beer flight.
Photo by Experience Grand Rapids
More Notable Fall Beers, plus Oktoberfests, Pumpkin Beers and Harvest Ales
Following are some other notable offerings, along with a small collection of Oktoberfests and pumpkin beers, specifically.
Grand Rapids Oktoberfests
Pumpkin Beers
Gravel Bottom Craft Brewery - 100lb Pumpkin (Ada: just east of GR)
Harmony Brewing Company - Grand Pumpkin Chai Ale (Eastown)
Mitten Brewing - Pumpkin Spiced Latte Blonde (Downtown)
Brewery Vivant - Pumpkin Tart (Midtown)
Pink Barrel Cellars - Pumpkin Ale (North GR)
New Holland Brewing Co. - Ichabod (Downtown)
Thornapple Brewing Co. - Punkin DeeLite (Southeast GR)
Railtown Brewing Co. - Yammit All (Fall Beer w/ Sweet Potato - Dutton / Southeast GR)
TwoGuys Brewing - Biere De Gourd (Wyoming / Southwest GR)
Harvest Ales
City Built Brewing Company - Harvest Lager (Downtown)
Founders Brewing Company (Downtown)
Mitten Brewing Company - Harvest Ale (Downtown)
Pink Barrel Cellars - Dunneback Harvest Ale (North GR)
Coopersville Brewing Co. - Hydra Harvest (West of GR)
There are plenty more brews available beyond those listed here, so leave a comment and let me know your fall favorites. Happy exploring!
Eight "stamps" in your passport and you become an official Beer City Brewsader! Get the app today!