In classic Michigan fashion, fall has arrived in full force, and quickly. Beers turn darker, cocktails turn toward hard spice, and we arrive at the penultimate season for hard cider. 
A good friend of mine, Pat Evans, wrote an awesome article on fall beverages a few years ago, which still holds true. I'm going to try to avoid repeats here, and I'm also going to be taking things in a slightly different direction.
When I was asked to offer my favorite fall beverage stops, the first thing I thought of was the influence of the fall to get me outside. Cool, windy days are my very favorite, and there's not much better for me than spending some time on a beautiful patio, enjoying the weather and watching nature change around me.
So, without further ado, I present to you my unranked favorite spots in Grand Rapids to eat and drink outside.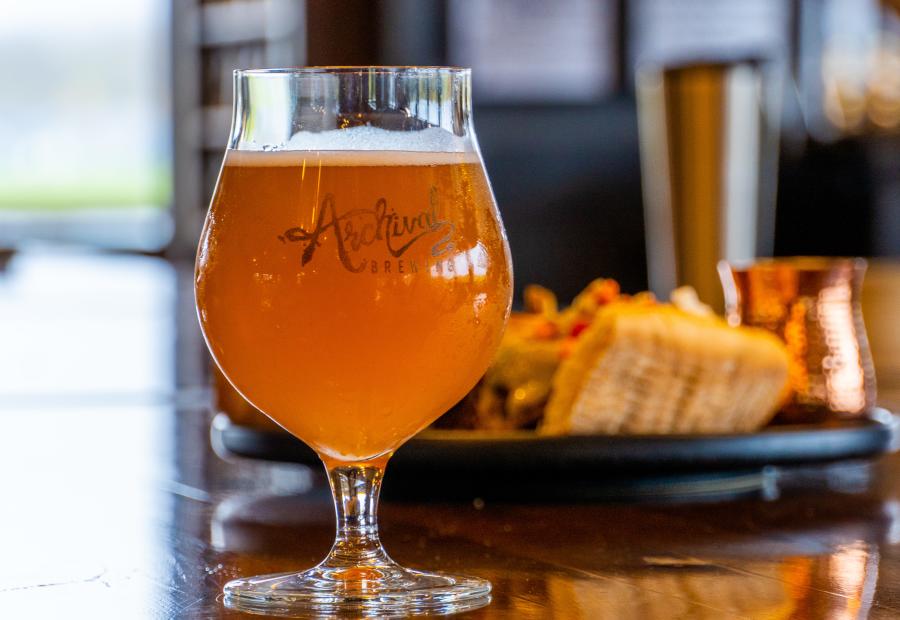 Enjoy craft beer and crafted food while taking in Grand River views at Archival Brewing.
Photo by Experience Grand Rapids
Breweries
Archival Brewing Company
Archival Brewing was built on the north bend of the Grand River and is surrounded by nature, even peeking through the windows, if you choose to stay inside. They boast an impressive kitchen and a diverse selection of beer, cider and mead. Currently undergoing external renovation, they will soon have a 96-seat beer garden, four fire pits and four bocce ball courts. Pair that with the neighboring disc golf course, and you've got yourself a premium fall destination.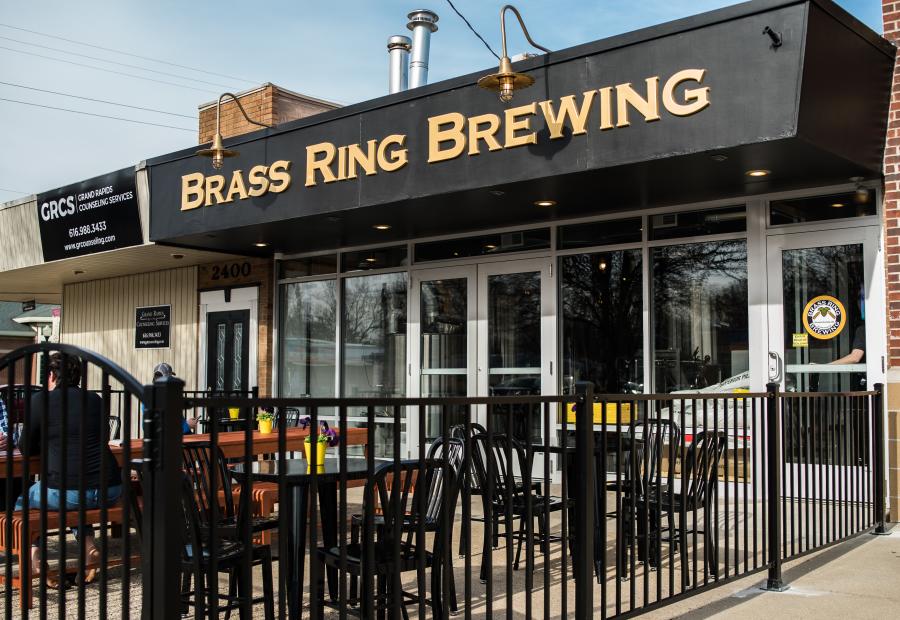 Looking for a fun neighborhood brewery? Then Brass Ring is for you.
Photo by Experience Grand Rapids
Brass Ring Brewing Company
Tucked into Alger Heights is a lovely little English brewery called Brass Ring. They have a small, but very comfortable patio out front on Eastern. It has a real neighborhood vibe, with relaxed English fare, some classic beers and even some cask (engine) pours.
Third Nature Brewing Company
Third Nature is on the way into downtown Rockford and features one of the largest outdoor spaces in greater Grand Rapids. Firepits (yes, please) and a huge outdoor space surrounded by looming, beautiful trees. A perfect spot to kick back, enjoy a beer and get into some of the offerings from their kitchen with friends.
Grab a beverage at City Built and then head over to The Welcome Center.
Photo by Photo: Experience Grand Rapids Artwork: Tashif Turner - THE SHEEFY EXPERIENCE, ArtPrize 2021
The Welcome Center at City Built Brewing Company
Possibly one of my very favorite innovations as a result of the pandemic is the creation of the Welcome Center on Canal Park, opposite City Built Brewing Company. One of my greatest joys this fall is grabbing a couple beers, going across Monroe to the Welcome Center, turning a couple chairs around to face the Grand River and watching the river roll by while the leaves change color. There's a literal "to-go beer window" for easy brew access, and their entire menu is available to be picked up and brought over to the Welcome Center.
Cideries
Pux Cider
Pux Cider is a small cider house residing in downtown Grand Rapids is on Michigan and Fuller. Originating in Conklin, they have a comfortable patio and a diverse selection of ciders for your tasting and enjoyment (I'm a big fan of the Orchard Brut). As an extra bonus, The Cheese Lady is next door, and cheese is most welcome in the taproom.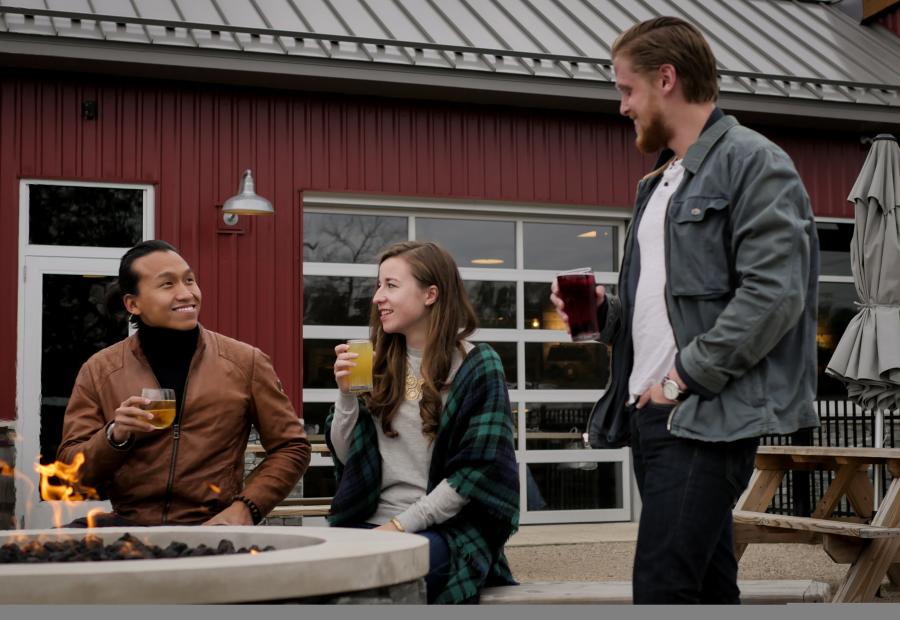 Craft cider and a fit pit come together beautifully at Vander Mill.
Photo by Experience Grand Rapids
Vander Mill Cider
Located on Michigan & Ball (and conveniently right down the road from Pux Cider), Vander Mill is (in my opinion) one of the great Michigan cideries. Their patio is wide and very comfortable with a big fire pit and a beautiful surrounding area - it almost feels like you're on an orchard somewhere. They have an impressive kitchen and some excellent ciders, and I'm a big fan of their single varietal ciders.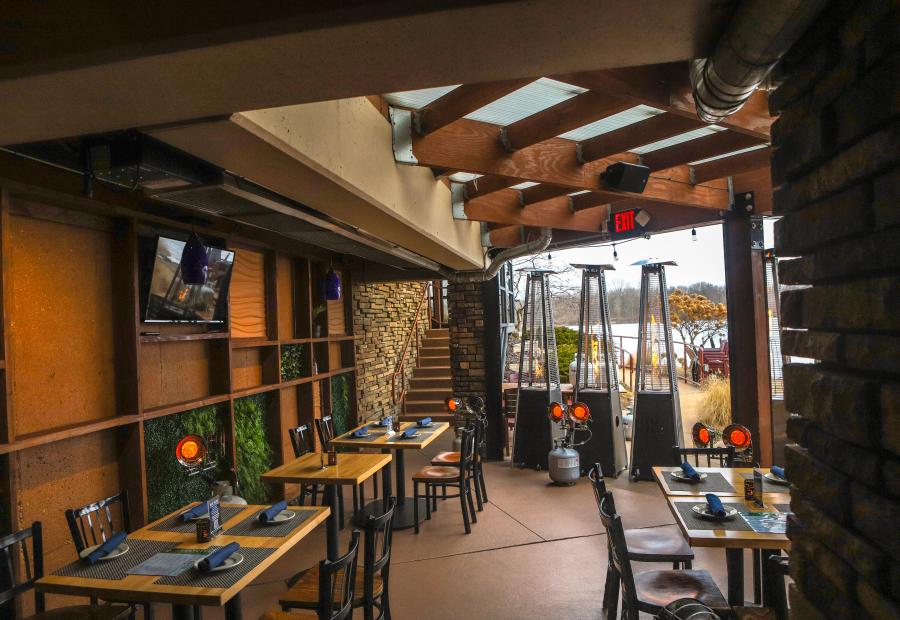 Get cozy at Blue Water's patio.
Photo by Experience Grand Rapids
Restaurants and Bars
Blue Water Grille
A Grand Rapids classic, you can't talk about impressive outdoor spaces without including Blue Water Grille on Northland Drive. It's a truly beautiful space, right on the water with an intentful, curated outdoor space overlooking Versluis Lake. They offer handcrafted cocktails and a diverse taplist alongside an impressive food menu that is very much worth exploring.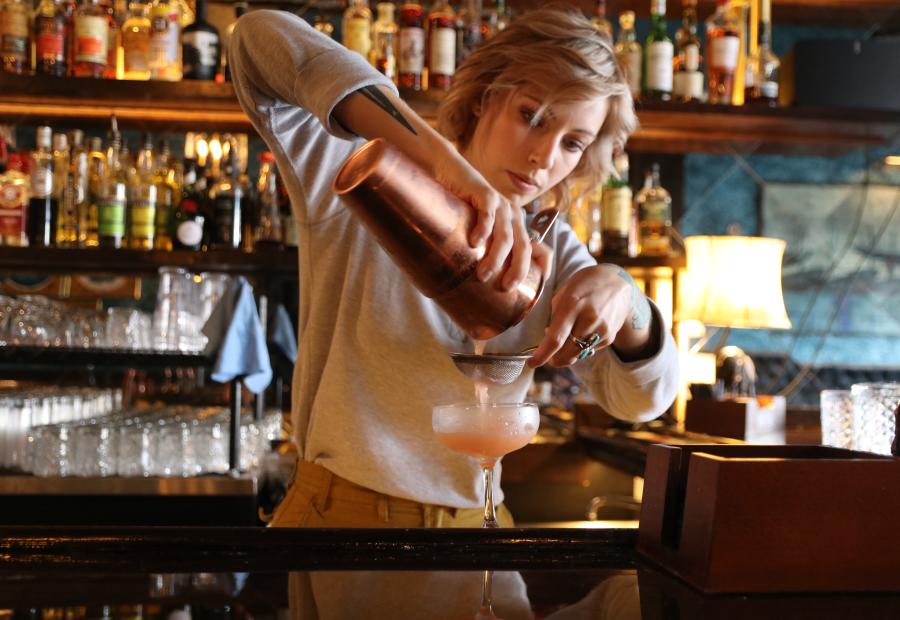 Buffalo Traders Lounge is a great stop for next-level craft cocktails.
Photo by Experience Grand Rapids
Buffalo Traders Lounge & Post Off 
Just outside of downtown on Fulton & Diamond (Midtown) resides the great Buffalo Traders Lounge and their new sister bar, Post Off. While Buffalo focuses on fantastic and inspired cocktails, Post Off focuses on an interesting branch of the beverage world, obscure wine and Amaro. Take a seat on their small, but very comfortable, rear patio, maybe grab some fantastic Ethiopian food from Little Africa next door, and enjoy some of the best and most varied beverage programs in town.
Graydon's Crossing
This might be one of my favorite patios in the city, it's comfortable and enthralled with growth. Plants, small trees, vines - it's an awesome experience. You're right on the corner of Plainfield and Division, but you would never know it on Graydon's patio. They have a classic menu (including their famous fish and chips) and a wonderfully diverse beverage program - it's definitely worth a stop.
Markets and More
Horrocks Farm Market, Kentwood
The Grand Rapids branch of the intensely impressive Horrocks Farm Market family continues the tradition of extensive and diverse tap list selection. The tavern recently expanded into a full blown beer garden, full of umbrella-ed tables, lounge chairs and plenty of green to please the eye. Food options abound as well!
More Craft Beverage Stops
While these locations are generally top of my list, it was a tough one to narrow down, so I decided to give myself a break and offer you some other places worth visiting this fall and any time of the year:
I hope you enjoy your fall explorations of the Greater Grand Rapids area! 
Many of the breweries mentioned here are part of the Beer City Brewsader® Passport. You can learn more about it below.
Eight "stamps" in your passport and you become an official Beer City Brewsader! Get the app today!