Whether you've visited Grand Rapids before or if this your first time here, it can be hard to figure out what to put into your suitcase as you get ready to travel. As someone who is local to Grand Rapids and into fashion, I'm here to help with my style guide driven by local hotspots to help you get dressed no matter what activity you're planning.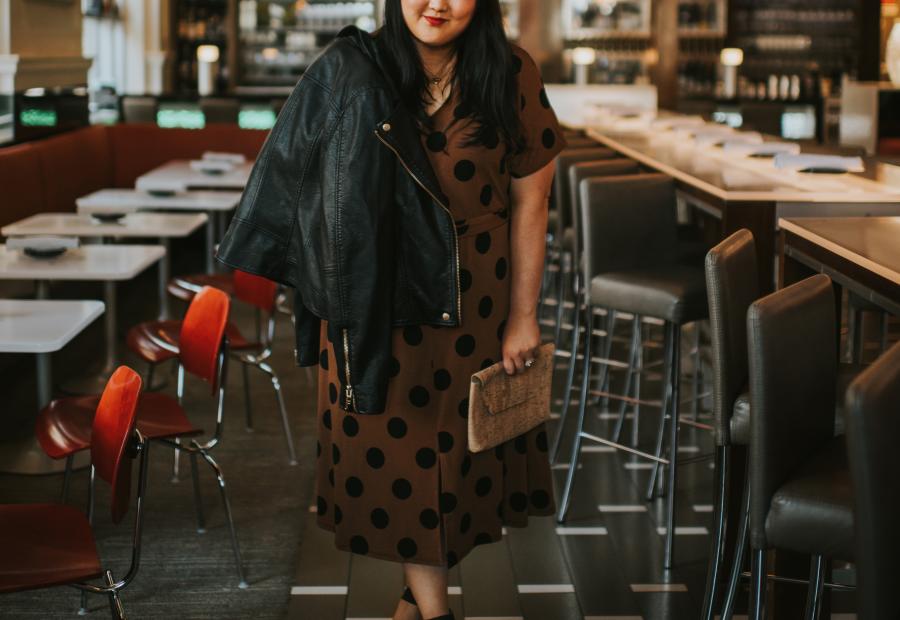 A midi dress and a simple clutch is one of my favorite looks for a fall date night.
Photo by Experience Grand Rapids
Make It A Date 
Grand Rapids is the perfect city for a date night. From foodie-friendly restaurants to exciting concert venues, there are endless options for you and your partner to enjoy. 
For this look, I went with a midi dress from Lee and Birch which is always a great stop when shopping for date night outfits. With its selection of dresses, statement jackets, and unique accessories, you are sure to hit the town in style. This polka-dot number was the perfect piece for a dinner date. The finishing touches were a simple leather jacket, ankle strap heels, and a neutral clutch.
Date Night Ideas
After a dinner at one of my favorite restaurants, Reserve, you would be within walking distance of music at the Grand Rapids Symphony, after-dinner drinks at the new, secret speakeasy I Don't Care, a production at Grand Rapids Civic Theatre, or, if it's a Thursday, a stroll through the Grand Rapids Art Museum, which is open until 9 pm on Thursdays and has free admission starting at 5 pm.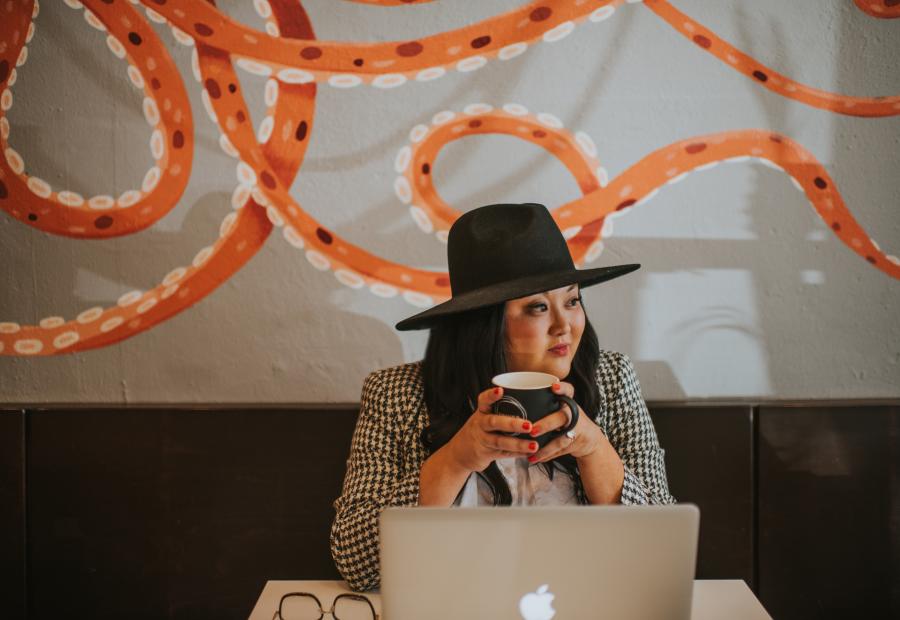 Grand Rapids has a variety of great local coffee shops perfect for a day of working remotely.
Photo by Experience Grand Rapids
Co-working In A Coffee Shop Day 
While there are so many outlets for fun in Grand Rapids, trips often call for days of focus as well. There's an impressive coffee scene in the city that makes parking yourself to get down to business a breeze. No matter what your taste is, there's a local establishment slinging coffee that will fit your palette and working style. 
This outfit is one of my go-to looks when I am cozying up in a coffee shop. The houndstooth blazer was a find from Rosa's Closet, an upscale resale shop in East Grand Rapids where I can always find something stylish and unique. A crisp white button-up and hat from The Counting House were the finishing touches. 
Coffeeshop Ideas
There's a wide range of coffee shops in Grand Rapids from taste to overall ambiance. Well known Madcap has two locations (Monroe Center and Fulton Street), both offering their renown brew and a welcoming vibe. Squibb Coffee and Wine Bar has a laid back atmosphere perfect for a day of productivity. If it's too late for caffeine, you can opt for a glass of wine or a pint of your favorite local beer.
Lantern Coffee Bar and Lounge is nestled in the heart of downtown and is a great location to sit in the window and watch the world go by as you enjoy a well-crafted latte or sweet treat. Ferris Coffee also delivers when it comes to destinations for a workday with their signature menu and multiple locations.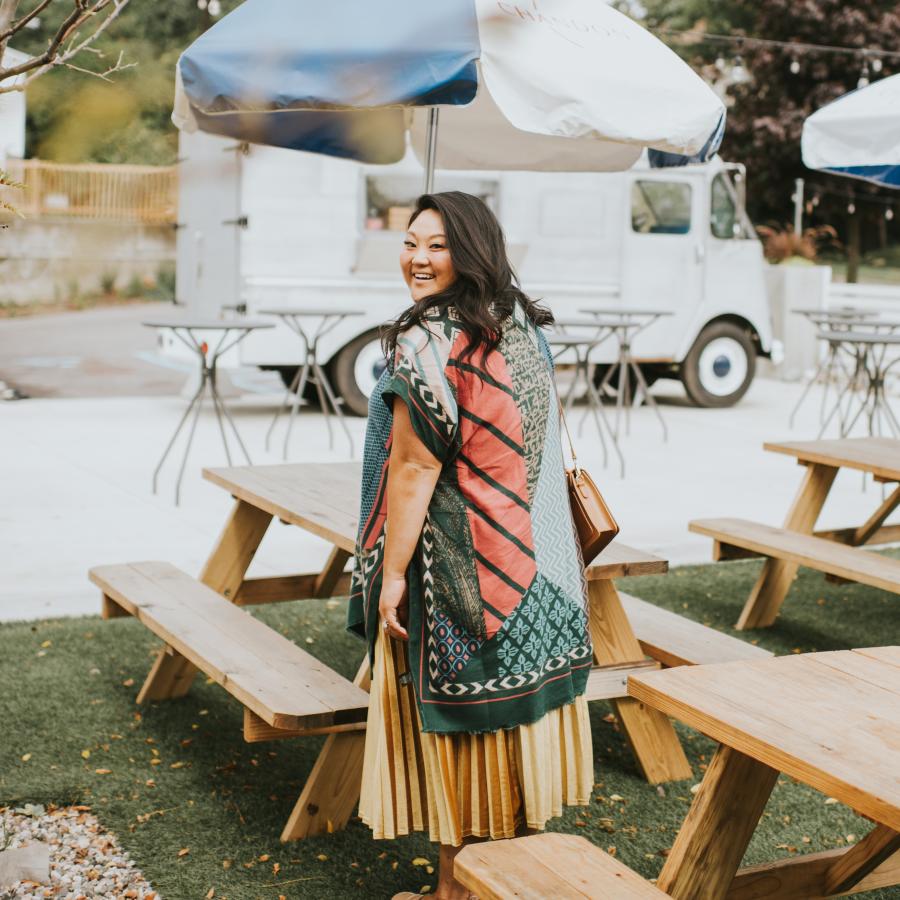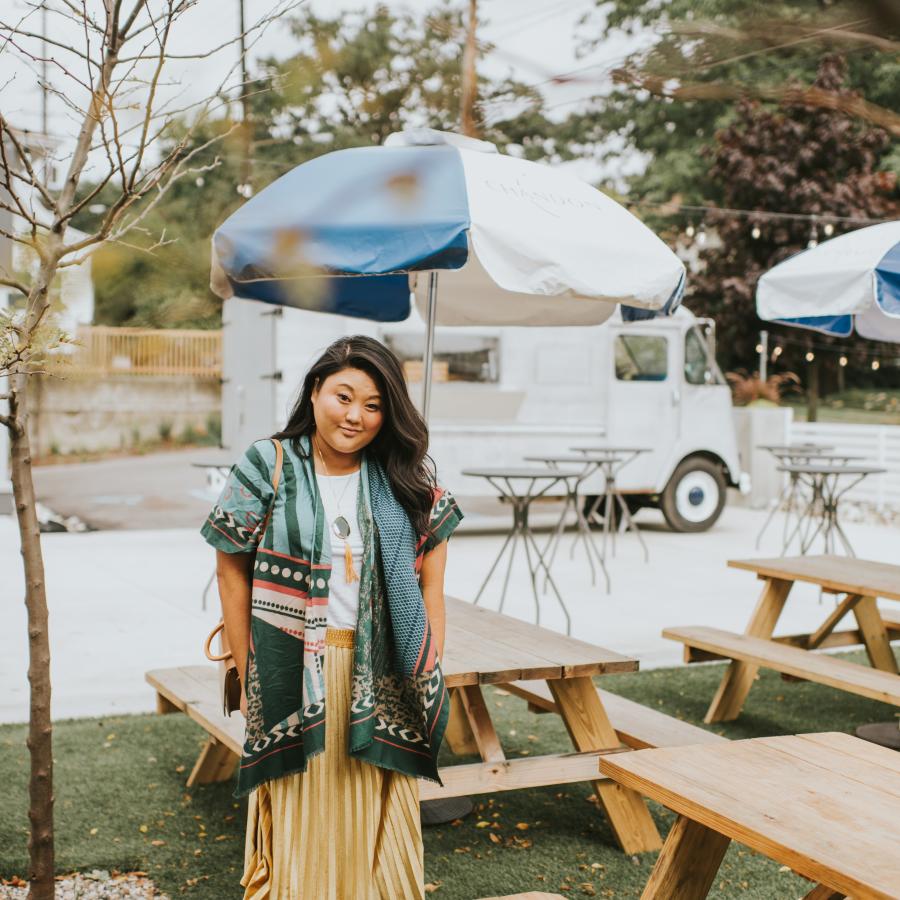 A kimono shrug, simple white tee, and mustard skirt were the perfect combo for a fall day spent exploring Grand Rapids.
Photo by Experience Grand Rapids
Let's Go Exploring
There are so many great boutiques and eateries for a day of exploring. The local community continues to develop, providing diverse options for everyone. For a day of living local, I wanted something simple that allowed me to shop and dine with ease. The winner was a kimono shrug from Lee and Birch. A simple white tee from Gina's Boutique and mustard skirt completed the ensemble. Accessories can make or break an outfit, so I opted for a statement necklace and neutral bag from Iris Boutique.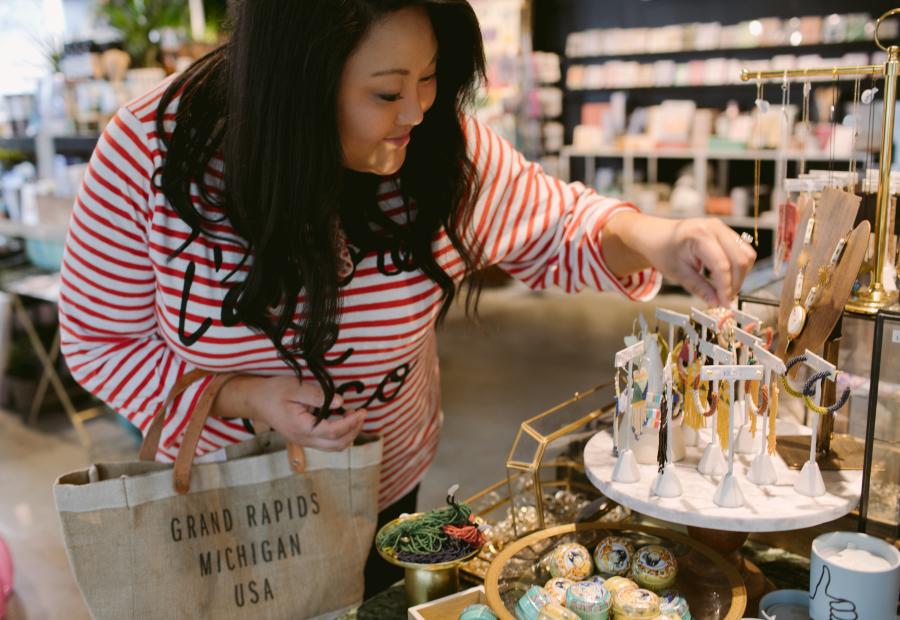 There's no shortage of adorable, unique shops in Grand Rapids. Rebel is a great stop for gifts or even just to treat yourself.
Photo by Experience Grand Rapids
Exploring Ideas
The boutiques that helped this look come together are all great stops for a day of exploring. Gina's Boutique is a staple of Monroe Center. My favorite aspect of Gina's is that no matter what age you are or what style you have, you can always find a great clothing item or must-have pair of shoes there. 
Iris Boutique is an accessory-loving person's dream with its well-curated collection of jewelry, bags, footwear, and scarves. I love this shop because it has all kinds of accessories whether I'm looking for a simple everyday piece or something to make a statement. 
Other stops to add to your day are Books and Mortar, Rebel, Fox Naturals, and Stoffer Home. 
After some shopping, make your way to lunch in the Uptown neighborhood at Donkey Taqueria, Hancock, Terra, The Littlebird, or a number of other fantastic options.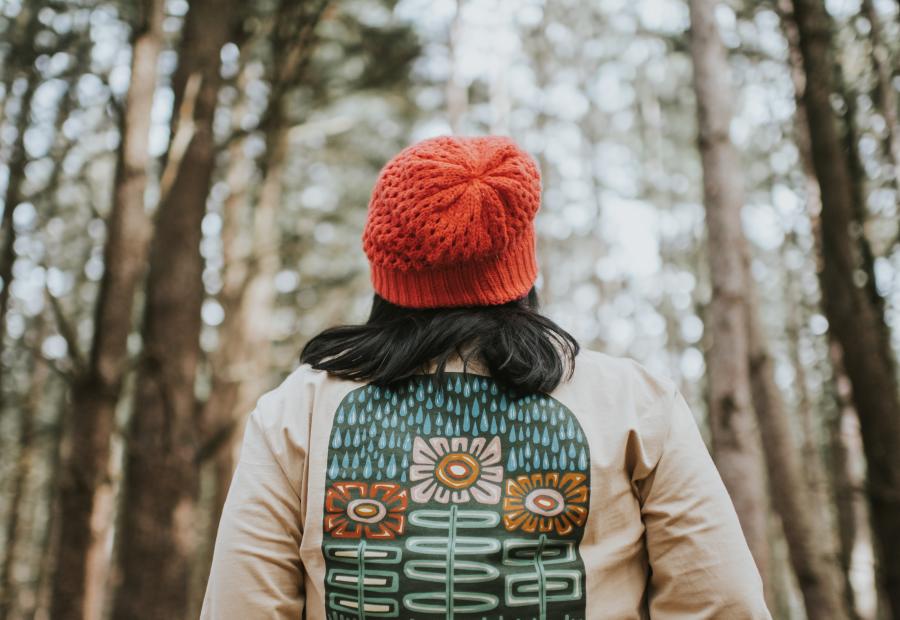 Woosah is a great place to shop before a day exploring the trails around Grand Rapids.
Photo by Experience Grand Rapids
Enjoy The Great Outdoors
One great thing about Grand Rapids is that, once you're done exploring the city center, there are plenty of beautiful outdoor spots just minutes away.  Whether you're ready to conquer miles on a bike trail or go for a light hike, the greater Grand Rapids area has what you're looking for. 
Thankfully, there are some amazing spots to get all of the attire you need for these types of activities with the legendary Woosah, as well as Moosejaw which is located conveniently by the Downtown Market. For this outfit, I went with a cheery long sleeve top from Woosah.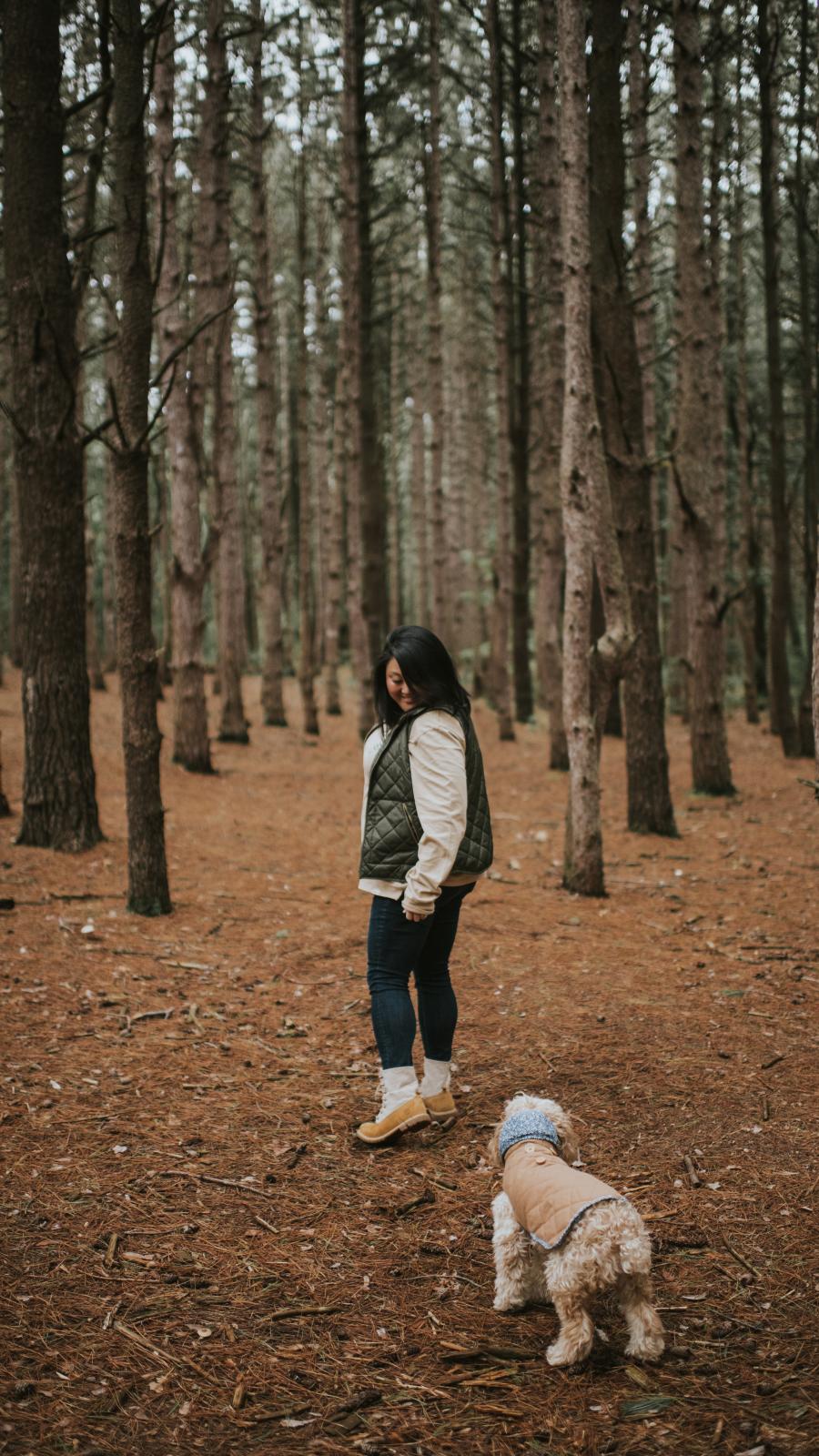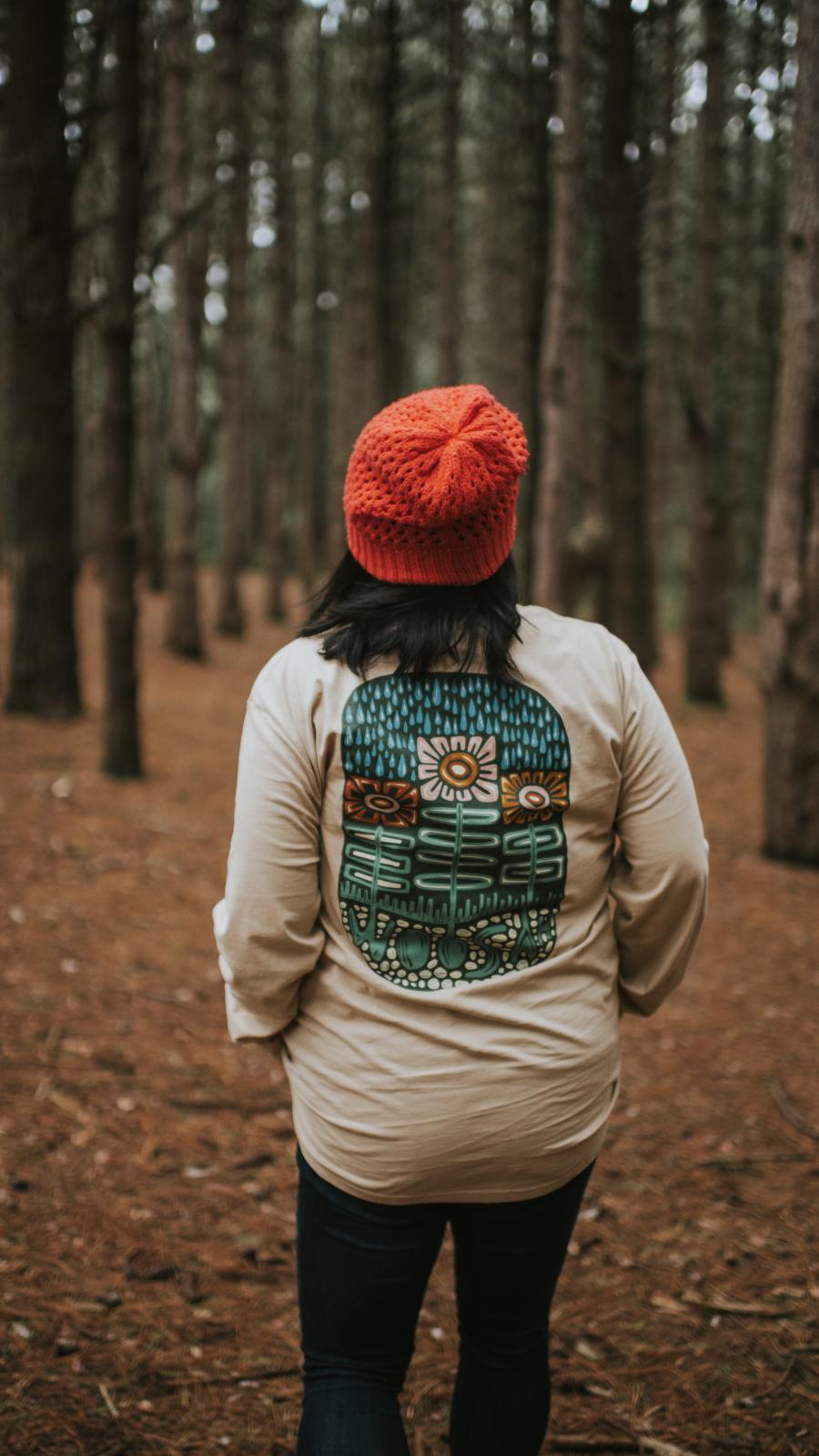 The Grand Rapids area is full of trails to explore for a fall adventure.
Photo by Experience Grand Rapids
Outdoor Ideas
There are some great local hiking spots in the area. To name a few: Provin Trails in Grand Rapids, Cascade Peace Park in Cascade Township, and Rosy Mound in Grand Haven. If you are a cyclist, check out this post detailing everything you need to know about the local biking scene. 
No matter what your visit includes, we hope this guide helps you discover ideas of what to wear, where to buy it, and what to do while you soak in the best that Grand Rapids has to offer.