Fall is arguably the best time of year for hiking in Grand Rapids. The weather is crisp and cool, and you get to take in the beautiful pops of color from the changing leaves. From paved trails to dirt paths, there are plenty of outdoor spaces to get some steps in while enjoying the scenery. 
Here are six trails to explore by foot, a couple of which are recommendations from Stephanie Adams, executive director of Friends of Grand Rapids Parks, a local nonprofit dedicated to ensuring the city creates and retains sustainable urban forests.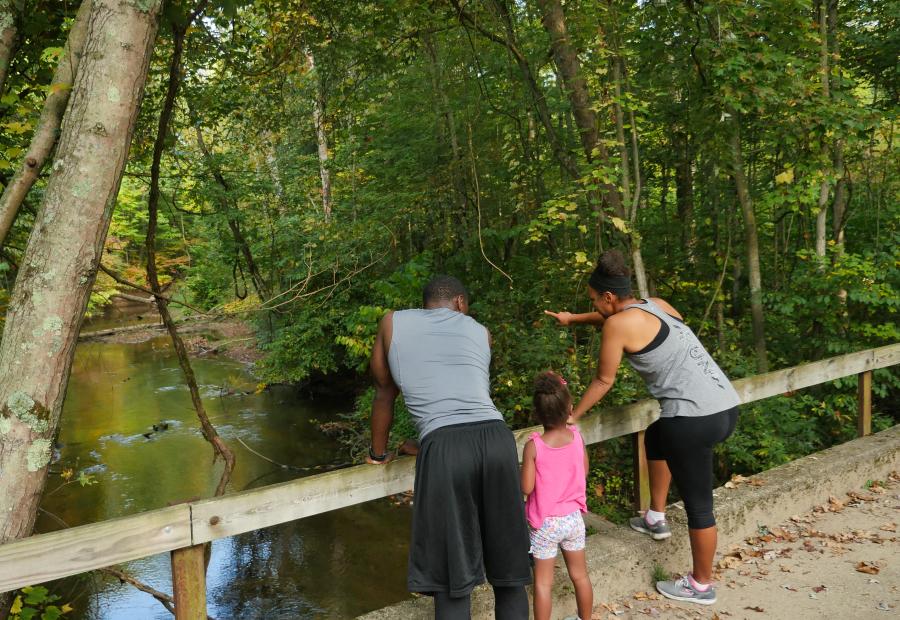 Aman Park has six self-guided, color-coded trails ranging from 0.8 to 1.5-mile loops.
Photo by Experience Grand Rapids
Aman Park
Located off of Lake Michigan Drive outside Grand Rapids near Standale.
This hidden gem is the most natural park out of all Grand Rapids city parks, according to Stephanie Adams. "Aman Park is one of my favorites," said Adams. "It's very wild and woodsy with a creek that runs through the park."

Aman Park has six self-guided trails ranging from 0.8 to 1.5-mile loops. The trails are color-coded, so be sure to remember which one you're on as there are wood posts throughout the park to guide you on your way. 
There are two parking areas near the trailhead. Be sure to bring hiking boots or shoes you don't mind getting dirty or wet, as this park can be soggy.
Ball Perkins Park
Located on Perkins Avenue between Knapp and Leonard
Short on time or looking for an easy, flat trail? The beautiful trail at Ball Perkins Park is approximately one mile and takes you from Perkins to Ball Avenue. There are a few sitting areas that are nice to take in the views of the underdeveloped natural land. 
The trail is quiet and tucked away in the Northeast part of Grand Rapids where locals go to get in some steps on weeknights. If you're lucky, you may spot deer and ducks near the overlook by the wetlands. 
You can access this trail on Perkins Avenue near the community garden. There is a large parking lot right next to the trailhead.
Huff Park Trail
Located on Ball Avenue near Aberdeen Street
Beyond the baseball diamonds at Huff Park, there is a paved nature trail with a new boardwalk that goes over a marsh. Huff Park Trail is a wonderful place to observe nature. You can spot blue heron, monarch butterflies, deer, turtles, and other wildlife along the trail. Huff Park Trail is certainly one of Grand Rapids' best-kept secrets because of its serenity within the city. 
The trail has two loops that are 0.6 miles and one mile long. "This is a wonderful spot for kids and families alike because there's so much to see. There's plenty of sitting areas along the boardwalk as well if people want to sit and relax during their hike," said Adams. 
You can park in either parking lot off of Ball Avenue or Aberdeen Street to access the trail.
Provin Trails
Located off Four Mile Road near the East Beltline.
Escape the city to a dense pine tree forest that's minutes away from downtown Grand Rapids. Provin Trails is a sandy adventure that features nearly two miles of interconnected loops that span more than 40 acres of woods. 
There are plenty of hills and a giant sand dune near the center of the park, as well as tons of trees that are perfectly spaced for hanging a hammock. 
You can access the trail from the parking lot which is on Four Mile Road.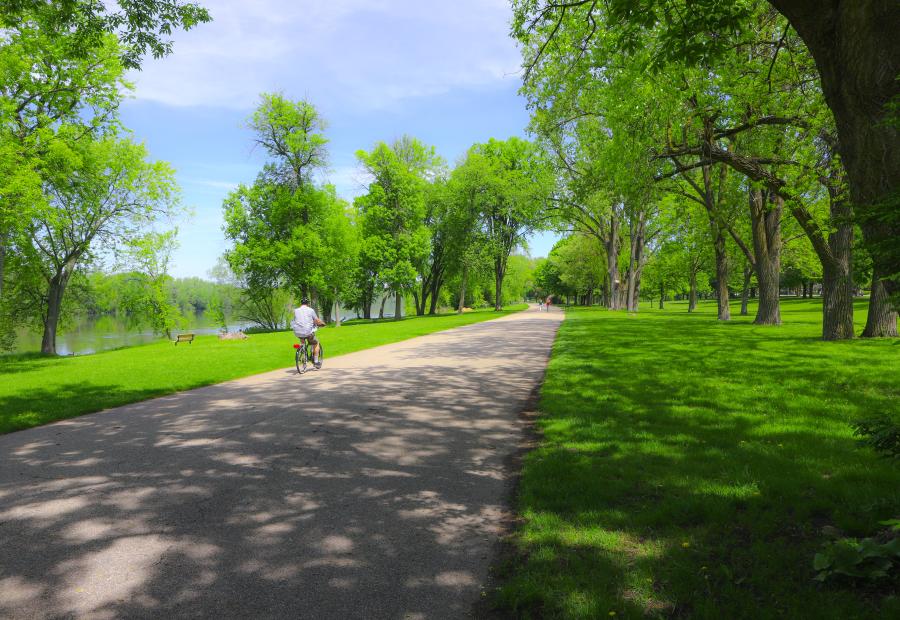 Riverside Park Trail offers about three miles of paved, even trail, perfect for a casual or beginner hiker.
Photo by Experience Grand Rapids
Riverside Park Trail
Located on Monroe Avenue and Knapp
Riverside Park Trail is a popular hiking spot that offers great views of the picturesque Grand River along a tree-lined trail. You can enjoy about three miles of paved hiking on a flat surface which is perfect for a casual hike or for beginners. 
Parking is available in a few spots, but we recommend you begin at the south trailhead at Monroe and Knapp and walk the loop near the highway overpass by the Veterans Cemetery.
If you want a longer hike, keep heading north as this trail connects to the Fred Meijer White Pine State Trail.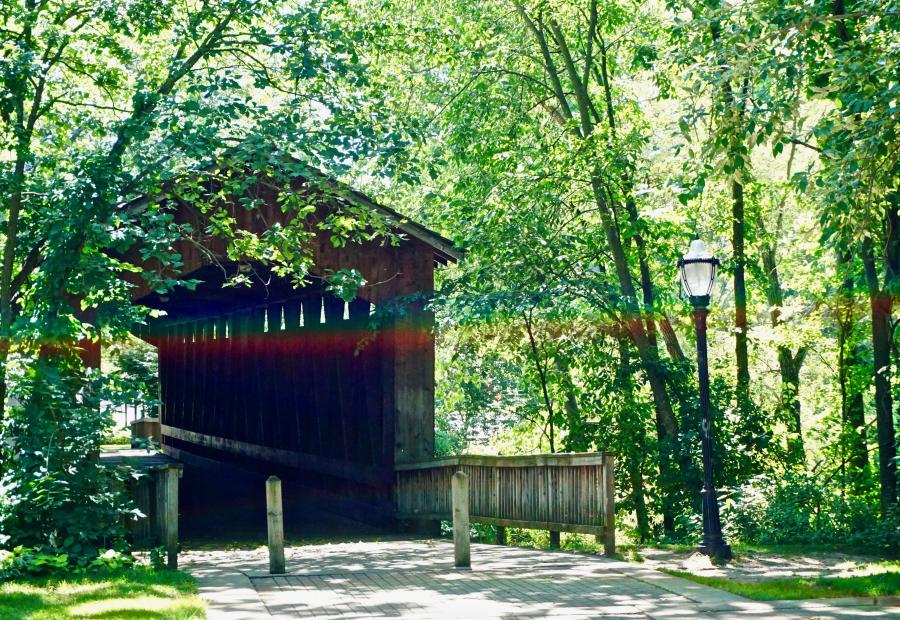 While you're in Ada hiking at Seidman Park, be sure to check out another great fall destination, the Ada Covered Bridge.
Photo by Brain Craig for Experience Grand Rapids
Seidman Park
Located on Conservation Street near Honey Creek Drive in Ada
This unique spot has natural-surface trails throughout underdeveloped woods and wetlands. Seidman Park is enclosed by 400 acres of woods, and there are boardwalks and bridges that connect between three different loops. 
The trail lengths range from a quarter-mile loop off the south parking lot to roughly four miles if you follow the entire perimeter of the system. You can access Seidman Park either from the North or South parking lots. 
Want even more steps? Get to Seidman from the Ada Trail which is a paved pathway that runs along the north and south borders of Seidman Park.
It's time to lace up those hiking shoes and grab your camera. These trails are picture-perfect in the fall. If you check out any one of these places, be sure to tag Experience GR in your photos. Happy hiking!