Fall is a beautiful time to visit West Michigan. The air is crisp, the skies are blue, and the trees are decked with brilliant reds, yellows, and oranges.
It's also the time of year that outdoor art is in full bloom, whether it's the year for ArtPrize® or, in alternate years, Project 1.
Another great thing about fall in Grand Rapids is that there are plenty of fall-themed craft beers to try at local breweries throughout Beer City.
To help you make the most of your fall trip to Grand Rapids, we've curated a suggested itinerary. Pack your bag and get ready for hot cider, autumnal brews, and all sorts of fall fun.
Since there are so many things to do in Grand Rapids, this itinerary is by no means comprehensive, but here are a few recommendations to get you started:
Thursday
The Haunt
Time: Evening
Available: September 13 - November 2, 2019
Kick-off your visit to Grand Rapids with a scary trip to West Michigan's premier haunted attraction, The Haunt. For 19 years visitors have braved its terrifying themed rooms, each with a story that changes annually. 
With 50,000 square feet of thrills and chills, a stop at The Haunt is a thrilling way to start your fall weekend in Grand Rapids. Tickets can be purchased online or at the door. Pre-registration is recommended, as some spooky nights do sell out.
If the Haunt isn't your thing, there are plenty of other hair-raising activities in town. Consider the Historic Ghost Walking Tour, which will take you through the city (about a two-hour, one-mile walk) where you'll stroll the streets and learn about local ghostly stories and spine-chilling happenings.
You can also try your luck in one of Grand Rapids' several escape rooms, including the creepy challenges at The Great Escape, The Ruse, and Locked Up Escape Rooms.
Visit the Grand Rapids Attractions page for more information on local escape rooms and our post about planning a haunted weekend in Grand Rapids offers more frightening ideas.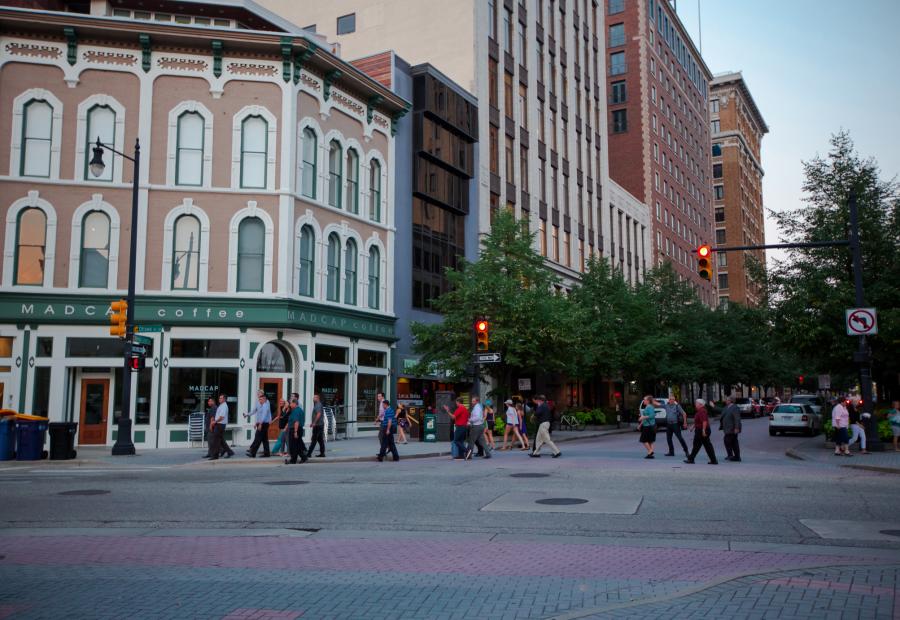 Stop by Madcap in downtown Grand Rapids, and then check out some of the downtown-area Project 1 exhibits.
Photo by Experience Grand Rapids
Friday
Coffee, Art, and a trip to Holland
Time: Morning
Available: Madcap and Holland, year-round; Project 1: September 7 - October 27, 2019
Start your day with a stop at Madcap Coffee, a local coffee roaster and retailer with national recognition, including praise from GQ Magazine.
After you're thoroughly caffeinated, take time to explore the Project 1: Crossed Lines exhibits, located throughout the city (some downtown, others a bit farther — read this post to learn all about Project 1 and this post for more location and artist information). This event is the first in a series of citywide, community-oriented public art commissions to take place biannually.
The other biannual art event, which will take place again in 2020 (and even-numbered years thereafter), is ArtPrize, the world's largest open, independently organized international art competition. 
If you're visiting Grand Rapids during those years, you'll be rewarded with fantastic works of art displayed throughout ArtPrize venues in greater Grand Rapids.
Follow your exploration with a side trip to Holland to take in the beach town's quaint downtown and Dutch heritage. About a 45-minute drive from Grand Rapids, downtown Holland is filled with art galleries, boutiques, and independently-owned restaurants.
Stop at Butch's Dry Dock for lunch or, if you're a fan of brewpubs, try New Holland's Pub on 8th. If time and weather permit, swing by Holland State Park to walk one of West Michigan's many scenic beach spots.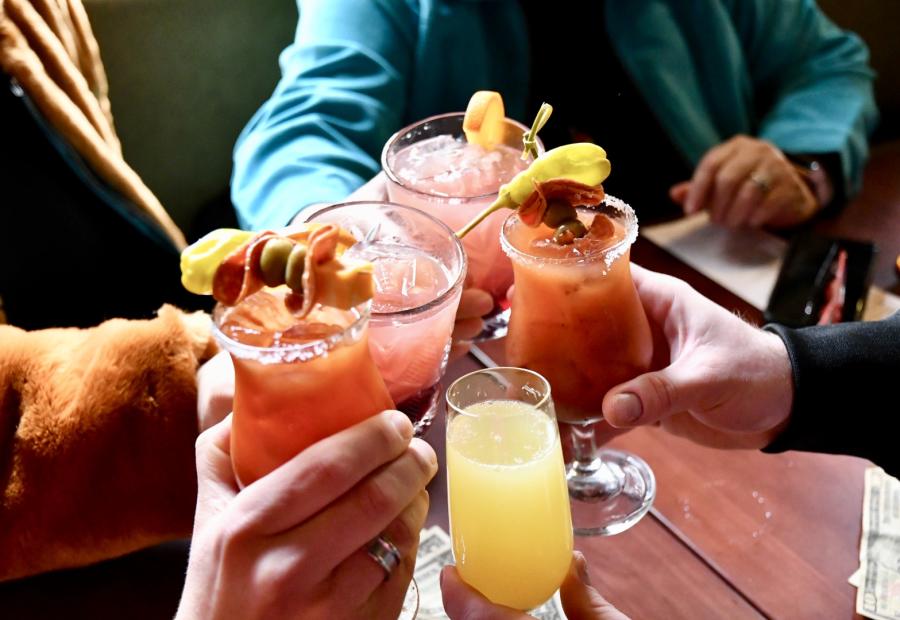 There are plenty of festivals and events to plan your weekend around during Fall, like Cocktail Week GR, a 12-day celebration of crafted beverages around Grand Rapids.
Photo by Eric Zuniga for Experience Grand Rapids
Festivals or Dinner Downtown
Time: Afternoon/evening 
Friday afternoon and evening activities will vary depending on your interests and timing. Also, check your calendar to see if your trip coincides with one of Grand Rapids' many events taking place this fall. 
Festivals and Special Events
Earlier in the afternoon/evening on the weekend of October 19th, you won't want to miss the Beer City Brewers Guild's first annual Brews in the Grove festival. Relax at Riverside Park from 1–5 PM and sample local brews, meet the brewers, grab a bite at the food trucks, and enjoy music played by a DJ. You'll also be able to try beers from the annual Pro-Am competition, which pairs award-winning local homebrewers with breweries in the Brewers Guild to collaborate on new beers. 
Tickets will be available on Eventbrite for $45 per person and include 10 3-oz. tastings. Additional sample tickets can be purchased for $1 each.
If you're in town September 27 – 28 get tickets to Oktoberfest Grand Rapids. The festival features German food, beer, and wine. There's also an Edelweiss Club choir and German bands, as well as fun events like keg-tossing and stein-holding contests. Don't miss the Alphorn players at the opening ceremonies.
If cocktails make you smile, you'll want to time your visit with Cocktail Week Grand Rapids, which runs from November 13 – 24. Savor specially featured cocktails with your dinner at lots of local distilleries and restaurants during the 12-day event. Check our Cocktail Week GR page for menus and updates.
Grand Rapids' 12th annual International Wine, Beer, and Food Festival takes place at DeVos Place November 21 – 23. Enjoy the opportunity to sample from 1,500 wines, beers, ciders and spirits from around the world, as well as the area's finest restaurants.
Dinner Around Downtown
While in town, also check out Grand Rapids' fantastic restaurant scene. With so many restaurants featuring locally-sourced ingredients, it can be hard to choose from the city's mouthwatering selections. 
Try local hot spots like award-winning Bistro Bella Vita, Divani, New Hotel Mertens (especially their rooftop lounge, Haute), or any number of other fantastic restaurants around downtown.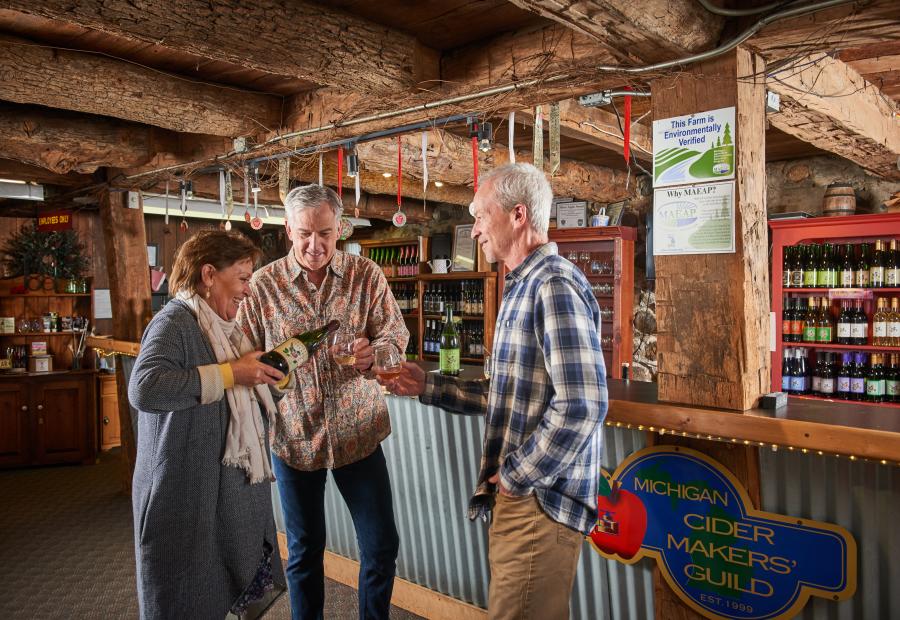 Visit local orchards, cider mills, and farms for hayrides, cider and donuts, and other autumn activities.
Photo by Experience Grand Rapids
Post Family Farm Trip
Time: Morning
Available: check websites for seasonal availability
Start your Saturday morning with a visit to one of our many local farms to enjoy the fruits of fall, as well as donuts, cider, hayrides, and a corn maze.  
Post Family Farm in Hudsonville is about 15-miles southwest of downtown Grand Rapids. There you'll find delicious homemade pumpkin, glazed, or cinnamon sugar donuts.
The Post Family Farm also offers hayrides, bonfires, a corn maze, U-pick pumpkins, and more. Nearby Hudsonville Brewery & Pike 51 Brewery or White Flame Brewing Co. are great places to stop for a drink and some lunch afterward, not to mention a stamp or check-in on your Beer City Brewsader® passport or app (more on this below). 
There are lots of other local farms, each with their own charm like Ed Dunneback & Girls Farm Market, Robinette's Apple Haus & Winery, and Fruit Ridge Hayrides.  For more ideas, check out our Family Farms, Markets & Tours page.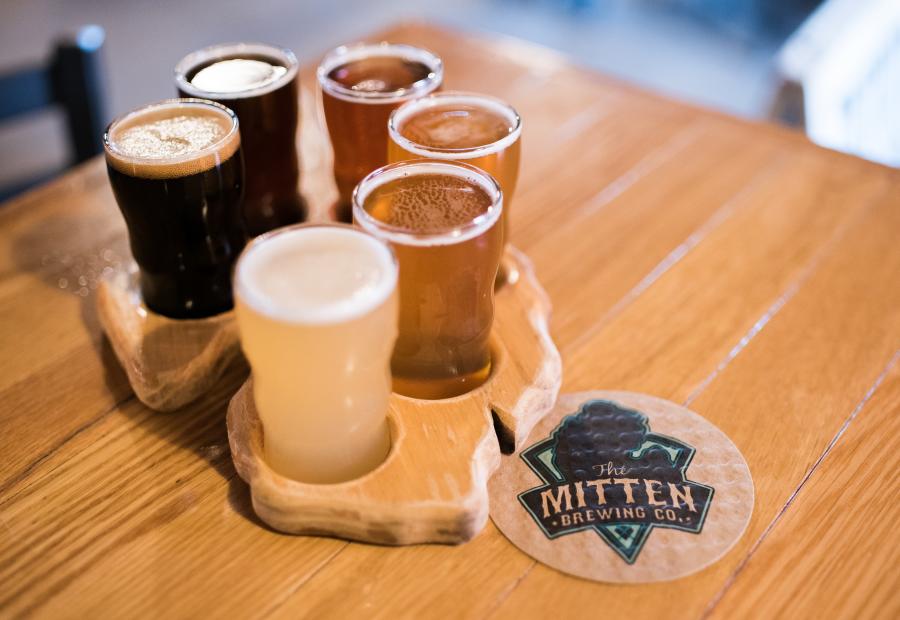 You can get a stamp on your Brewsader Passport and sample fall-themed brews at one of Grand Rapids' many breweries, including The Mitten.
Photo by Experience Grand Rapids
Explore Craft Breweries
Time: Evening
Available: year-round, with seasonal beer selections
Saturday evening is a great time to collect stamps on your Beer City Brewsader Passport. 
To get your passport, simply download the Beer City Brewsader Passport app on iTunes or Google Play, or grab a paper passport at one of the 40+ participating breweries. 
After receiving your passport, tour the city by visiting the participating breweries. At every visit, you'll receive a stamp to add to your passport. After eight stamps, you'll receive an exclusive Brewsader t-shirt.
There's no shortage of fall flavors in local seasonal beers, like Brewery Vivant's Farmhouse Pumpkin Ale and Atwater Brewery's Blöcktoberfest. 
If you're looking for a spooky scenery, visit the local breweries with erie, historical, and haunted pasts.
If you're interested in visiting breweries outside of Grand Rapids, there are plenty of options, such as Gravel Bottom Brewery in nearby Ada (about 12 miles east of downtown Grand Rapids).  
If you prefer hard cider, try one of the many cideries in the area like Vander Mill, Farmhaus Cider Co., or The People's Cider Company.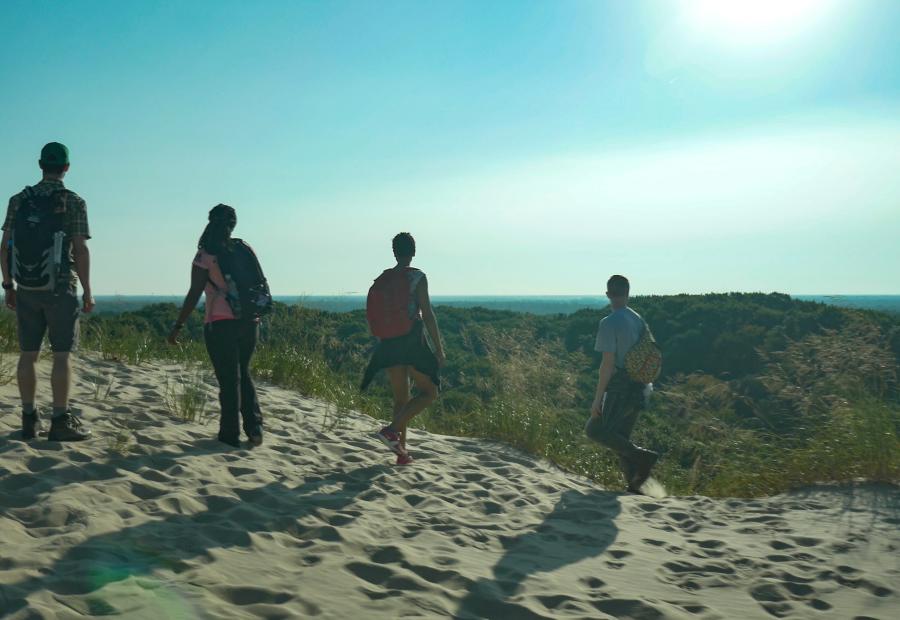 Hike along a trail in the PJ Hoffmaster State Park, which leads to a beach on Lake Michigan.
Photo by Experience Grand Rapids
Sunday
Lakeshore Hike at PJ Hoffmaster State Park & Nearby Food
Time: Morning and Afternoon
Available: year-round, with appropriate seasonal gear
Grab a quick pastry at Nantucket Baking Company and head to PJ Hoffmaster State Park for a wonderful autumn hike. There are more than 10-miles of trails to explore. The park's dune climb has 193 steps and rewards you with an amazing view of Lake Michigan.
Grab brunch or lunch on the water in Muskegon after your hike. The Lake House Waterfront Grille offers great views, casual attire, and a fabulous brunch menu.
Established in 1929, Thrasher's Bear Lake Tavern is the oldest restaurant in Muskegon and also has beautiful views. The Deck and Dockers Fish House are other great waterfront dining options.
Relaxation Indoors & Nearby Food
Time: Morning and Afternoon
Available: year-round 
If you're looking to spend your morning indoors, book a couples' massage or other spa treatments at The Spa at the JW Marriott right downtown.
Treat yourself to the brunch buffet or a la carte offerings at The JW's restaurant, six.one.six.  The restaurant is located right next to the spa, making this a very convenient option. 
For more eclectic brunch fare, check out the Local's Guide to Weekend Brunch to learn about more great brunch spots.
Before You Visit 
Reference the Trip Planning pages to help prepare for your weekend in Grand Rapids. Don't forget to check out the Halloween page to discover all of the festive and haunted activities the area has to offer.
For more information on choosing overnight accommodations, visit the hotels page to see the options ranging from budget to luxury, and everything in between.