Story by guest blogger Howard Meyerson.
When it comes to wild game, the culinary possibilities are endless. Add a pinch of imagination and you have gourmet fare.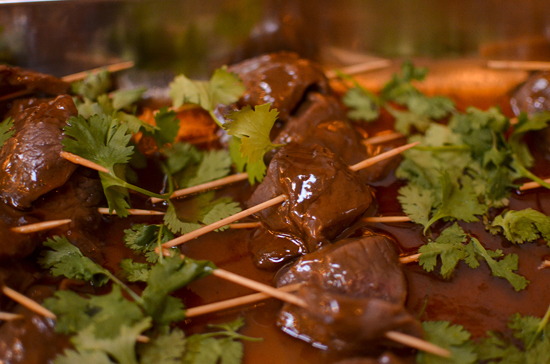 Bourbon Venison Kabobs at Ann Arbor Gourmet Gone Wild event, Photo Credit: Vanessa Thurgood
Whitetail deer can be served as kebabs or roast venison with rosemary, red wine and cherries; goose breasts become smoked goose pate with brie and crostini.
"It is local eating at its finest," according to Erin McDonough, co-creator of Gourmet Gone Wild, a Michigan wild foods program that has introduced young professionals to the gastronomic possibilities of wild game.
"We are into our third year," said McDonough, executive director for Michigan United Conservation Clubs in Lansing. "We partner with young professional organizations and talk about how wild fish and game is the ultimate in local eating while tying it in with local beer and wine tasting."
Gourmet Gone Wild banquets have been organized in cities all around the state. They draw a young crowd who come looking for an adventurous local food event prepared by a gourmet chef.
Chef Daniel Nelson demonstrating how to make Cedar Plank Steelhead at a Lansing GGW Event. Photographer - David Kenyon (DNR)
In west Michigan, the next Gourmet Gone Wild event is Oct. 24, from 6 p.m. to 8 p.m. at the Muskegon State Park Winter Lodge located at 462 N Scenic Dr., in Muskegon. It will be held in cooperation with Muskegon Green Drinks, organized by the Muskegon Area Sustainability Coalition.
"I am a big fan of rabbit," said McDonough, who grew up on Beaver Island in Lake Michigan. "I love the flavor. It's a very sweet meat and my grandma always prepared them as medallions. My brother and I recently marinated them and grilled them like chicken."
Michigan's fall hunting seasons are in full swing, offering experienced and aspiring hunters the opportunity to put local game meat on the table. Rabbit, duck, pheasant, and ruffed grouse: finding game needn't be difficult.
Sixteen state game areas are located within approximately a 45 minute drive from Grand Rapids. All are open to public hunting and each is managed by the Michigan Department of Natural Resources. Look online for a complete statewide list of areas.
Area hunters can also chase game on assorted nearby private lands. The DNR's Hunter Access Program (HAP) pays farmers and other private land owners to allow the public to hunt the property. The available property listings, organized by county, all specify what types of hunting are possible and any restrictions.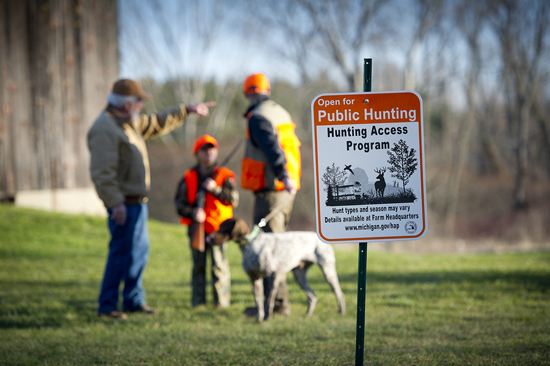 A private land owner gives direction to a father and son hunting the property. Courtesy of Michigan DNR, Photo: Dave Kenyon
Between all the state game areas near Grand Rapids and the Yankee Springs and Ionia state recreation areas, we have between 120,000 and 125,000 acres of public land open to hunting, said Steve Chadwick, the DNRs wildlife supervisor for southwest Michigan. Barry and Allegan state game areas alone have 70,000 acres and we also have managed waterfowl hunts at Allegan and Muskegon state game areas.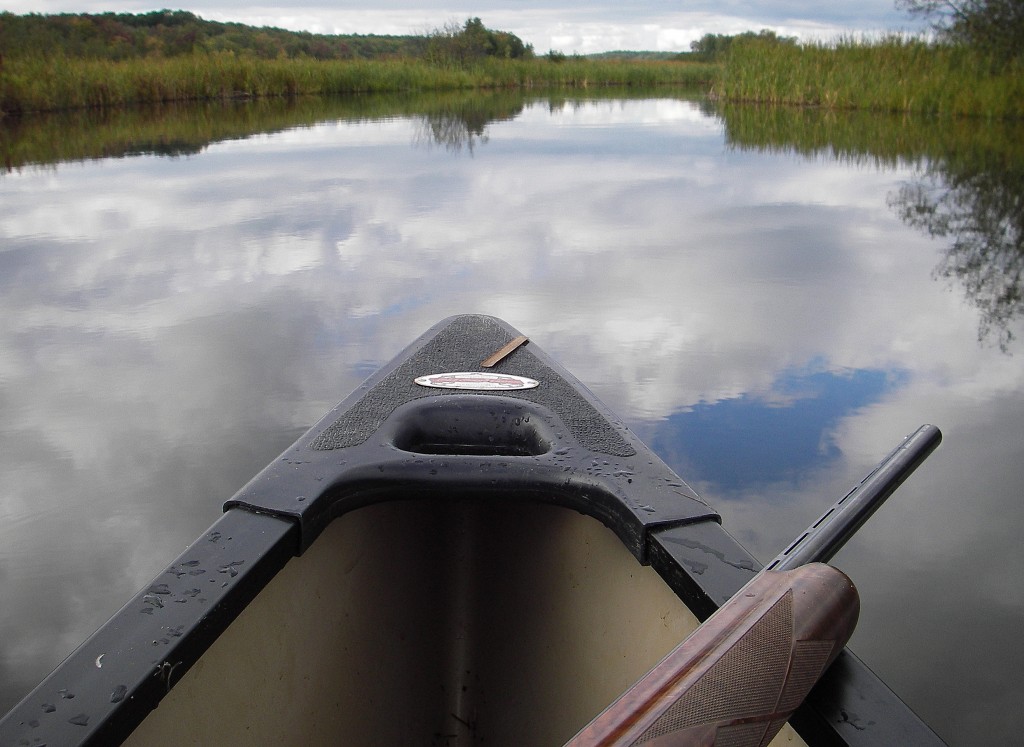 West Michigan marshes offer plenty of opportunity for hunting ducks - credit:HowardMeyerson
Picking among the properties can be challenging for a new hunter. Not every hunted species is found on each. But they are likely to be found wherever there is a good habitat.
"A really good way for a new hunter to find out whats good at an area is to call the local DNR field-office and let them know that they are new to hunting, or to come and look at a map. We can point out areas that are good for certain species," said John Niewoonder, the DNR's field operations manager for the north half of the southwest region.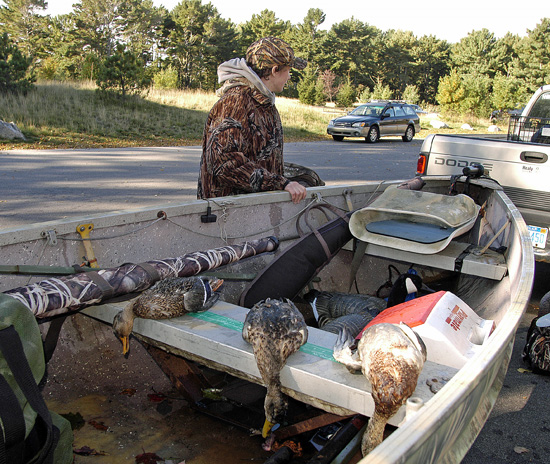 A young hunter packs up after a successful duck hunt. Photo: Howard Meyerson
Some areas are better for deer, but they are found all over southwest Michigan and any of the game areas can have good deer hunting.
Chadwick and Niewoonder recommend Lowell, Flat River, Rogue River, Langston, Barry, Allegan and Middleville state game areas for deer. Squirrels, they say, will be wherever you can find good oak stands.
Here's a quick look at some of their other suggestions:
Ruffed grouse: Look around Allegan State Game Area where a fair amount of timber management takes place. Grouse like young aspen stands. The east unit of the Muskegon State Game Area is also productive.
Pheasant: This farm-field favorite is often seen at The Todd Farm unit of the Allegan State Game Area, but hunters would do well to also check smaller state parcels like the Olive and Blendon Township state game areas.
Rabbits: They are the denizens of brush piles, brushy areas and early forests. Rogue River, Flat River, Lowell and Muskegon state game areas offer excellent rabbit hunting.
Waterfowl: Area wildlife floodings, marshes, ponds and small creeks all can hold ducks. Good opportunities for duck hunting are found at the Grand Haven mini-state game area, Muskegon Marsh, Ottawa Marsh and waters within the Rogue River, Flat River and Lowell state game areas.Farm fields are often the big draw for Canada geese. The managed goose hunts at Muskegon and Allegan state game areas are great place to start.
Wild Turkey: Just about any state game area in the region is good for turkey hunting. Plan to get out in the field early and brush up on turkey calling.Thanksgiving, you know, isn't that far away.