A live event at Van Andel Arena is a guaranteed good time for ticket holders of any age. After attending several great events at Van Andel with kids, I've rounded up some fun ideas for families to enjoy before or after heading to the arena.
I've found the following attractions that are all within a 10-minute walk of Van Andel Arena. I recommend arriving at the arena around 30 minutes prior to your event to account for security checks, nearby construction, and possible lines. You don't want to miss a moment of the big show!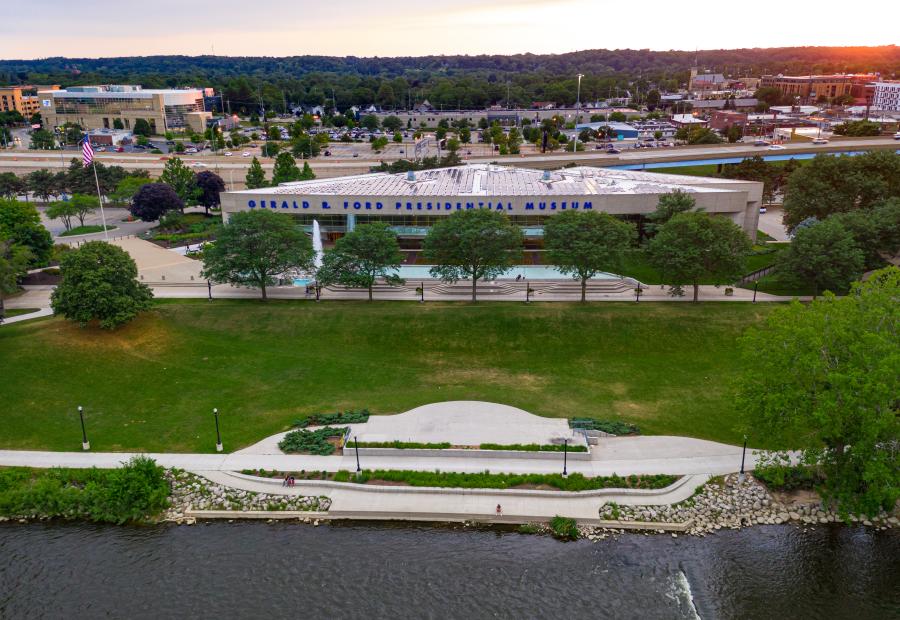 Burn off some energy at Ah-Nab-Awen Park or explore the public art on display in front of the Gerald R. Ford Presidential Museum.
Outdoor Attractions
Few things are more fun for a parent than seeing their child's face light up when their favorite character, musician, or professional athlete comes to life in front of their eyes. I remember the joy of seeing my children on the edge of their seats with excitement when Mickey and friends skated out during Disney on Ice. Even with all the on-stage action, it can be hard for a child to sit still for several hours.
I believe getting a little exercise and fresh air is good for everyone, especially kids! These are some of my favorite outdoor attractions to enjoy before visiting Van Andel Arena:
Rosa Parks Circle & Monroe Center
Located just steps away from Van Andel Arena in the heart of downtown lies Rosa Parks Circle. Even under construction, it is a fantastic place to walk around and burn off some steam. The 3.5-acre park is home to family-friendly concerts and festivals in the spring, summer, and fall, and will once again be home to the beloved ice skating rink when the restoration of Maya Lin's Ecliptic is completed late winter.  
Chances are, regardless of the construction status, there is an activity all ages will enjoy happening around Rosa Parks Circle prior to attending Van Andel Arena. When all else fails, I always enjoy getting some steps in while stopping into the nearby shops along Monroe Center.
Ah-Nab-Awen Park
Make it a win-win for everyone and spend some time at Ah-Nab-Awen Park before heading to Van Andel Arena to let off some steam and energy! Bring a blanket and food for an outdoor picnic in warmer weather and enjoy a stroll along the Grand River any time of year. If you're kids are like mine, they won't be able to resist rolling down the grassy hills. Adults can join at their own risk!
Gerald R. Ford Presidential Museum's Outdoor Attractions
On your way to Van Andel Arena and right next to Ah Nab Awen Park, check out the fountain and reflecting pool outside the recently reopened Gerald R. Ford Presidential Museum. Kids love splashing their hands in the water and watching the fountain. Honestly, who doesn't? We also love checking out the incredibly lifelike and beautiful sculptures around the museum, including those of President Ford and his wife Betty. Posing with Judd Nelson's Man In Space is also a hit.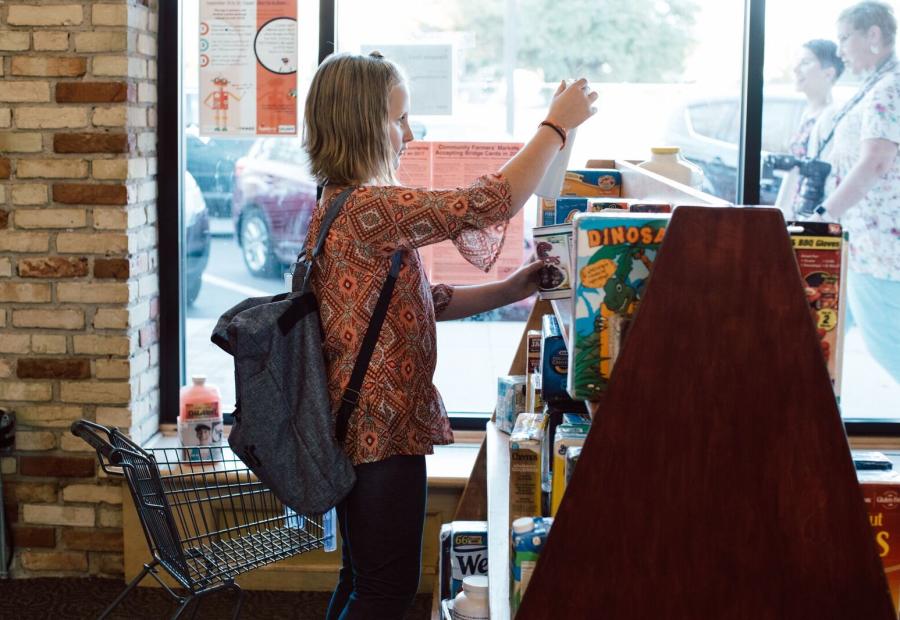 Visit the Grand Rapids Children's Museum to put your children's creativity and imagination to the test.
Photo by Experience Grand Rapids
Indoor Attractions
If the weather forces you to stay indoors, Grand Rapids has plenty of indoor attractions nearby the Van Andel Arena for family fun.
Grand Rapids Children's Museum
Come see what's new and incorporate some hands-on learning before heading to the arena at the Grand Rapids Children's Museum. Letting kids explore and learn while they burn off some energy is a parenting win-win. Our children could spend hours playing in Little GR. It was so fun being part of their imaginative play and not having to clean up afterward!
Amway Grand Plaza
For another fun way to kill time indoors, take a walk through the Amway Grand Plaza and marvel at the beautiful chandeliers and old world charm. If your people are hungry, or a treat sounds tasty, stop by The Kitchen Counter by Wolfgang Puck and grab something to enjoy there or save for the ride home.
Exploring Grand Rapids' Skywalks
Another way to get around Grand Rapids from the indoors is to use the city's unique skywalks located throughout downtown!
Hotels including the JW Marriott Grand Rapids, Amway Grand Plaza, and Downtown Courtyard by Marriott offer entrances that connect you to DeVos Place Convention Center and the Van Andel Arena! Windows line the skywalk, providing skywalk users a different view of the city, making this a memorable experience for users of all ages.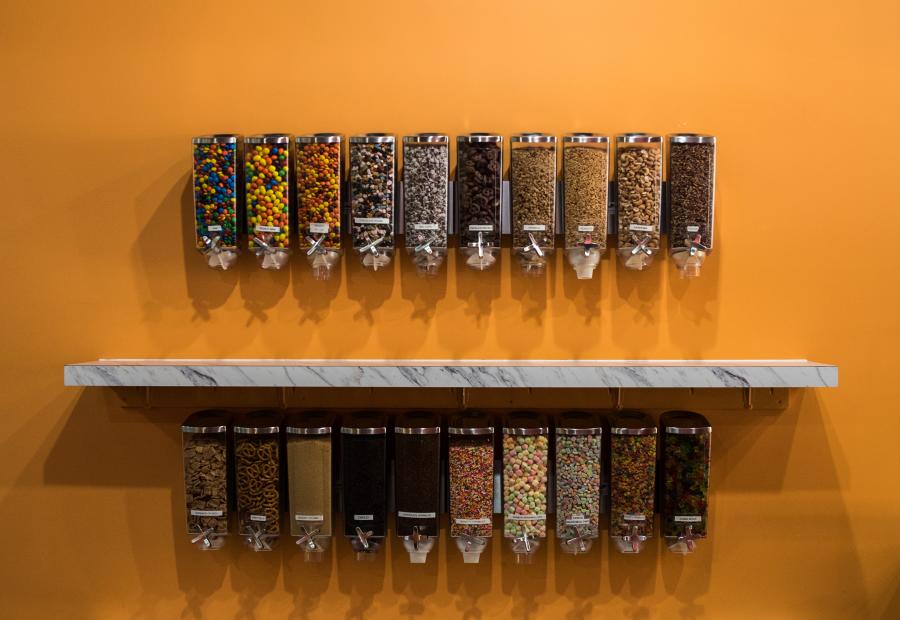 Sweet Yo's is one of many family-friendly places to grab a snack or a bite to eat while you're downtown.
Photo by Experience Grand Rapids
Grabbing a Bite to Eat
Ready for a bite to eat? There are plenty of family-friendly places close to Van Andel Arena. Here are a few of our family's favorites.
Stella's Lounge
Adults can feel like kids with a stop into Stella's Lounge for award-winning burgers including vegan and vegetarian. You and yours can have friendly competitions playing a huge selection of vintage arcade games such as Galaga, Ms. Pac-Man, Mortal Kombat, Donkey Kong, Tron and Q*bert to name a few. And they're still just 25 cents to play.
Peppino's Sports Grille Downtown
Peppino's has an energetic atmosphere perfect for letting kids simply be kids. With a variety of adult and kid-friendly meals, including fan-favorite pizzas, there is something on the menu for guests of all ages to enjoy.
One Stop Coney Shop
The One Stop Coney Shop gives a Detroit-style coney island experience within walking distance from the Van Andel Arena. While they pride themselves on their freshly cooked hot dogs, their burgers are hard to beat. A stop at the One Stop Coney Shop is a great way to fuel your family before heading to the arena.
Sweet Yo's
What child (and adult) doesn't enjoy a sweet treat?
Sweet Yo's is just a short walk from the Van Andel Arena, and provides family members with a make-it-your-own frozen yogurt experience. The locally owned frozen yogurt shop offers an abundance of flavors, toppings, and treats for restrictive diets including fat-free, dairy-free, gluten-free, and vegan-friendly.
Parking and Transportation Options
Last but certainly not least, don't forget to identify where you'd like to park prior to visiting Van Andel Arena. As Grand Rapids continues to expand, the city's parking accommodations are ever-changing so make sure to do your research beforehand and identify a couple of areas to park.
Remember to download Grand Rapids' mobile parking app, Motu, for access to street parking availability and to pay for parking meters. Likewise, many private lots use the ParkMobile app for online payment. For a complete list of parking options, visit Downtown Grand Rapids Inc.'s website, which highlights parking ramps and lots, street parking, public vs. private parking, event parking, and charging stations for electric vehicles. MobileGR is also a great resource for Grand Rapids transportation options.
You could also skip parking altogether and take The Rapid to the arena. The Rapid's East Fulton line has two stops within easy walking distance of Van Andel Arena and The Silver Line service includes a No Fare Zone that encompasses the Amway Grand Plaza Hotel and the Downtown Market. The Rapid has also extended the hours of its DASH lines, which are free to use – just look for the pink shuttle buses.
What's your favorite place to stop by before or after heading to Van Andel Arena? Let us know in the comments!