As Grand Rapids prepares for Restaurant Week 2015, it's always great to see what magic local chefs are working on area fruits, vegetables, and meats.  Restaurant Week GR is purposefully placed in mid-August to catch as many seasonally harvested options as possible.  This year chefs could be working with beets, tomatoes, corn, artisan green beans, peaches, blueberries, farm-raised shrimp, or Lake Michigan perch, to name a few. 
The fact of the matter is, timing in the restaurant industry matters. Chefs need to know the quality and quantity of the products coming to them before they can plan or serve any menu, and sometimes fresh produce can be unpredictable.  How can we bridge this gap?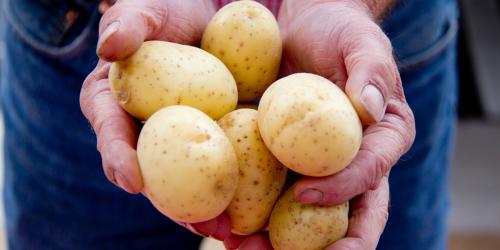 At the Downtown Market- Photo Courtesy of Experience GR
West Michigan Farm Link has been an incredible middle man for chefs and farmers alike. This platform is designed to help local farmers reach a community of wholesale buyers and to help chefs plan for the produce they're receiving. Every Thursday, farmers decide what they have available for sale. Extra zucchini?  Too many melons? They list the amount and price of the product for sale with Farm Link. Friday, chefs all over town receive a list of available fresh foods.  Maybe there are lots of heirloom tomatoes so the entree planning starts there. Chefs must submit their order by Monday afternoon and the farmers are informed. They get the necessary product to Farm Link by Wednesday and the food can be picked up or requested for delivery! It's simple, but genius, and requires attention to detail from the middle man, Farm Link. 
I spoke with Trever Clark, the Operations Manager at Farmlink, and he distilled the mission very simply.  "What we're doing is reducing friction for both the farmers and the chefs and making it easy for them to connect with each other."  With this arrangement, chefs don't have five farmers a week dropping off small batch orders and trying to keep that many invoices straight and farmers don't lose profit in driving all over town delivering small quantities of produce.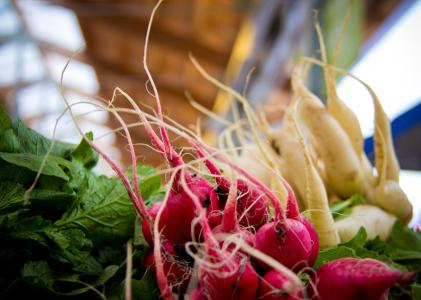 I used this ordering system during Restaurant Week 2013 and was blown away by the friendliness of the staff and the organization at the home base.  We picked up zucchini, sweet onions, olive oils, and peaches and saw chefs getting much bigger or smaller orders to experiment with. Many, like us, were using the product as soon as that evening, so customers were truly getting the freshest options possible.
Another way to recognize local business who are going the extra mile to supply that fresh food is Slow Food West Michigan. Slow Food is an organization that believes in getting back to food traditions- knowing and understanding where the food is coming from. Education is a huge piece of this mission, and the West Michigan chapter has enjoyed a busy summer of volunteer events and gatherings at local farms and fundraisers. If you support the mission, check out the List of Awardees that have received the Snail of Approval (Get it?  Slow food?) and include those in your list of places to try during Restaurant Week GR!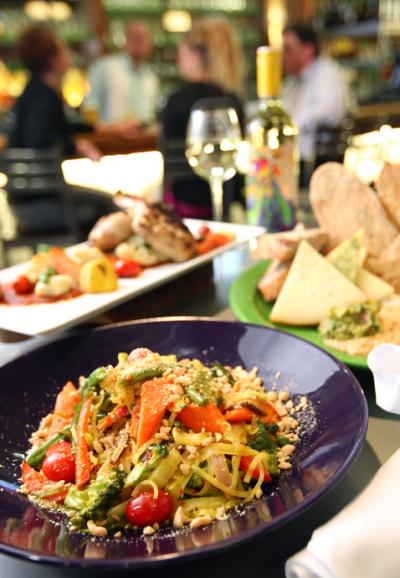 Greenwell Gastro Pub- Photo Courtesy of Experience GR
As a reminder, Restaurant Week GR 2015 is taking place August 12th through the 23rd and includes dozens of participating restaurants.  Taste the city!  And while you're at it, taste how Slow Food is done right, with the chefs who are bringing guests the freshest food around.