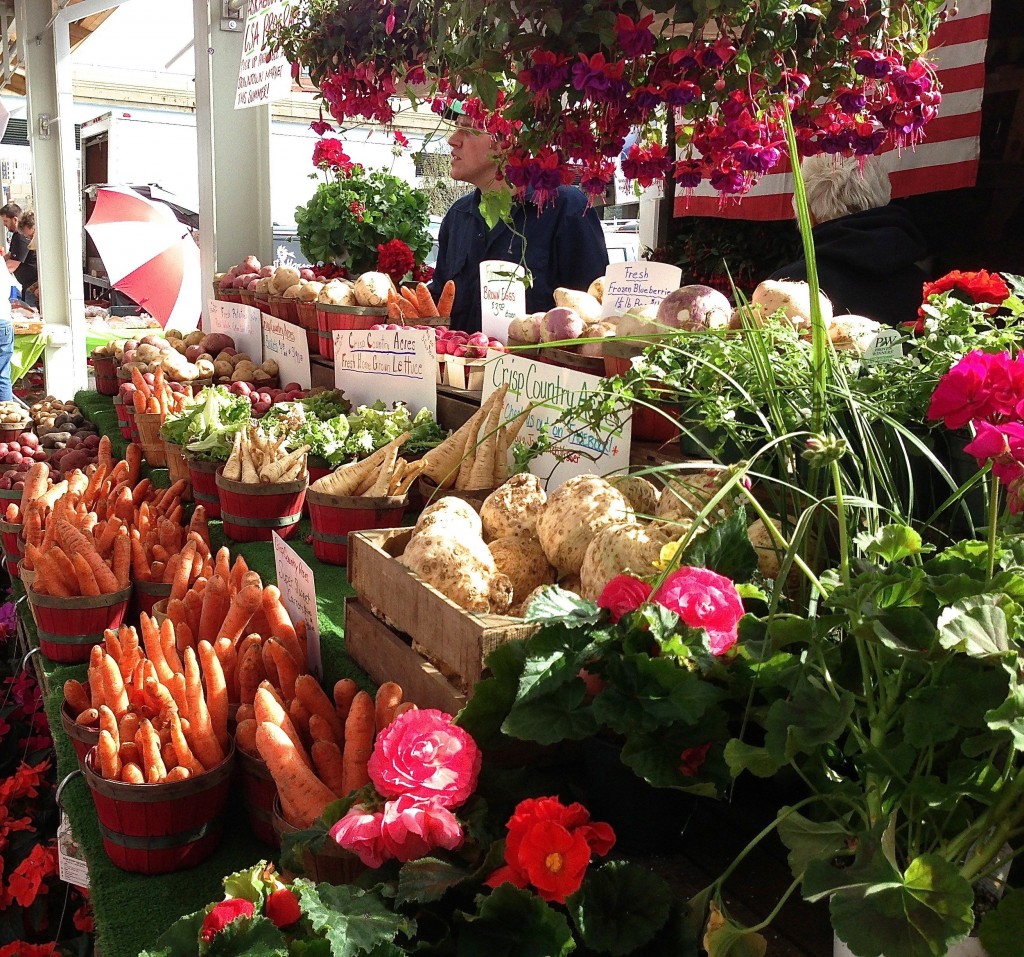 Crisp Country Acres stand at the Grand Rapids Outdoor Market on opening day
The farm to table movement in Grand Rapids continues to grow, as restaurants like Grove and Trillium Haven wow restaurant-goers with dishes like the Gazelle Perfect Protein Salad (Trillium Haven) and Jambalaya (Grove), two of my go-to favorites.
As more restaurants embrace sustainable cooking, more residents find themselves in search of fresh, local ingredients to prepare in their own kitchens. Last Saturday, Grand Rapidians had of plenty produce (and meat, cheese, baked goods, and kettle corn) to choose from, with the 91st opening of the Fulton Street Farmers Market and the grand opening of the new Outdoor Market downtown.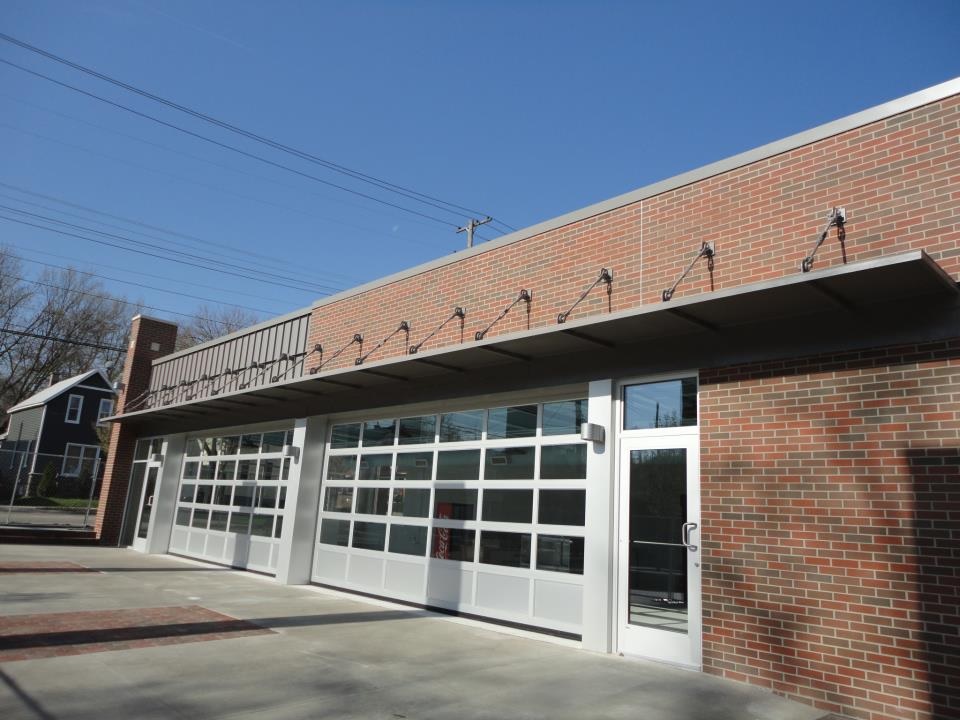 photo courtesy of Fulton Street Market
As people milled about at the Fulton Street Farmers Market, they noticed a big change from the last time they visited: as part of their ongoing $2.6 million renovation, this year there's a new indoor space that can be used year-round. You'll find it at the south end of the farmers market and be tempted inside right away by the treats at Fantabulous Fudge Co. After you decide on your favorite favor of fudge, you'll discover more treasures as at the stands of Real Food Farm, The Local Epicurean, the Rakowski Family Farm, and Augusts Kitchen. The indoor space also includes new restrooms, a welcome addition.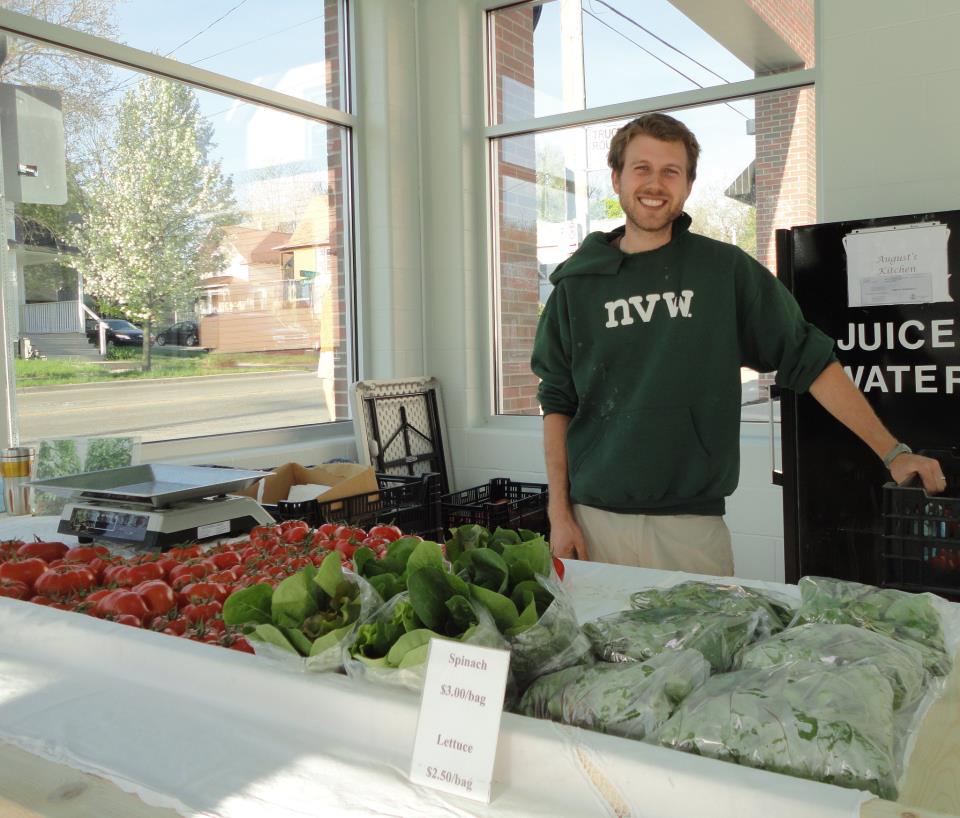 August's Kitchen stand, courtesy of Fulton Street Market
Outside, the aisles are full of vendors like Lubbers Farms and Little Rooster Bread and Bova Bakery, who continue to offer fresh produce, meats, cheeses, flowers and more. The roof added during renovations last year provides shade and some protection from rain for shoppers selecting the perfect tomatoes and basil for their next meal.
The Fulton Street Farmers Market is open Tuesdays, Wednesdays, Fridays, and Saturdays from 8:00 a.m. 3:00 p.m. until December 22, when winter hours begin. Be aware, though, that as with most farmers markets, not all vendors stay until the very end. (Early birds, rejoice.)
In addition, on Sundays from June 9 September 29, you'll also find an Artisan Market at Fulton Street, where you can buy jewelry, sculptures, textiles and other artistic creations.
Across town at 435 Ionia Ave. SW, The Outdoor Market portion of the long anticipated Downtown Market was also filled with shoppers choosing fresh, local food. David Tilley, Marketing Manager for the Downtown Market, expects that they'll have an average of 80 Michigan vendors at the market, depending on the day, weather, and season.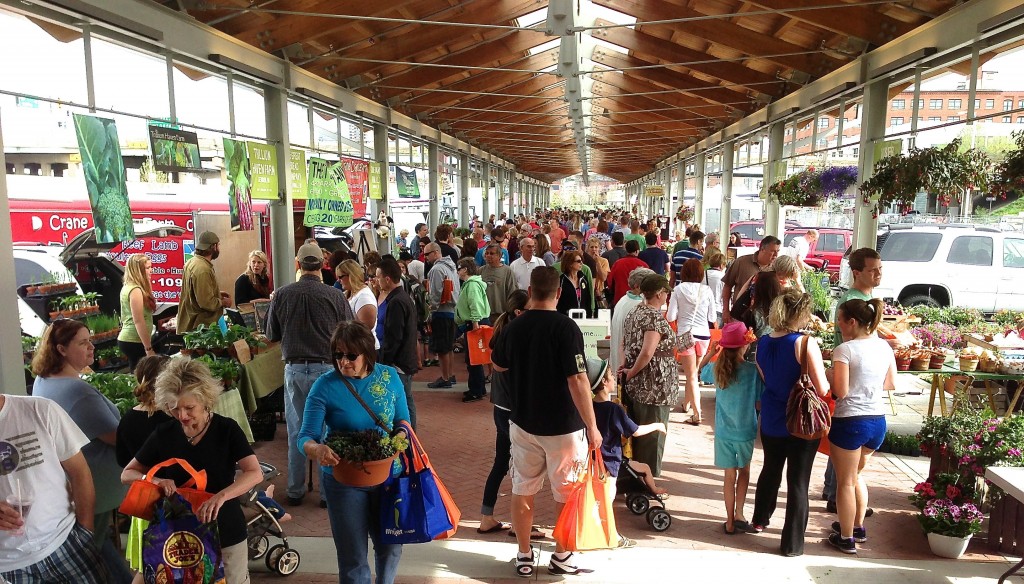 opening day, Grand Rapids Outdoor Market
This past Saturday, the stalls were filled with fresh-smelling goods that I couldn't stop buying, like this maple syrup from Melody Bee Farms in Ada, MI.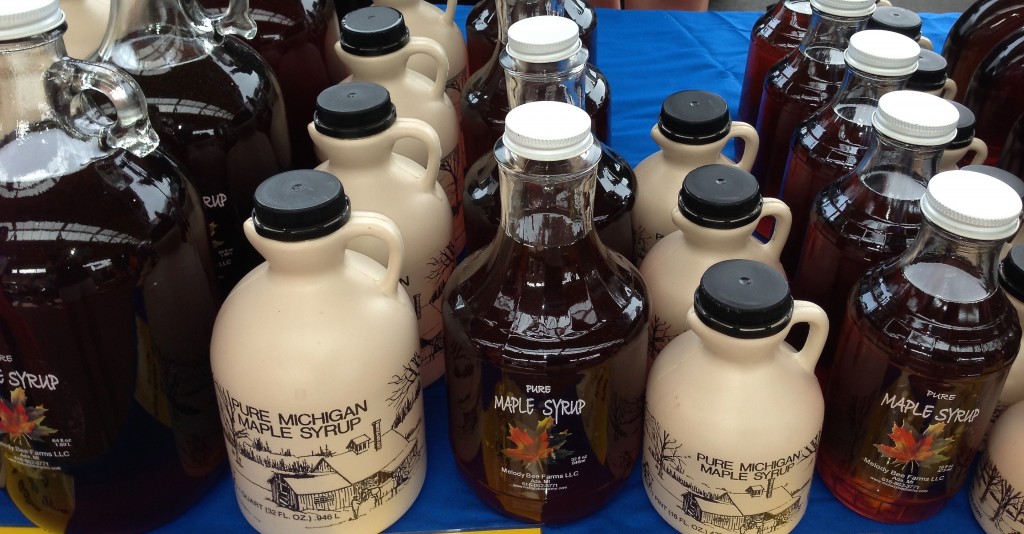 At the Green Spirit Farms stall, Milan Kluko, President, explained how they use vertical growing stations to grow produce year round, in vacant or underutilized buildings, significantly reducing their carbon footprint and increasing yield. He said their basil was so popular it sold out in the first hour. We missed the basil, but enjoyed a delicious salad with their tender lettuce just last night.
Meanwhile, a sweet aroma drew visitors across the aisle and down a few stalls to GoNuts, where Andrea and Jared Swiger were making tiny doughnuts as fast as they could sell them. Visitors queued up for the powered sugar covered minis, which cost $2 for 6 or $3 for 12. (Cinnamon sugar and vanilla flavors are also available for the same price; other flavors cost $.50 more.)
Other vendors, like Trillium Haven Farm and Crane Dance Farm, helped visitors fill their reusable bags for the week, keeping local food in kitchens across Grand Rapids.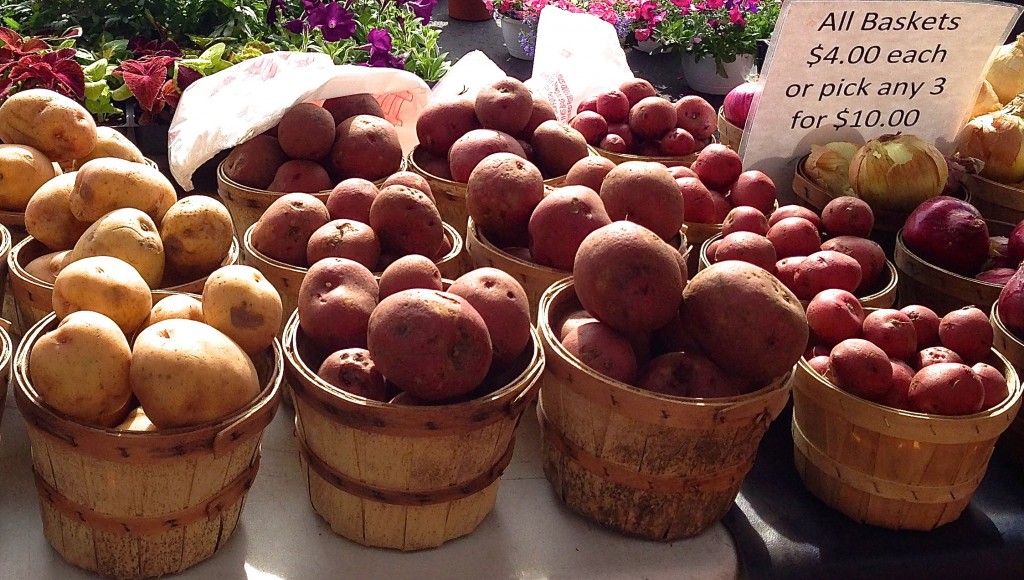 Diemers Winter Gardens stand at the Outdoor Market
In an effort to make sure all kitchens have access to fresh food, the Outdoor Market accepts SNAP/EBT, Double Up Food Bucks, Senior Fresh, and WIC. "It wasn't even a question that we wouldn't offer these programs to support those who are underserved and underprivileged. We feel that its not only our obligation, but its a part of why we exist--to make healthy food accessible to all," says Tilley.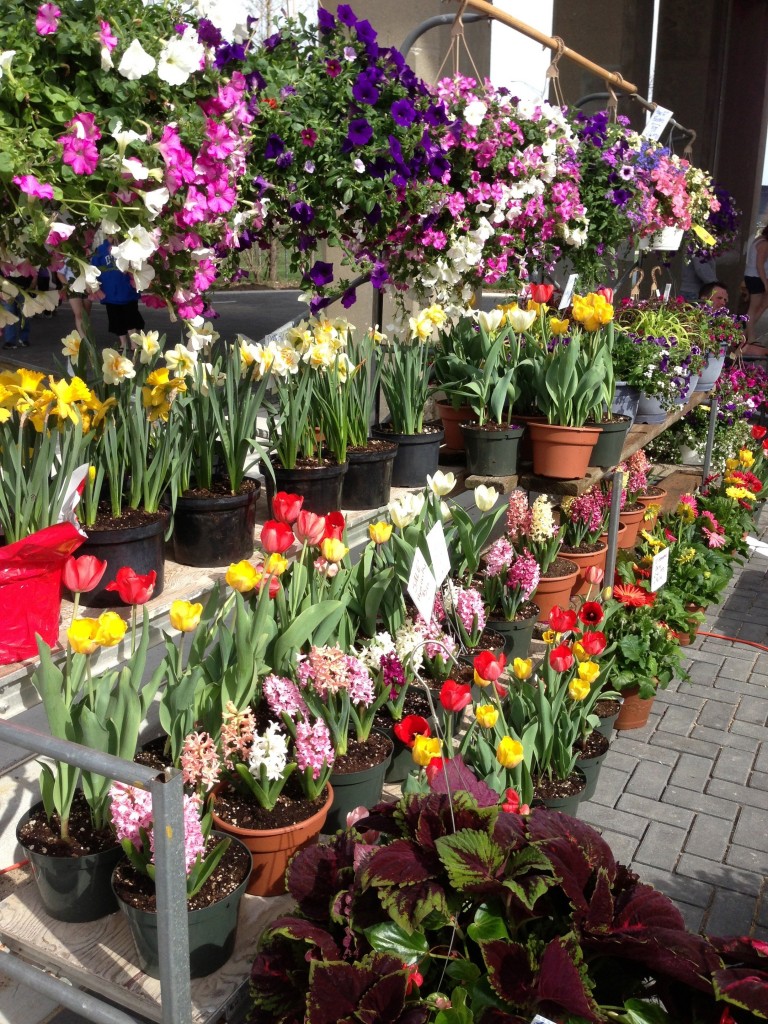 In addition to fresh produce and tasty treats, you'll find gorgeous bouquets and flowers for your garden at the market. And in just a couple of weeks, the market is hosting its 1st Annual Flower Market Days. Join other garden aficionados on May 22 and May 29 (2:00 p.m. -6:00 p.m.) to find just the right items for your garden. You'll find oodles of hanging baskets, annuals, perennials, vegetables, herbs, shrubs, and more. Artisans will also offer landscape ornaments and furniture to keep your garden beautiful all season long.
The Outdoor Market is open Tuesdays and Saturdays from 8:00 a.m. to 1:00 p.m. and Thursday evenings from 4:00 p.m. 7:00 p.m. The indoor section of the Downtown Market, which will house a commercial kitchen, a rooftop greenhouse, a farmers market, a restaurant, and a brewery, is expected to open in August 2013.
In the meantime, you can enjoy the outdoor farmers markets and use your fresh, local veggies and herbs in this recipe, courtesy of Executive Chef Joel Wabeke, Trillium Haven Restaurant.