From February 1 - February 28th, you'll be seeing a lot of pink in Grand Rapids, and not just because of Valentine's Day!

Local hotels, businesses, and restaurants have designed packages and events for Experience Pink, the 4th annual month-long effort to support Susan G. Komen West Michigan's fight against breast cancer. The result is a win-win: you can enjoy lots of fun events, great packages, and drink and food specials while helping raise funds and awareness for Susan G. Komen West Michigan. The annual event has raised over $12,000 since its inception, which directly benefits our community. "75% of every dollar raised stays in West Michigan," says Nakia Kyler, Community Events Coordinator for Susan G. Komen West Michigan. "Those funds help pay for services like breast screenings, mammograms, and breast care services for men and women in the area who are underserved. The other 25% goes towards research to find a cure for breast cancer."
#IGoPinkFor This year you can get involved with Experience Pink's social media campaign. "We want to raise awareness and pink out Grand Rapids," says Kyler. During the month of February, there are two parts to the social media contest: First, throughout the entire month, people are encouraged to share their stories, photos, or videos of how breast cancer has personally impacted their lives on Facebook and Instagram using #IGoPinkFor. The second part of the contest will take place February 13-14 when the JW Marriott showcases a beautifully sculptured pink ice ribbon. Susan G. Komen West Michigan encourages people to go downtown and take fun, creative photos with the ice sculpture and post them with #IGoPinkFor. Both contest winners will receive a fitness package at Cross Fit Luminary.
Pink Drinks and Food Specials Local restaurants are getting into the Experience Pink spirit by offering specially prepared pink drinks and menu items. Select Uccello's locations, for example, are creating pink concoctions and donating a portion of their proceeds to the cause.
Mixology, the energetic, cosmopolitan bar at the JW Marriott Downtown Grand Rapids will also be offering a special pink drink and donating a portion of sales Susan G. Komen West Michigan. Several other local establishments will be participating with fun pink food and drink specials during February. Click here to check the website for updates and announcements of new participants.
Pink Hotel Packages During February, the beautiful, luxurious Amway Grand Plaza is offering an Experience Pink package that includes a $40 breakfast credit, a pink-themed gift at turndown, and parking. At the nearby Courtyard by Marriott, your Experience Pink package includes a pink-themed treat at check in, breakfast, and parking. The posh JW Marriott is also including its delicious breakfast buffet and parking, as well as a welcome gift of pink truffles and a flower. City Flats, Holiday Inn Downtown, and the Riverfront Hotel are also offering Experience Pink packages, as are a few hotels outside of the downtown area: Spring Hill Suites North by Marriott, Hyatt Place in Byron Center and Country Inn & Suites (all within easy driving distance to downtown). Click here for updates to Experience Pink packages and more information.
Lunch and Learn Sessions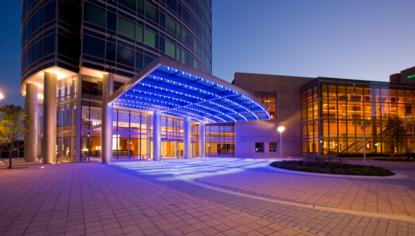 The JW Marriott will once again be sponsoring Lunch & Learn sessions (dates to be announced soon. Check the website, here, for updates.) Ashley Lowe, a young breast cancer survivor, will speak at the first session. "Ashley's going to discuss her journey after being diagnosed at a young age and how she's living a life of being a fighter and a strong, confident woman," explains Kyler. "In addition, a second session will feature plastic surgeons from Partners in Plastic Surgery, who will talk about the research component, what procedures people can expect, and reconstructive aspects." Kyler says they wanted to feature these two different types of sessions so attendees could hear both the scientific, medical side as well as the more personal side of breast cancer diagnosis and survival.
Pink Out Events While you're downtown, grab some ice skates and don some pink to help Pink Out Rosa Parks Circle on Thursdays during February. "We're encouraging people to skate, wear pink, and take pictures for the #IGoPinkFor campaign," says Kyler. "By doing so, youll help raise awareness for breast cancer and the Amway Grand Plaza will help you stay warm by donating free hot chocolate to skaters in pink!"
Wear your pink over to the nearby Grand Rapids Public Museum, and you'll receive a pink chain link at the door, which you can add to the larger chain in the Galleria created by every visitor wearing pink during the month of February.
If sports are your thing, Experience Pink has several events for you, too!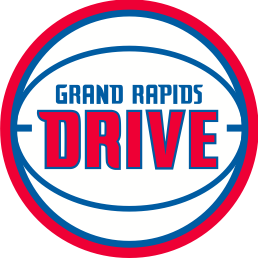 On February 9th, a $10 ticket buys you admission to The Grand Rapids DRIVE game (Grand Rapids new NBA Affiliate), participation in the pre-game high five tunnel, and a post-game photo and shot on the court. "The Pink Out game is going to be really fun," says Kyler. "I encourage everyone to come out to show your city pride, support our new, semi-professional team, and support a good cause!"
Tickets to the DRIVE Pink Out game are available by calling Trey Conner at 616-350-4881 or emailing him at tconner@nbagrandrapids.com. Be sure to mention that you'd like tickets for the Experience Pink event that supports Susan G. Komen West Michigan when you place your order.
On February 21, join the crowd and cheer on the Grand Raggidy Roller Girls in a Think Pink-themed game against Ontario's Border City Brawlers at Rivertown Sports. Kyler says this event is perfect for a date night or night out with your family. "You can watch a bunch of strong, confident women playing athletics. We'll also have something fun and exciting that you don't want to miss during the halftime show." Click here to buy advance tickets for $12 or purchase tickets for $15 at the door. (Students, children, and seniors get a discount.)
In addition to the roller derby, the Raggidy Roller Girls are hosting a family skating party at The Fun Spot roller rink. The Raggidy Roller Girls will be there to skate with you and your kids and they'll also have lots of fun non-skating activities to raise awareness and money for Susan G. Komen West Michigan. (Date TBA- check website, here, for updated Experience Pink information.)
Another fun Experience Pink event takes place at the Delta Plex Arena on February 11. Make plans now to take your family to watch staff from area hotels compete in a Dodgeball Tournament to raise awareness and funds for the Susan G. Komen West Michigan. Tickets are just $3.00 per person at the door.
So many options, so many participating retailers, and such a great cause, and these are just some of the Experience Pink happenings. Check the website, here, for updates with new Experience Pink specials and events.
No matter how you choose to partake, February is a great month to get out in Grand Rapids and Experience Pink!