A sure sign that summer has arrived in Grand Rapids is the annual three-day Festival of the Arts (commonly called Festival), which celebrates its 50th anniversary this year. The festivities kick off at noon on Friday, June 7, and conclude Sunday, June 9, 2019.
Festival is an annual tradition that draws thousands of people downtown to celebrate the arts in West Michigan. This year it will run from Calder Plaza all the way to Rosa Parks Circle, with eleven performance stages and five pop-up stages, and food booths and vendors galore. Best of all, there's no admission charge and the performances are free.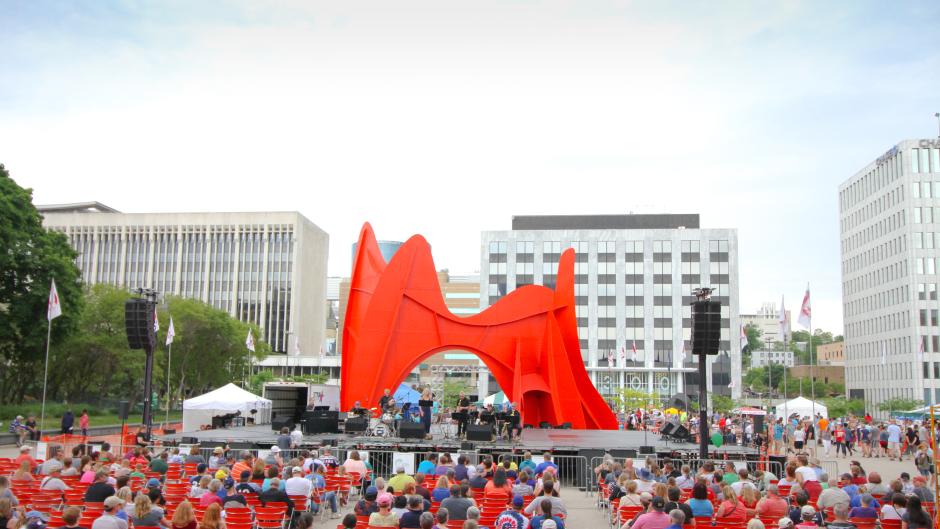 Performance at Calder Plaza during Festival of the Arts
Photo Credit: Experience Grand Rapids
---
Festival of the Arts History
Festival began in 1969. That year, Alexander Calder's sculpture "La Grande Vitesse," a 43-foot-tall vibrant red stabile, was installed in Vandenberg Plaza, which is now known as Calder Plaza.
"La Grande Vitesse" was the first public artwork funded by the Art in Public Places program of the National Endowment for the Arts (NEA), which went on to fund the creation of more than 700 works of art from 1967-1995.
"It wasn't just a historic moment for Grand Rapids, but a historic moment for the United States," explains David Abbott, Executive Director of Festival of the Arts. "It started with this sculpture. It sparked the movement of sculptures in public spaces."
"The community came down for the dedication of that Calder," Abbott says. After the dedication of "La Grande Vitesse," leaders realized how powerful it was to have a piece of art in the city center.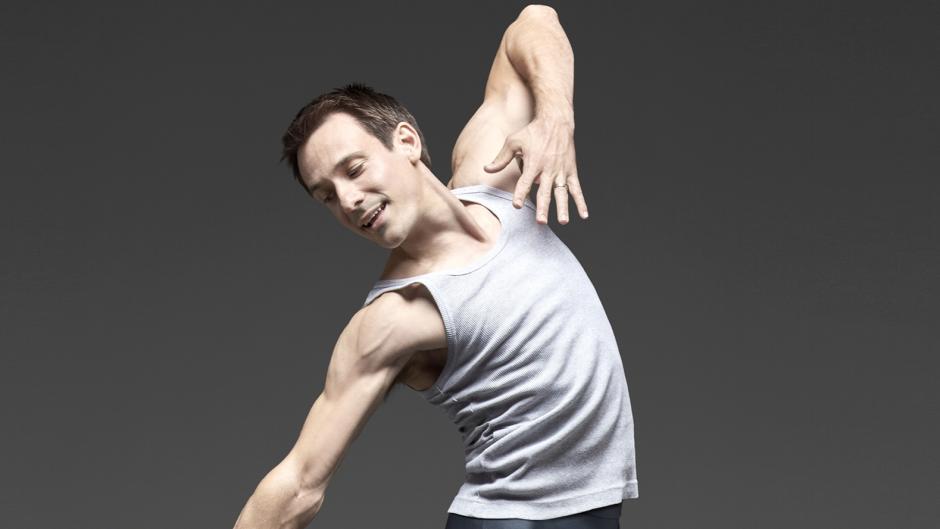 James Sofranko Grand Rapids Ballet's artistic director in a ballet pose
Photo Credit: Erik Tomasson, Courtesy of Grand Rapids Ballet
---
What's New?
Grand Rapids Ballet
For its 50th anniversary, Festival named two honorary co-chairs, Glenn Del Vecchio (Executive Director for Grand Rapids Ballet) and James Sofranko (Artistic Director for Grand Rapids Ballet).
"Without collaboration with the other arts, we are not showcasing the best of our community," Abbott explains. "The ballet performed with us at that first festival. For the 50th anniversary, we thought it was important to select a group with a history with us."
James Sofranko is choreographing a very special ballet for the dancers to perform at the big event.
"Because of the momentous occasion of this being our 50th anniversary, we wanted a world-premiere ballet. They were thrilled to say yes!" explains Abbott.
Stephen Frykholm poster
The world-renowned graphic artist, Grand Rapids resident, and fan of Festival of the Arts, Stephen Frykholm, is thrilled to have the opportunity to design a poster honoring the 50th anniversary of Festival of the Arts and "La Grande Vitesse."
"The poster is truly a work of art," says Abbott. "It will be numbered, and there are only 200 copies; the first 100 are signed by the artist."
Signed and numbered posters will sell for $250 apiece; numbered-only posters are $50 apiece. They'll be available for purchase at the online Festival Store (more on that below) and the Grand Rapids Art Museum store while supplies last.
Frykholm became well known for the series of promotional posters he designed for the annual Herman Miller picnic during his 45-year tenure there. Those posters, which have come to be known as the Herman Miller picnic posters, are considered modern design classics. They sit in permanent museum collections all over the world, including New York's Museum of Modern Art.
An online Festival of the Arts Store
In addition to the Frykholm poster, Festival will launch a new online store that will carry the work of other artists for sale. "We're starting with a small group of artists, taking a piece of their art, duplicating it 50 times, and selling it for $50," says Abbott. Half of the proceeds from the sale of each piece of art directly benefits the individual artist.
"Part of our responsibility as Festival of the Arts is to expand the gallery culture in our community," he says. "We want to encourage people that art isn't just something you engage with on a museum wall, but something you purchase for your home or office to continue that feeling of engagement."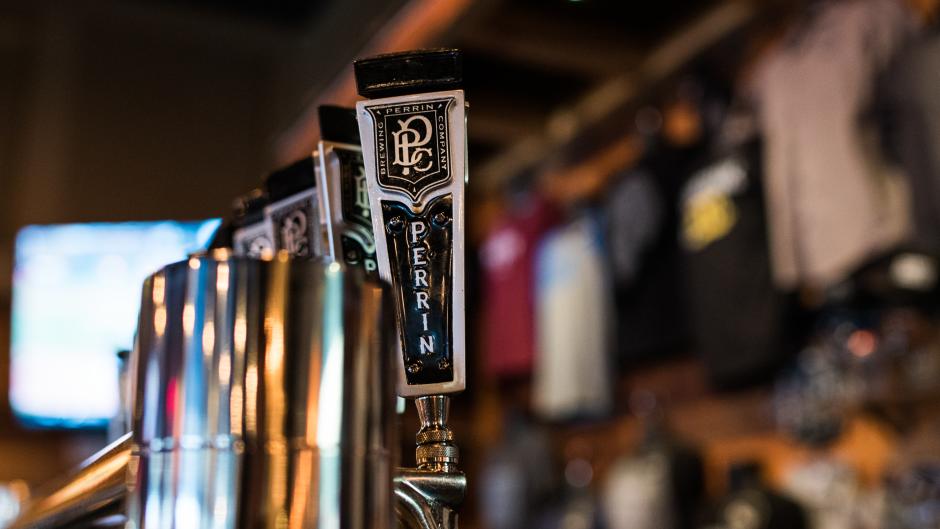 You can find Perrin's Festival of the Arts beer on tap at various downtown Grand Rapids restaurants during Festival of the Arts.
Photo Credit: Experience Grand Rapids
---
A Festival of the Arts Beer
Perrin Brewing Company is creating a special beer to celebrate Festival's 50th. Although there isn't a specific beer tent or food booth at Festival that carries the beer, you will be able to find it on tap at many bars and restaurants in the area downtown where Festival is held.
"We don't have a beer tent, but we're Beer City. Of course we want to have a beer!" says Abbott.
Food Trucks and Food Booths
As always, there will be food booths run by local nonprofits, serving all sorts of goodies. "One of the new ones that Festival is thrilled about is Marge's Donut Den," Abbott says. "She has her own nonprofit that does great work around the world, and it's a very beloved donut place in Wyoming, MI." The booth run by Holy Trinity Greek Orthodox Church was the first (and only) food both at the 1969 Festival. The church still hosts a food booth, and "they serve the same souvlaki recipe from that first year, and it's still one of our most popular food booths," says Abbott.
In addition, several food trucks will line up along Monroe Center this year. Get in line to grab awesome food from these vendors (tentative schedule):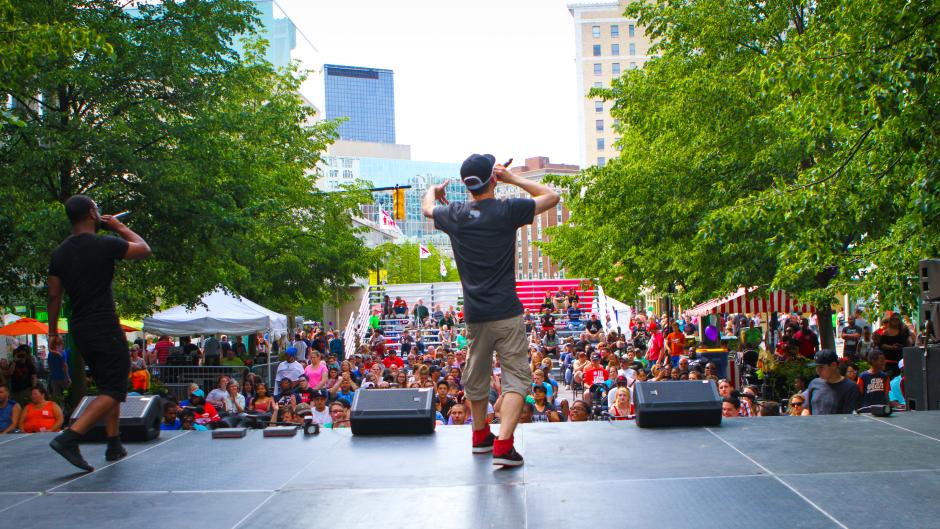 Find live performances throughout downtown Grand Rapids during the festival.
Photo Credit: Experience Grand Rapids
---
What Else Can You Expect?
Festival will feature 11 performance stages throughout 10 city blocks, including City Stage at Monroe Center and a stage at Kendall College of Art and Design (KCAD), as well as five pop-up stages.
"It's the largest performance schedule we've had in the history of Festival of the Arts," says Abbott. "There will be music on almost every corner."
There will be a karaoke pop-up stage on Friday, Saturday, and Sunday night, sponsored by WGVU, the local affiliate of PBS and NPR. "They're inviting the public to come down and share their musical talents."
The Grand Rapids Art Museum will be open and free to the public during Festival of the Arts, and it will hold a youth arts exhibition in its education space.
In addition to the annual favorite fun kids' activities like the paint-in, face painting, and fun with printmaking, there will be a special new tent made up of other arts and nonprofits in the community, like West Michigan Center for Arts and Technology (WMCAT) and Urban Institute for Contemporary Arts (UICA). The artists will be creating together and are all doing free activities with kids.
A regional arts show will be held in the Fed Galleries at Kendall College of Art and Design (KCAD).  Calder Plaza will have tents for art sales, featuring more than 50 artists, and art-on-the-spot artists will be peppered throughout the entire Festival footprint.
Save on gas by using the free bike corral, sponsored by Spectrum Health, or by using the Downtown Area Shuttle (DASH). Maps will also be available at the Information Booth at Festival or a week ahead of time at many coffee shops and hotels around town.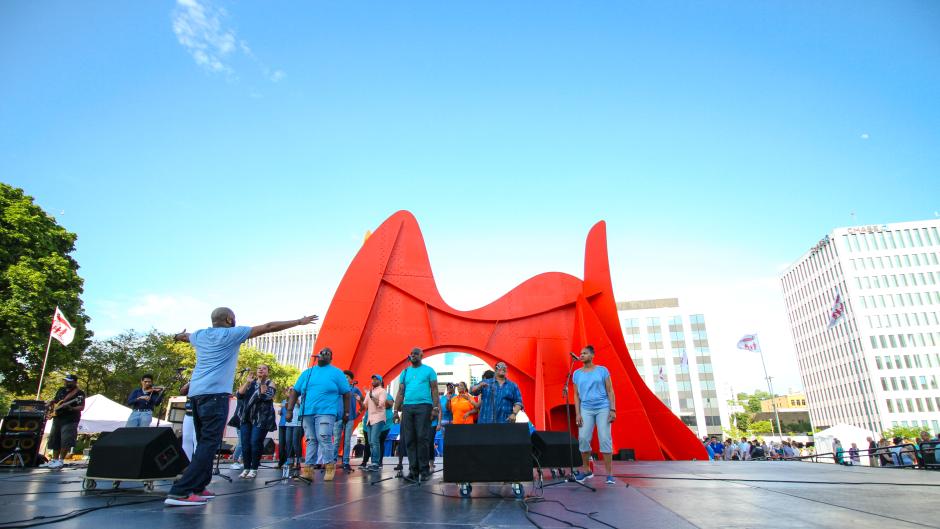 Every dollar you spend at Festival of the Arts goes back to the community.
Photo Credit: Experience Grand Rapids; Performance of Lighthouse Full Life Center Church Choir
---
Giving Back
As you enjoy all of the amazing entertainment and food at Festival of the Arts, keep in mind that although it's free to attend, it's not free to produce. "When something is free you have to decide for yourself what it's worth," Abbott explains. "We rely on our donor community and our corporate sponsor community to provide funding so these events can continue."
Over the years, the money raised through Festival of the Arts has allowed organizations to fund community centers, hospitality spaces, build churches, and stock local food pantries.
"We've funded new mats for wrestling teams, and we've funded bands to go to state competitions," says Abbott. "Almost all of the arts, at some point in time, have had a food booth within Festival."
Every dollar spent at Festival, whether at a food booth, kids' activity, or to purchase something from an artist goes directly back to the community.
Whether you go to tempt your taste buds with food from around the globe, soak in the musical talent, enjoy the multitude and variety of performances, create and admire art, or add something new to your own art collection, you won't want to miss everything Festival of the Arts has to offer this June 7 - 9.
As the event draws near, be sure to check the Festival of the Arts website for the performance schedule and booth information.
And by connecting with Festival on Facebook, Instagram, and Twitter, you can stay up-to-date about the latest information and share your own great Festival photos.
Don't miss a post!
Sign-up for the Insider Experience blog.