Festival of the Arts has been a Grand Rapids tradition for nearly 50 years, and for good reason. This June 3, 4, and 5, Festival of the Arts, known locally as Festival, returns, bringing the music, art, and food, Grand Rapidians have come to expect. Whether you've never been or this is your 47th year, we'll give you the inside scoop on what's new, what you can expect and how you can get the most out of Festival.
Four brand-new food booths will join the already impressive line-up of homegrown tasty treats for a grand total of 27 food booths, all of which are run by local non-profits. From desserts with fresh fruits and chocolate by the Michigan Ballet Academy to the multiple flavors of Asian smoothies with boba and sweetened Thai tea offered by the West Michigan American Asian Association, there is something for every palette.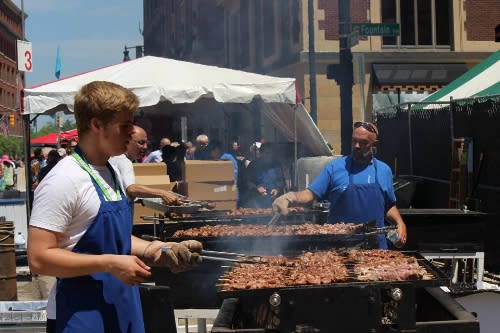 Photo credit Festival of the Arts Facebook page
As for performances, Festival takes over downtown with live show stages down Ottawa Avenue from Michigan Street to Rosa Parks Circle. Don't forget about events inside, too! Classical music can be found at the Grand Rapids Art Museum (GRAM) and the fourth floor of the Urban Institute for Contemporary Arts (UICA), which will feature the Regional Arts Exhibition. As a special bonus, both the GRAM and UICA are open to the public free of charge during Festival weekend, so be sure to take the opportunity to stop in and see what they have to offer. There are also plenty of kids' activities, which you'll find next to the GRAM, south of Calder Plaza in the 5/3rd parking ramp, and north of Calder Plaza on the federal lawn.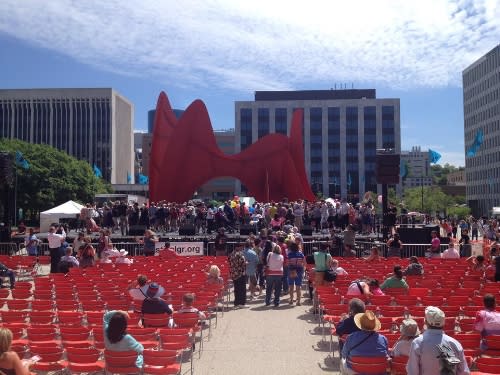 Photo credit Festival of the Arts Facebook page
To make sure you have the best Festival experience possible, wear good walking shoes, suggests Timothy Jacobson, 2016 co-chair of Festival of the Arts. As for parking, many lots offer free parking after 5PM and on weekends, especially off Scribner. Shhhhhh. Once you're downtown you can use The Rapids bus system, which has several stops near the Festival boundaries. If you prefer two wheels, Festival also offers free bike storage.
The UICA Regional Art Exhibition features a juried display of local art from talented artists of all ages, which is not to be missed, says Jacobson. After enjoying the UICA exhibit, walk northwest one block to City Stage or to Circle Stage at Rosa Parks Circle to catch a few performances or grab some food from one of the food booths. And be sure to check out the Art Sales tents on Calder Plaza.
Photo credit Festival of the Arts Facebook page
"Festival of the Arts is very proud to have so many wonderful local organizations and growing artists," Jacobson said. "Over the past 5 years, Festival of the Arts has given over $2,000,000 to local artists and local non-profit organizations." The organizations have made remarkable community-minded investments with the money, including building churches, stocking local food pantries, and giving dictionaries to third graders. Every dollar spent at Festival, whether at a food booth, kids' activity, or to purchase something from an artist, goes directly back to the community.