Grand Rapids is no stranger to talented individuals working and living in the area. Beer City, USA has a flourishing network of artisans who craft everything from clothing to jewelry, to beautiful decor for your home. If you're looking for a unique, one-of-a-kind item for yourself or want to get a jump start on holiday shopping for that special someone, these shops carry items that are either made in-house or by area artisans.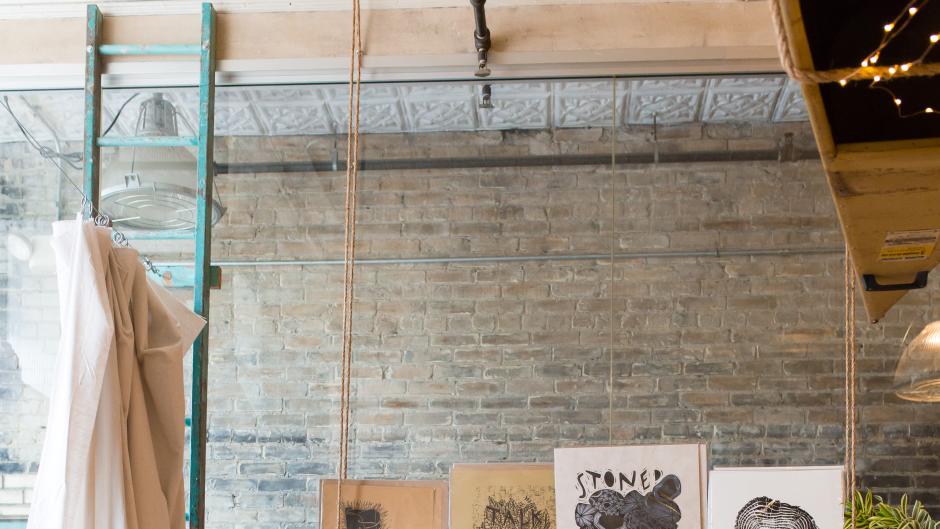 You'll find more than your next favorite t-shirt at Woosah! Check out the hats, prints, and more!
Photo Credit: Woosah
---
Clothing
Woosah
Woosah Outfitters and Printshop is an art and apparel shop that revolves around the love of the outdoors. Every design that founder and artist Erica Lang creates is inspired by nature and the feeling of calm and peace (which is what Woosah means!). While most shirts are created on a standard shirt printing press, Woosah shirts are created using a woodblock. Erica carves every design into a block of wood, inks it up, and uses an etching press to imprint it onto a t-shirt. Woosah also features a fun assortment of stickers, enamel pins, mugs, and patches. Be sure to check out its new location on Wealthy Street, opening this December.
738 Wealthy Street Grand Rapids, Michigan 49503
The Mitten State
The Mitten State started in 2006 with just a handful of shirts sold out of an office park in Comstock Park. Now, nearly 10 years later, the brand is a major statewide hit. Its impossibly soft t-shirts come in dozens of vintage designs that pay homage to Michigan's cities, cultural quirks, and history. And what would Michigan-based t-shirts be without some college game day designs? The Mitten State has official school apparel for some of the biggest colleges in Michigan, including big names like University of Michigan and Michigan State University and local schools like Grand Valley State University. They sell more than just fun t-shirts though. The store also has a variety of other goodies like hats, keychains, stickers, and more. Whether you're a lifelong Michigander or just really like states shaped like a mitten, you'll find something fun to wear at the Mitten State.
415 Bridge Street NW, Grand Rapids, MI 49504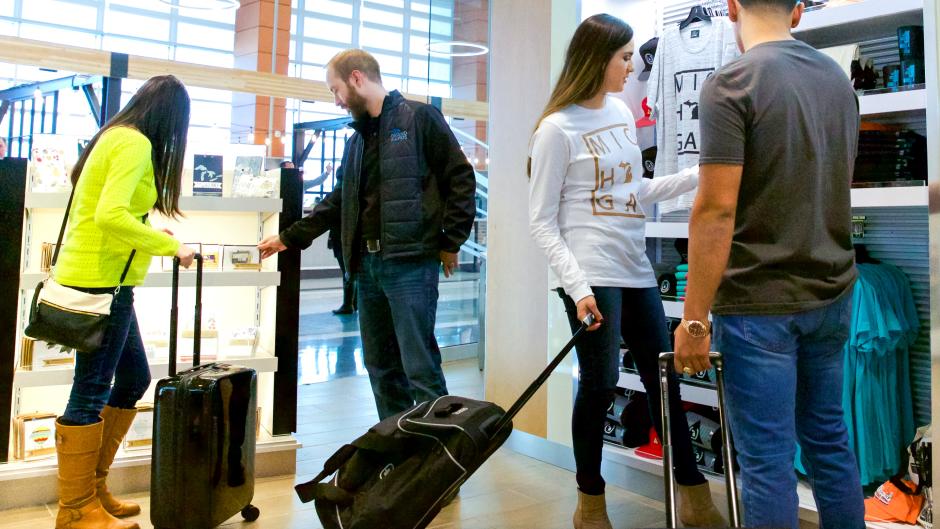 Oddest Supply Co. at Gerald R. Ford International Airport.
Photo Credit: Experience Grand Rapids
---
The Oddest Supply Co.
Located inside the Downtown Market and at the Gerald R. Ford International Airport, the Oddest Supply Co. aims to be more than just a basic apparel company. Rather than create Michigan-based/themed clothing that centers on sports or beer, the Oddest brings forth a different style they like to call "experimental streetwear/lifestyle." The designs are all very modest and simple, yet still clearly burst at the seams with Michigan pride. The Oddest apparel selection includes t-shirts, comfy hoodies, classic embroidered hats, and jackets.
435 Ionia Avenue SW, Grand Rapids, MI 49503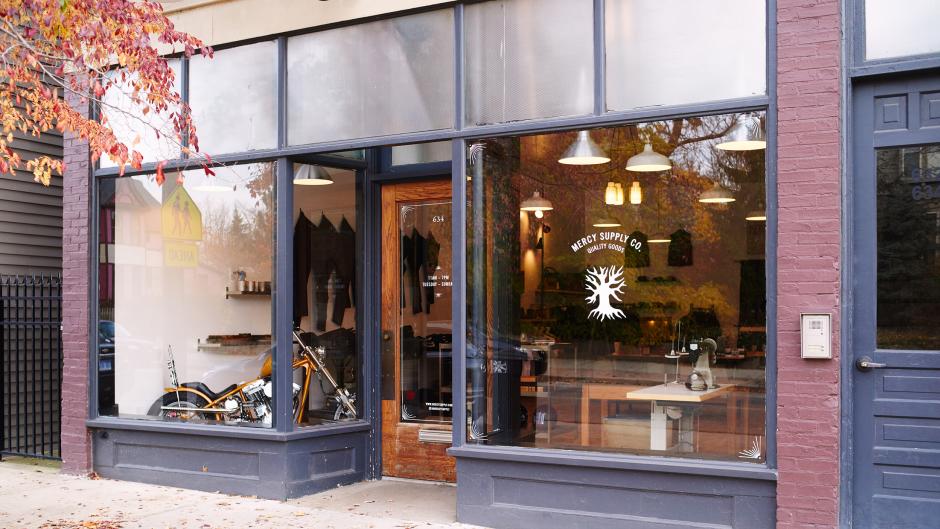 Suit up for your next cross-country bike tour at Mercy Supply Co. (motorcycle in the storefront not included).
Photo Credit: Mercy Supply Co.
---
Bags & Accessories
Mercy Supply Co.
Mercy Supply Co. is another local shop that handcrafts bags meant to last a lifetime. The bags include packs for travel, totes, dopp kits, a motorcycle tool roll, and a lunch bag that will make heads turn. The artisan shop also creates functional work apparel like pants, vests, and shirts. All garments are made of strong canvas that's built to survive even the toughest of work conditions. The company also stocks apothecary items, camping gear, and other unique accessories from a variety of other quality brands such Juniper Ridge, Otter Wax, and P.F. Flyer.
634 Wealthy Street SE, Grand Rapids, MI 49503
Home & Gift
Rebel Reclaimed
You know the type of shop where you walk in and immediately ask yourself, "Where did all this adorable stuff come from?" That's Rebel Reclaimed, a gift and home decor store where most items in it are recycled and repurposed. The owners, Chip and Dan, pride themselves on finding old items no one wants anymore and turning them into gifts that turn heads. Items include tiny succulents placed into handpainted coffee mugs, old typewriter keys turned into jewelry, and pillows made from feed sacks. Regardless if it's a unique piece of art for your wall, a unique greeting card, or quirky socks extolling the virtues of pizza, Rebel Reclaimed will have something to fit your personality.
1409 Robinson Road SE, Grand Rapids, MI 49506
6.25 Paper Studio
The women behind 6.25 Paper Studio are passionate about everything paper: cards, wrapping paper, calendars, and wall art. Everything they create features designs and sayings you won't find in a Hallmark greeting card. There's literally a card for every occasion like breakups, adoption, and even political turmoil. If you're looking for something a bit more serious, 6.25 can assist with that as well with custom wedding invites tailored to your exact specifications. The paper studio also carries other Michigan-made stationary brands.
40 Monroe Center Street NW #103, Grand Rapids, MI 49503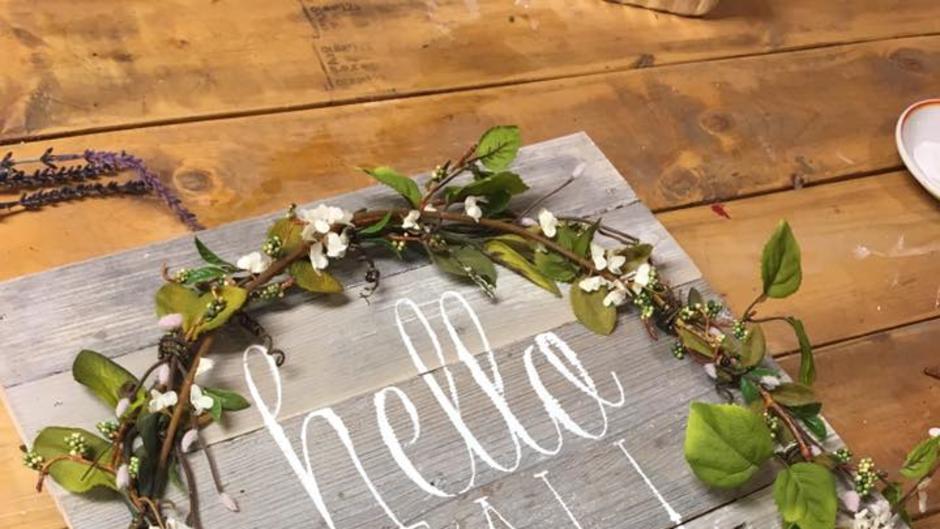 Custom signs are available at My Sweet Peony for any occasion!
Photo Credit: My Sweet Peony
---
A Little Bit of Everything
My Sweet Peony
In addition to selling unique gifts from a few boutique lines, My Sweet Peony carries a variety of handmade items from several West Michigan artists. The handmade goods range from bath soaps to jewelry, to upcycled vintage furniture, and more. My Sweet Peony also loves to create custom pieces for its customers, including wooden signs you can hang indoors or out. Whatever quote, colors, or ideas you can dream up, this handmade goods shop is happy to create the exact custom piece you need.
2795 Orange Avenue SE, Grand Rapids, MI 49546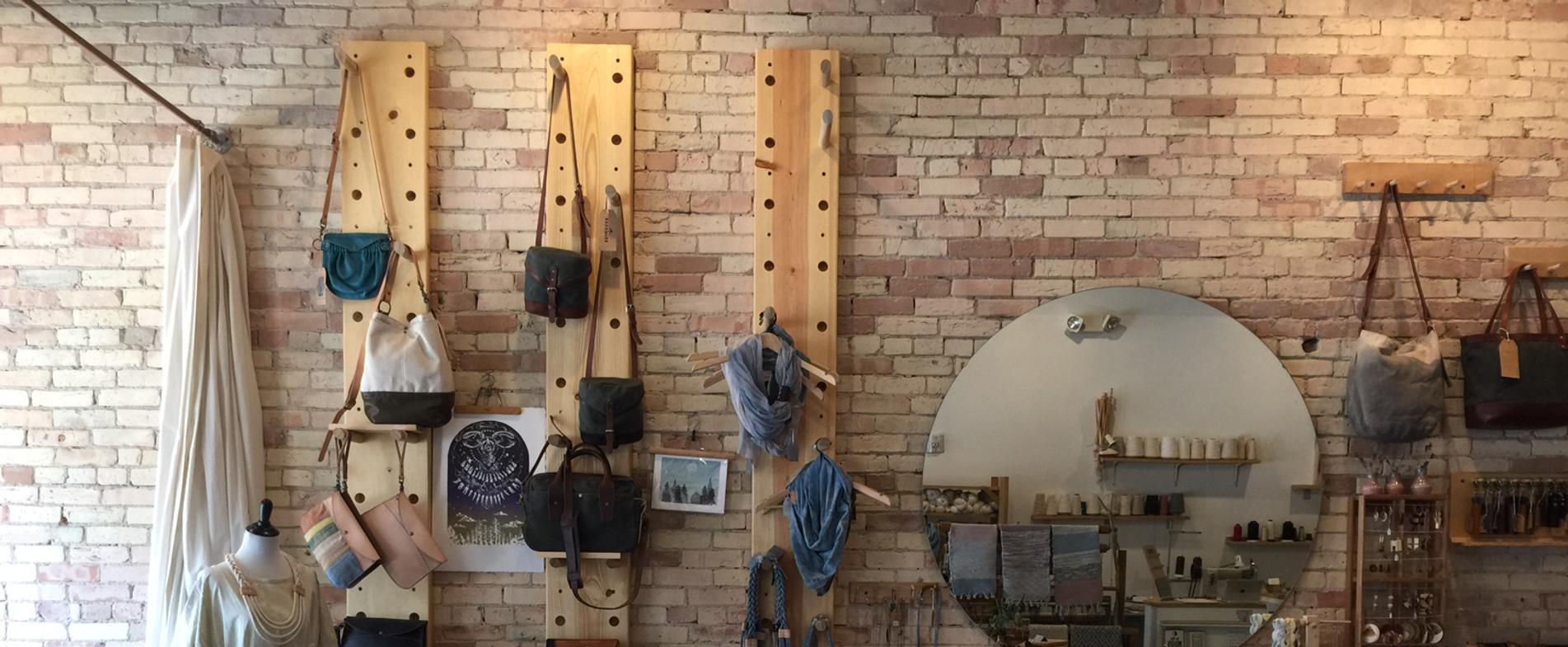 Pick up a handmade, one-of-a-kind gift for yourself or your special someone at Parliament the Boutique.
Photo Credit: Parliament the Boutique
Parliament the Boutique
Originally opened as a studio space and store for just one artist, Parliament the Boutique now carries handmade items from a variety of local makers. Just this year the shop moved to a bigger space so they could adequately accommodate eight different artisans and their handmade goods. The space also features a studio and classroom. Items you can buy include beautiful, earthy scarves and rugs from Adventure Textiles, or leather wallets and key clips from Harbinger Leather Design. The other artists inhabiting Parliament Boutique also create jewelry, succulent planters, cards, and more.
136 Division Avenue S, Grand Rapids, MI 49503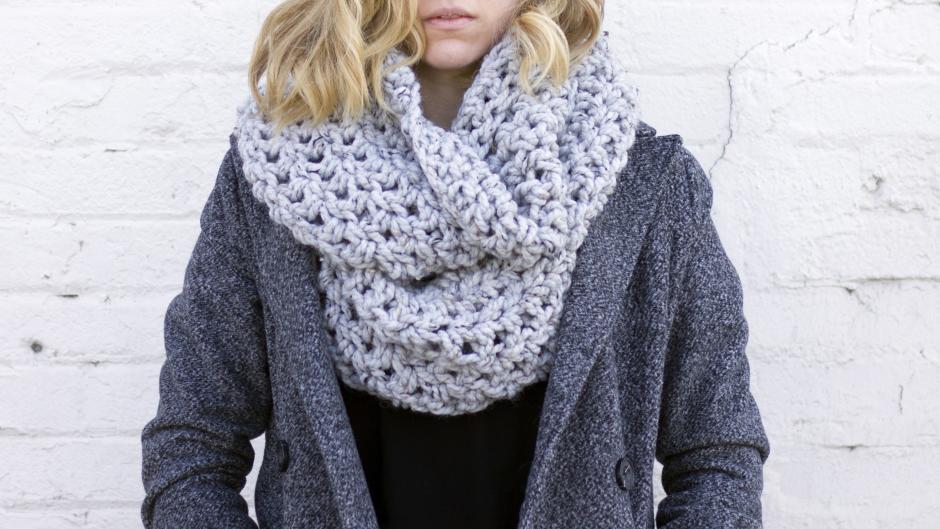 Minimal frills. Maximum style.
Photo Credit: Dime & Regal
---
Dime & Regal
Dime & Regal is another local store passionate about providing physical space for artisans to sell their goods. Every item in the shop is made by Grand Rapids artists and designers. Dime & Regal prides itself on simple and minimal aesthetics, so all goods sold in the shop follow that style. Right now, shoppers can find chunky cable knit scarves, beautiful silver and rose gold jewelry, soaps, prints for the home, and more.
656 Wealthy Street SE, Grand Rapids, MI 49503
Heather Lane Pottery
Every item at Heather Lane Pottery is created by owner Sharon Hathaway and her staff. They create more than your average bowls or mugs. Other handcrafted items include lamps, coasters, message boards, ornaments, and even treat jars for your pets. No matter what item you buy, you can get it customized with the name of your child, favorite verse, or anything else you cherish. If you really want to go unique, Heather Lane Pottery even has a "One-of-a-Kind" section of the shop, meaning there's only one of that item in existence.
7270 Thornapple River Drive SE, Ada, MI 49301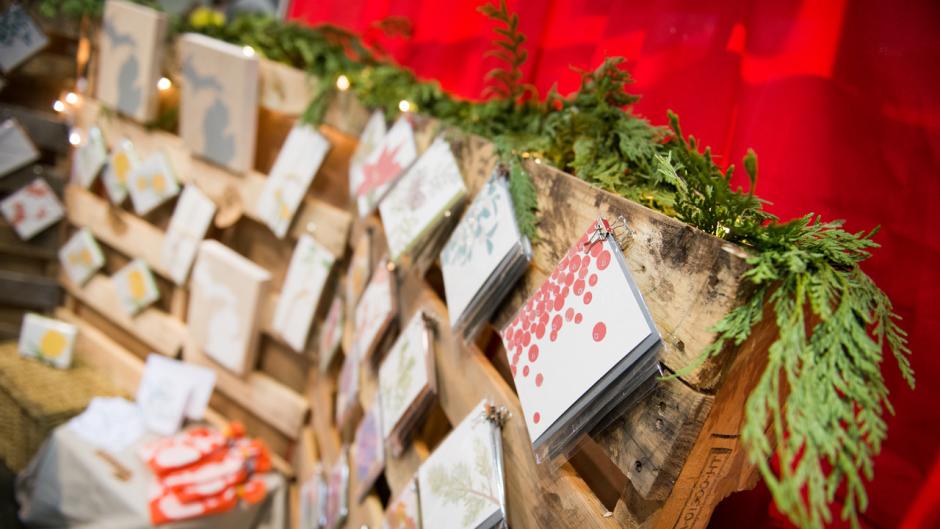 Find all sorts of handmade, artisan goods at this year's Holday Artists Market.
Photo Credit: Urban Institute for Contemporary Arts
---
Encore
29th Annual Holiday Artists Market
Saturday, December 2, 2017 | 10AM - 6PM
Can't get enough of all the artisans listed above? Come see them and others at the 29th Annual Holiday Artists Market on Saturday, December 2, at the Steelcase Town Hall. This one-day event hosted by the Urban Institute for Contemporary Arts gathers over 80 local artisans who will sell their handmade goods. A lot of the small businesses that will be there only have an online presence, so this is a good opportunity to see what they have to offer close-up. The Holiday Artists' Market also has live music and local food vendors around, making this event a great, family-friendly day out.
1155 42nd Street SE, Grand Rapids, MI 49508
Looking for more places to shop 'til you drop? Check out the Experience Grand Rapids Shopping page for more can't-miss local shops.
Don't miss a post!
Sign-up for the Insider's Experience blog