The weather isn't the only thing to heat up during the summer. As the temperatures begin to increase, Grand Rapids' art scene also heats up with a surge in art opportunities for locals and visitors alike.
And, thanks to Experience Grand Rapids' Culture Pass GR, visitors are able to stretch their budget even further at Grand Rapids' most popular art destinations.
If you're looking for a perfect summer getaway that's focused on the arts, check out these Grand Rapids hot spots: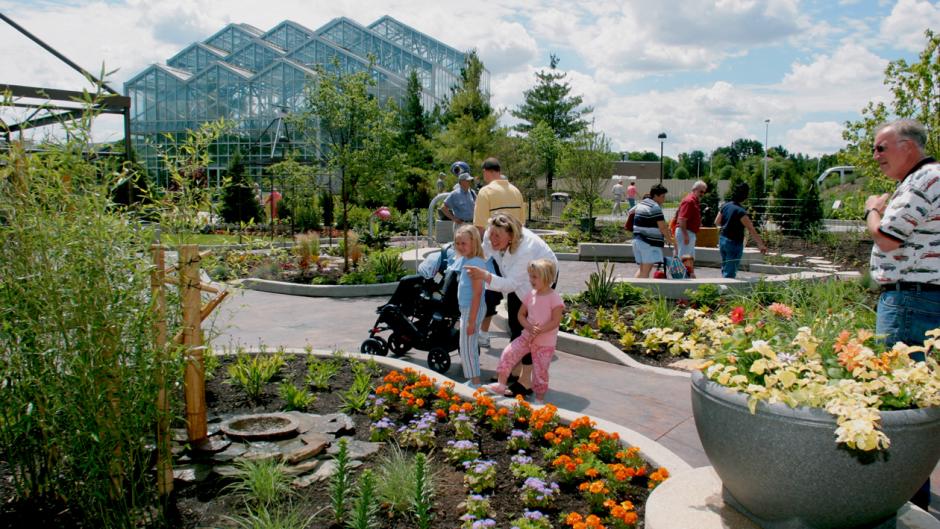 Children walking through the Lena Meijer Children's Garden
Photo Credit: Experience Grand Rapids
---
Art + Gardens = Paradise
Looking to get a workout while immersing yourself in local art? Then Frederik Meijer Gardens & Sculpture Park is the spot for you.
This world-class sculpture garden has nearly two miles of pathways throughout the stunning grounds. While visiting Frederik Meijer Gardens & Sculpture Park, don't miss the Japanese Garden, Lena Meijer Children's Garden, indoor horticultural, and sculptural features.
One of this summer's biggest exhibits at Frederik Meijer Gardens & Sculpture Park will be the sculpture exhibition, "Beyond Existence," by Masayuki Koorida. The venue has earned the honor of being one of Koorida's first exhibits in the United States, as the sculptor is normally featured in Asia and Europe.
The artwork in "Beyond Existence," will capture the main stylistic currents of Koorida's aesthetic as one of the most famous sculptors in the world.
"Beyond Existence" is unique to Frederik Meijer Gardens & Sculpture Park and will be available May 25-August 19.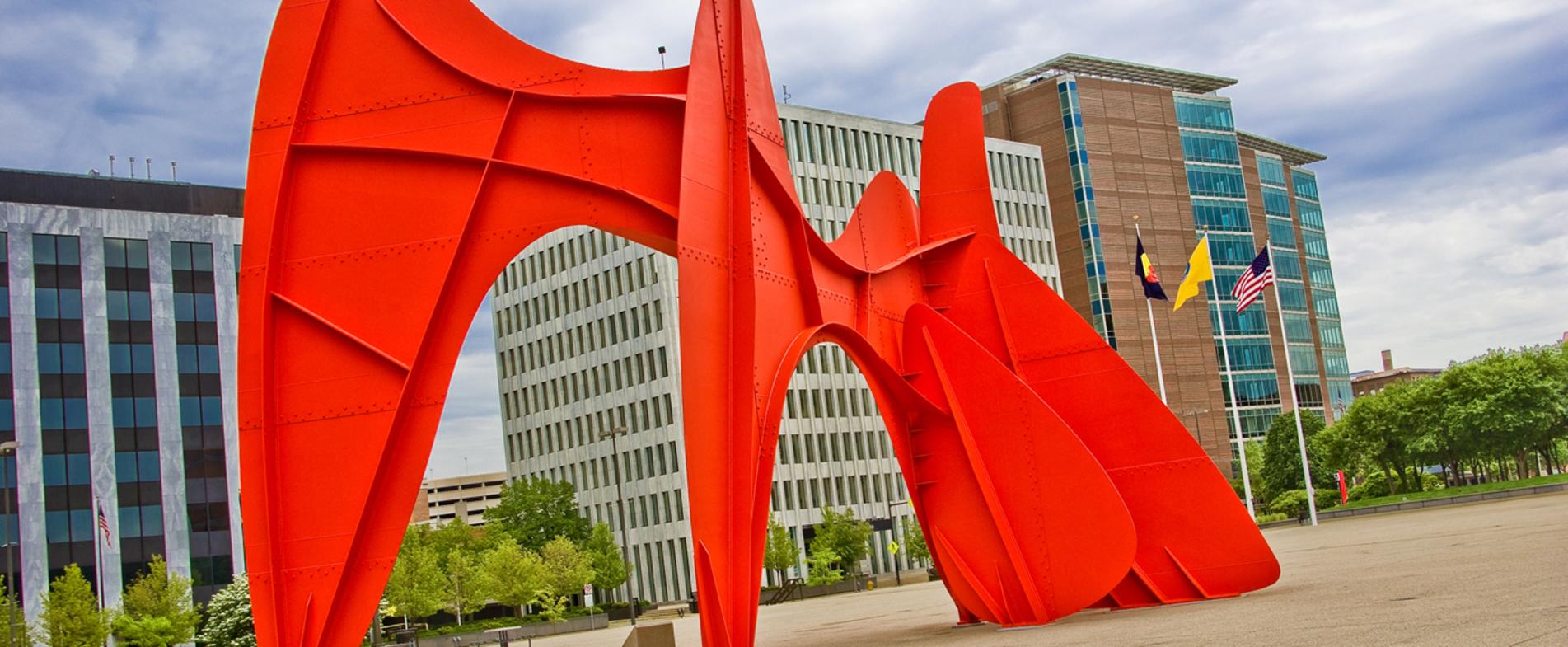 Since its installation in 1969, "La Grand Vitesse," has come to be a symbol of Grand Rapids.
Photo Credit: Experience Grand Rapids
Tour Through Downtown
Downtown Grand Rapids has a world of art, both in museums and in outdoor public art. And luckily, the majority of art located downtown is within walking distance!
Start your downtown Grand Rapids art tour at the Grand Rapids Art Museum (GRAM), right in the center of the city. The GRAM's summer exhibition schedule includes a return of Anila Quayyum Agha's "Intersections," which is the only ArtPrize submission to garner the grand prize with consensus from both the public and world-class jurors.
From there, step outside and head north to Calder Plaza, where you'll find a massive red sculpture, "La Grand Vitesse," by Alexander Calder. This piece is the first public art piece funded by the National Endowment for the Art's then-new public art initiative. "La Grand Vitesse" symbolizes the City of Grand Rapids.
On the opposite side of Ottawa Avenue is "Split Ring," and around the corner on Monroe Avenue is "Motu Viget," known to locals as, "the giant tire swing."
From there, walk towards Ah-Nab-Awen-Park where you'll find "Lorrie's Button" by Hy Zelkowitz. This piece was installed for the nation's bicentennial at Grand Rapids' 1976 Festival of the Arts.
Next, head to the Urban Institute for Contemporary Arts (UICA) and see the new summer exhibit, "Color of the Year" presented by Pantone and X-Rite, which features a 95-foot indoor mural created by Heather Day. This exhibit is open from April 6-July 29. While you're at the UICA, check out what's playing at UICA Movie Theater.
Explore the Avenue to Discover Local Artists
If you're lucky enough to be in Grand Rapids on the first full weekend of the month, you can participate in First Fridays. Hosted by the Avenue for the Arts, on the first Friday of every month, South Division becomes the ultimate destination to admire and purchase artwork by local artists. Unique artwork lines the street of South Division beginning at the UICA and spans multiple city blocks.
The festivities conclude around the 300th block of South Division, at 337 Project Space and Light Gallery + Studio.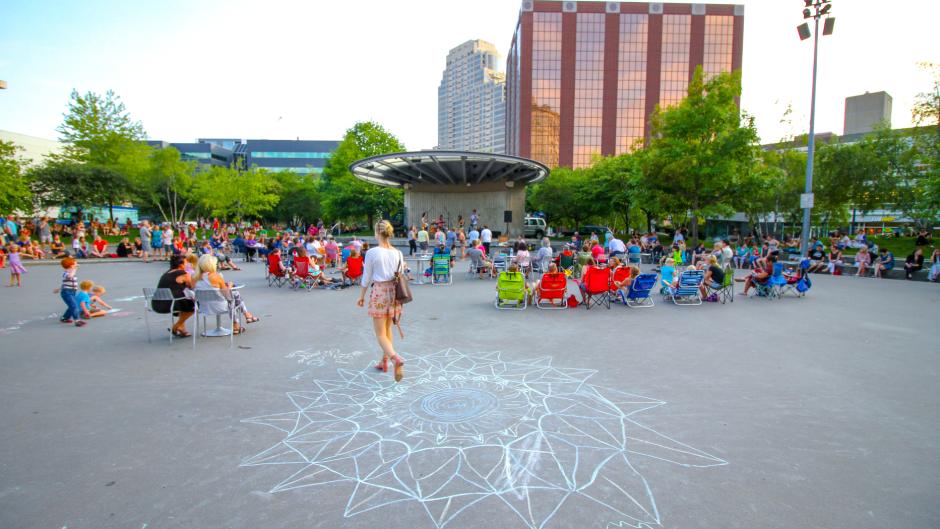 Located in the heart of Grand Rapids, GRAM on the Green takes place at the Grand Rapids Art Museum's Terrace.
Photo Credit: Experience Grand Rapids
---
Music to my Ears
After returning from their Carnegie Hall performance, the Grand Rapids Symphony packs up their instruments and heads to Cannonsburg Ski Area for numerous Picnic Pops performances.  
Parking for Picnic Pops is free and food items are available for purchase. Visit their website to see this year's Picnic Pops lineup, and click here to purchase tickets.
Every Thursday night during the summer, GRAM offers outdoor concerts at GRAM on the Green. The concert series is free to attend, and drinks and food are available for purchase. While you're there, make sure to tour the works of art on display at the GRAM because admission is free thanks to Meijer Free Thursdays. ​
Home to an abundance of art opportunities, Grand Rapids is sure to keep locals and visitors busy for days on end. Visit Experience Grand Rapids' website to learn more about witnessing Grand Rapids' local art scene through Culture Pass GR.
Never miss a post!
Subscribe to the Insider Experience blog.